Hey guys! My zukan and rare figures auctions will be ending tomorrow, roughly 24 hours from now. Check the post for a countdown! Several zukan sets/figures are still at their starting price, so check them out! Click HERE or on the photo below to get to the auctions. There's also a Glaceon pokedoll and some Absol and Skitty items C: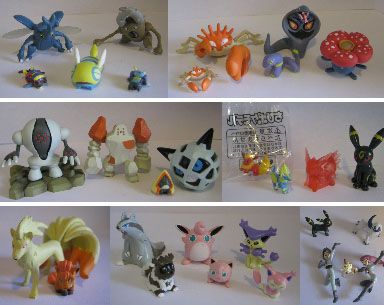 And I still have a ton of stuff in my sales post! Lots of kids, zukan pieces, various figures, unique flats, etc. Always open to trades, haggling, and offers. Everything paid for as of yesterday has been shipped and the post is up to date with what's been sold!




Aaaa cuties!! The little purple guy came from a Y!J lot, and the blue one on the right was a community purchase! Purple buddy might just be my favorite minimodel so far - the color makes all the details really stand out nicely. Such a cute face!

It seems like it's been forever since I've added new things to my Vulpix collection, but over the last few months I've gained several new minimodels!



My current rainbow! Orange is my favorite color, but I really love how these guys bring a splash of different colors to the otherwise solid orange collection xD (I would adore an orange Vulpix minimodel, though.)




And finally, wants! Looking for any Vulpix minimodel colors that I don't have, and the alternate sitting pose minimodel in any color! Also looking for a gold keshimon C: If anyone happens to come across a lot on Y!J with any of my Vulpix wants in it, I'd be super grateful for a link! I'd also be more than happy to cohost a GA and do bidding/shipping :D Thanks!