It's gloomy out and I have a bad cold so today seems like a good day to stay inside and do a collection update :). I haven't done an update for my main collection, Kingdra, in a while so...

Pokemon Featured:




Here's how the collection looks all together! I'm moving in a couple of months so sadly it'll be packed up soon.




In this close-up you can see my Kingdra stickers, magnets, stamps, the Topps card, and the cards that come with kid figures :). Plus a calendar page! My birthday is in November so I was pleased that Kingdra was in November, too :p.




Moving along, there are more flats. Most of Kingdra's merch is flats, ha. You can also see my mini Clair collection. I collect her because besides being a cool character, she uses both Kingdra and Dragonite! :) I don't collect Juan but his bookmark happened to feature Kingdra (Clair's should have had Kingdra, honestly...not sure what they were thinking!), making it the newest piece of Kingdra merchandise. The bookmarks are nicely made but they tend to curl up, ugh! Drives me crazy.




Here are the last of the flats. Pogs (and pog-like objects) and VS cards.




Here's a better picture of the pogs.
dukeburger was nice enough to trade me the Kingdra "picker", the last piece I needed for my collection! I had been looking for one for a while so I'm just ecstatic :).




Ok, now for the merchandise more people are interested in, non-flats :p. You can see kid figures, a few customs (including a lovely bead sprite), charms (I have the new ones, too, but they're identical so I'm deciding whether or not I want to sell Horsea/Seadra and just keep Kingdra), a die, the rare Retsuden stamper, and stationary (I guess those are flats, oops).




Here you can see a very rare dragon shirt that features Kingdra. I had no idea how to display it and for a while it just stayed in my closet. There are also some great customs in this photo, along with a pin, zukan, Tomy, trozei page, and dragon clearfile.




The sticker books at the top have Kingdra in them so of course I had to get them ;). I save all art that people send me (this community is the best!) and put up some of my favorite Kingdra drawings:




Last but not least, Kingdra TCG:




That about wraps it up. Thanks to
dukeburger, I now have every piece of official Kingdra merchandise that I know about! I'm hoping there's more out there (I was really hoping he got a metal swing keychain but it's been years and I haven't even found a picture) but for now, I'm happy to say that this collection is "complete" :). Of course, if anyone has something that I'm missing, please message me!

By the way, as a bonus, here is how my collection looked when I joined the community: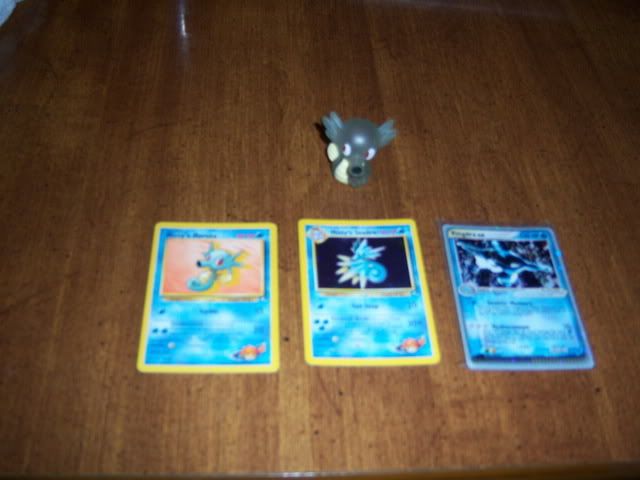 Yup, I had ONE Kingdra thing, a single TCG. It's crazy how much my collection has grown since 2009 and I'm really proud I could do my favorite Pokemon justice :).


Obligatory sales reminder:


(MPC and other plush, zukan, Tomy figures, footprint figures, etc.)