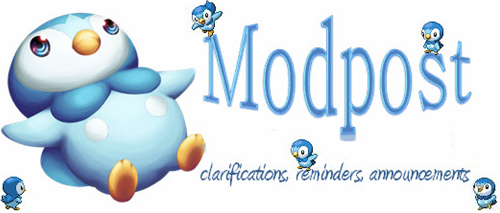 It's about that time again! Stargazing Pip is here with a wealth of information to please the senses! And by that, I of course mean things to read other than the back of cereal boxes while enjoying a hot beverage of choice. Since it never seems to be Pokemon that we're helping to guide through mazes in those activities, realistically we can only garner so much interest.

First off—sorry to anyone who has unsuccessfully tried to contact me over the summer! My LJ account was severely malfunctioning, and I could not view any comments and rarely had access to private messages. Everything just spontaneously fixed itself after a few months, so the hiatus is over! It looks like the community is running so smoothly now, especially with the new features, which you should check out if you haven't already:

Report a Problem – this post enables you to quickly and easily let whichever moderator is most readily available that something's up and needs to be addressed. It is important to use this feature to expedite results, but if you have a serious or specialized issue to discuss, all pertinent information is located on the contact info page.

Suggestion Box – here you can share ideas that you think may help improve everyone's community experience. There are a lot of great discussions going on in that post, so it may be a good idea to subscribe to the post by clicking the thumbtack in the blue toolbar.

Additional resources include the community rules and guidelines, which you should take the time to review periodically for updates or if you're new (welcome!), and the GA/GB rules, which should be reviewed prior to participating as a host.







Check your Paypal dispute time limits!!



Please take a quick moment to login to your Paypal account and view your recent transaction history to ensure everything you have paid for over 30-35 days ago has either arrived or is en route (with proof!). Users who participated in the group auction(s) held by
pakajunatufty should be especially mindful of elapsing time limits, as she has not yet mailed out any items and has been totally unreachable so far.
allinia has spoken personally with many affected members, but because payment has now been sent 35-40 days ago, the time to open up a dispute is now! Moderators have no way of recovering lost funds/items if you choose not to take action. Updates regarding this situation will be provided as available.





★ GA lots sold by community members: If you decide to host a GA/GB for an ebay/third-party site auction that was listed by a community member, it functions exactly the same as it would if the lot were sold by a non-community member. Specifically, this means that if the minimum bid amount was not raised, the GA is unfortunately unsuccessful. The seller can then break up the lot to make it more affordable or make changes at their discretion, but an entirely new GA/GB will need to be set up for the new auction if applicable.



What this means for involved parties:

- Sellers need to set realistic prices. The nature of bulk sales generally means you will not get full value for the items. Bulk sales should therefore be utilized when one needs to acquire a certain amount of cash and/or wants to get rid of items quickly. To get top dollar for your merchandise, you are better off with individual sales.

-Runners need to evaluate whether a lot is a good deal for members or if it will just be a waste of time.

-There is absolutely no adjusting the prices/lot to sell what was bid on for the amount raised or anything along those lines. If an auction is not won, it is not won. It's not ideal, but it happens.

★ When choosing a GA co-host: You don't necessarily need to give priority to the first volunteer. When you co-host, you are essentially using your reputation as a member to endorse someone else. While most group auctions do not have issues, ones that do pop up are often very stressful for runners, so you should pair up with someone you trust. You should at the bare minimum check out volunteers' feedback, GA experience (which is required for first-time hosts!), and discuss preferred methods of communication and their availability throughout the entire duration of the GA. All of these factors are more important than the length of someone's community membership, so make sure to give newbies a chance, too!

★ The maximum-of-two GAs/GBs rule: This also includes store runs, pre-orders, or anything that involves middle-manning merchandise in any way! This rule will be clarified at a later date to avoid confusion, but this is still applicable in the interim. Violation of this rule can result in abrupt cancellations and/or a suspension of runner privileges, situation dependent.

★ GA/GB claims: Items must be claimed for realistic selling prices. Runners also may not make special claims or holds for family/friends. Beyond runners' claims, GA items are a free-for-all.

★ GA/GB host bids: Every GA/GB host ever has the freedom to bid on whatever they want within their auction. I noticed some people started specifying that they retained that right, which is fine to do, but everyone should be aware that everyone has that right regardless of whether or not it's specifically stated.

★ Unhelpful replies: An updated etiquette guide is in the near future, but until then, please be mindful of whether or not comments contribute to the purpose of a post! As discussed in the Suggestion Box, it's specifically a good idea to avoid commenting in posts looking for co-hosts expressing interest for the potential GA/GB. Interest is great, but when people are specifically hoping for help with a time-sensitive issue, it can be discouraging to have an inbox full of alerts only with members talking about how cool the lot is without being able to help out. Comments discussing a lack of funds in sales posts can result in similar disappointment.





That is about it for now! Thanks for bearing with me throughout this lengthy post, and I'm very excited to participate in the community again! As always, feedback pertaining to community policies is welcome and encouraged whether it's positive or constructively critical. We're also here to answer any additional questions. I am in the process of compiling a comprehensive list of explanations for GA/GB policies, so if there is something specific you were ever thinking, "well, that's strange" about now is the time to inquire!