You know that feel when you want to make a gets post, but you're waiting on that one thing? Many random gets below! Including GRAIL GETS!

If you have any information about this ANA pin, please let me know. I bought it on eBay, but the seller didn't know anything about it. Larger pics and all my other new gets under the cut.


I got this on eBay. It was sent by air mail, yet somehow took over 5 weeks to get here. I was getting so nervous. But it's BEAUTIFUL! So shiny, it was really hard to get a picture. It is in perfect condition, any black in the pic is just reflection. Back:


I'm assuming since it says 1/747 that there were 747 of these made? If you have ANY information about this pin, please let me know! I couldn't find anything on google.



OMG grail get! I made sooo many posts and spent many hours searching.
ladylale put one up for trade, but we were able to work out a price. It's already been on several trips with big brother Pikabug, though I'm worried about the sun bleaching it, so I'll probably have to retire minibug to the collection room. Note: I would like to get a second of these for a friend and owner of Pika 5. And maybe a third so I could have one to leave in Pikabug without feeling guilty. I also still need the Japanese version. Let me know if you see one or have one for sale!



Mini grail get! I've been going crazy needing this since I first saw the pictures. It's very detailed and beautiful! I bought it from
aleyina. The only problem is that Pikachu wants to fall off. I finally got him stuck there, and he's stayed so far. But I highly reccomend this if you collect Pikachu or Ash, it's perfect.



Tikichu! I bought him from
caffwin. I think he's the best quality wise of the three Worlds plush so far. LOVE LOVE LOVE!



I got Pokemon Black and White 2 from TRU, so I got the coins for free and the books both 70% off. The coins are amazing!


Socks from Hot Topic, gloves from Spencers and mini backpack from FYE. They're all perfect! I'll probably never use any of them, but I had to have them anyway.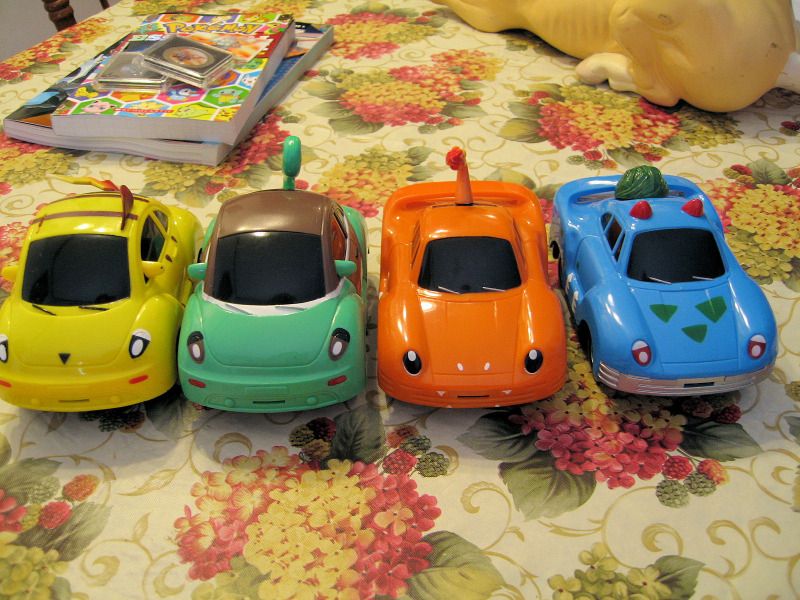 AHHHH! AHH! I had no idea this existed! I have all the little Tomica Pikachu cars, but the problem is they're based off of the Japanese Pikachu car. This.. this silly little derpy thing! It's perfect! Unfortunately it's missing an ear, but I should be able to make one to replace it. Also the tail got bent during shipping, but it should be easily fixed. They're actually banks. XD The whole car comes detached from the base with the wheels. There's no markings, so I'm assuming they're bootlegged. Let me know if you have any information about these! They came in a pretty big lot on eBay, here's the rest of it:


Mya: I'm sorry, were you about to take a picture? You see, I'm eating this rawhide. So I'm not going to move no matter what.. hey, hey! Give it back! That's my rawhide! Fine, I'll move a couple feet over so you can take the stupid picture...


Mostly fun oldschool stuff. I really love this: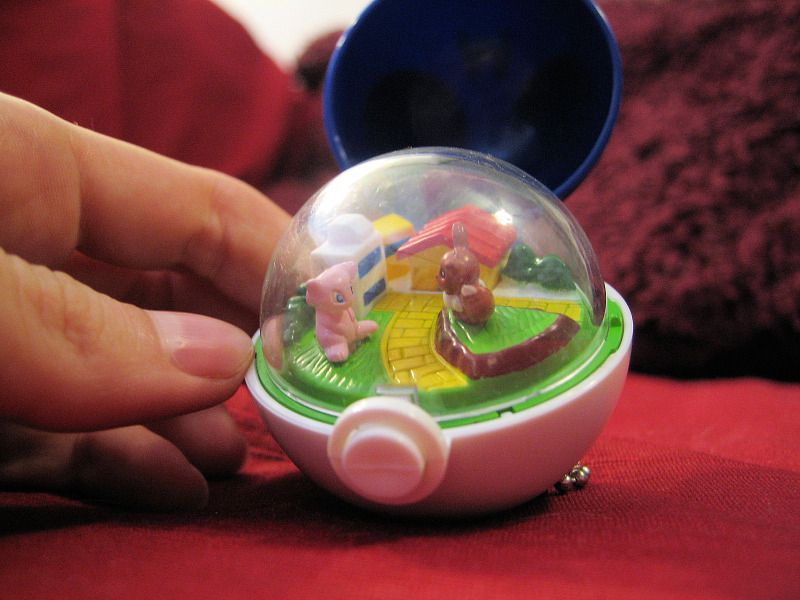 Mew and Eevee move back and forth when you wind it up. So cute! I've been wanting it, so I was glad to get it in a lot, which means super cheap!

*whew* that was long. Next time I won't wait till everything is in, because we all know that never happens. But I'm super happy with my grail and other gets! Eventually I'll stop buying things long enough to get some shelves up and do a real collection post. Maybe.