Okay, time to do a new sales post! Last time I had mostly small and flat things, but I add some metal figures, stampers, tomys... all kinds of relatively small stuff now.
I also did some collection weeding. I realized that I don't want to have only one or two figures of an eeveelution; I want a real collection or not collection at all. So I'm going to sell my Vaporeon and Flareon Zukan pieces, a Flareon metal figure and some other Eeveelution stuff.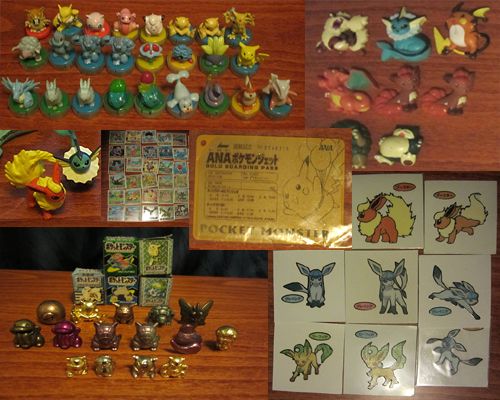 I also do custom shiny repaints!
So if you see anything in my sales, which you would like as a shiny version, ask for a quote.
The price depends on the pokemon and item, but it'll be somewhere between $3 and $10. I may not be able to paint very small items.
You can see examples of my work here




Rules:
Sales permission granted by rachelled on 3/9/2012
My feedback can be found here

- All pkmncollector's rules apply!
- Paypal only!
- I ship from Finland, so the shipping cost may be high, especially if you don't live in Europe. Please ask for a quote, if you are worried.
- To keep the shipping price as reasonable as possible, I usually ship via Economy class in an envelope/bubble mailer. It can take up to 15 working days to arrive. If you want your item faster, please ask for Priority.
- I also reuse bubble mailers to save your money. If this is a problem, just tell me.
- Prices don't include shipping, paypal fees or possible material costs.
- I'm not responsible for items after they leave my hands. You can ask for tracked mail.
- I'll hold items 24 hours to anyone showing interest, but after that, if there is no sign of the payment or reason to keep it on hold longer, it goes to the next person. If you ask for a quote and decide to pass, please tell me! Don't keep others waiting!
- I may be willing to do longer holds, but you must commit to buy and have at least 5 positive feedback.
- Payment plans are usually okay. Contact me in the questions section or by PM to discuss it before bidding/buying.
- I may be willing to haggle. It does not hurt to ask. :)
- My home is pet- and smoke-free, but since most items have been owned by someone else before, I can't guarantee anything.
- If you want your item to be mint in all ways, ask my opinion/more photos. I have many used items and don't really want to look every one of them through a magnifying glass. But I try to warn anyone interested, if there is problems with the item before asking for payment. If the condition is not like you hoped, you are free to back out.

Some shipping prices to help you decide:
Stickers: $0.93
Small figure: Usually $1.55 and up, depending on the weight, although it might be less too.
Any figure, which is thicker than 3cm: EU $5.76, but anywhere else $8.96. And that's the cheapest shipping. But you can get a bunch of figures with the same price, because it's a flat rate up to 250g.

Free shipping! :)
You'll get free shipping for 5 or more stickers/battrios! (no figures, just flat things)
For any order going over $30, you'll get free economy shipping! (2-3 weeks)
If it goes over $40, you can get free priority/tracked shipping! (4-7 business days)

Pan stickers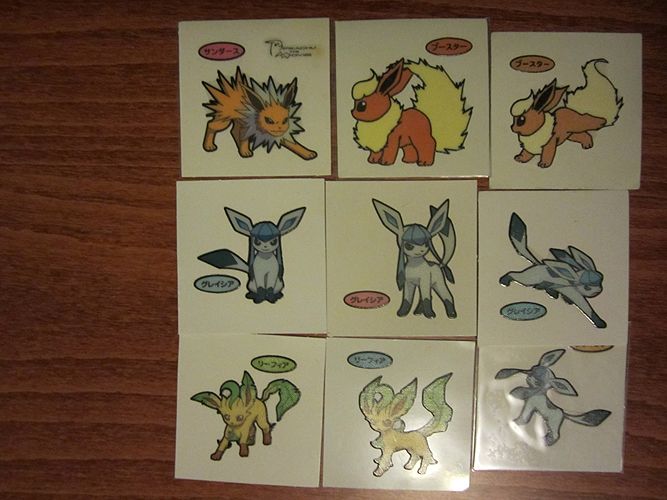 Eeveelutions
$5 each





Amada stickers (Some of them have many duplicates)


Eeveelutions $3 each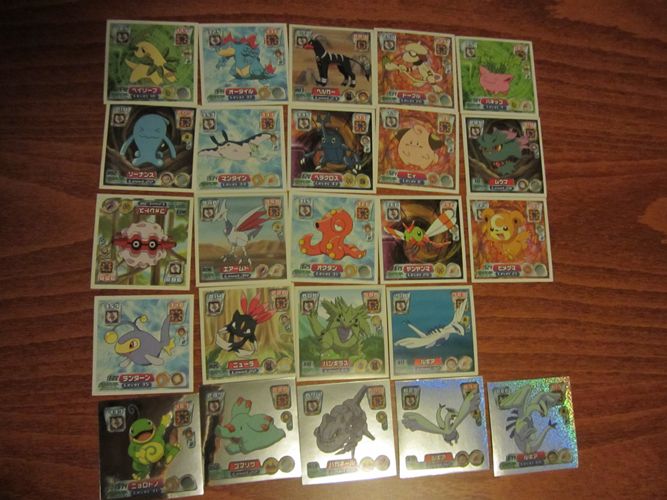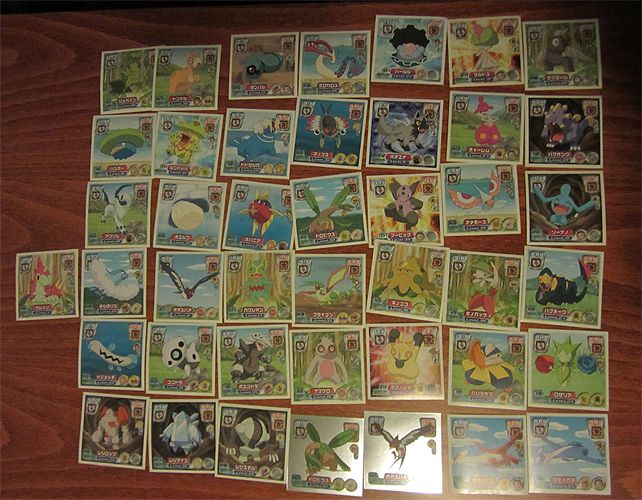 All others:
Normal $1
shiny $1.50 each


Battrios



Eeveelutions $4 each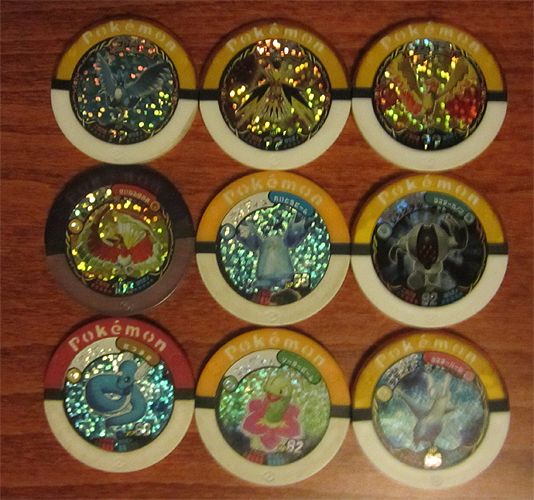 3$ each (except Regice, which is in bad condition and is $1)



2$ each



1$ each


ANA Golden Boarding Pass


These seem to be quite rare and they cost at least $20 on Ebay. But this one doesn't have the cardboard cover, so it's $15 OBO

Magnets (on the left) and clips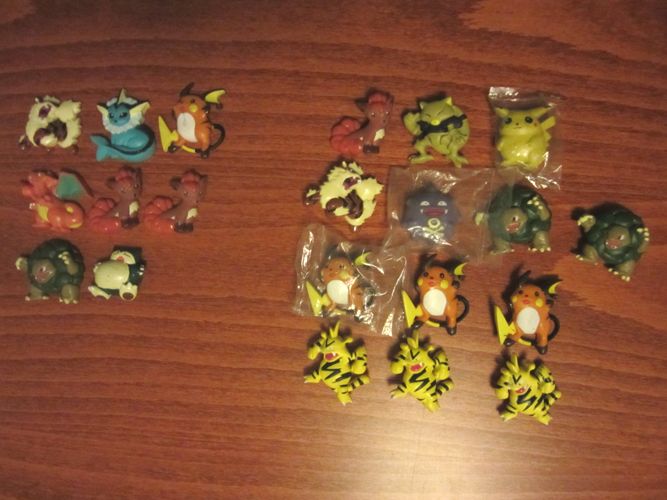 Vaporeon magnet $8
Vulpix/Arcanine/Charizard magnet or clip $5
Raichu magnet $1 (has wear), clip $2, MIB clip $2.50
All others $1.50 each

Metal swing key chain charms


Koffing and Spearow $3
Charmander $5
MIB Pokeball strap $2
Pikachu $0.5

Mini stamps (I think all of these go under the 3cm limit so shipping won't be much)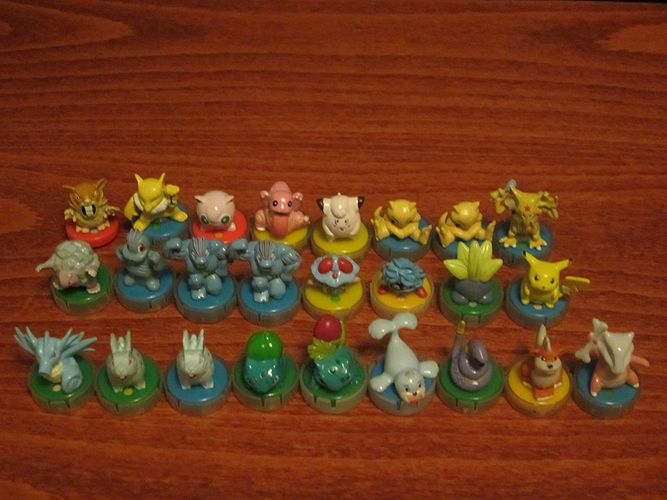 The first row $2.50 each
All others $1.50 each

Metal figures (These are tiny but heavy. If you want a box with your figure, just ask.)


Ponyta $10
Gyarados $8
Flareon $40



The back row: $3 each
The second row: $4 each (except Sandshrew on the right, which pretty bad wear and is $1)
The first row: $2 each ( I'm not sure, what they are. But they sure are tiny. If you can't tell from the picture, they are from left to right Wartortle, Psyduck, Clefairy and Kangaskhan)

"Metal" figures
These look like metal, but they are hollow and VERY light.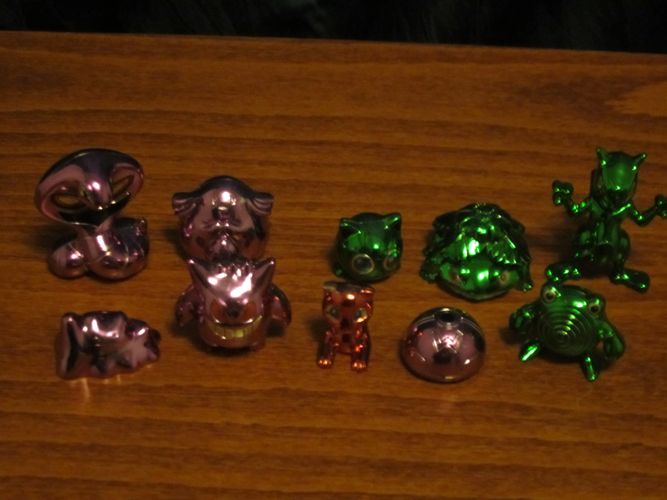 Mewtwo, Mew, Ditto, Gengar $3
Arbok, Venusaur $2
Others $1 each

FCS figures (I don't have bases for all, but I'll add one for any figure ordered as long as I have them available. You can ask a specific color. If you are okay without the base, the figure will be $0.20 cheaper. Most are small enough to be shipped below the 3cm limit)


Mews, Charizards, Wartortle, Gyarados 3$
All others $1.50



Clear FCSs $2 each (the one between Magneton and Alakazam is Kakuna)

Mysterious keychain figures
I'm not sure, if these are booties or not. They came from Japan and look like Tomy keychains, but might be something else. You have been warned.
Those on the left are bigger and would go over the 3cm limit.


Dragonite, Jessies (only one is keychain), Pidgeot, Charizard, Pikachu&Raichu: $3 each
Others $1 each

Stampers (Sadly over 3cm)


Charmander and Charizard $5 each
The green without its sticker (Doduo) $0.50

Tomy figures (ones in best condition on the left, not so good on the right)


Cyndaquil-line, Pichu, Rayquaza, Marshtomp, Grovyle, Charizard, Venusaur $4
Others $2

Eeveelutions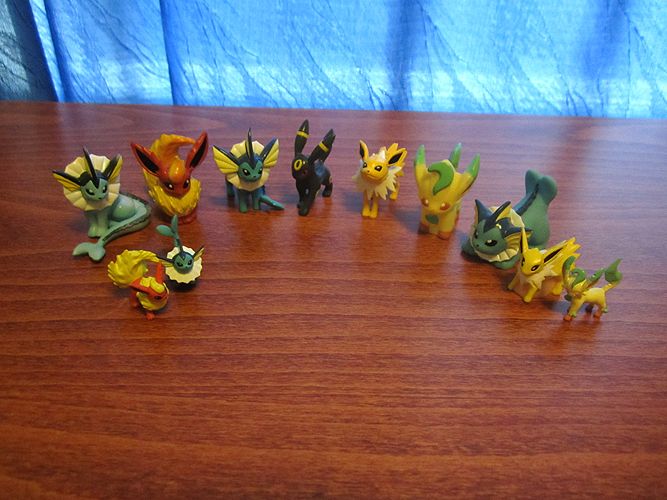 Vaporeon Zukan piece $45
Flareon Zukan piece $30
Tomy figures $5 each
Kids $5 each
Jolteon FCS (you'll get a base of your liking, if you want) $5
Baseless Leafeon Chou get $2

Random items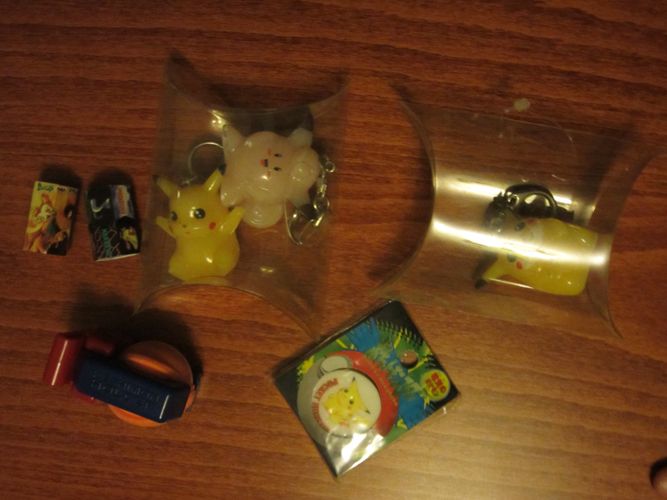 Eraser: $2 (Featuring Charizard/Ponyta/Bulbasaur/Vileplume/Lapras/Kingler or Dugtrio/Squirtle/Pidgeotto/Dragonair/Ivysaur
Glassy Pikachus and Clefairy $2 each (They seem to have a place for a battery)
Rubbery Pokeball with holder $1
MWT Pikachu Tomy eraser $2



Unknown MIB Dragonite $3
Mini Gengar and Charizard $2
All others $1