Hello everyone! Today and yesterday were exciting days since I have just done it. I have finally completed my applause collection after finding the final piece to my collection <3 MIP too!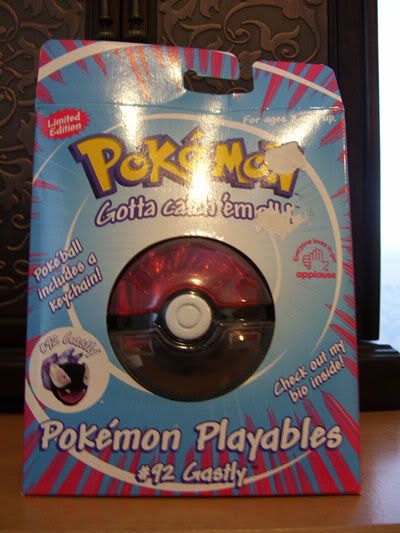 APPLAUSE GASTLY PLUUUUUSH!!
Thanks so much
lucario who graciously middlemanned this precious Applause Gastly plush for me <3 Now here goes my endless bragblurb of how hard it was for me to track this guy!

Back when I was a kid about 8-11 years old, some childhood friends and I started to collect these guys. One had a seel the other had a Zubat, and I had Bulbasaur, Meowth, Squirtle, dratini, pikachu, vulpix, Ivysaur, and Charmander.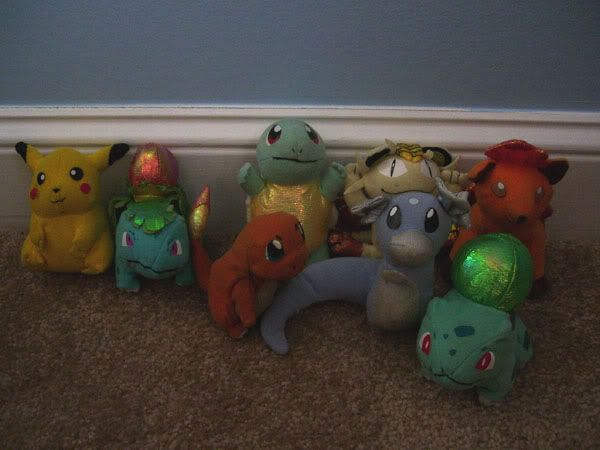 (Yes. These old farts)
The last applause I bought during my childhood was Ivysaur from the local iparty before it went out of business. I wanted to go back and save to get a Charmemlon, but before I could, they were all gone.

Well, they sat in my attic until I started to get back into pokemon again (I'm 23), and while I was collecting the pokedoll line, this brought be back to my childhood. I was curious on what other applause plush were out there, and I saw that there were 33 out there, counting the 8 that I owned. Well then I was set to collect this line.
Time went on, and by a span of a little over two years, I was able to get the remaining applause for my collection: http://mypokedolls.weebly.com/pokemon-by-applause.html
All except for Applause Gastly and Koffing. Those two were honestly the HARDEST for me to find of the applause. Until a week later after my birthday
goodbuyer1 linked me to an ebay listing of an appaluse lot with a koffing: http://pkmncollectors.livejournal.com/11580664.html
Well that crossed one of my list, but then I was left with Gastly. I have only seen this guy sold 3 times (counting this listing) since it was released on the last pokemon wave before Applause moved on to other projects (and eventually go out of business…)

I did see one applause sold upon the community auction style, but I didn't have the cash for it at the time, and I shrugged it off saying "Meh, I'll see another one for sale soon."
… Soon was an understatement…
It wasn't until a year and a half later I didn't see one for sale.

Last November, I was browsing around the uk ebay randomly, and found a small applause lot (with some applause I didn't have such as Caterpie, pidgey, ect) but the main want in that lot was Gastly!

Someone middlemanned it for me, and the day that the auction ended, it closed at $50. My limit was $40 ._. I was so disappointed…

I spent several months until now searching ebay in USA and ebay UK EVERY DAY searching for a Gastly. I searched in lots, I searched other ebays, (it basically sounds like an obsession… »;;;) but there was no sight of a precious Gastly.
It isn't until one Wednesday morning where
shayminz123 (Formally
goodbuyer1) linked me to an auction on ebay.uk where they had the listing for Gastly: http://www.ebay.com/itm/Pokemon-Playables-92-Gastly-Limited-Edition-BNIP-collectors-item-/190731180991
(If this isn't allowed, please let me know, and I'll remove it.)
My heart was pounding. I HAD to find someone that lived in the UK to ship to the USA!
lucario offered to help me and thus this guy was bought (For $22 not counting shipping here). It took about a week for him to arrive to my house ;-; I was just in awe...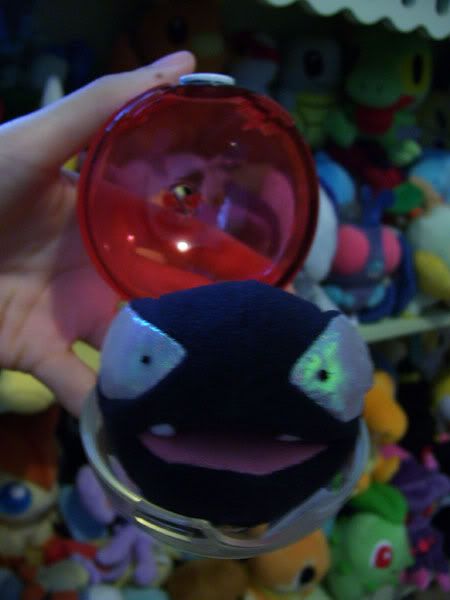 JUST LOOK AT ITTTTT!!! ;_;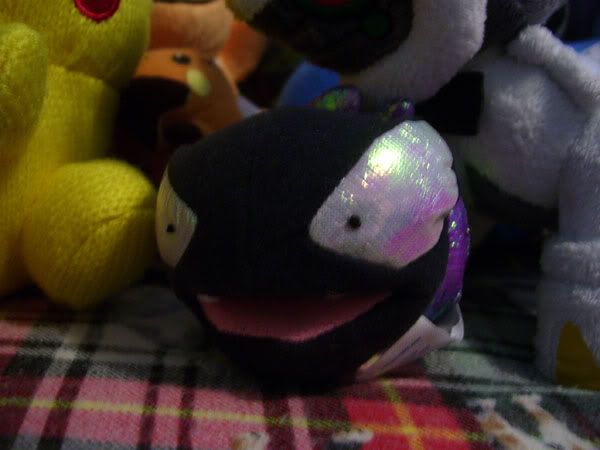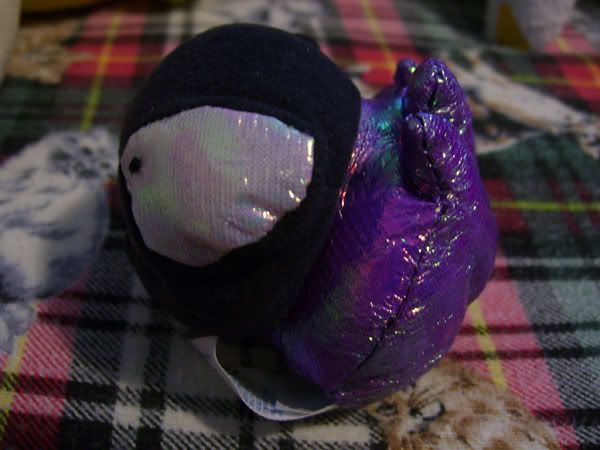 Purple fire butt!!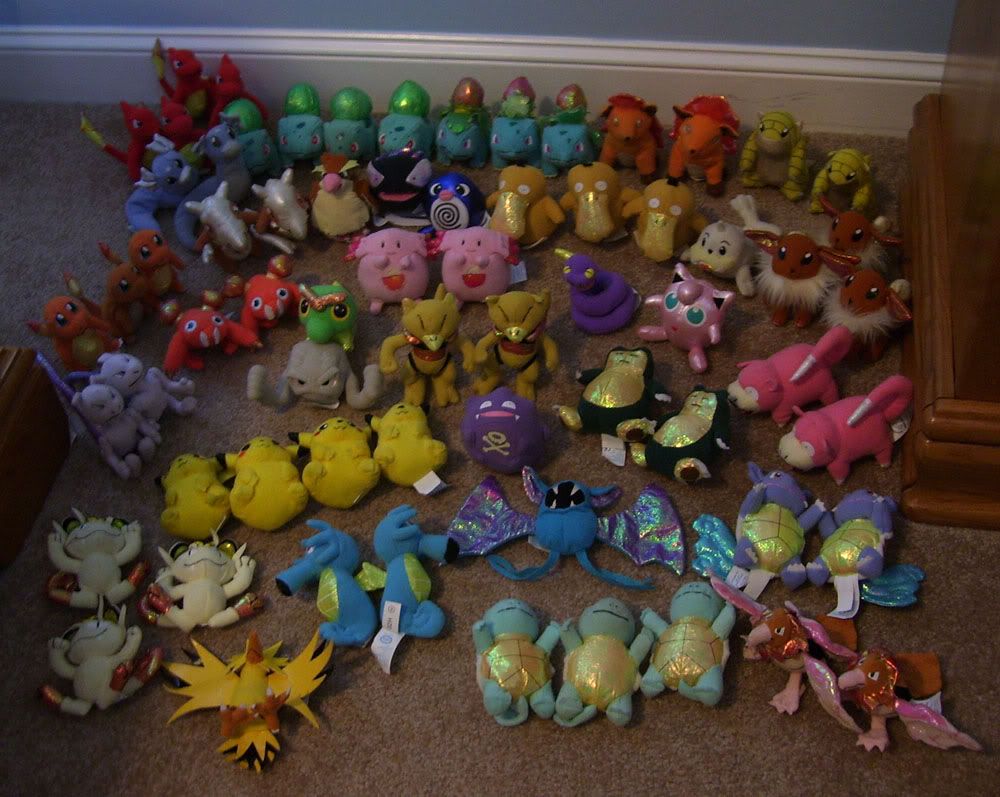 OBLIGATORY GROUP SHOT! THIS POST DEMANDS ONE! >(
I have finally completed my collection for this elusive guy ;_; thank you so much
shayminz123 and
lucario <33 Now my mind can be put to rest knowing that I've got em all!
I think I'm the only person on the comm with a complete applause collection. I could be wrong though.
... well okay, I AM still looking for an Applause Jiggglypuff WITH a tush tag, but that can wait I guess? If you have one, I'd like to buy it <3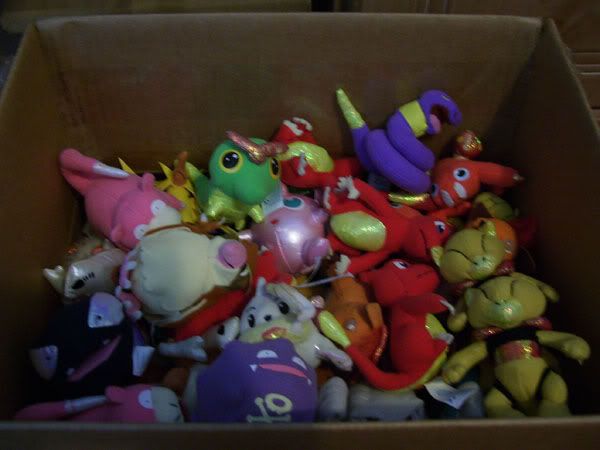 Box of applause. I wish I had a way to display them. My room is too small.
Now for other gets!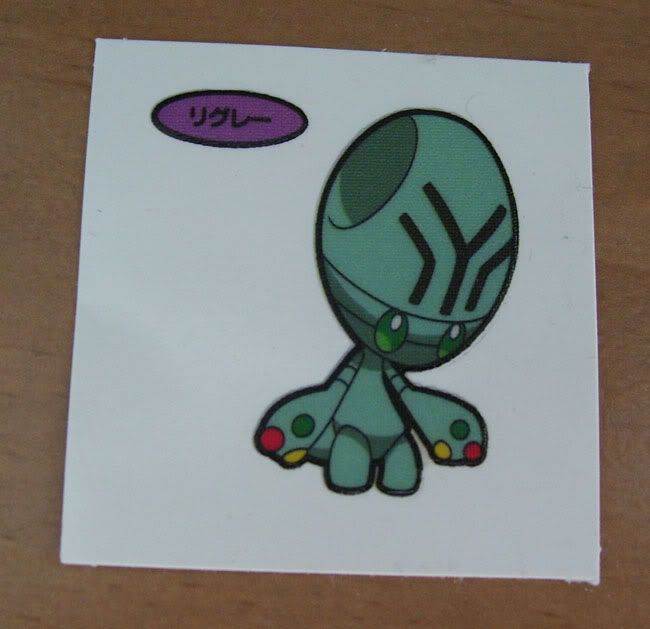 Egyem pan sticker from
schenzi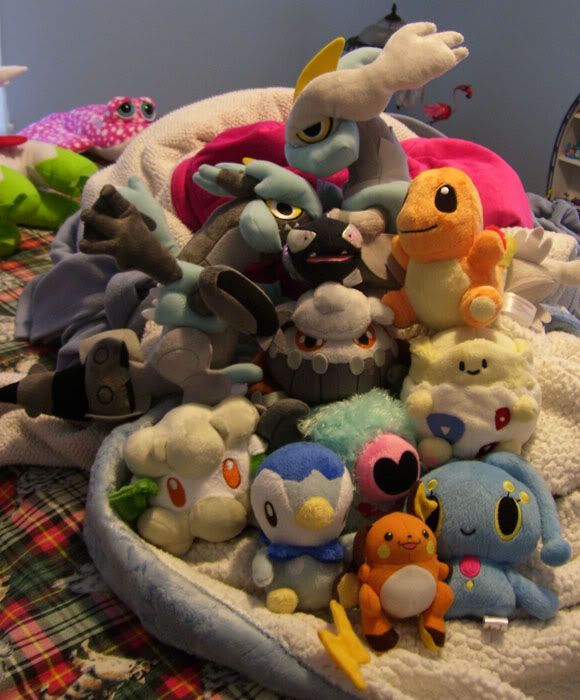 and even reversable raichu plush and factory reject piplup are from
schenzi too. Woobat and Cottonee pokedolls are from ebay. Woobat is like a big squishy koosh ball XD Manaphy pokedoll from
poliwhirl. Charmander pokedoll from
tsuiling's pickups. I got the Togepi pokedoll and Heatran pokedoll from SMJ. I was surpised on how cheap I got Togepi (200 yen), and he's so soft ;_;
Finally I got my Black and White Kyurem pokedolls from
placetohide's pickups. I brought them with me to work, since we pick up the mail along the way, and everyone at work was all "who's dat? what's dat?" I love their little teeths <3
I now own 135 pokedolls!
Well that was my collection update. Thanks for reading!