Heya guys!! It's about time I posted my collection post, which I haven't done for a long long time. I know some people have been waiting patiently, and I'm sorry! But now is finally the time!! I hope everyone enjoys!

For the many newer members who don't know me well, or at all, I'm known as "Derr", a hardcore mew collector. Mews are my life!!! I love mewlings very very much, and I always chase the dream to have all the mewies in the world! I've been a member since the VERY BEGINNING of the community!!!

There are some things I wanna point out about the following collection update. All photos were taken around July, so many photos are slightly outdated due to the rearrangement of various shelves and display layouts. Some items are not displayed because they are new (post-July), plus my card collection will not be shown because it's on a haitus. There are a LOT of photos, over 150 about, so this thread will be image-heavy. I went to great lengths to make sure I get as much detail as I could manage.

Also, due to lack of time, I am opting out of added text to go along with the images, unless it's pretty important. I hope you don't mind looking at just photos rather than reading possible helpful descriptions. I'm very sorry, I wanted to write a lot of descriptions, but.... meh. ;v;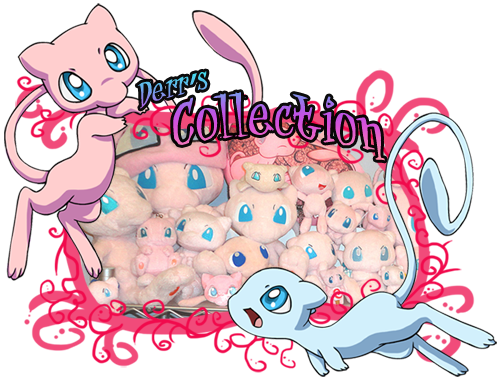 The Beginning.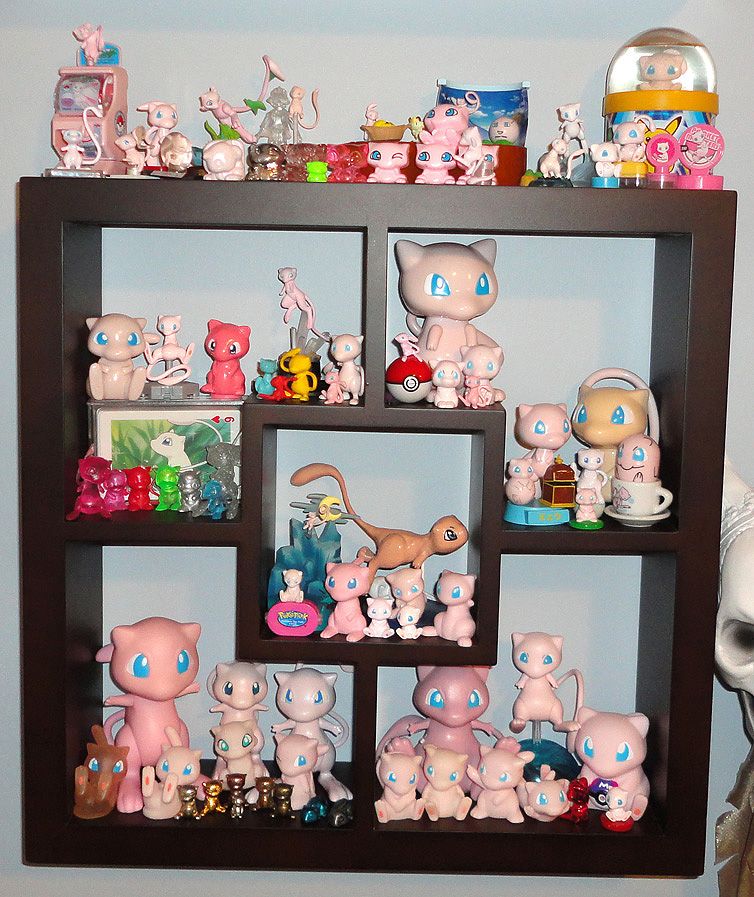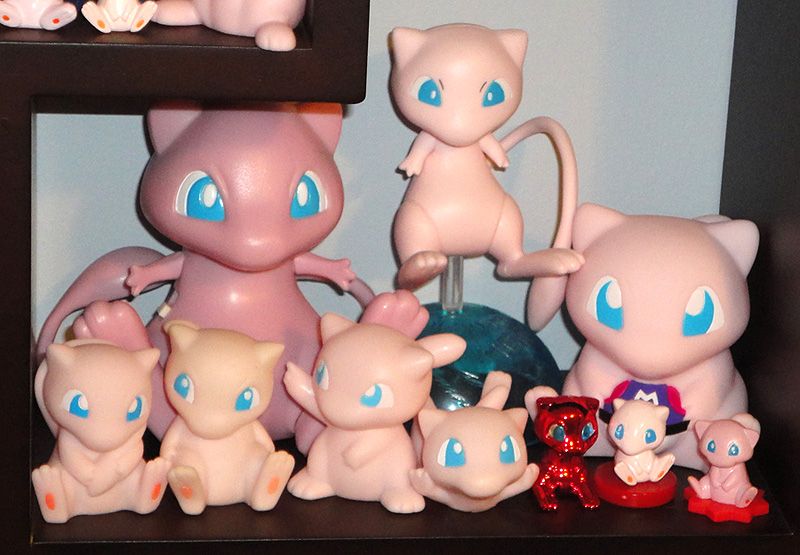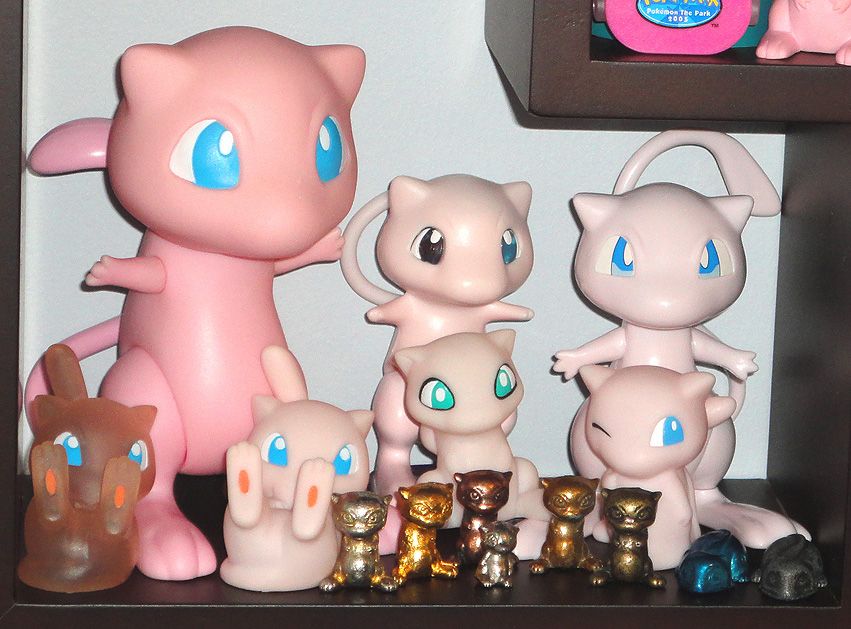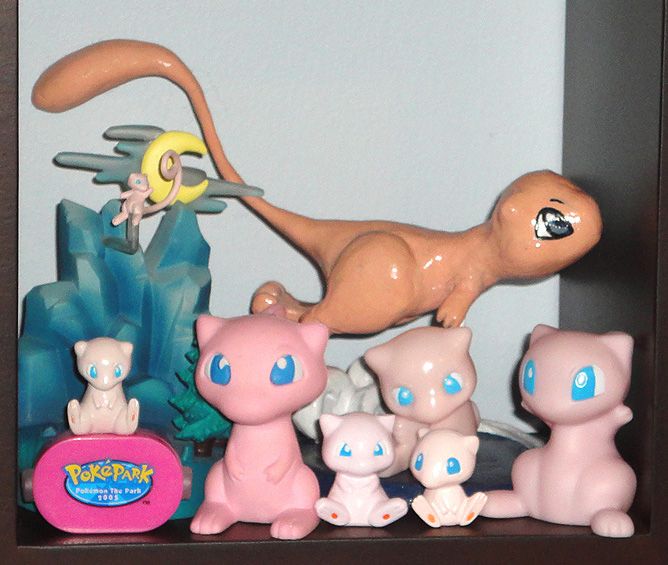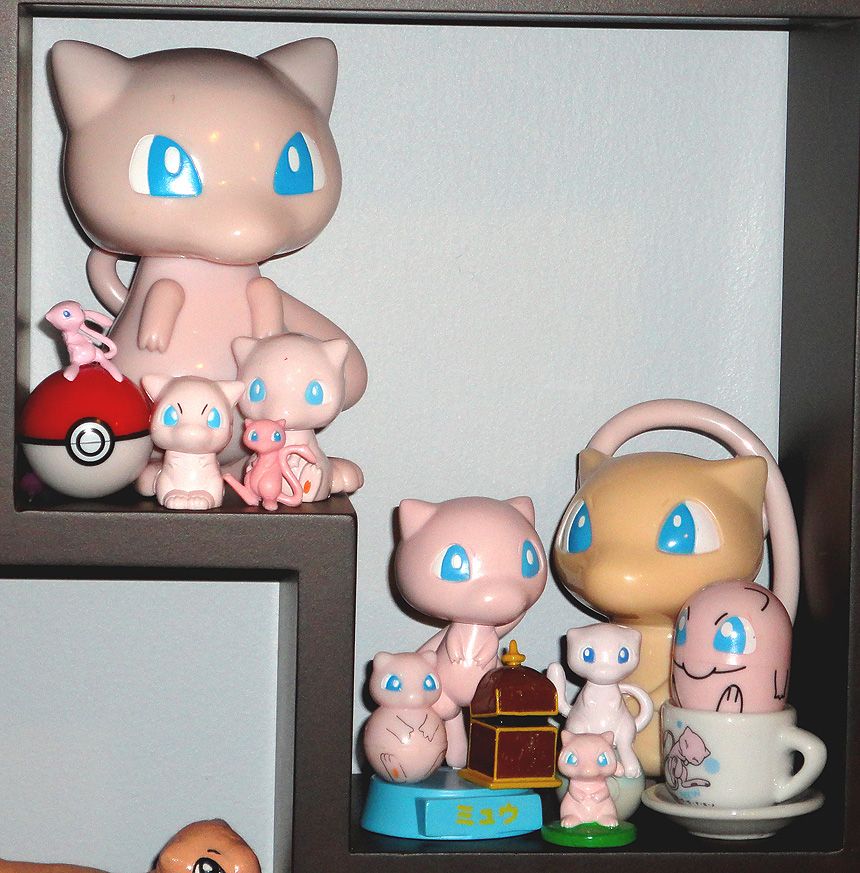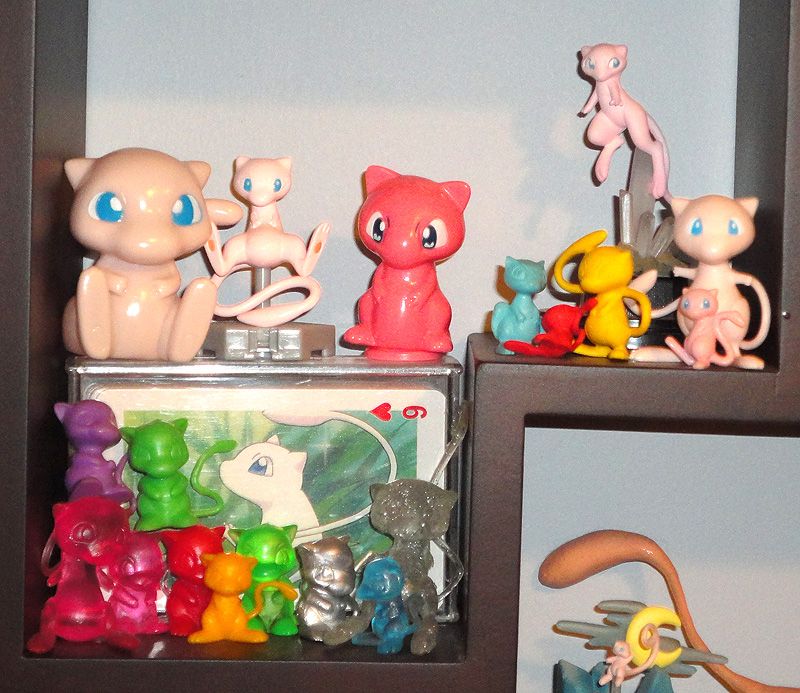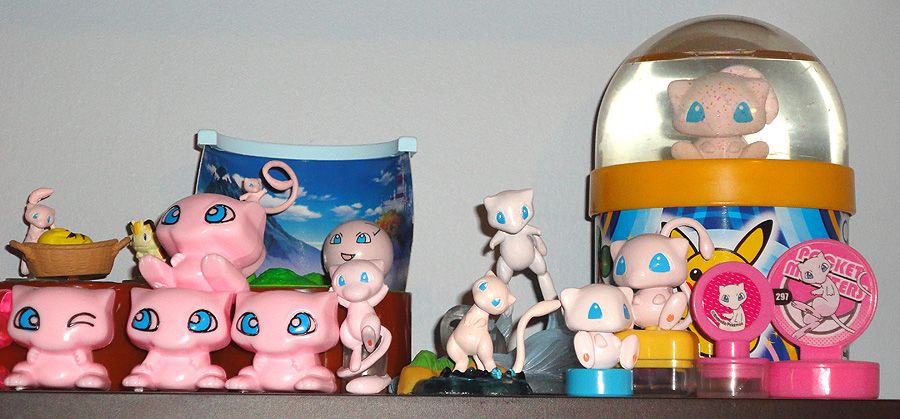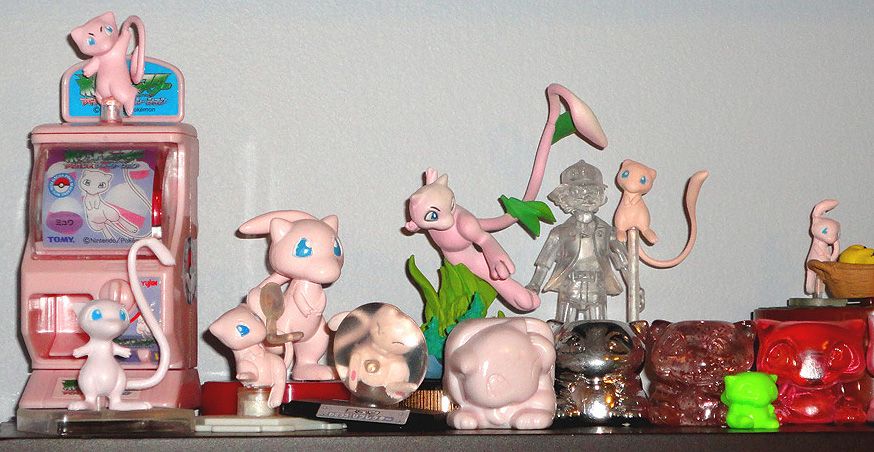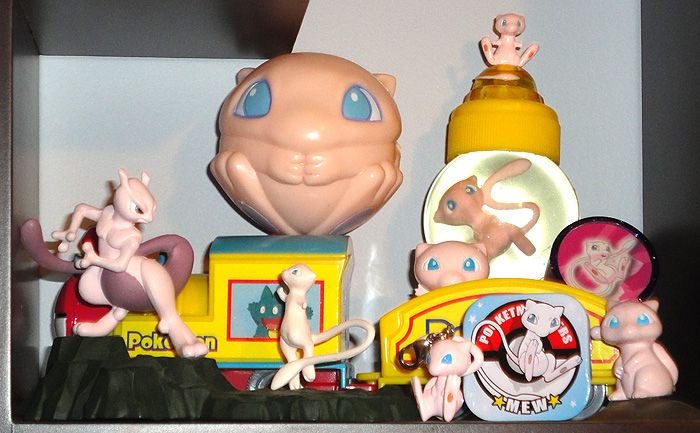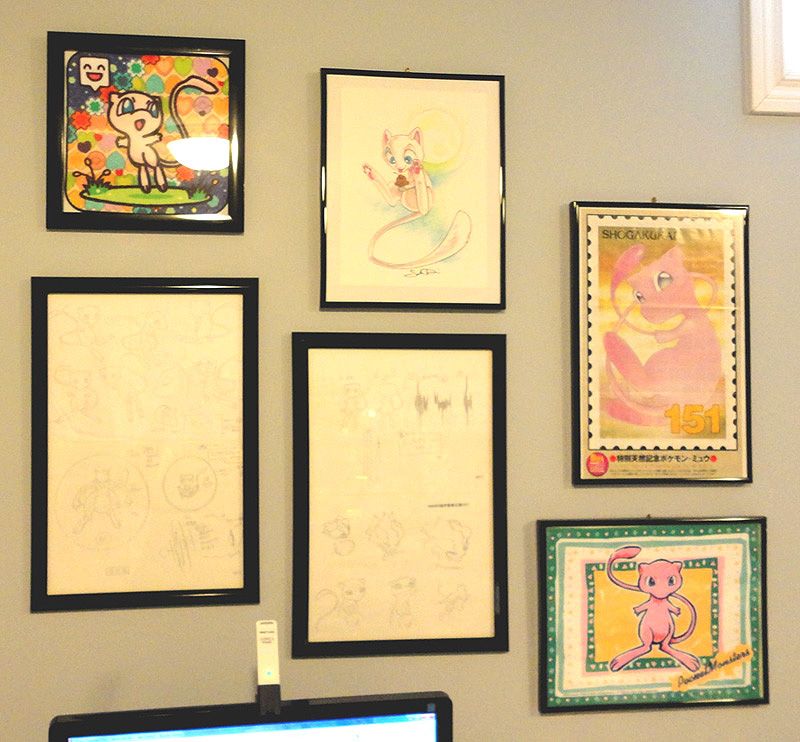 Continued wall. More settei and walky washcloth. I'm sorry the settei are hard, if not impossible to make out! These photos were not the best...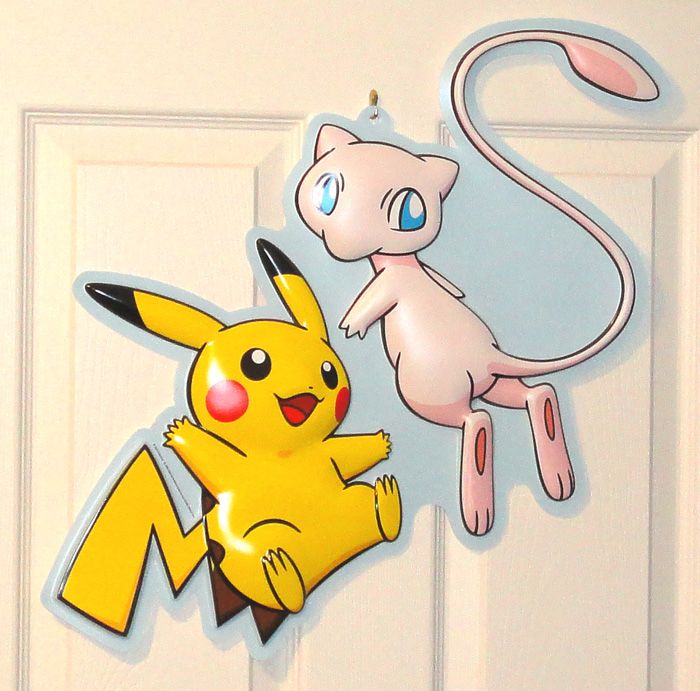 A plastic hanging decoration, hung on the outside door of my closet.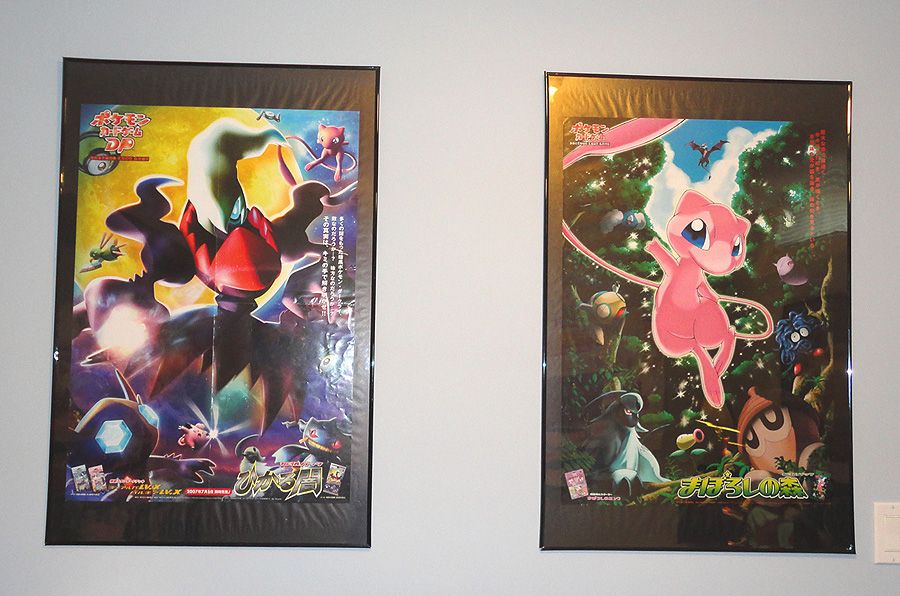 2 framed posters of TCG promotion. Extremely rare and gorgeous artwork.
Hung over my bed, an old and rare Banpresto poster that GLOWS IN THE DARK. It is perfection.

My main shelving units, with the majority/bulk of my items. This is the funnest part, cause of all the plushies!!! We'll go one step at a time...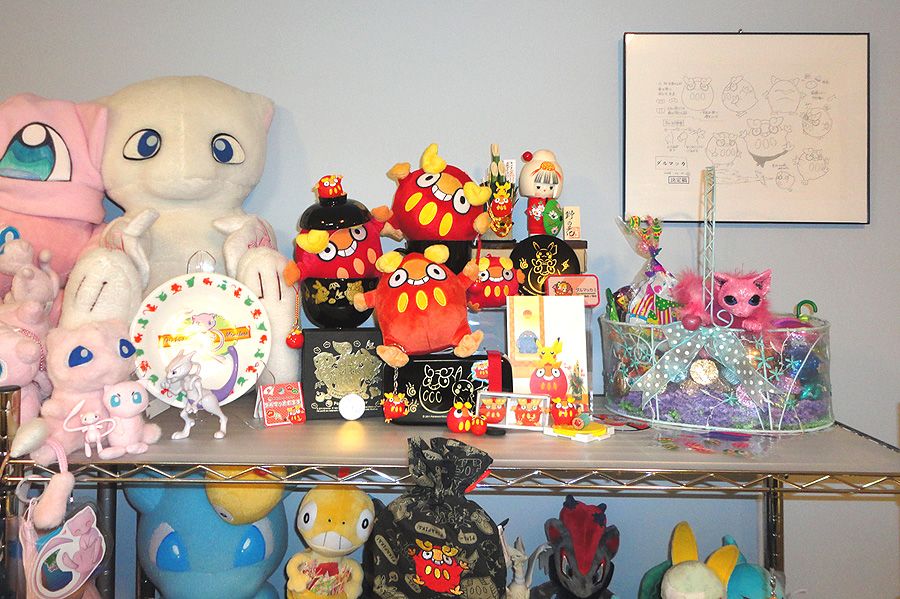 Top right shelf. Hosts darumaka collection and a few extras. The Easter basket is no longer where it is in this photo, but when I can complete my darumaka collection the corner will be filled more. The framed image is a darumaka settei.
This is Saya-Lia, who is a custom and named after her creator. During Easter, she had fun hanging out and sleeping in my chocolate basket!!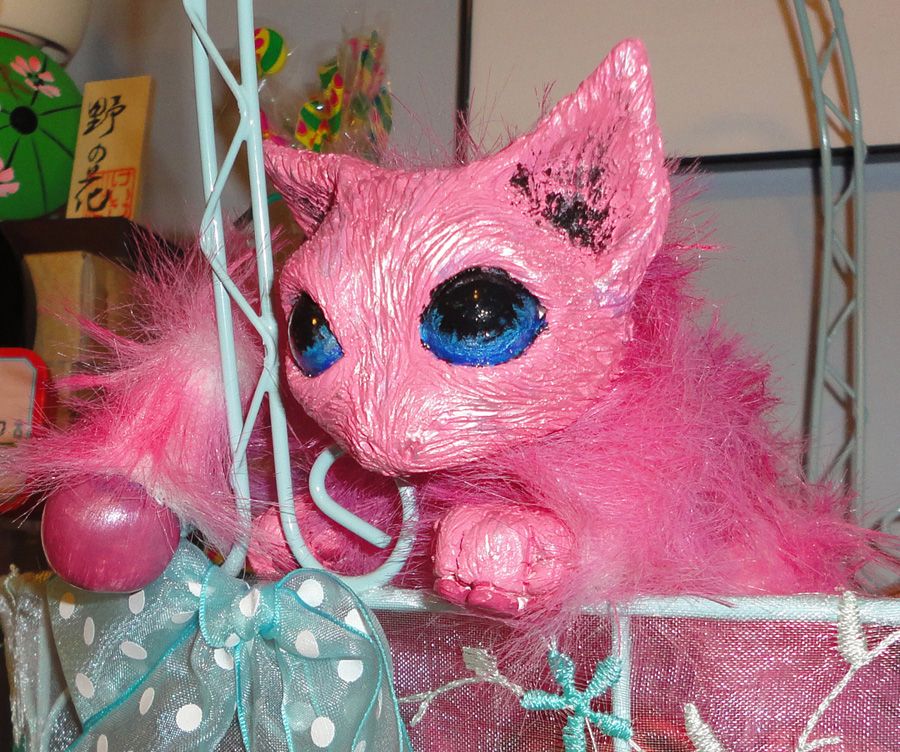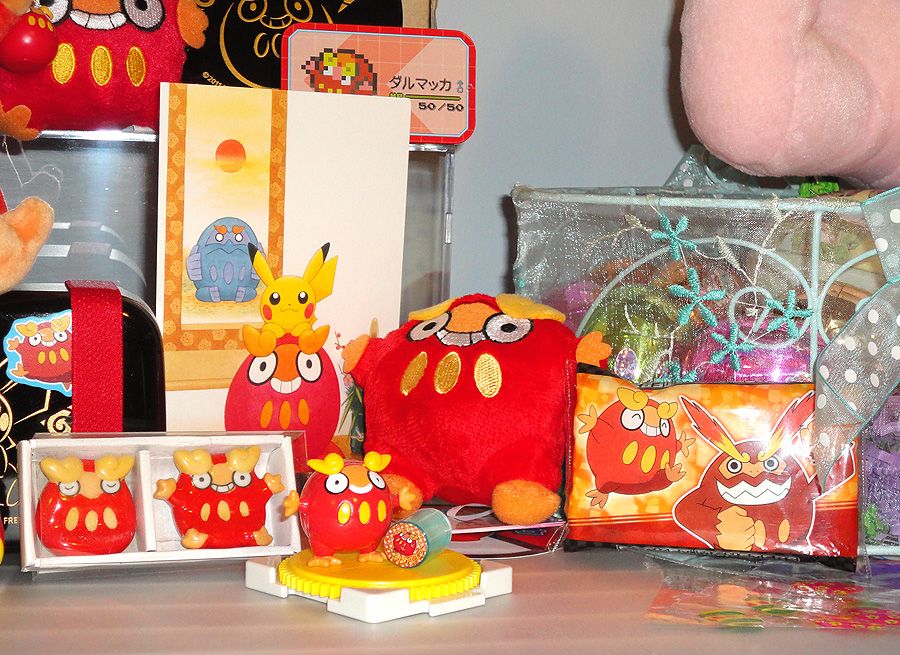 NUGGETS!! First part of nuggies, includes my tissues, MPC, Tomy figure, mini stamp, postcard, chopstick rest, dot-sprite candy tin...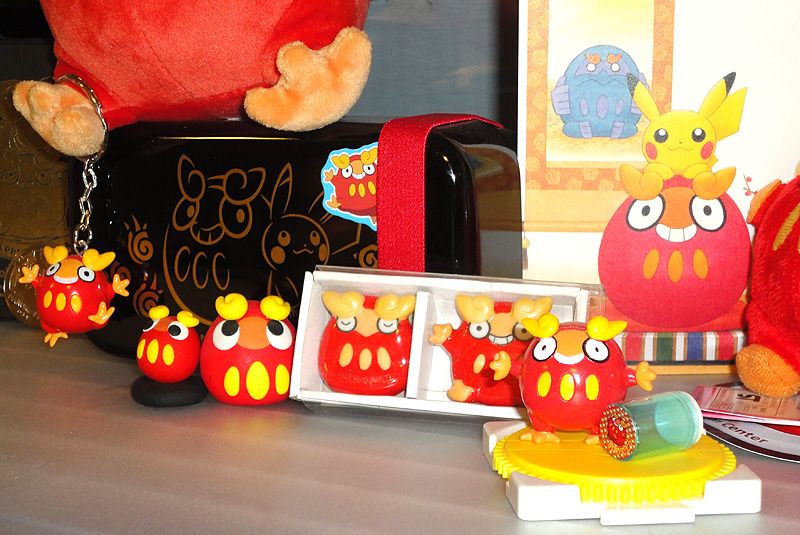 ... Custom Callyfin figures, keychain, bento box, mini magnet...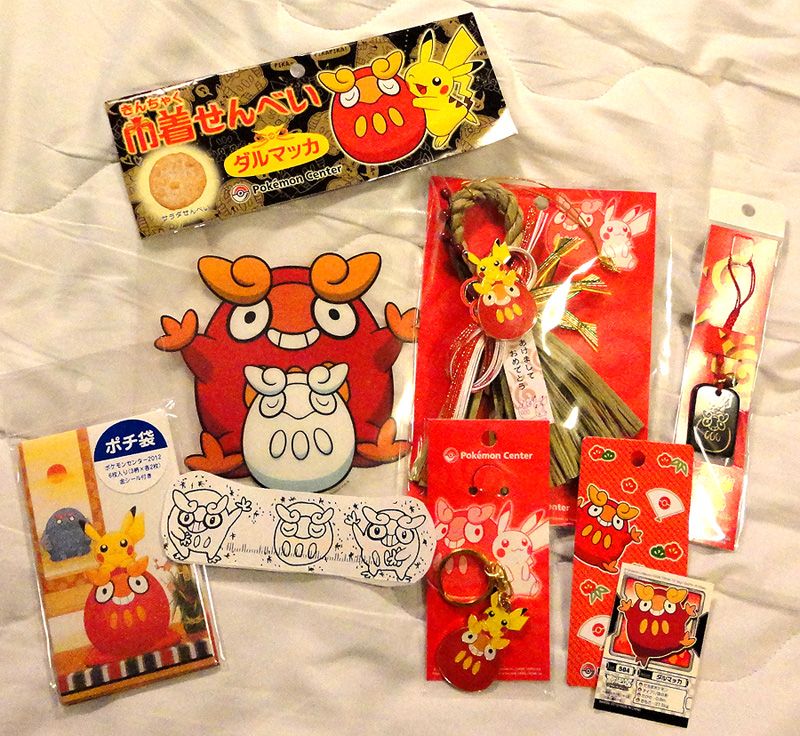 Nuggets that don't have a space yet.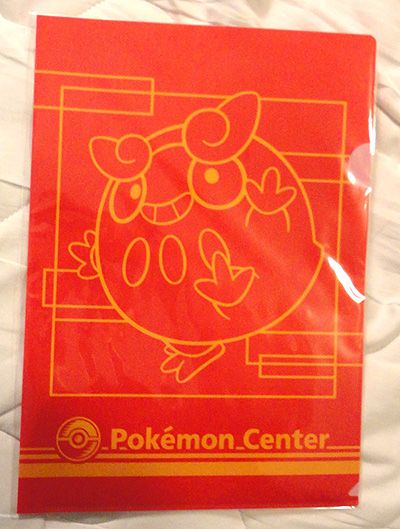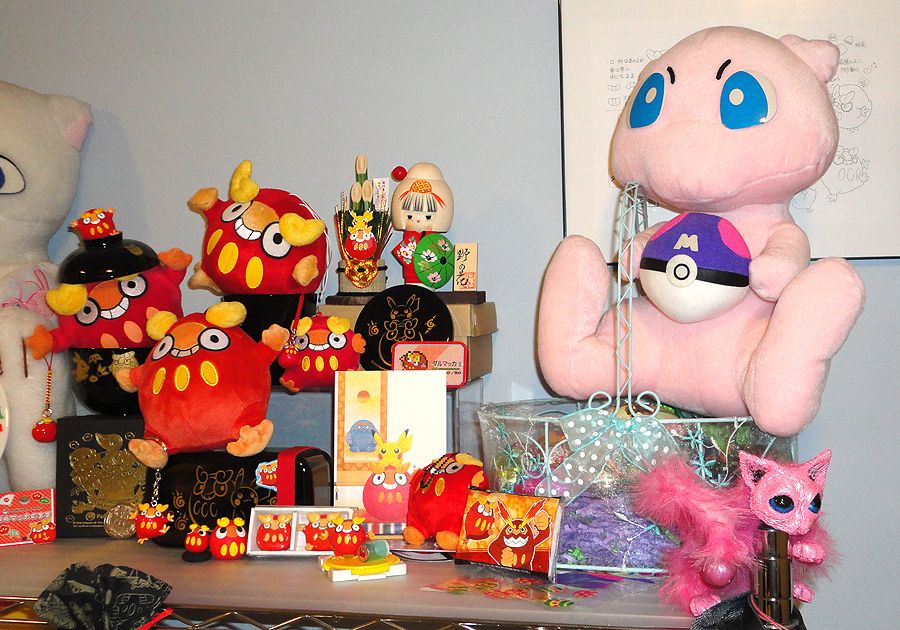 This sorta an extra photo taken, when a couple things were rearranged, mainly when I got the huge oldschool masterbal mewy. She chilled in the basket until she got a better space.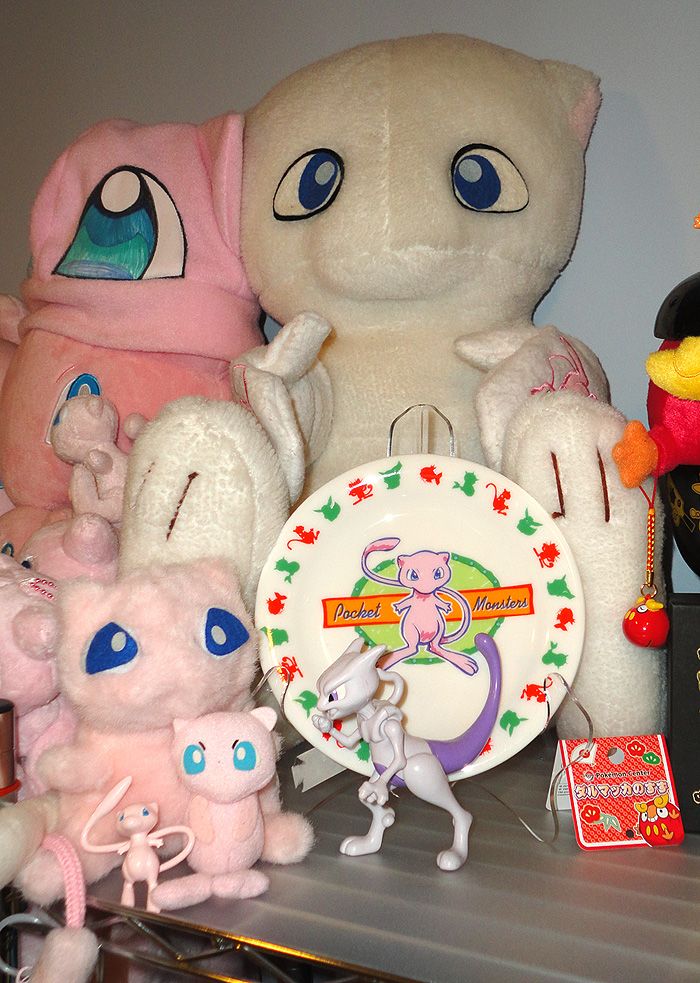 The left corner. Mewzilla the bootleg megamew, who is wearing white mew mittens, promo Meiji plate, an old mew fuzz-plush, cool mewtwo pose figure.
Middle Left shelf. This hosts my non-nugget BW collection. I technically don't have many BW items yet, at least compaired to my BW exclusive wishlist. In the future I hope to slowly but surely add kyurem, hydreigon, Submas, and other guys to the BW part of my collection.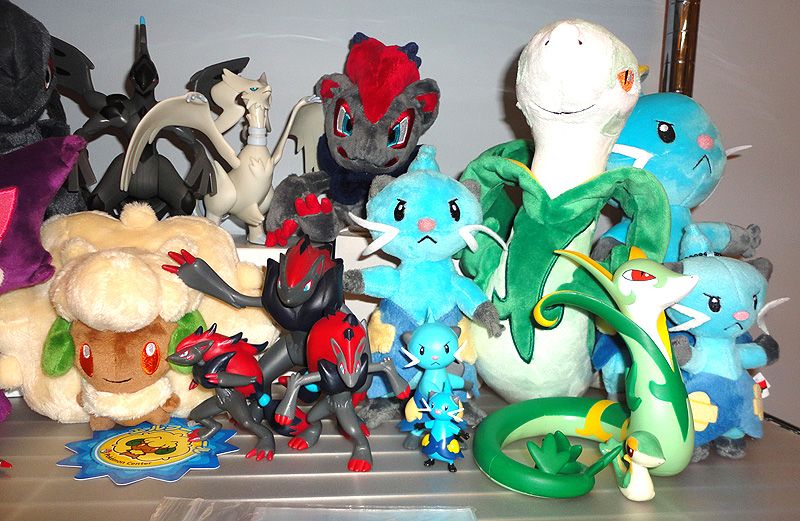 Right side, featuring my mini-collections of serperior, dewott, zoroark, and the sad beginnings of whimsicott, zekky, and reshi.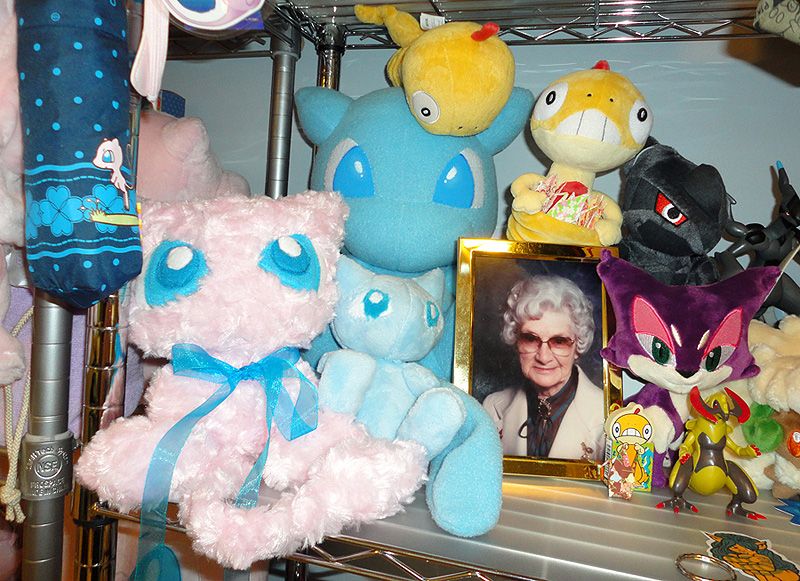 Left side, featuring an extension of mews (mainly customs), mew walky umbrella, a couple cute zugus, and more sad beginnings of haxuros and purrlion. However the star in this photo is my Great Grandma, who is a special person to me and resting in peace.
3rd left shelf. It's bare, and technically where my collection fades off into the future of possibility!!
Custom cloth and Saya's newer hangout.
Saya and her new friend Stephy! Steph holds onto another postcard, lol. Also my new custom coaster.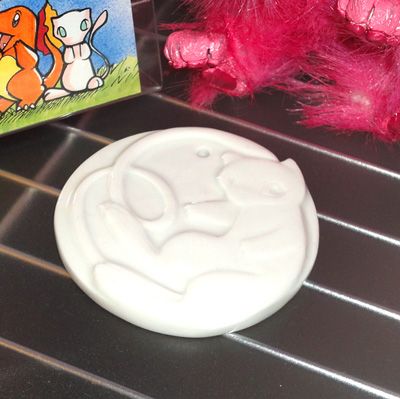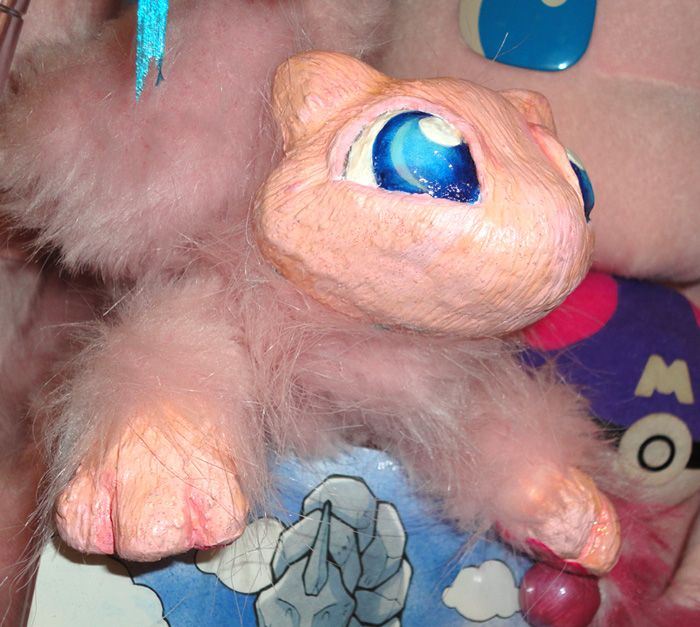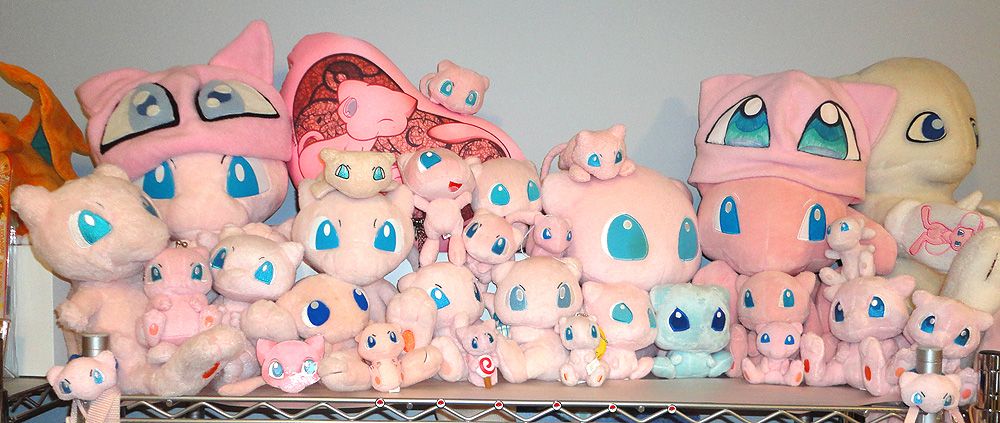 THE PLETHORA.... MONEYSHOT!!! Top middle shelf. Since the entire middle shelf is jam-packed with mewlings, I can't do too much explaining, there's just soooo much. Many of my things should be recognized.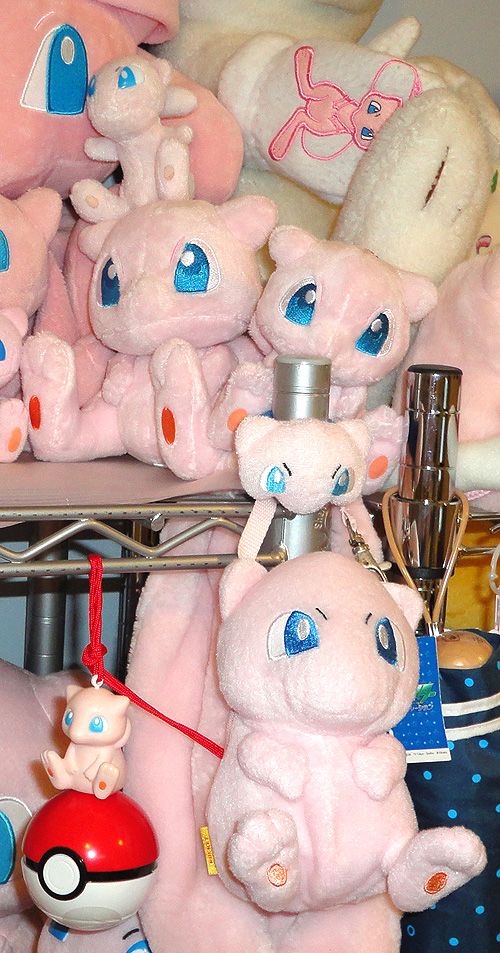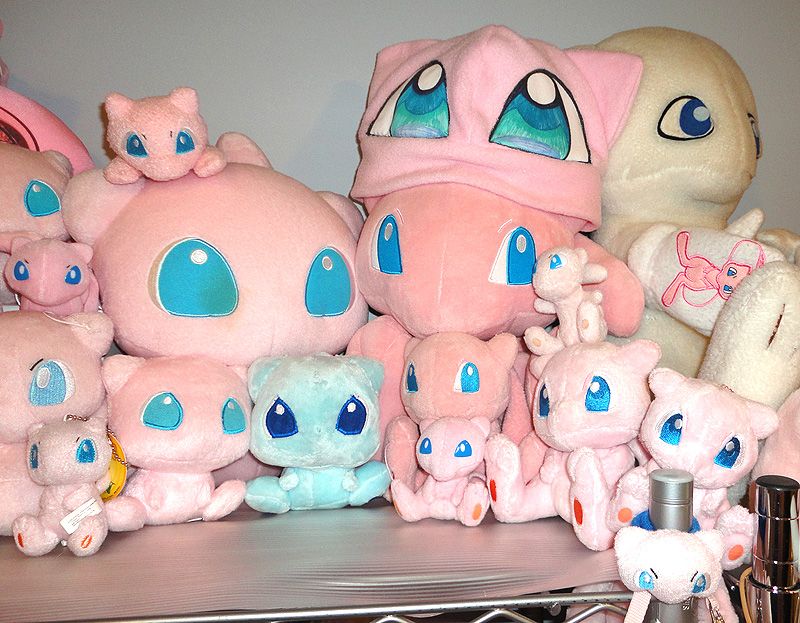 Right side. OH Cheeky, you just stand out so much my darling. <3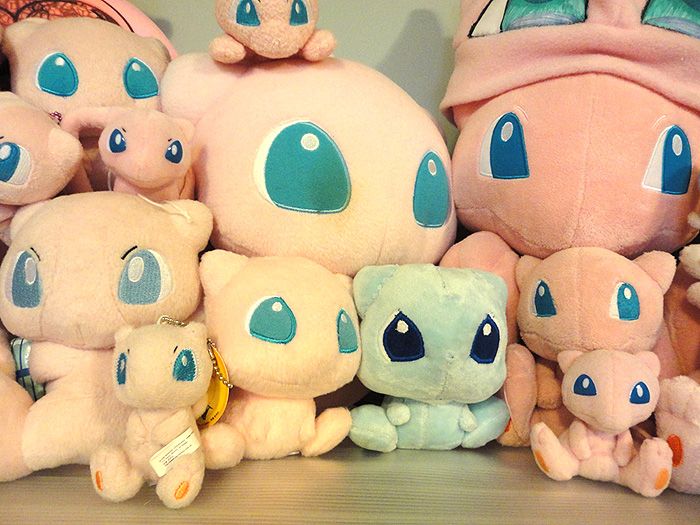 Slowly shifting over, lol...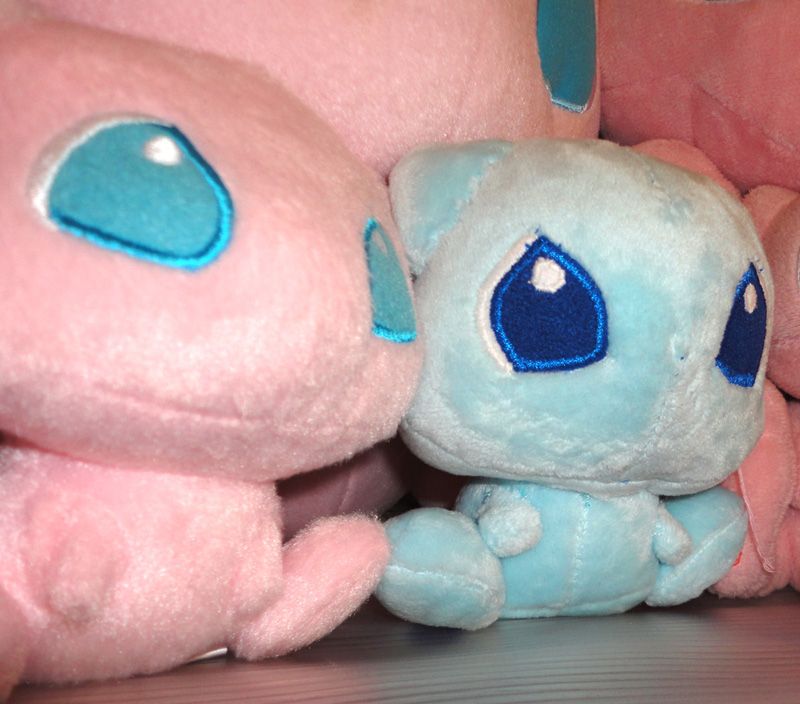 CHEEKY and... uhh his friend. ;___; Need more names for everyone omg.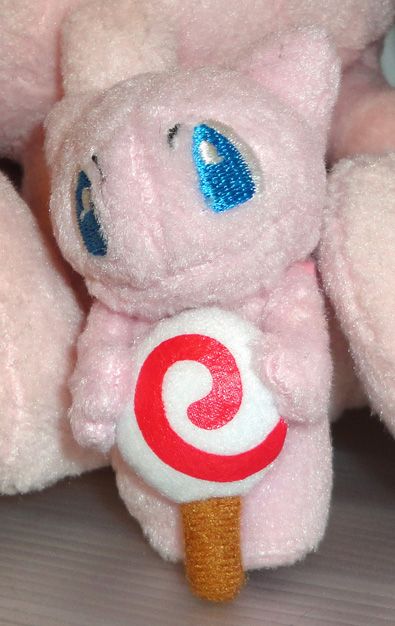 Super rare candy finger puppet. Booyea.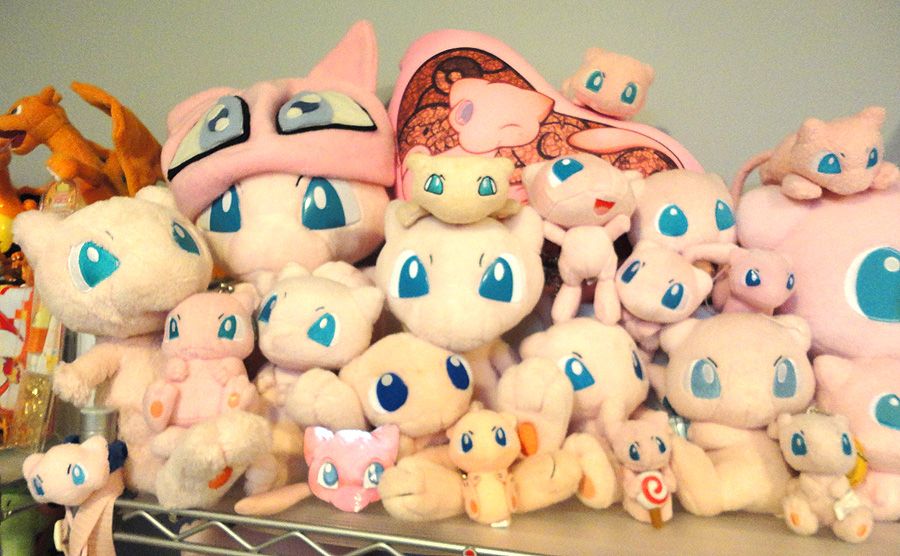 Closeup more. The heady thing is a custom hair barette.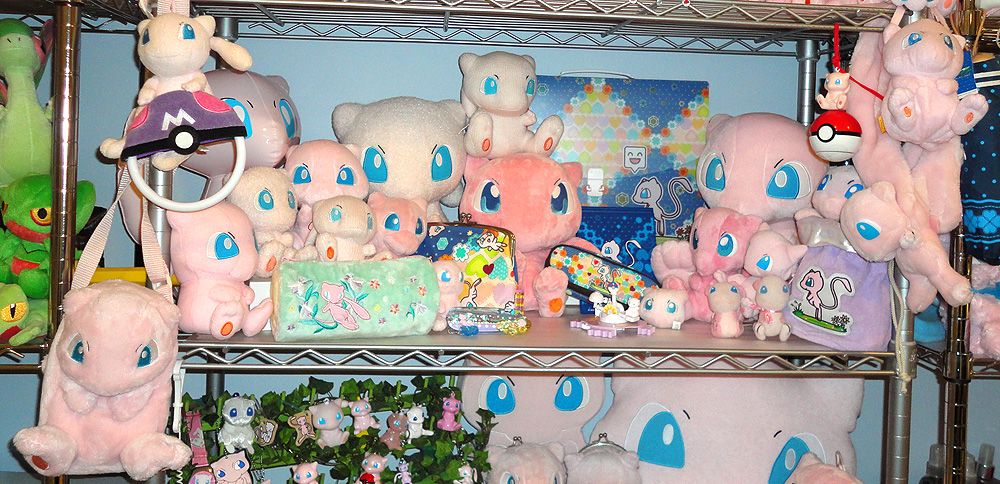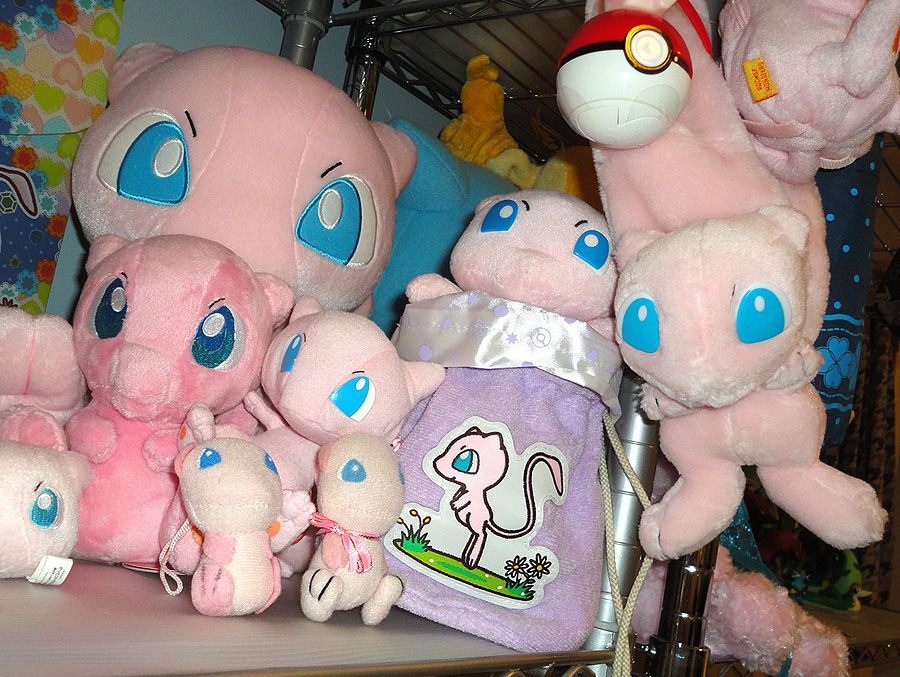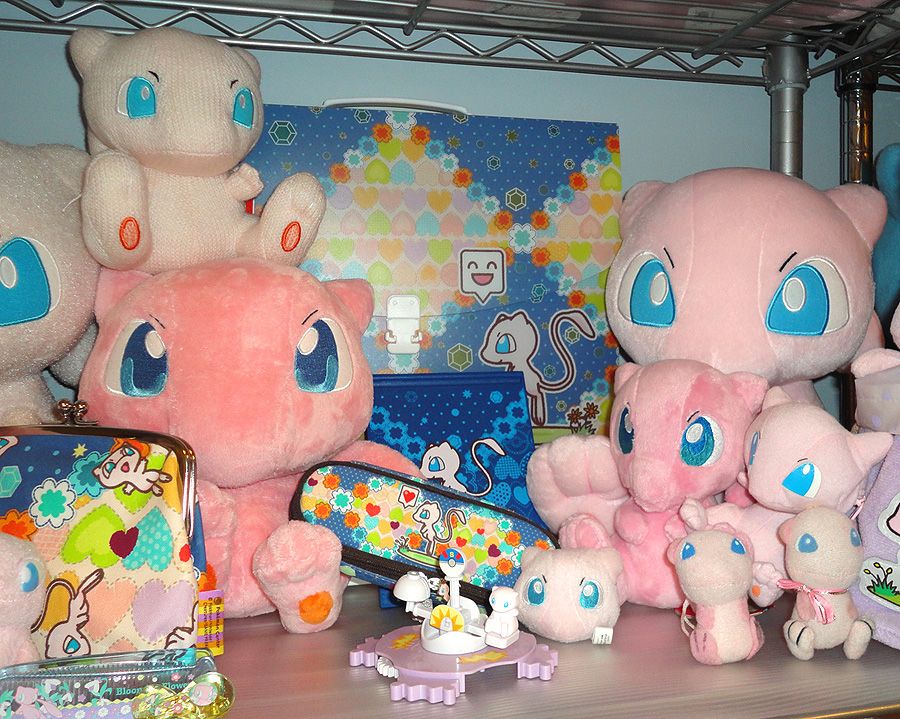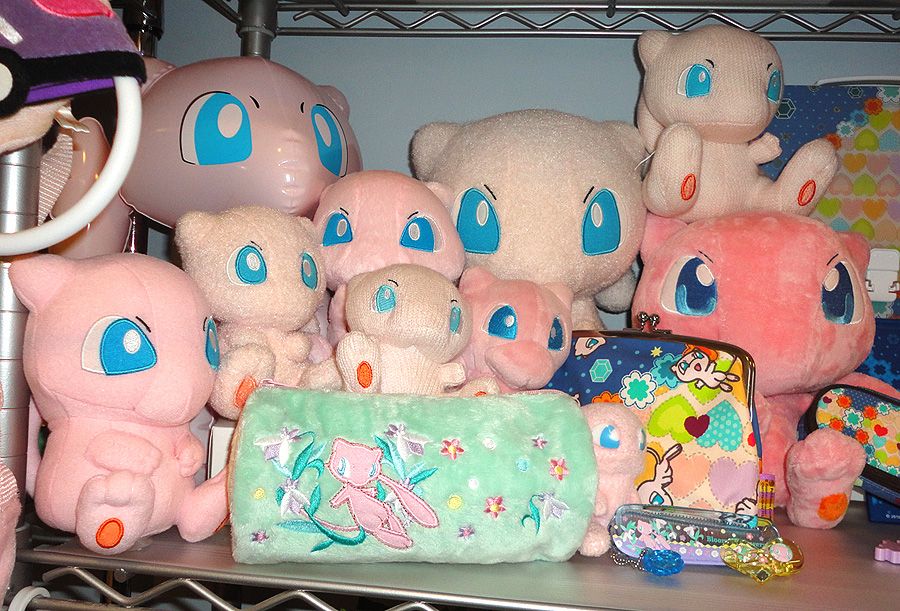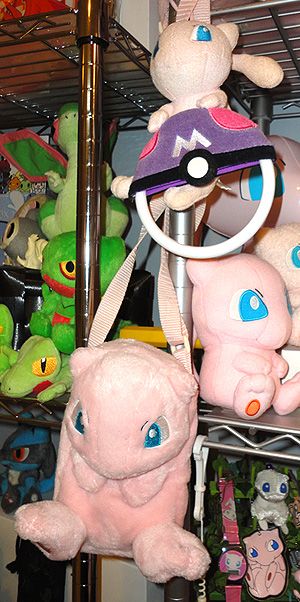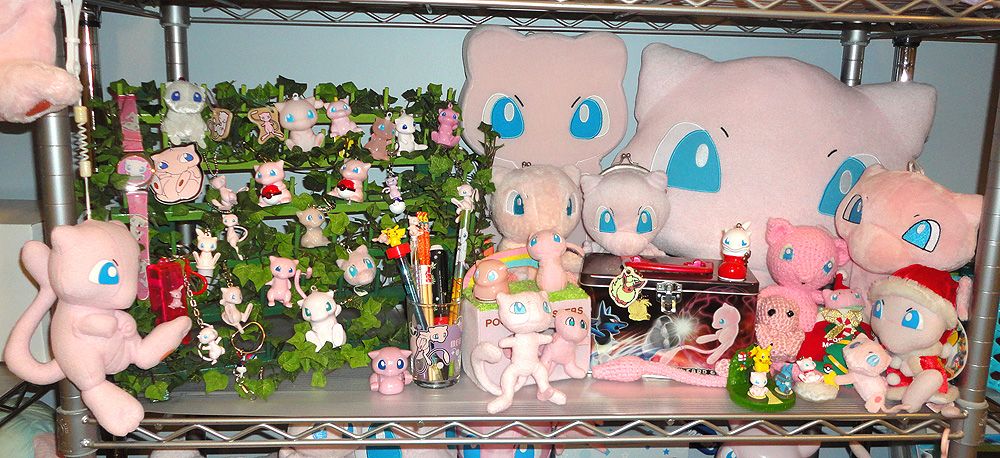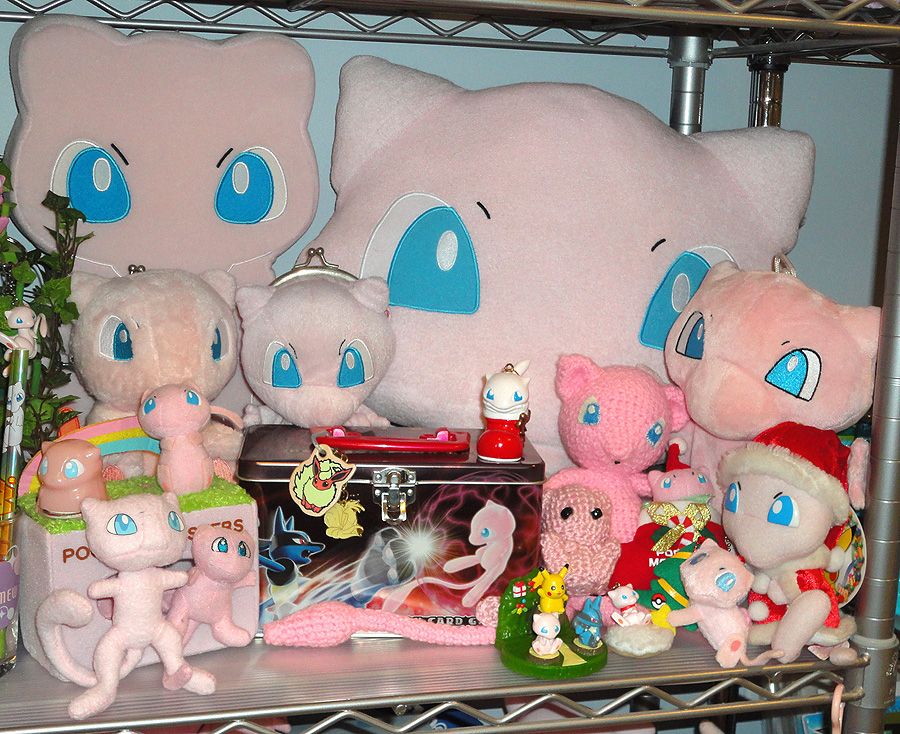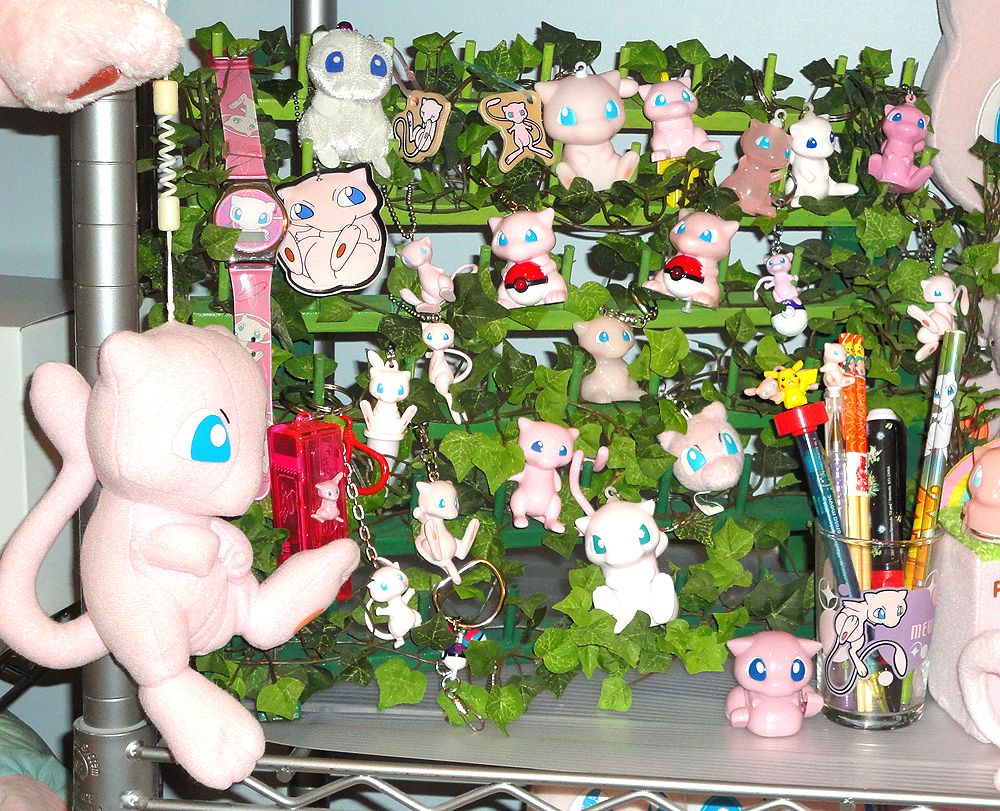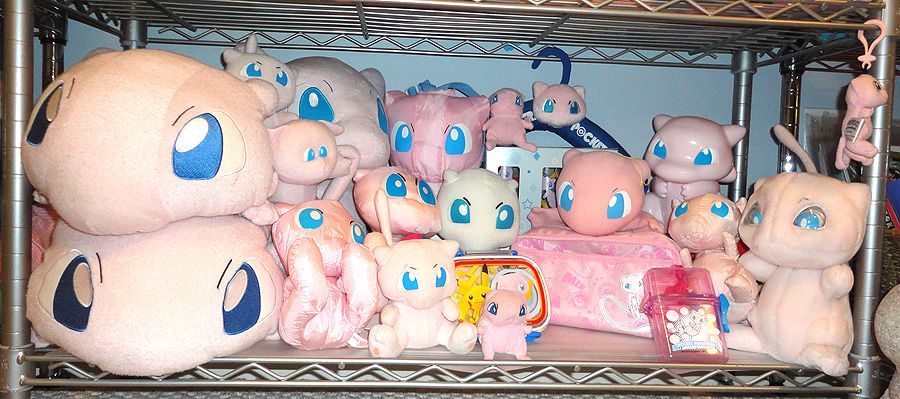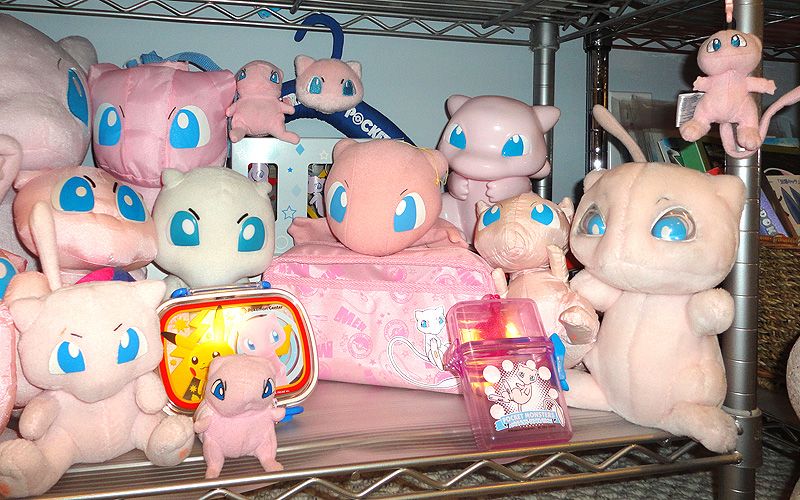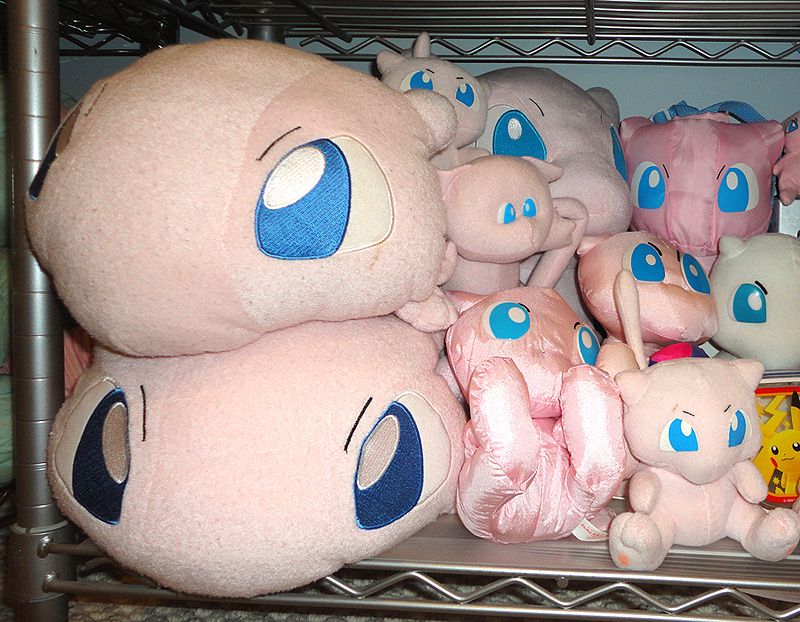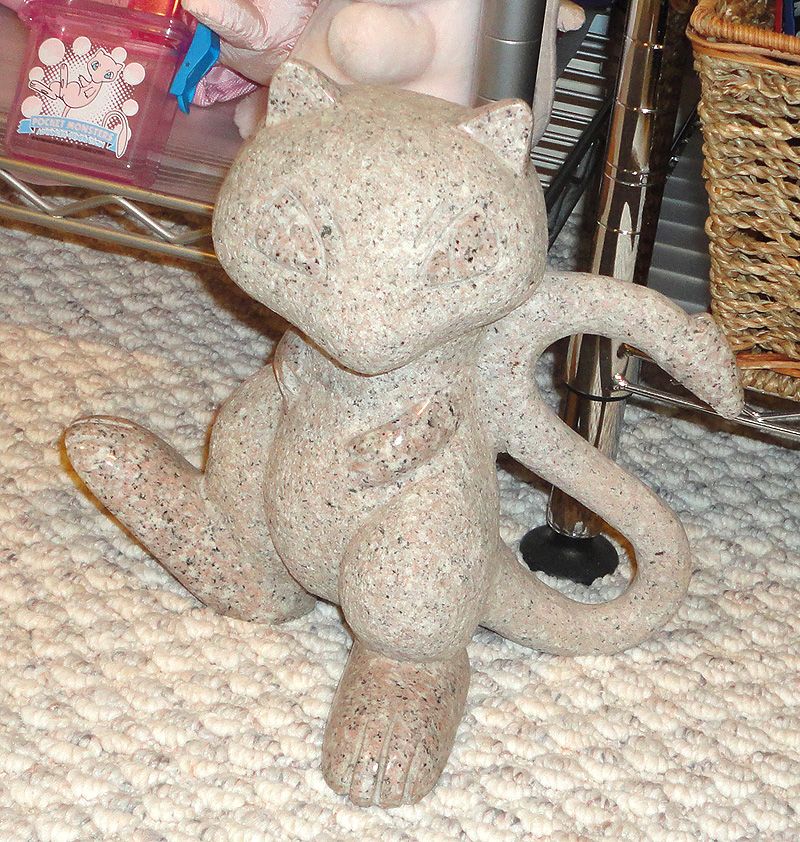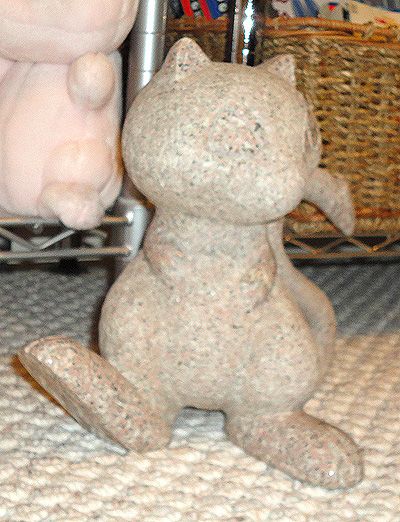 Mew statue, different angle.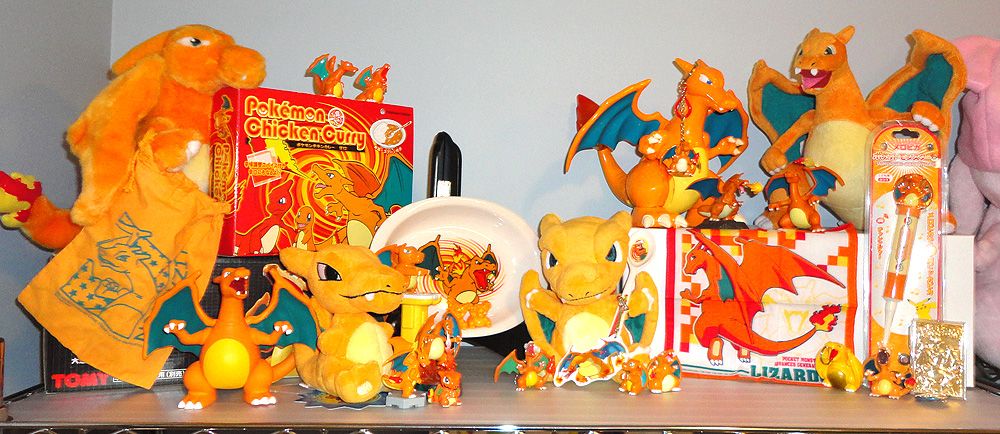 Top left shelf, charizard collection.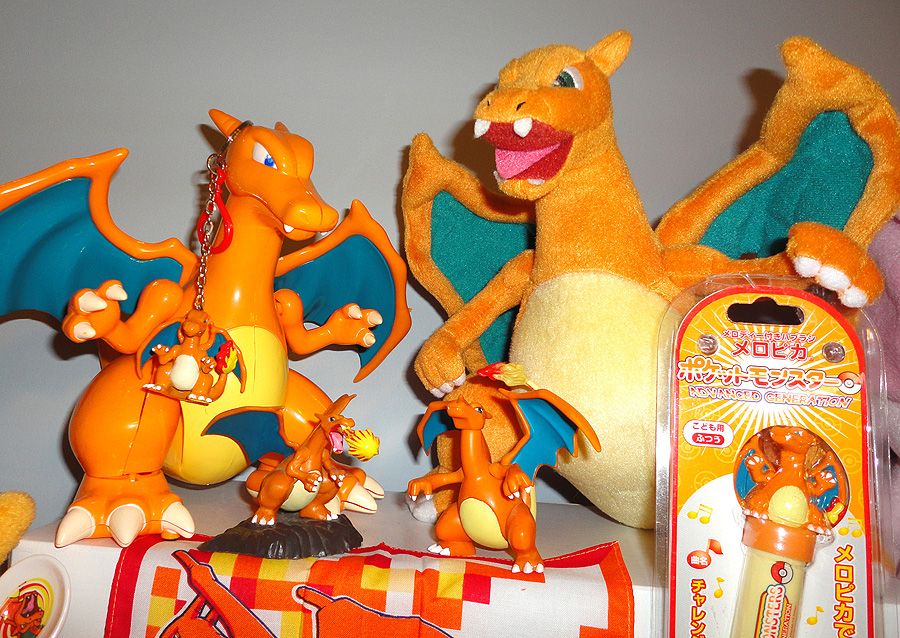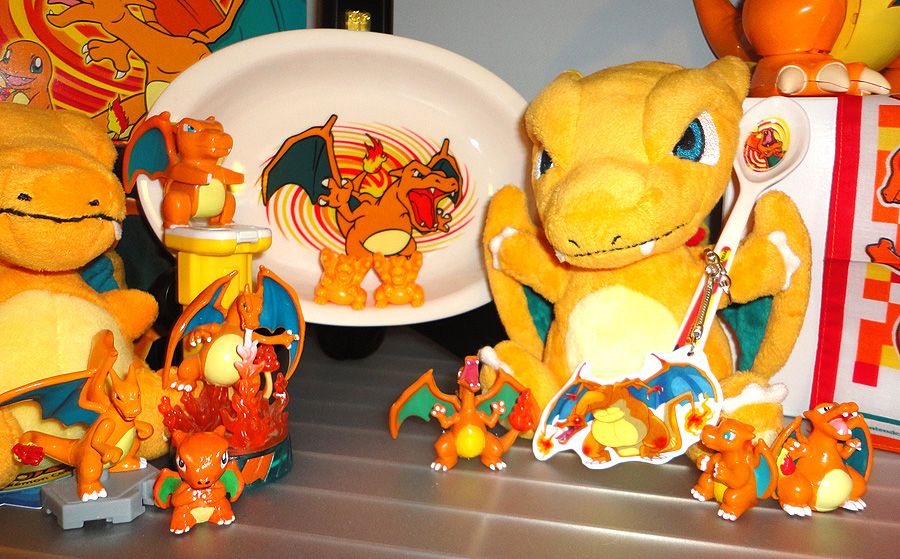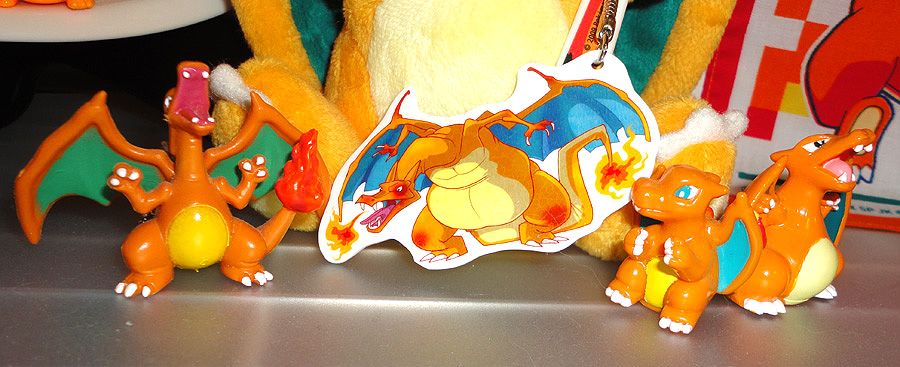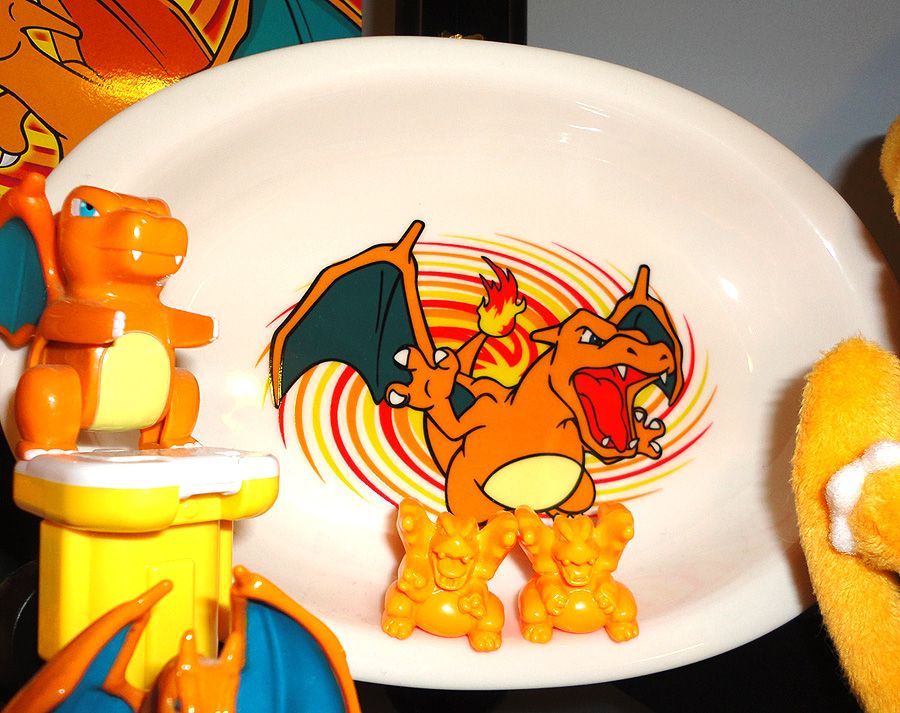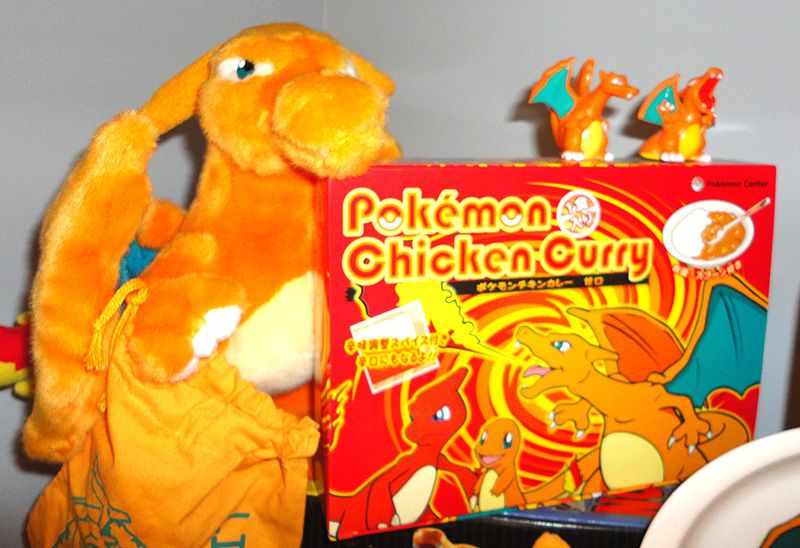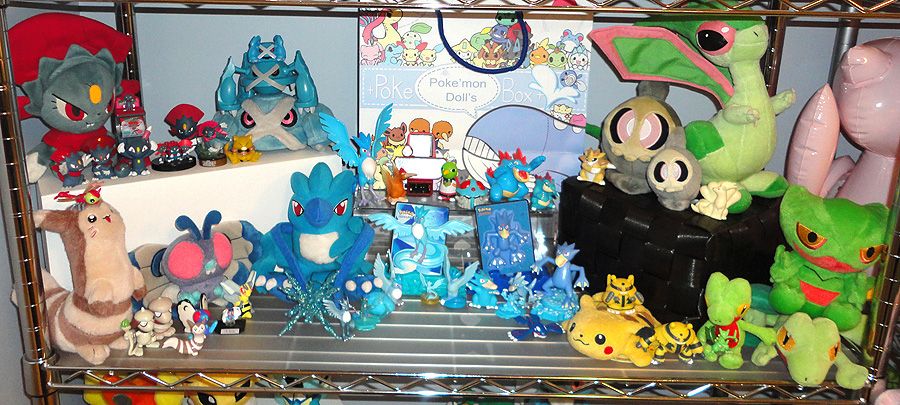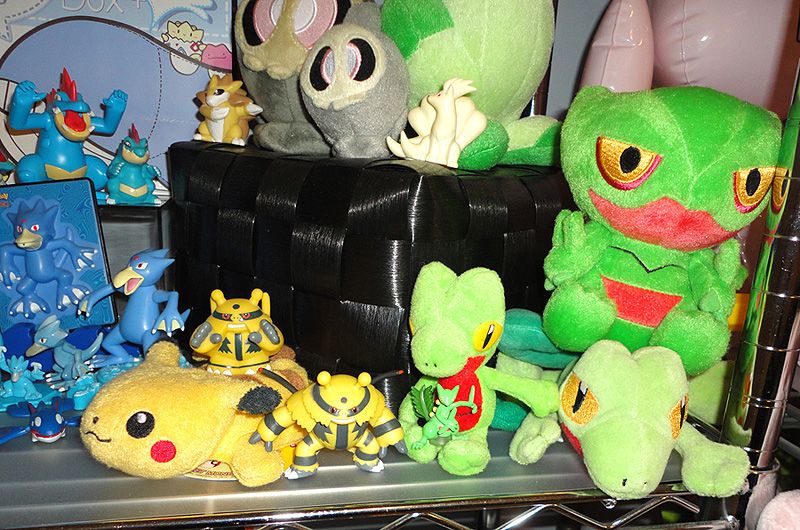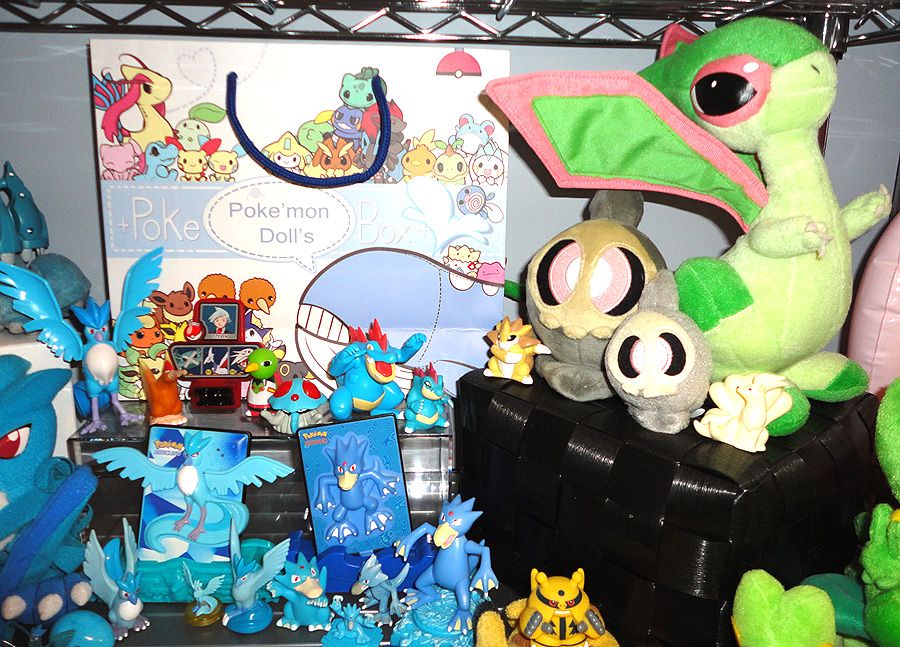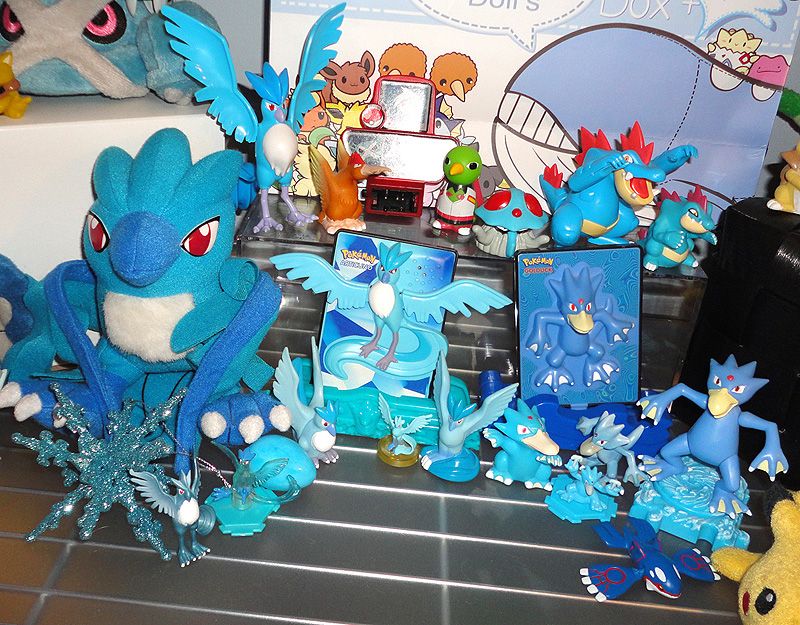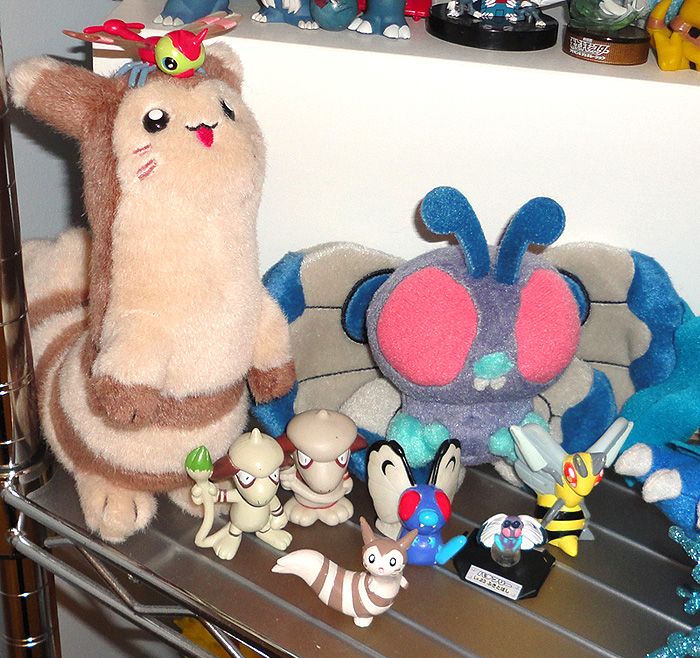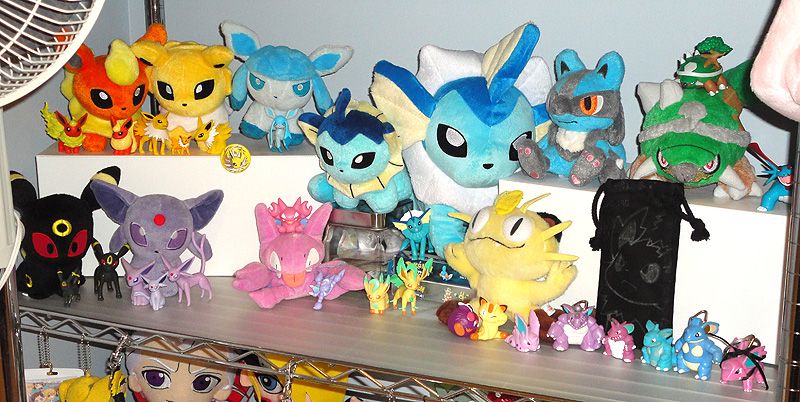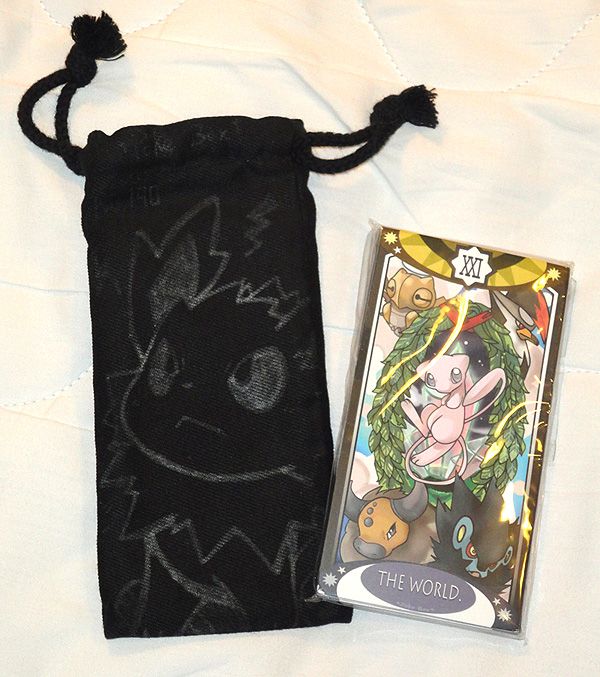 Closeup of pokemon tarot card deck and pouch from PokeBox.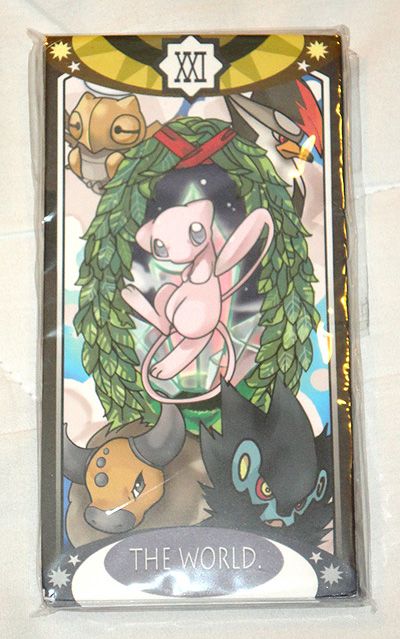 The BEST of all the tarot cards!! ;3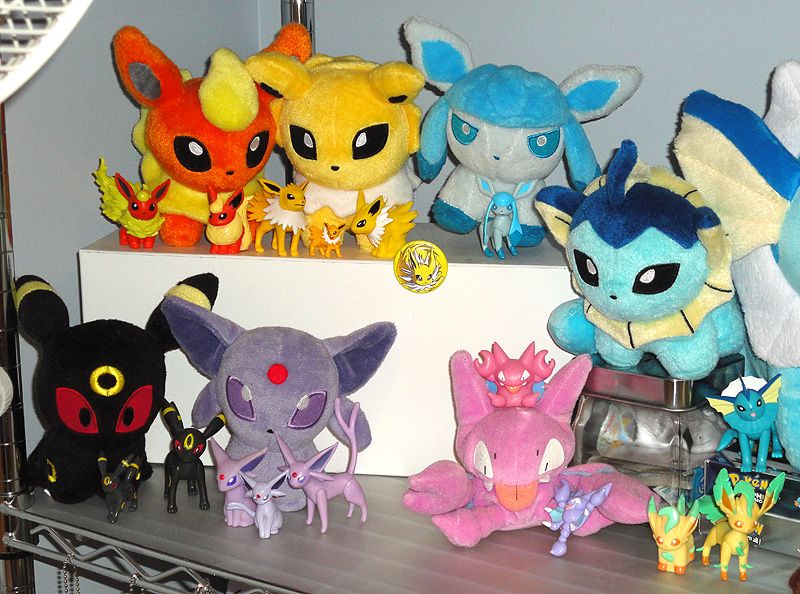 Closeup of my booty vaporeon and her other vappy friends and Lucario.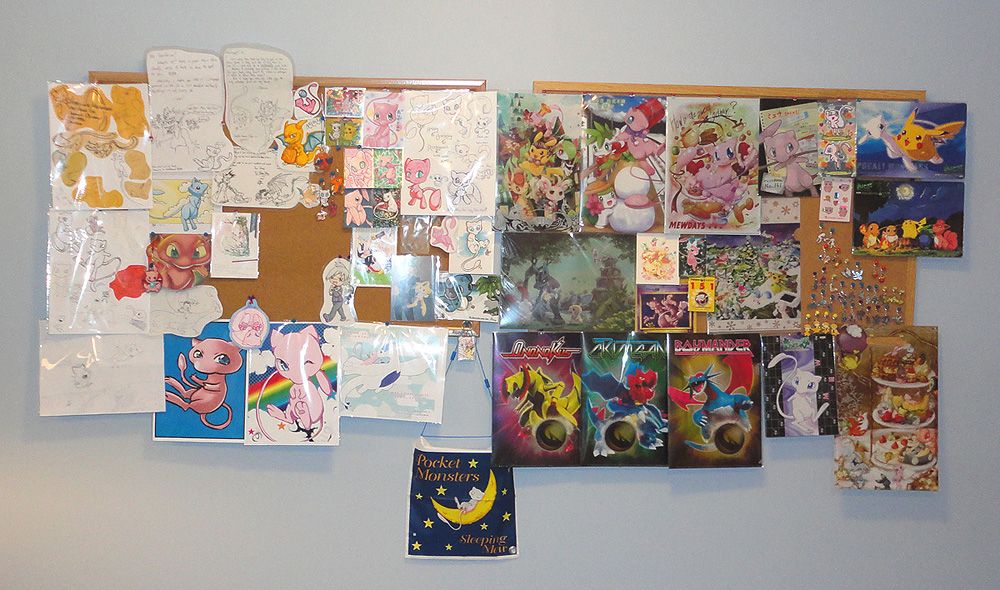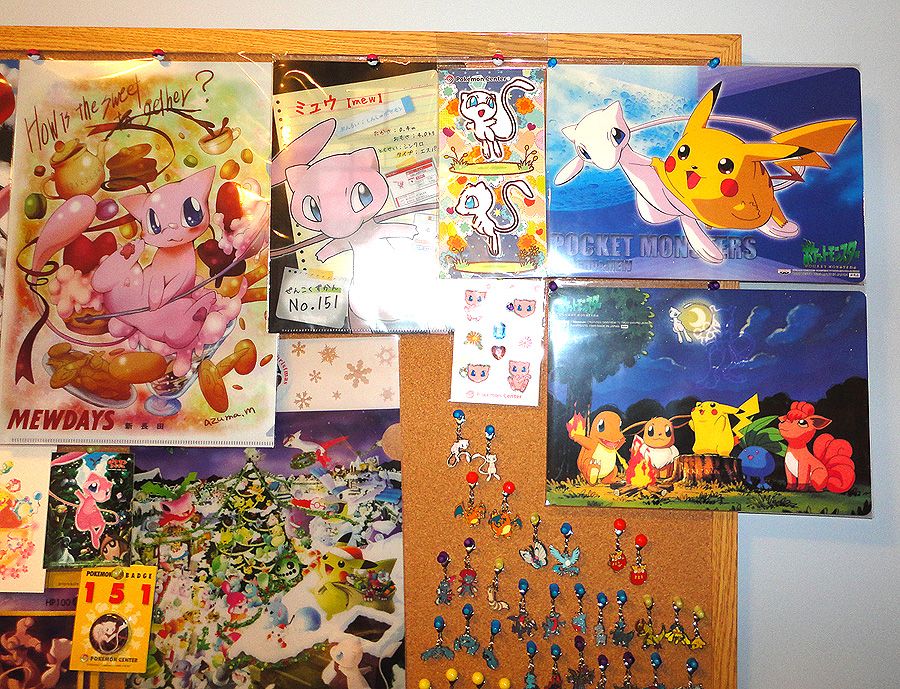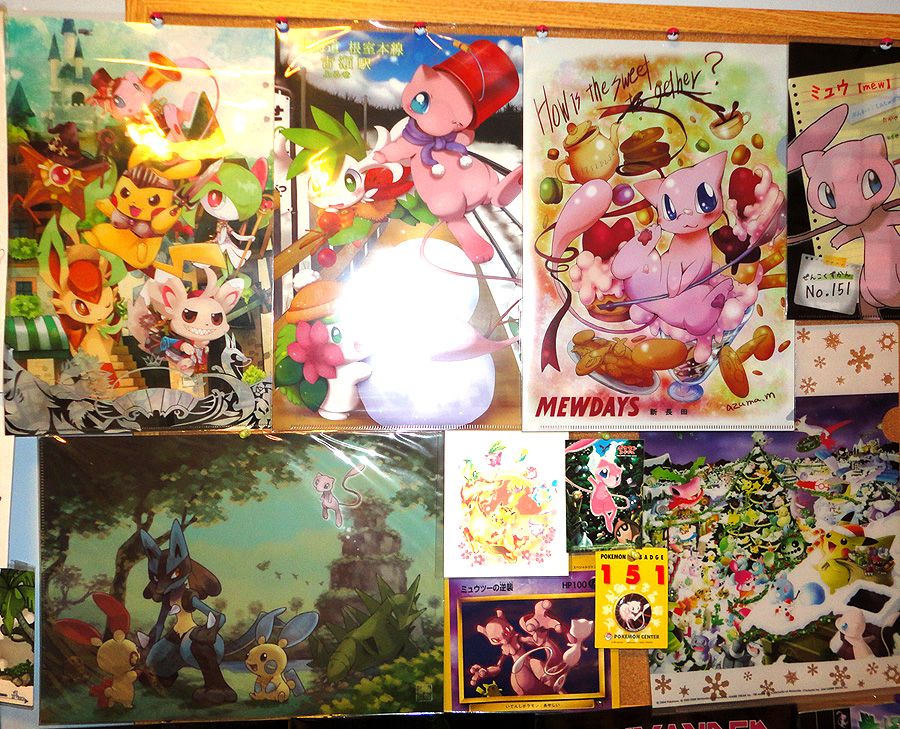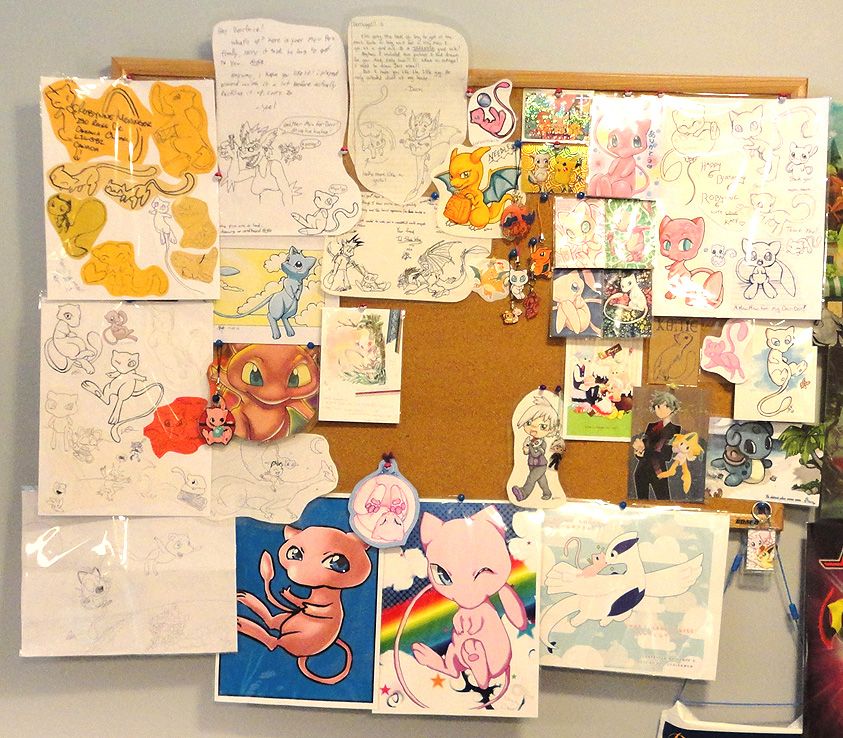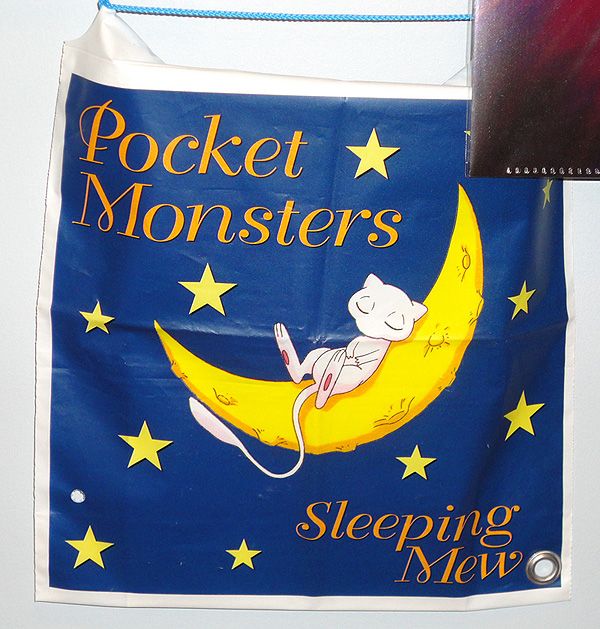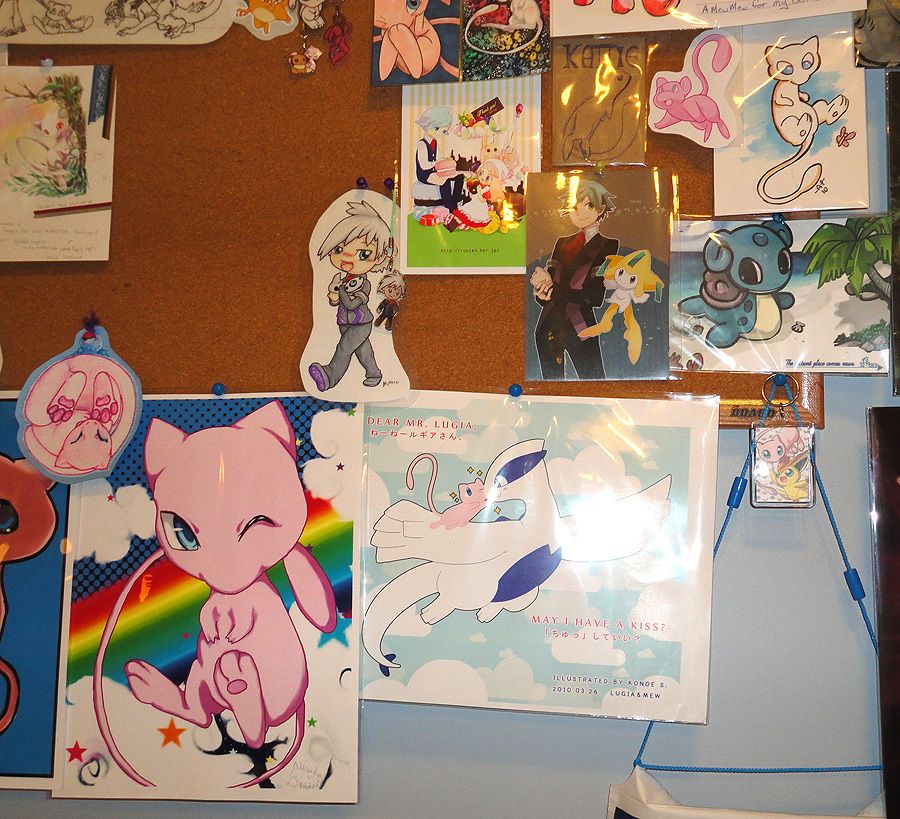 Giftart, most which was drawn by my best friend Sierra.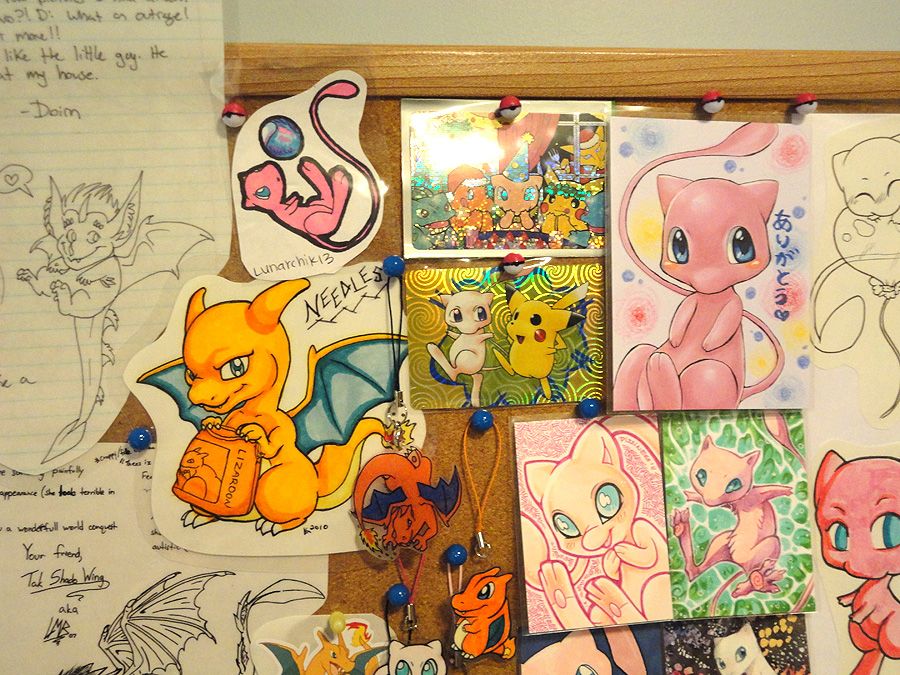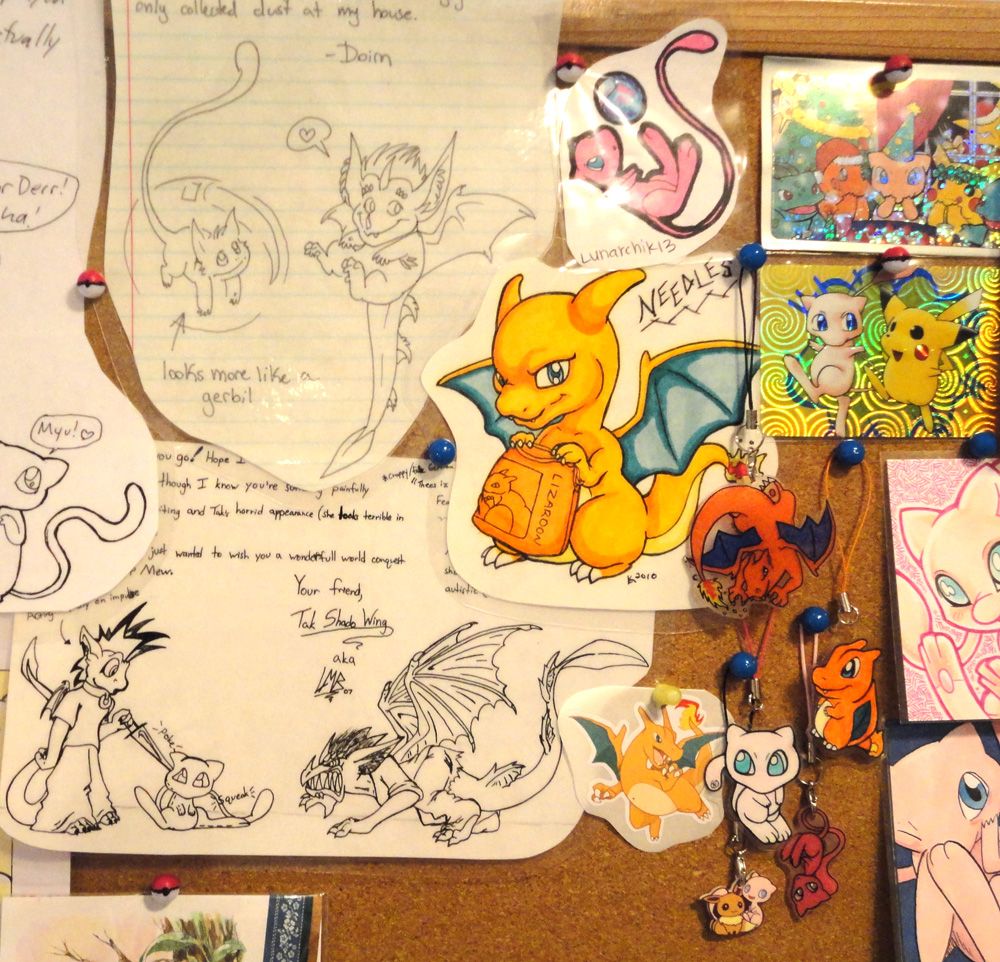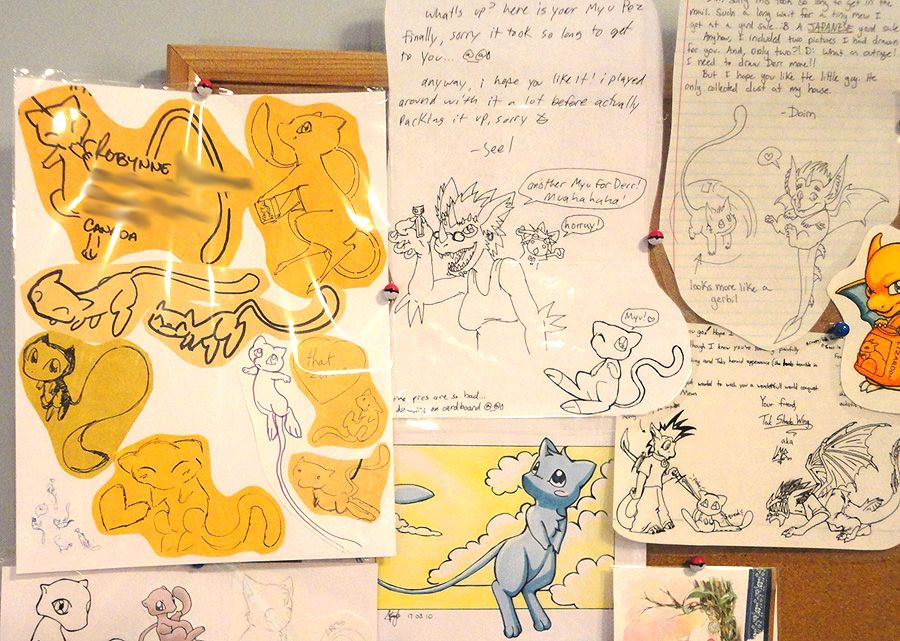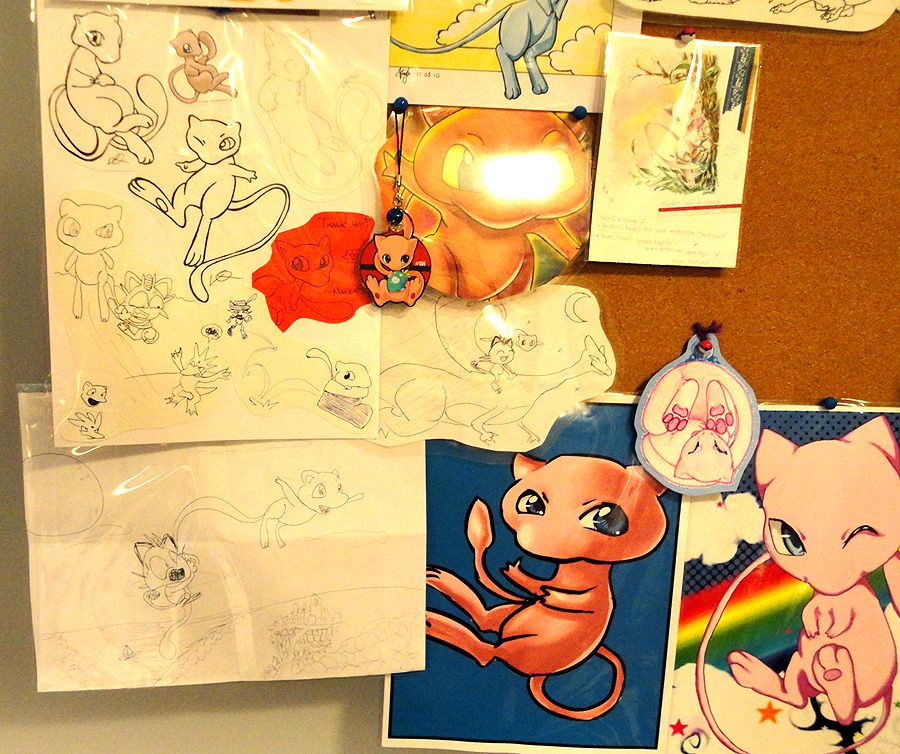 Custom pokeball pins that I made, however they're not the best. Painting them was really hard for me.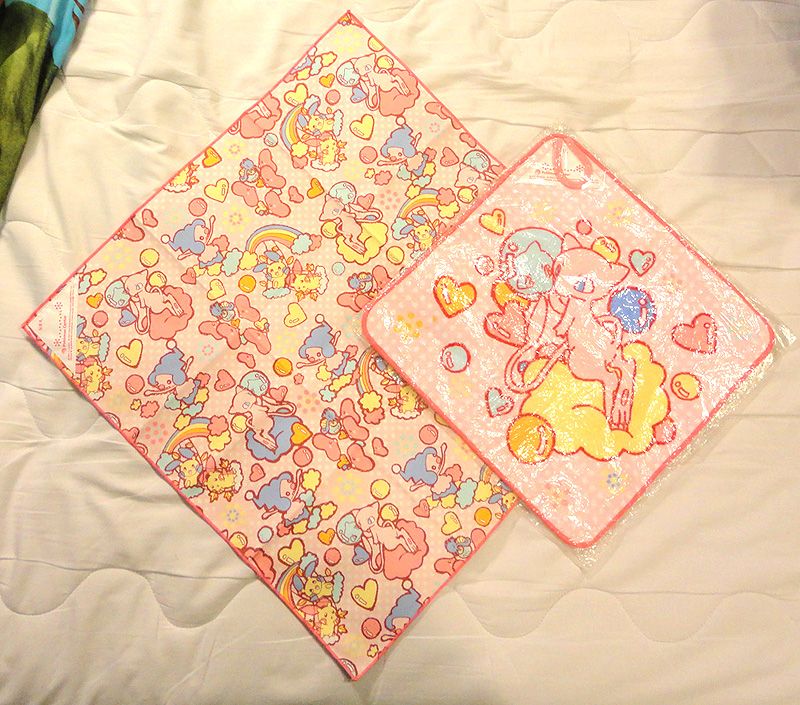 Super rare items from the "Pink Bubble Mew" set. These old items are incredibly hard to find now and I paid a lot for them. I'm super happy and proud to have them in my collection, and they're really beautiful. This is the mini blanket and washcloth.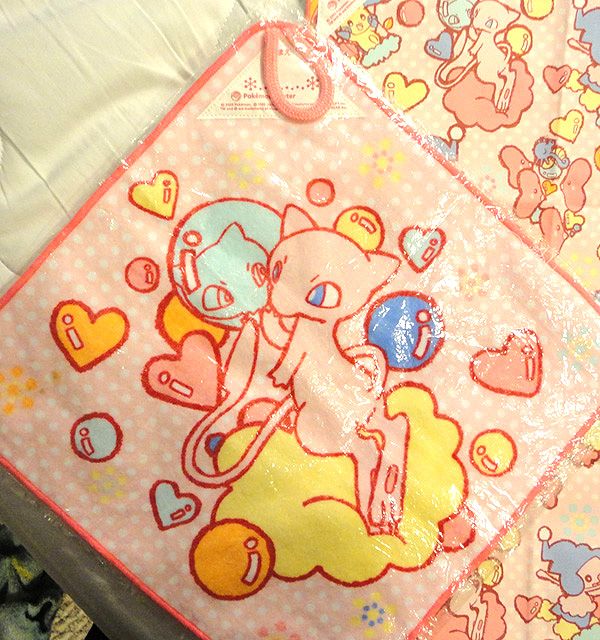 Closeup of the super cute and beautiful illustration on the washcloth.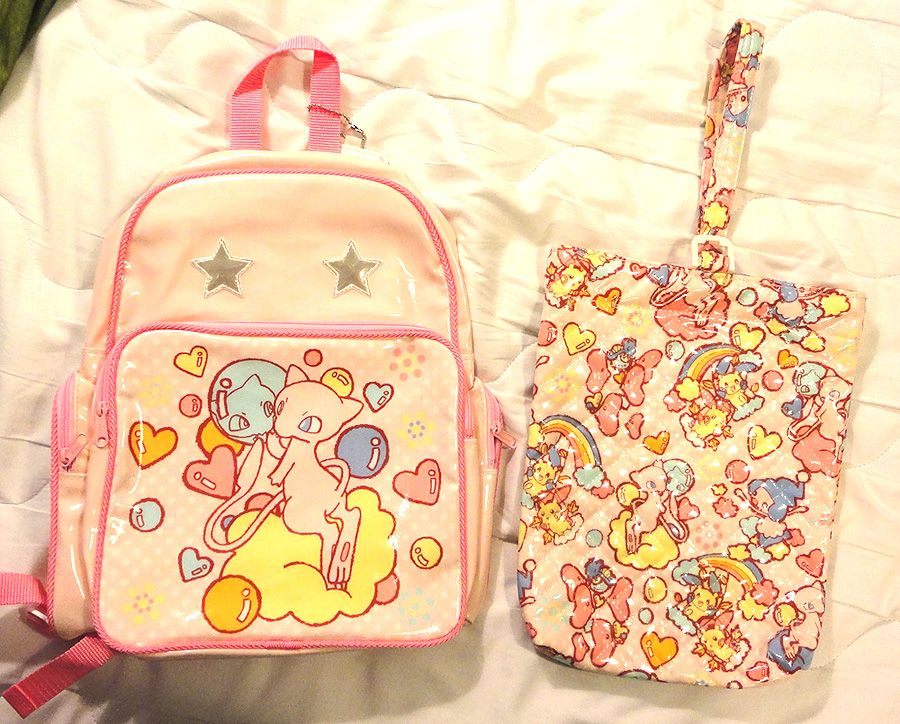 The matching backpack and carrying pouch.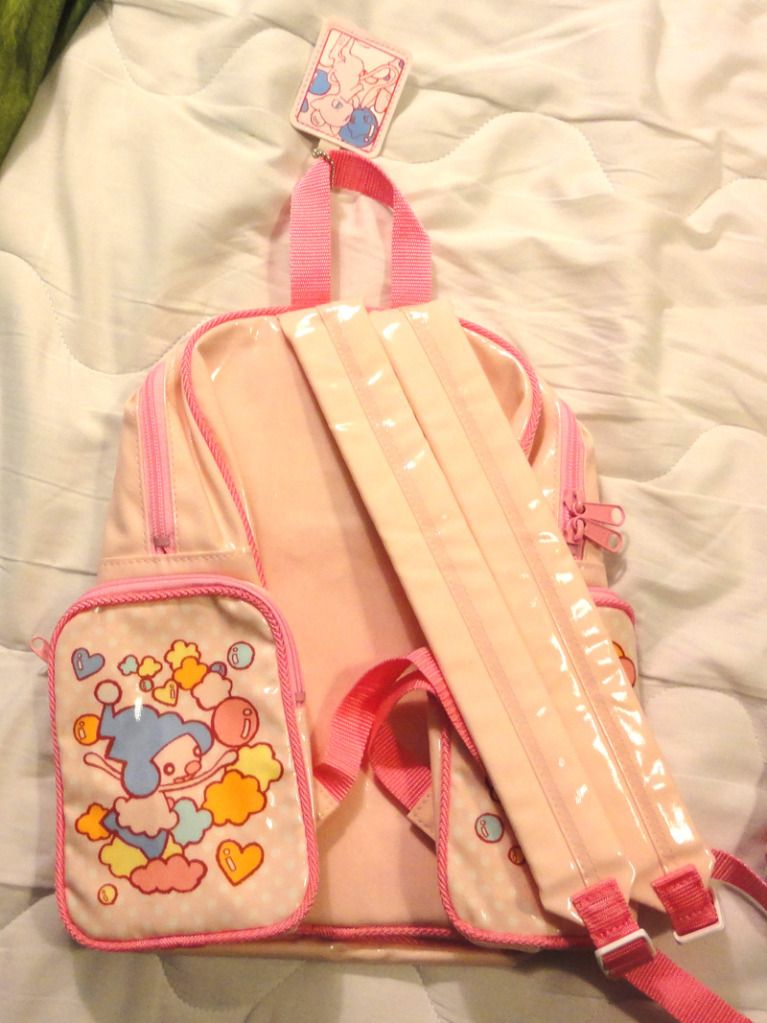 The back of the backpack.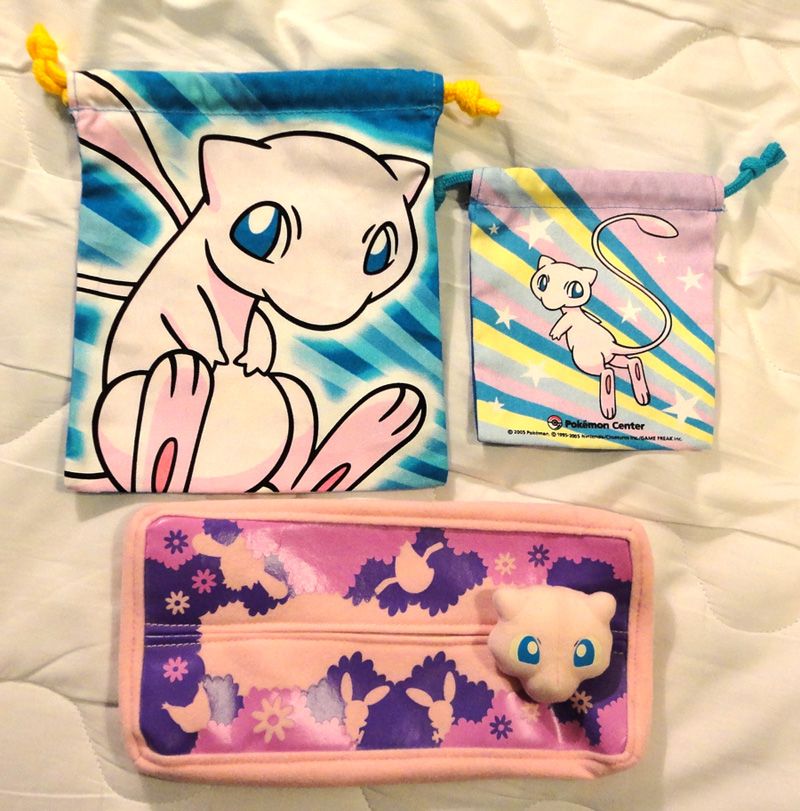 2005 Movie 8 cloth goods. This is the washcloth.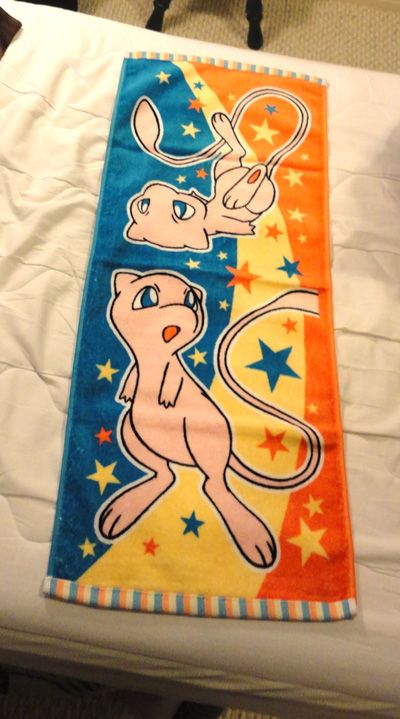 Long hand towel, laid on the width of my bed (single-size) for a bit of a size reference.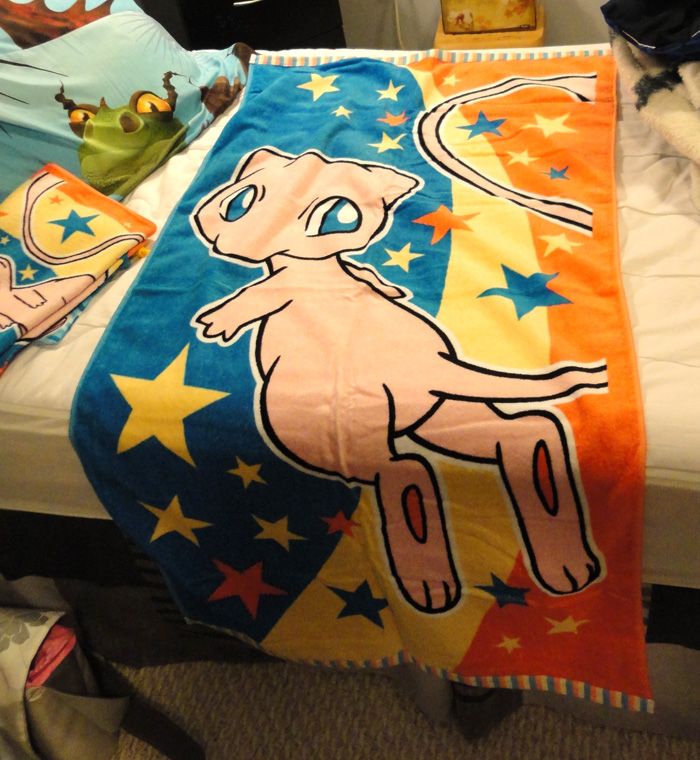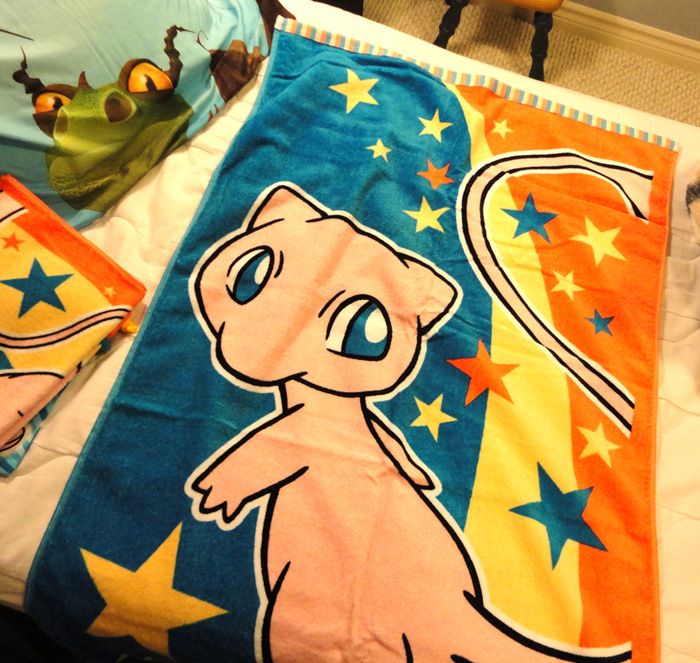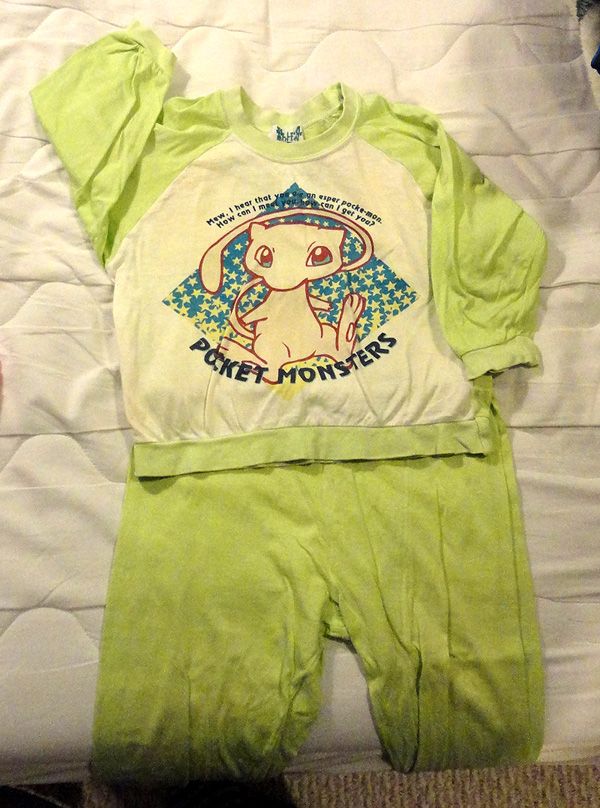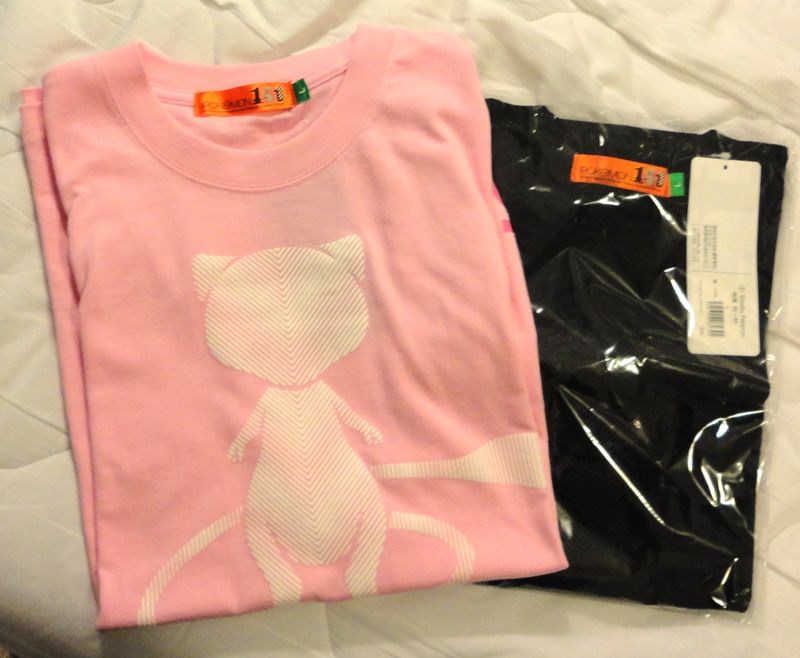 Pokemon 151 shirts, both colours pink and black versions.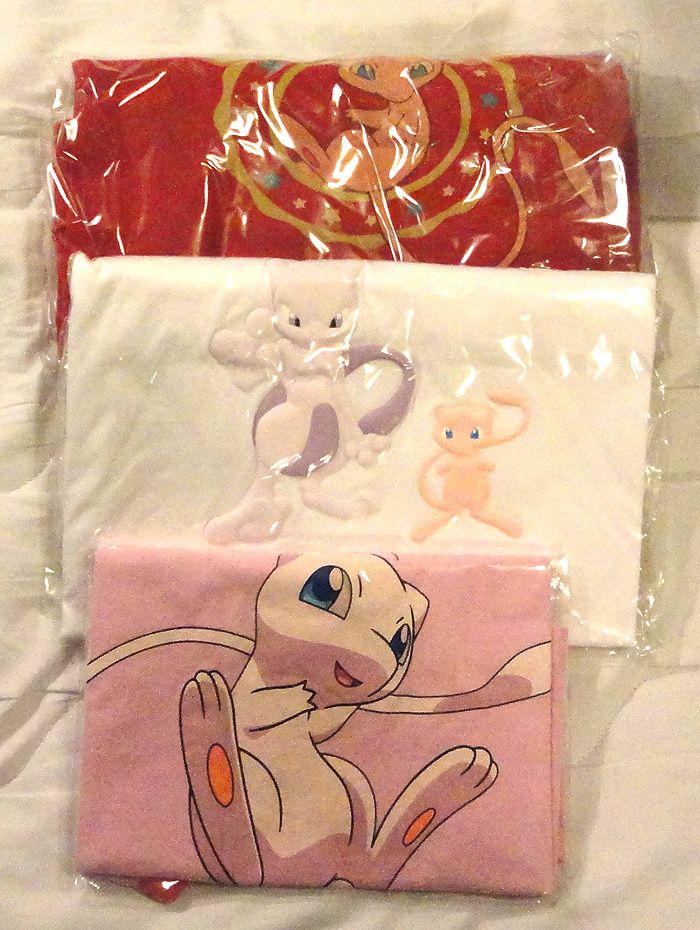 Miscelanious shirts with mewies.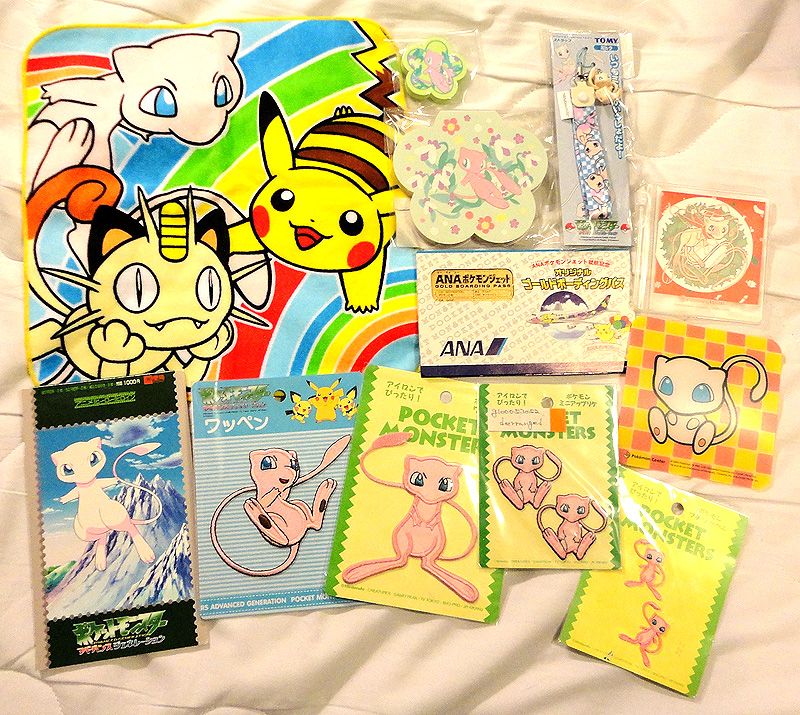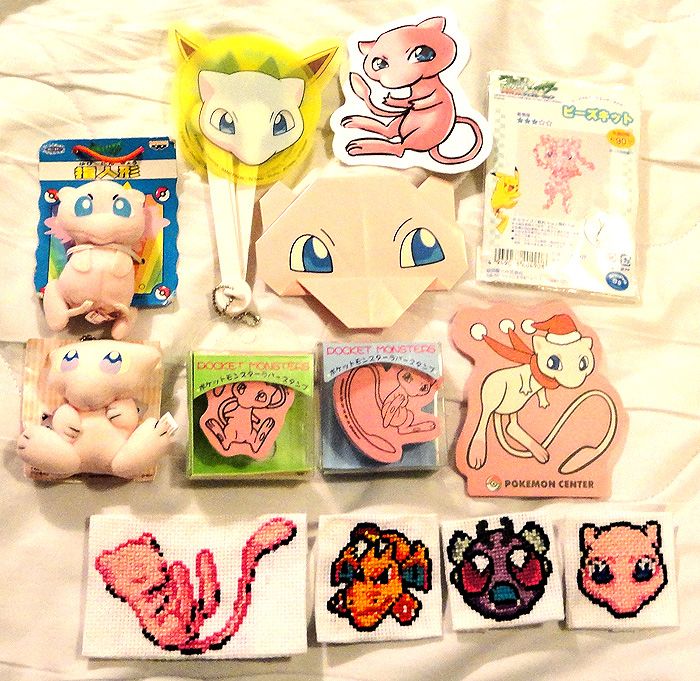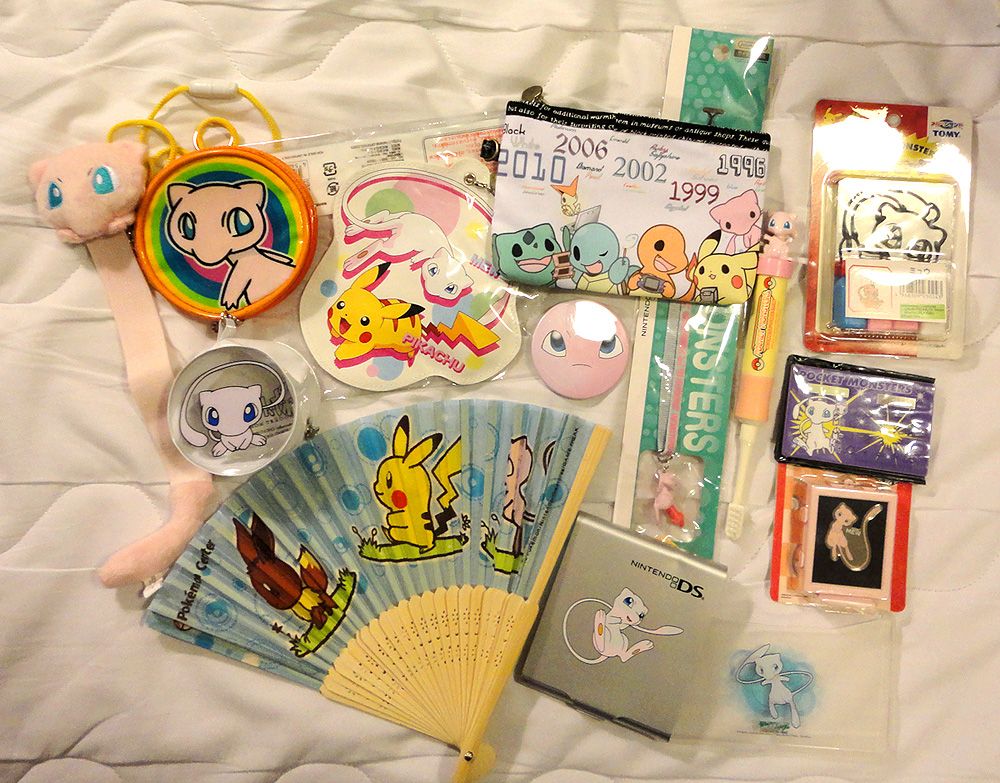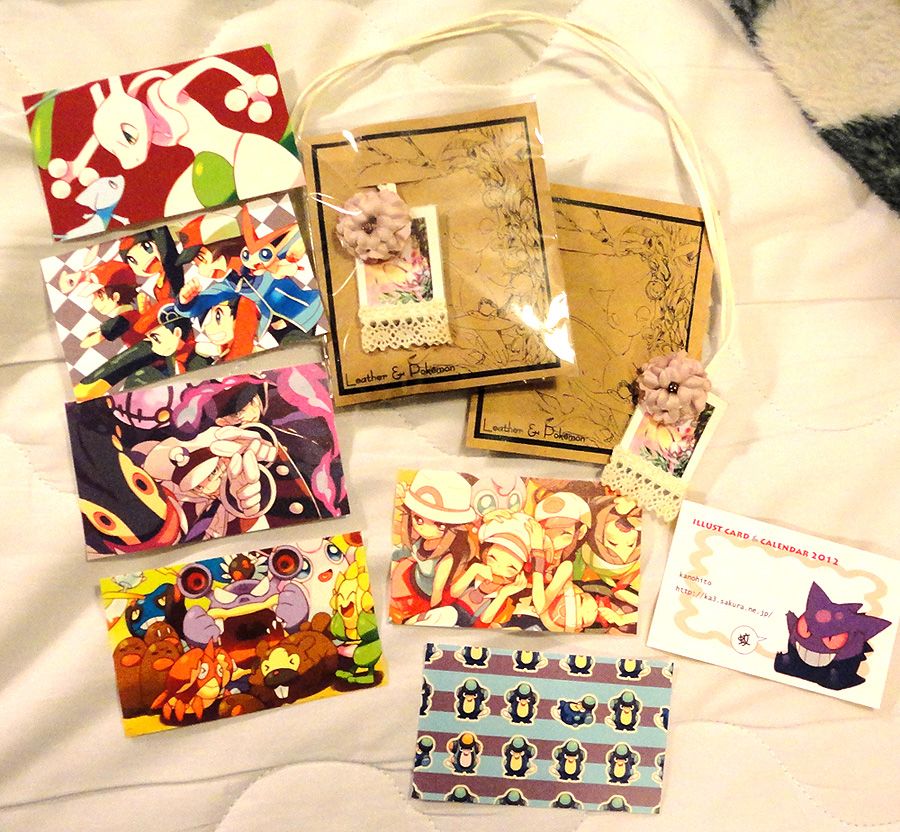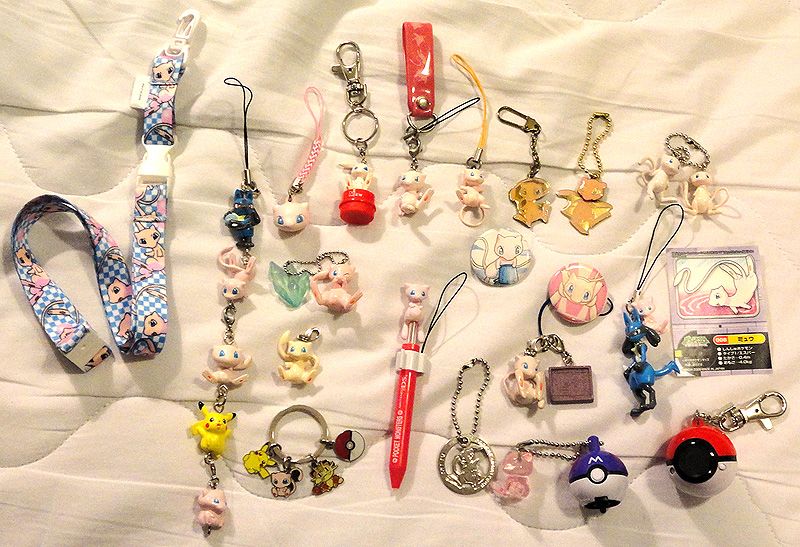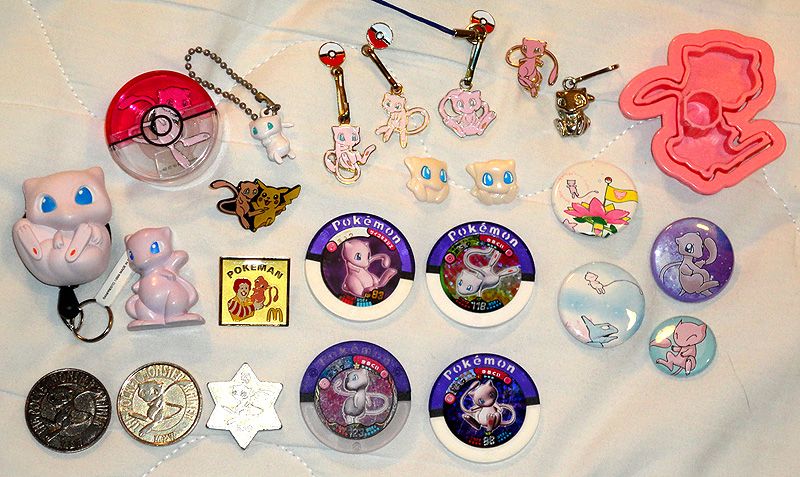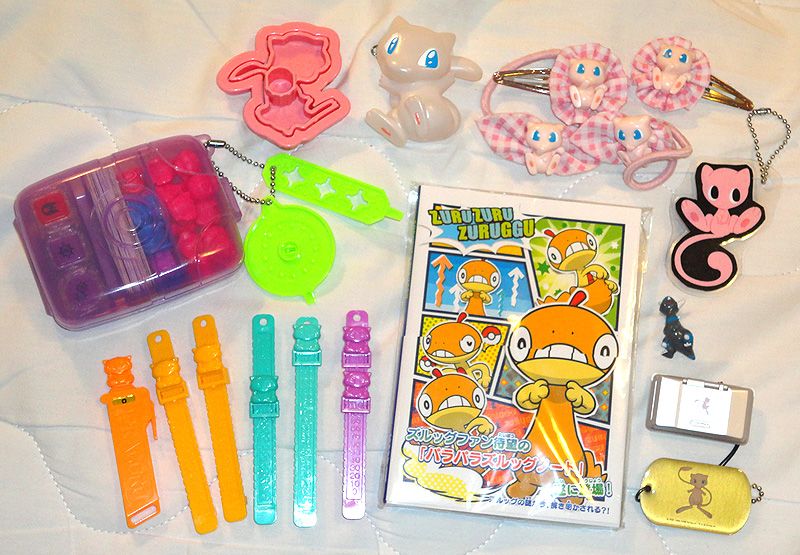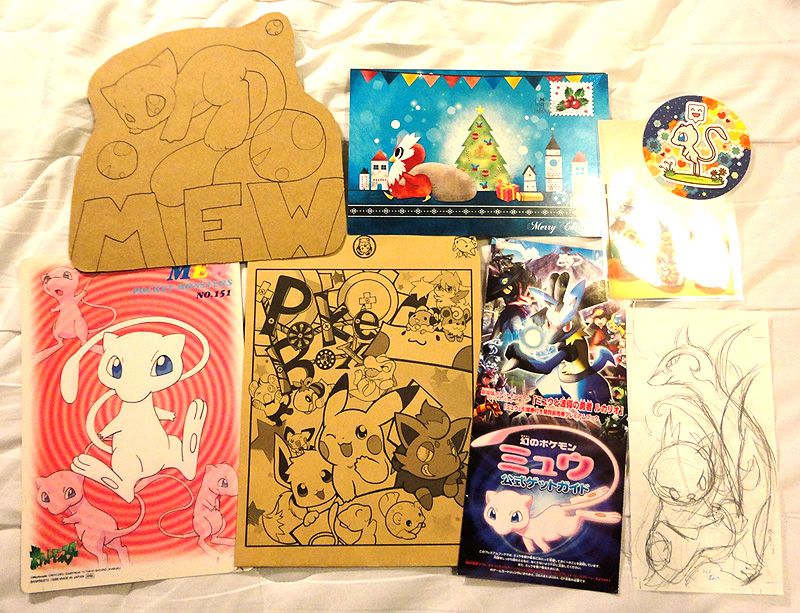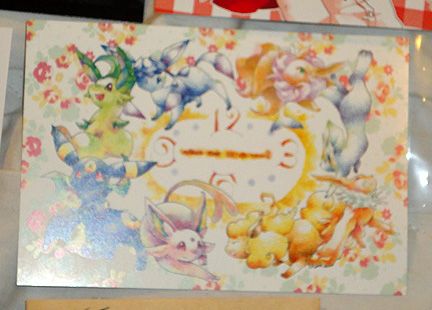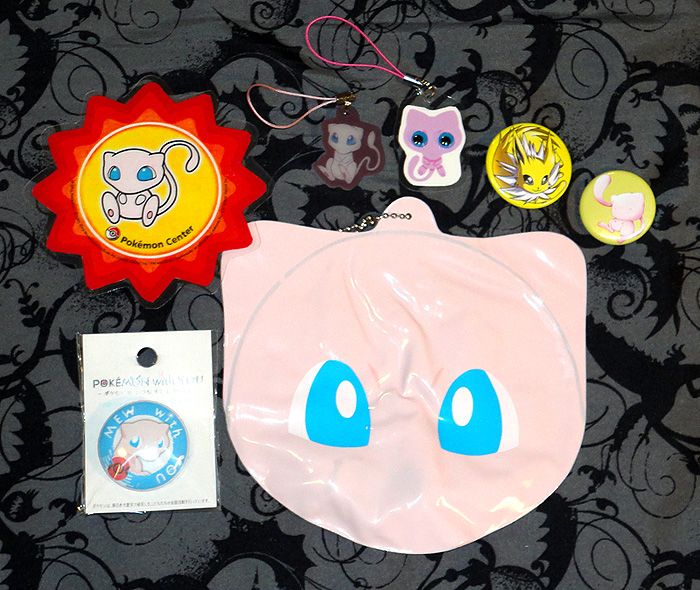 4 pieces of framed charizard settei.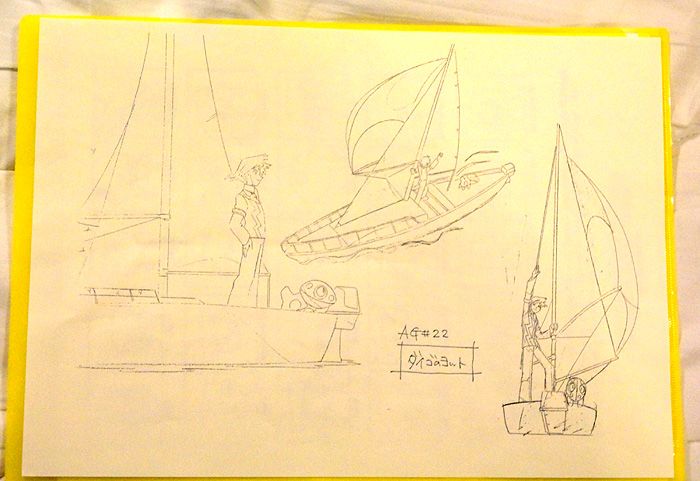 Settei of Daigo/Steven. He's on a muthafrikken BOAT, don't you eva forget.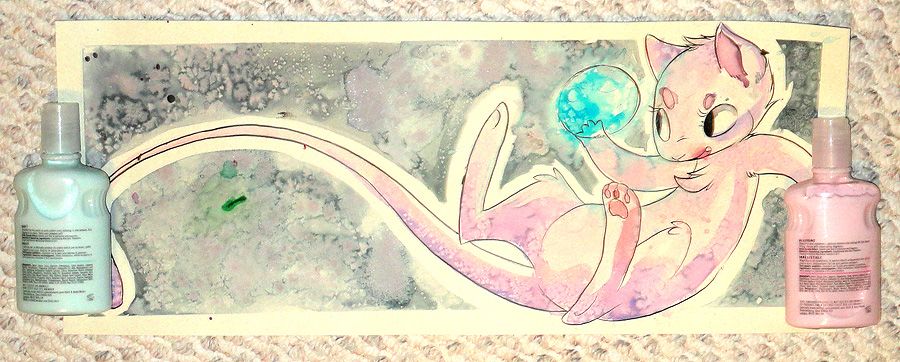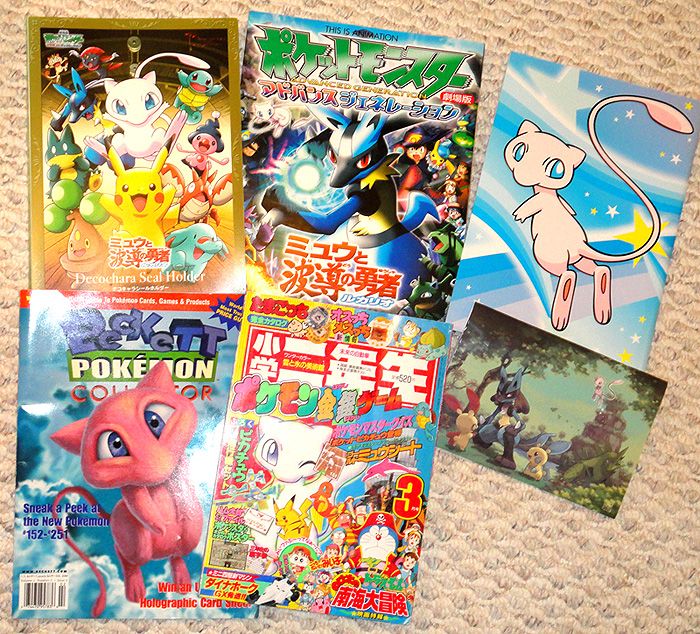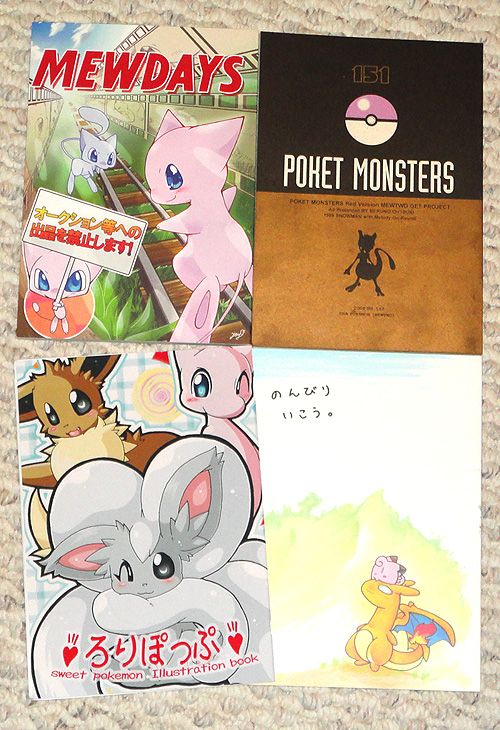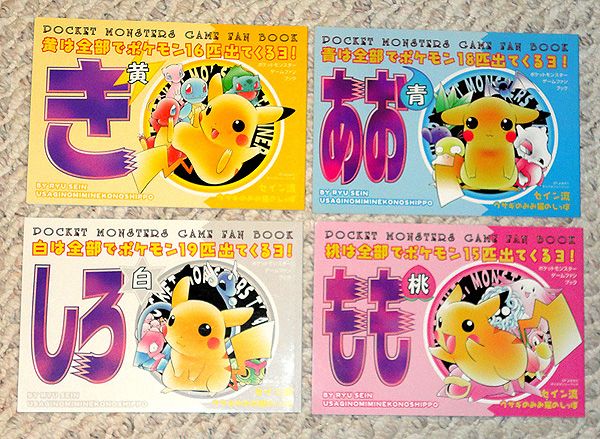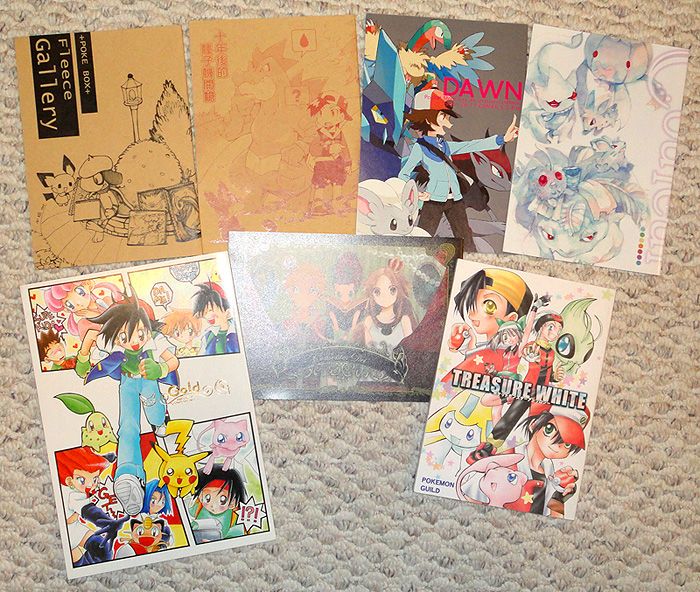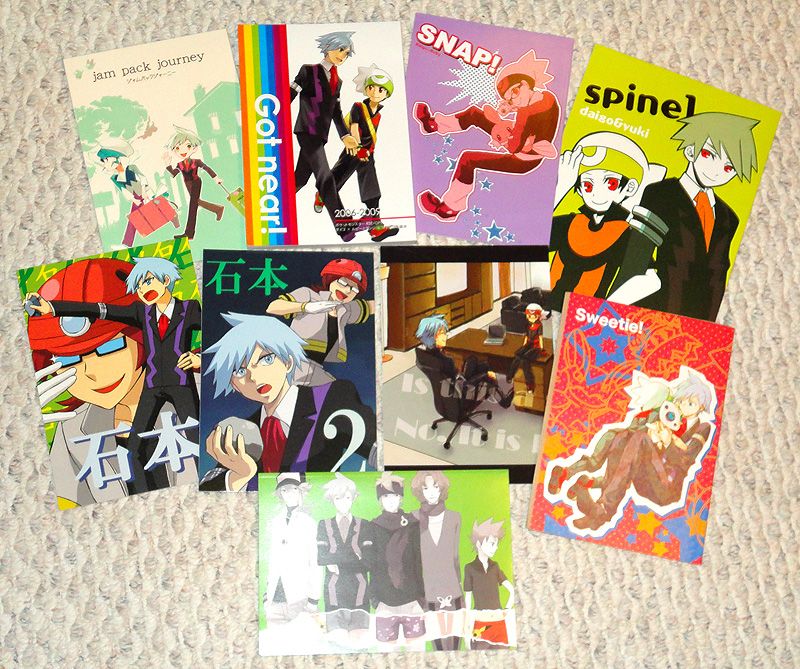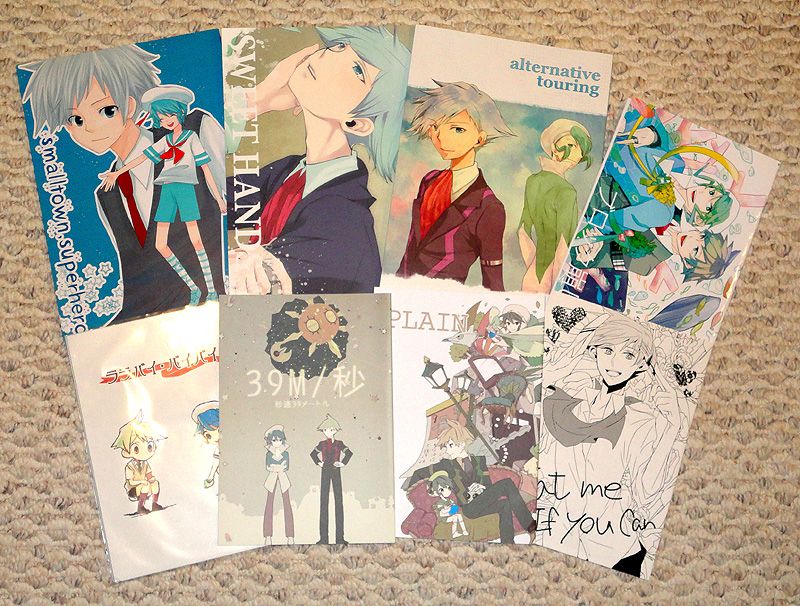 ~ The End! ~










To make this a little more multi-purpose, I have a favour of anyone who could lend a hand translating Japanese instructions. I have a mew bead figure that needs to be put together, however I was never able to read the instructions. I scanned them and would appreciate any assistance... please and thank you!!

--> Image of bead instructions.



Thank you everyone, I hope my collection was enjoyable to look at. ;v;