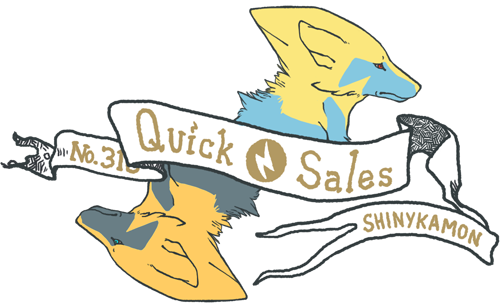 Looking to sell some TOMY figures, Pokemon Rangers Shadows of Almia, and a Medium-size Toy Factory Zorua Plush!




I was granted Sales Permission on June 4th, 2012 by entirelycliched
My Community Feedback

Rules & Guidelines:
- All PKMNcollectors rules apply.
- I only accept PayPal in USD.
- I require payment at least 48 hours after commitment to buy.
- I can hold items if you are 100% committed to buy, but for no more then 4 days.
- Please as for a quote if you are unsure about the total before you commit to buy.
- Feel free to haggle! But if someone agrees to pay full price they have priority.
- I live in a smoke-free apartment, but I do own a cat.

Shipping:
- I ship from Chicago, IL USA.
- Prices do not include shipping unless stated otherwise.
- I am not responsible for missing or lost packages, and a receipt as proof of shipping can be provided.
- I RECOMMEND you get tracking because I've had a few missing packages to and from my apartment building recently. :( If you do want tracking let me know and I'll add an extra $1 to your total.
- Please allow up to 3 days for shipping time.


ONTO THE SALES!



TOMY Figures:
Pikachu (Not a Tomy figure) - $2.00
Chatot, Raichu, Lugia, Absol, Gardevoir - $3.50
Espeon, Eevee - $5



Toy Factory Zorua plush. I won him at Six Flags but he is SO HUGE!! and I don't collect Zorua so I thought I'd let him go cause i need the space.
(Corsola Pokedoll NOT for sale, only for size reference)
$25 shipped anywhere OBO



Pokemon Rangers: Shadows of Almia DS Game
Works fine and comes with everything; pamplets, case, etc.
$10


Thanks for looking and let me know if you have any questions, comments, or concerns. :)