First a reminder:
The Plush Stairs GA is still going on. There's a couple plush without bids and many are still at quite low prices, so now's your chance to get nice and cheap Banpresto plushes! The Daylight saving time ate an hour from the auction, so I decided to change the ending time a bit. It's only half an hour earlier than before though, so it shouldn't be a problem. And everyone will have their max bids in well in advance anyway, right? No last minute bid wars, thank you. :)
Click this link to go to the auction: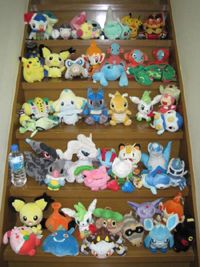 On to normal sales now~!

I just got another package from Japan today (cute Eevee magnet, Umbreon Amada stickers and some shiny Kids and a charm get~!), so it's sales time again for all extras~! I did much measuring before this post and I should be able to ship all items here at a reasonable $1-$5 price depending on the weight. And for bulk orders there's the free shipping option. :)

I'm also open to custom shiny repaints again. Barring very small items, I should be able to repaint almost anything here. I really liked painting those magnets/clips, so if anyone wants a black Charizard, purple Vaporeon, or blue Mew, ask for a quote. The painting price depends on the pokemon and item, but it'll be somewhere between $3 and $7, usually $5 + the item price. I painted a Vaporeon and Raichu beforehand and they are up for sale too.








Rules:
Sales permission granted by rachelled on 3/9/2012
My feedback can be found here

- All pkmncollector's rules apply!
- Paypal only!
- I ship from Finland, so the shipping cost may be high, especially if you don't live in Europe. Please ask for a quote, if you are worried.
- To keep the shipping price as reasonable as possible, I usually ship any non-flat items via Economy class in an envelope/bubble mailer. It can take up to 15 working days to arrive. If you want your item(s) faster, please ask for Priority.
- I also reuse bubble mailers now and then to save money. If this is a problem, just tell me.
- Prices don't include shipping, paypal fees or possible material costs.
- I'm not responsible for items after they have left my hands. You can ask for tracked mail, but keep in mind, that it'll be very pricey.
- I'll hold items 24 hours to anyone showing interest, but after that, if there is no sign of the payment or reason to keep it on hold longer, it goes to the next person. If you ask for a quote and decide to pass, please tell me! Don't keep others waiting!
- I may be willing to do longer holds, but you must commit to buy and have at least 5 positive feedback.
- Payment plans are usually okay. Contact me in the questions section or by PM to discuss it before bidding/buying.
- I may be willing to haggle. It does not hurt to ask. :)
- My home is pet- and smoke-free, but since most items have been owned by someone else before, I can't guarantee anything.
- If you want your item to be mint in all ways, ask my opinion/more photos. I have many used items and don't really want to look every one of them through a magnifying glass. But I try to warn anyone interested, if there is problems with the item before asking for payment. If the condition is not like you hoped, you are free to back out.

Some shipping prices to help you decide:
Stickers: $1
Figures: Usually $1.55 and up, depending on the weight, although it might be less too.

Free shipping! :)
For any order going over $30, no matter what's inside, you'll get free economy shipping! (2-3 weeks. You can upgrade it to priority for $3)

NEW STUFF!
Megablock


Sold: All of them. O_o

Human figures and offers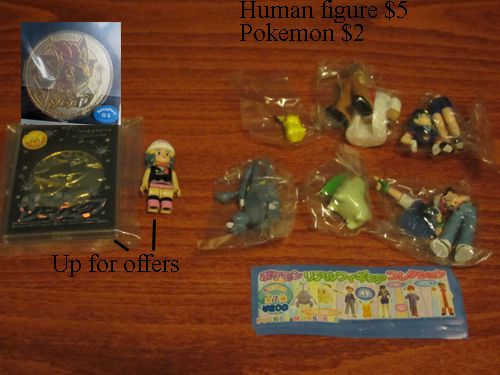 Links to the offer threads for:
Zorua/Zoroark Movie Medal (Starts at $10)
Dawn/Hikari Megablock (Starts at $5)
I'll take offers a couple of days, or until they have died down.

Zorua lot

Lilligant lot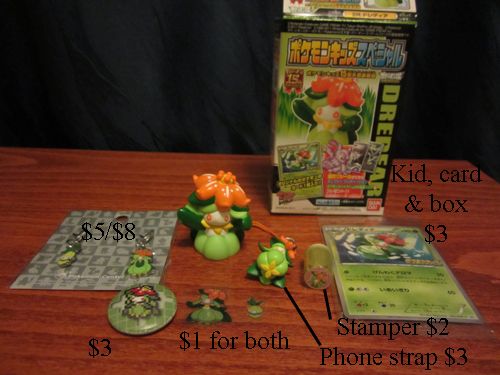 Sold: Everything else except the mini stamper


THE PREVIOUS SALES POST (Some reduced prices though)
Shiny repaints


Uxie is a Candy figure and one of my earlier works, so it has an orange stain under its chin.
Vaporeon is a magnet and Raichu is a clip.


Magnets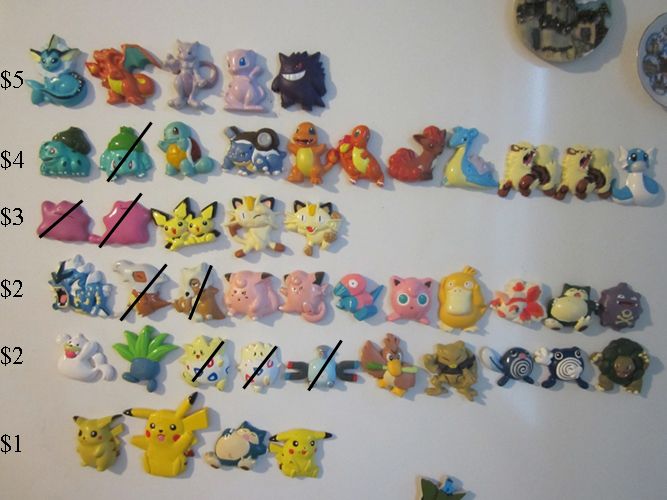 SOLD: The second Bulbasaur, Dratini, both Ditto, both Cubone, both Togepi, Magnemite


Clips


The Electabuzz on the right is on it's face, so you could see the back of these things.

Pokedex Charms
I can break these sets up, like you can see from their prices. (Individual charm/Set) But I would like to sell them as sets and if someone is willing to buy the whole set, he'll get it over someone asking for only one charm, no matter, who asked first.
If you want to break a set, but still want the package, it'll add $1 to the cost.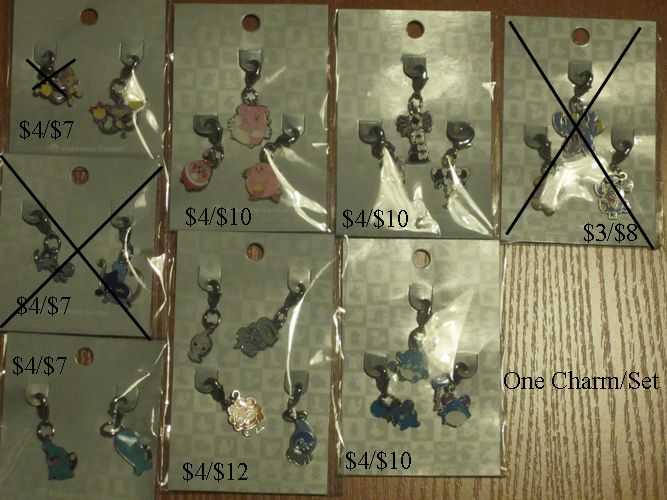 Sold line: Castform
Sold charm: Gothorita



STICKER
Eeveelution Stickers (Pan and Amada stickers)


Sold: Espeon Amada, Jolteon Pan sticker


Pan stickers
Any 5 stickers for $5 (does not include shipping)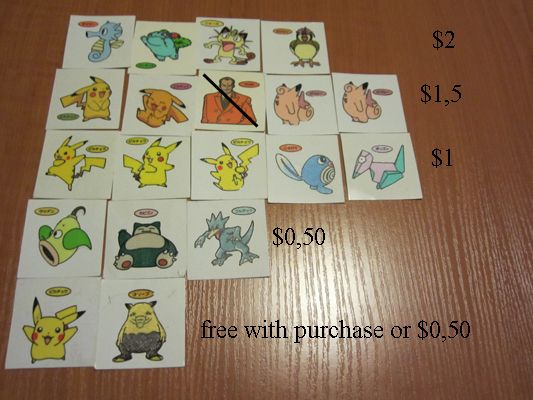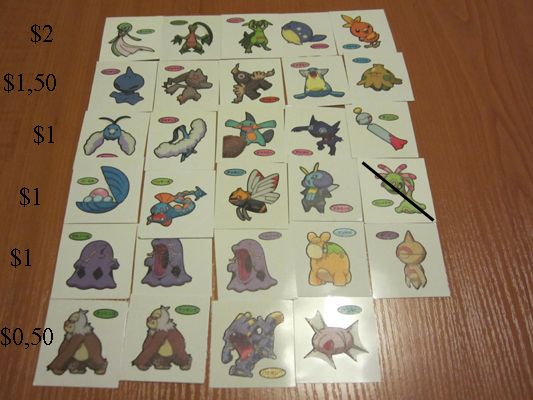 Amada stickers
Any 7 stickers for $5 (normal or shiny, doesn't matter. Does not include shipping)
Some of them have many duplicates
If you are not familiar with Amada stickers, they have a dex info on the backside, like this:



Normal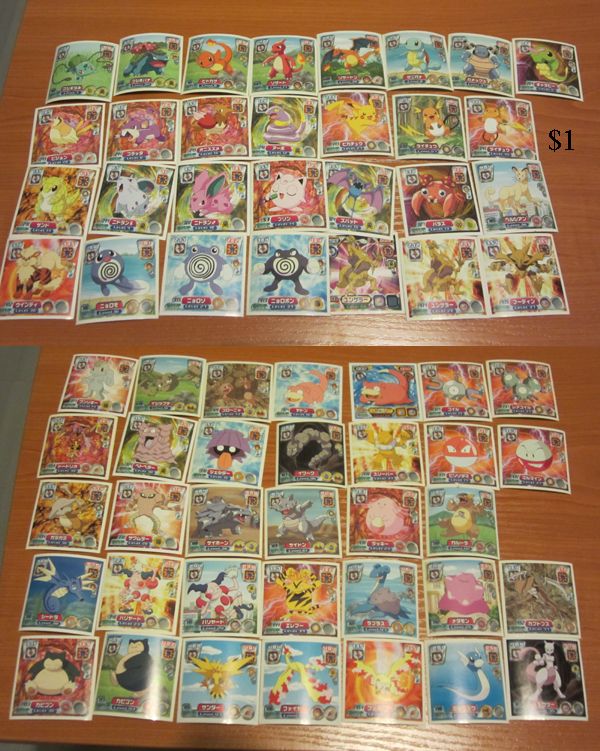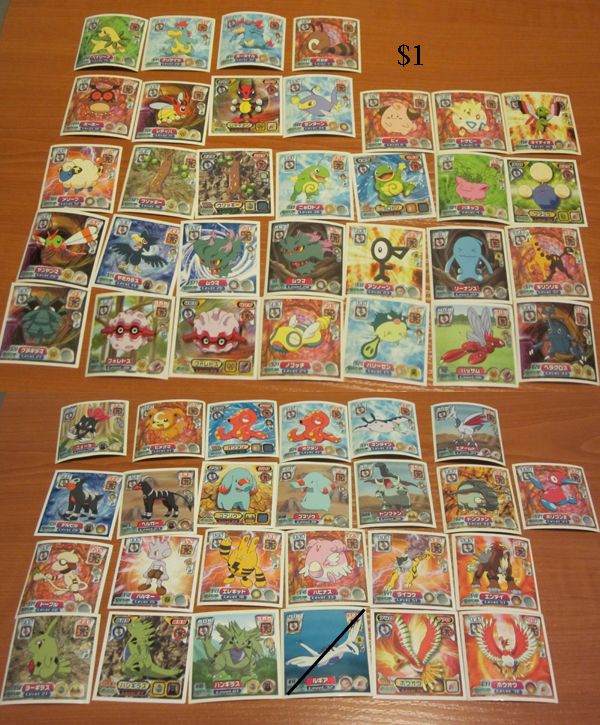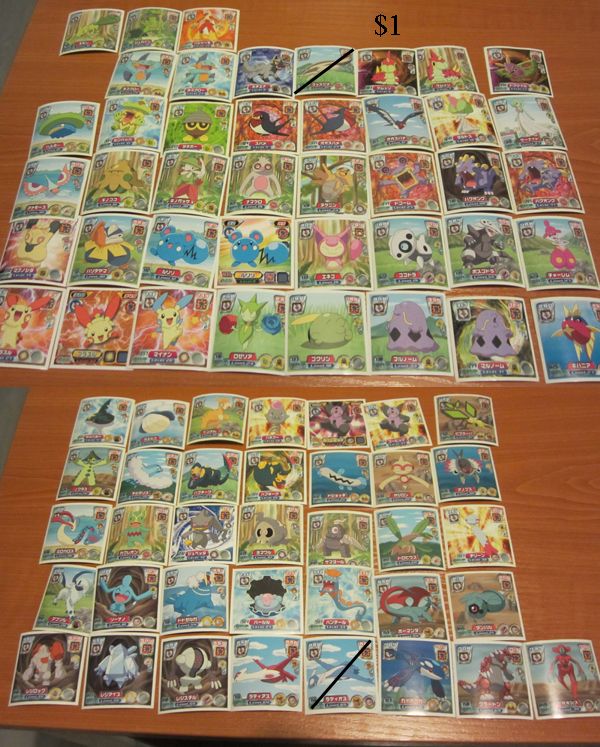 I also have many new shiny Amada stickers, some with really cool, uncommon art or attack poses. And their makers seem to hate Meowth. I'm not completely sure, if the stickers in last two pictures are actually Amada stickers, but the style is similar and they also have the dex entry on their back.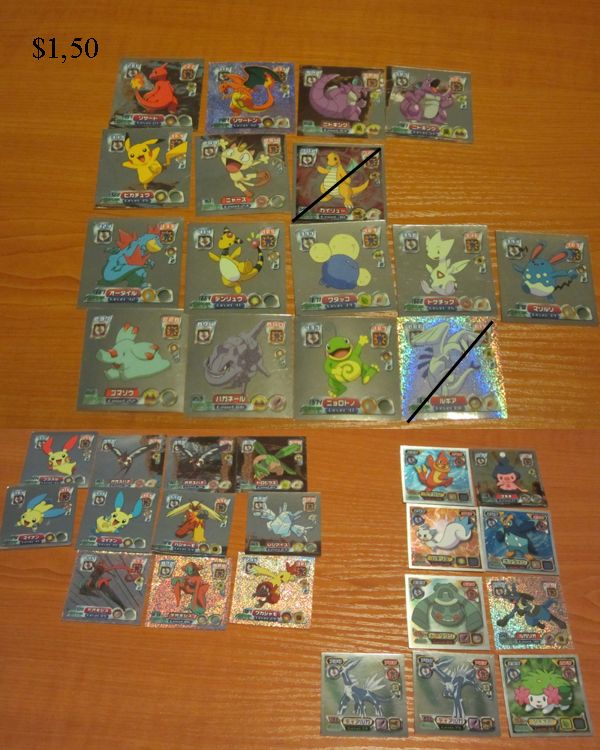 Sold: The Dialga on the right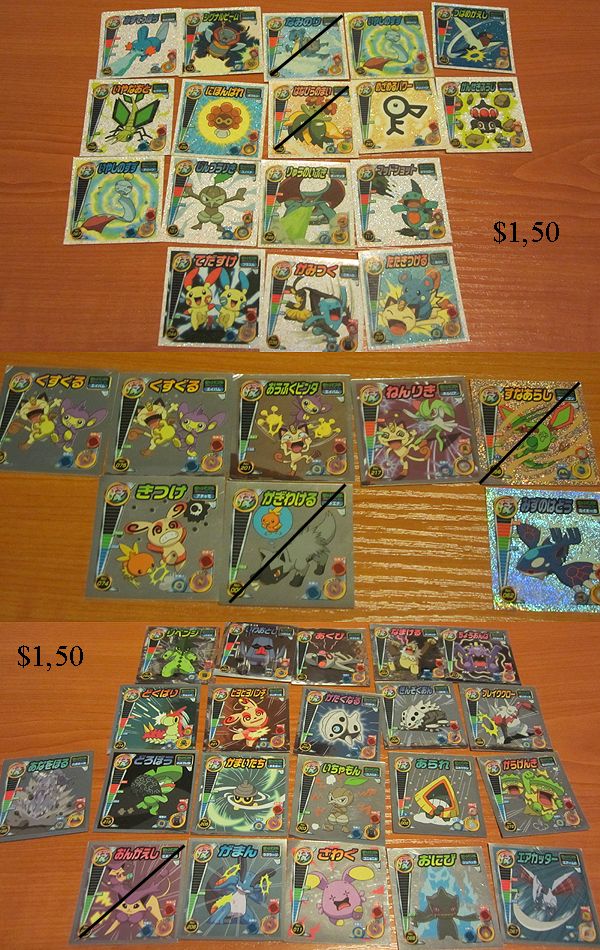 Battrios


Eeveelutions $3 each
Sold: Umbreon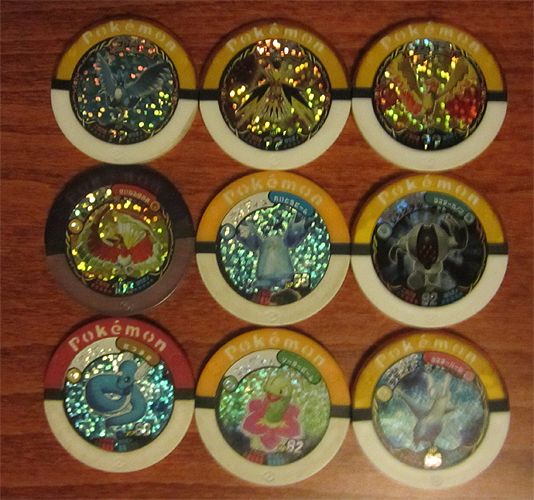 1.50$ each (except Regice, which is in bad condition and is $1)



1$ each



0.50$ each


Kids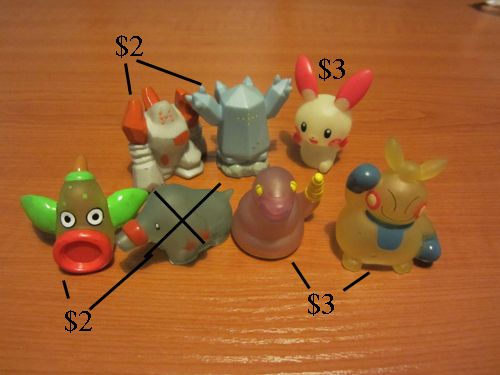 Sold: Slowpoke, Gyarados, Pidgeot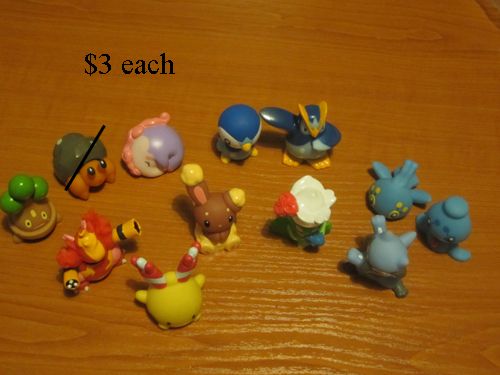 Stampers
Metal figures


If you want a box with your figure, just ask and pick one of these:

Other figures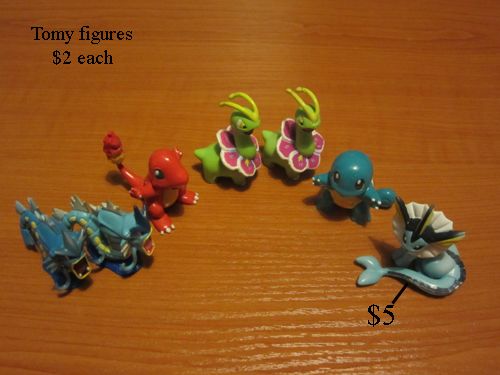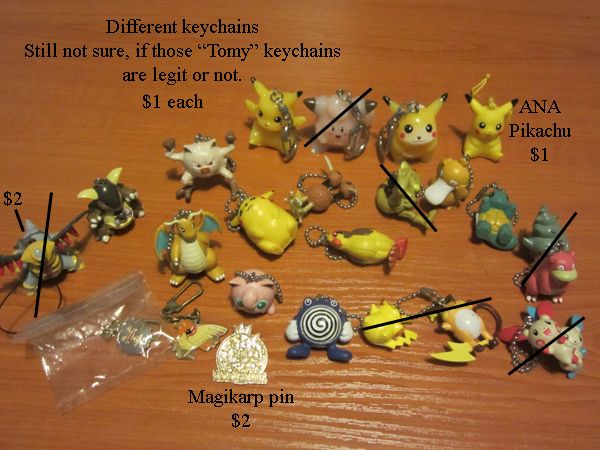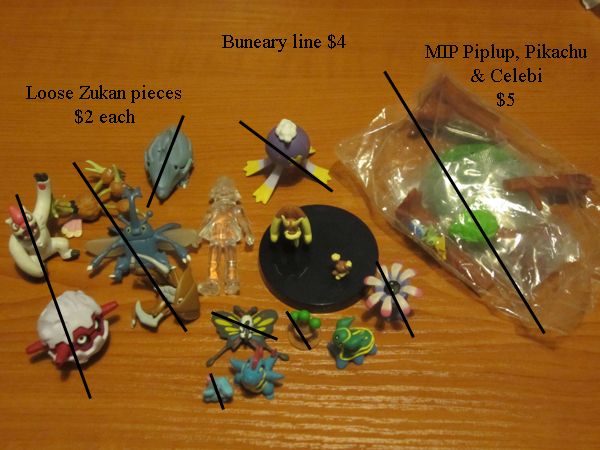 I'm not sure, if all of these are actually Zukan pieces. But the material feels similar and some of them have a hole for the peg.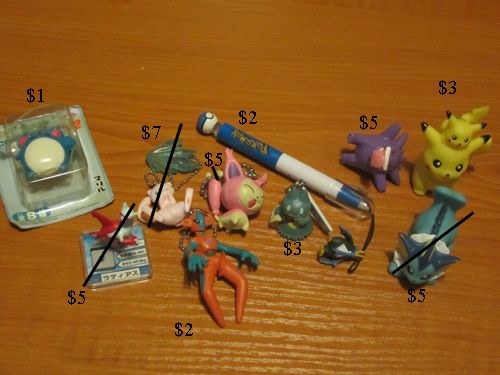 Okay, there's all I think. Thanks for looking. :)
And I would like to hear, if this experiment of adding prices to pictures is a good way to go, or does it make this post more impalpable than the normal "list prices below the picture" way.