Hi everybody. C:

Since my last post, where I mentioned that I had a lot more stuff than what I'd just shown, I got my courage in both hands and scavenged my entire room to find all my Poke-plushies to show you guys. I did get some group pictures to show off!

I still have to show off my figurines and keychains, and I even have a bajillion things coming in the mail. And I just keep buying. Lol. I've bought so many things right now that I don't even remember exactly WHAT I'm waiting on. x'D Every package will be a surprise! :'D

Don't think I'm getting anything this week though. ;__; Saaaad. I could seriously use some happy Poke-merch right now. x'D Stressful work life is stressful.

BUT YOU DON'T WANT THAT, YOU WANT THE PICTURES. RIGHT? RIGHT. PICTURES NOW.



Yes pictures.

So I found my plushies all around my room. xD My poor Sandile and Pachirisu from Nintendo World had even fallen behind my bed. ;___; I had to go on a journey to retrive them from misery and suffering. Fortunately, they have been saved.

GROUP SHOT NOW.




Annnnd there's the whole lot! Missing from group picture: Pidove, hand-made Drifloon, and Patrat. :C THEY MISSED THE MEMO I'M SORRY YOU GUYS.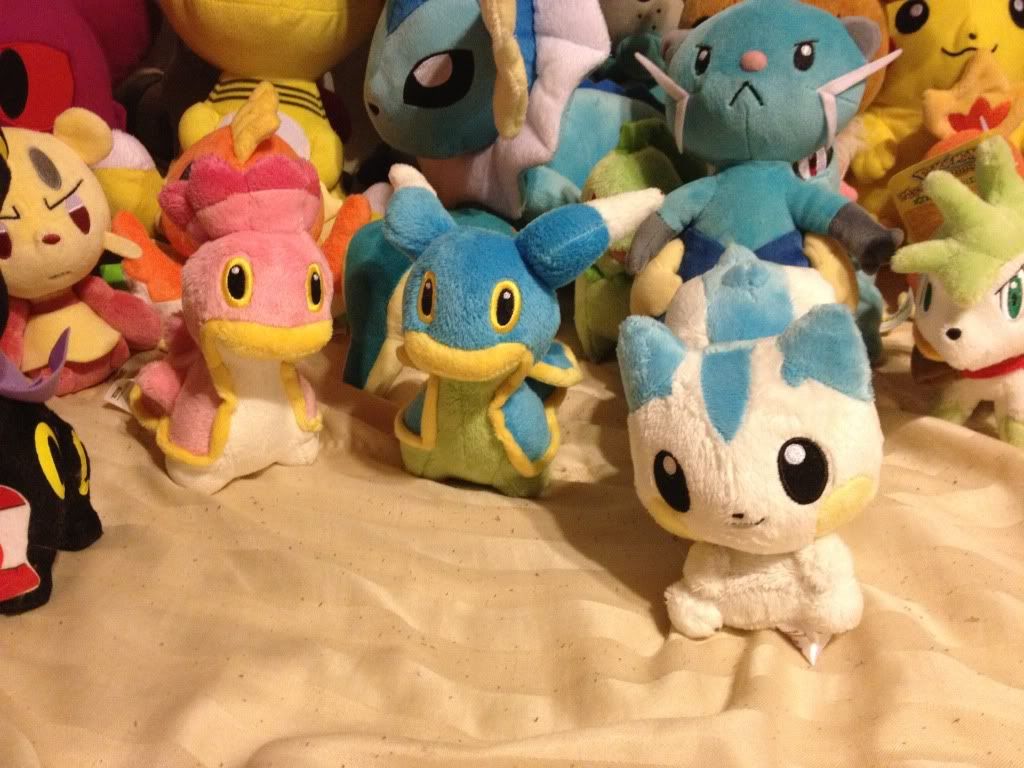 Pachirisu was saved, see? He's so soft, too. Pachi, how could I let you fall behind the bed. ;__; I'm sorry Pachi.




The three legendary dogs... that are not the same size, lol. Probably bootlegs. :| Raikou and Suicune were bought at Anime North in Toronto, 2012. Entei at Otakuthon in Montreal, 2012.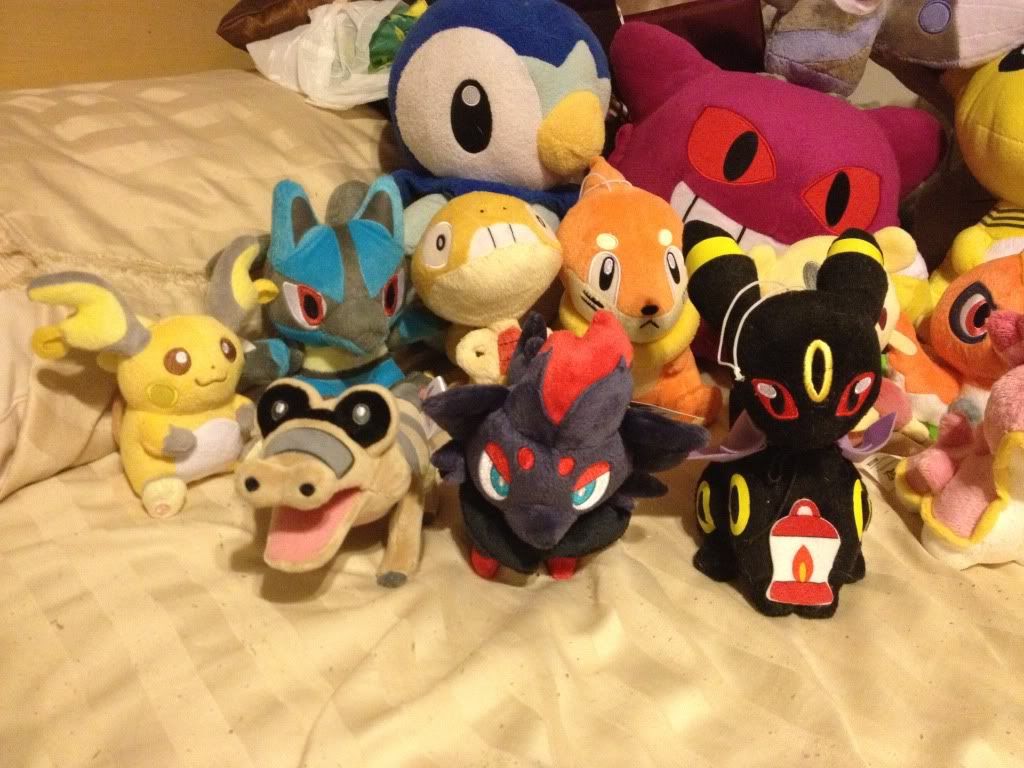 No, the Raichu Canvas is a bootleg. x'D I bought him for like... $6. Yeah. Fortunately for me, good quality, though. No bad defects and the sewing is all in place.
Umbreon is a bootleg too, pretty sure. Again, got him cheap. And... I'm pretty sure his cape is backwards, lol.
And yes, Sandile was saved from the behind-the-bed canyon too.




Wider shot from the left.




Slightly different angle, towards the right.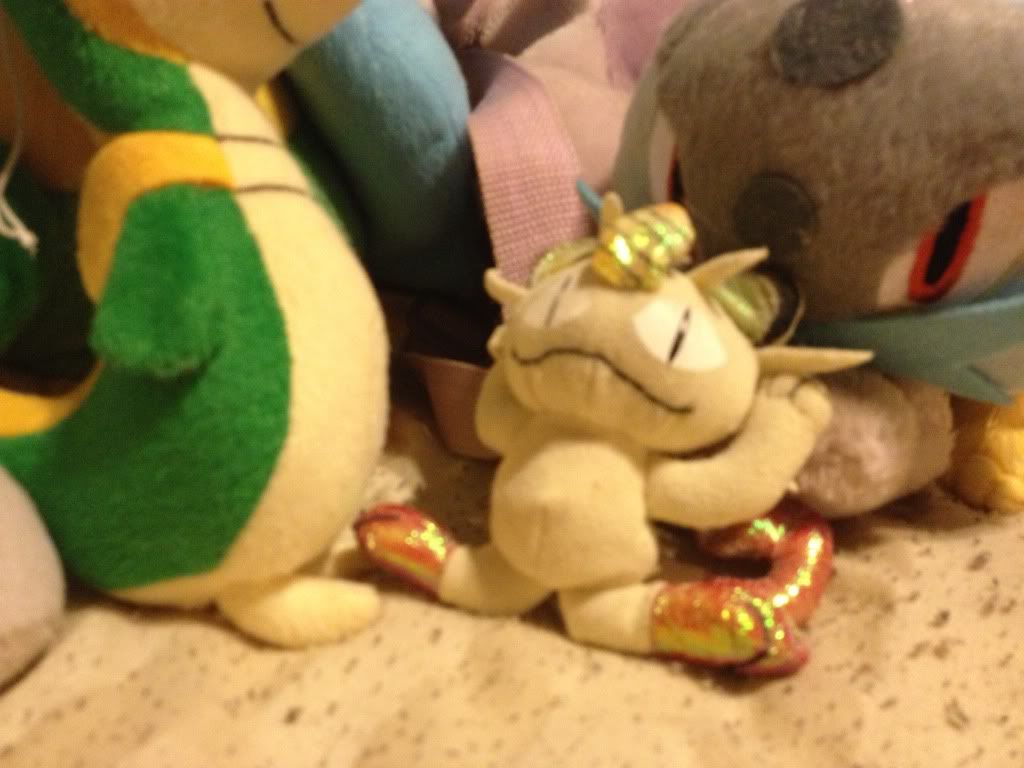 Tiny Meowth! I forget what he is. o__o Burger King Meowth? I... forget. I have no idea where he comes from. He's been siting on top of my desk for the longest tiiiiiime.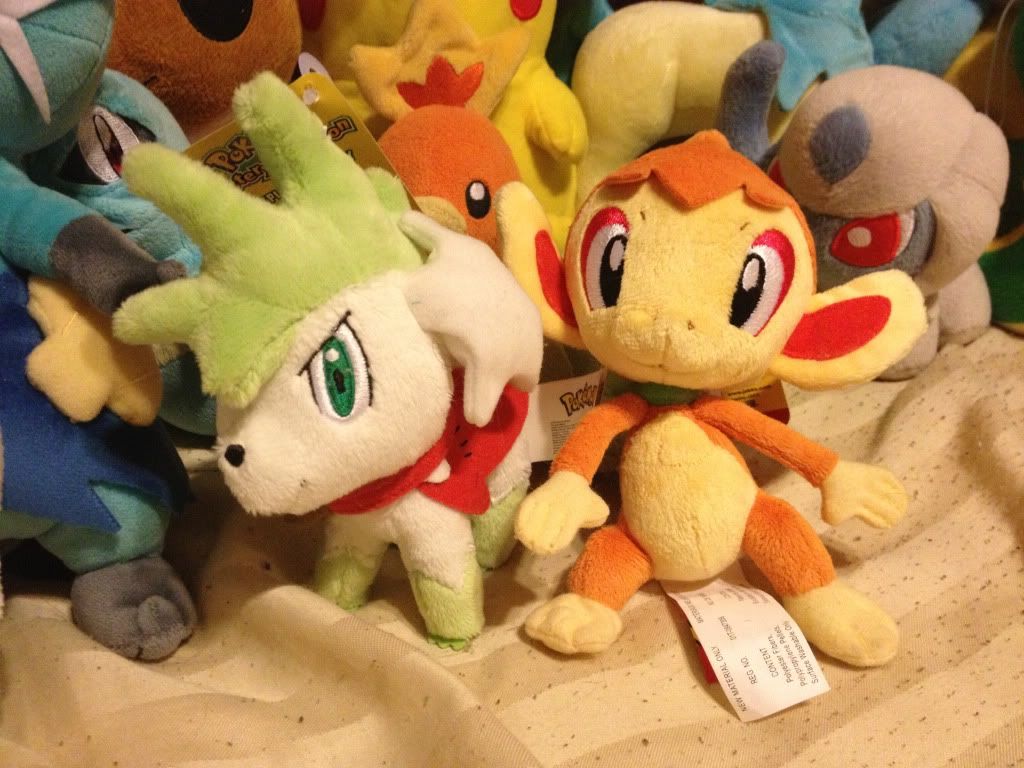 Homg, I love these two. Chimchar's head is so big. xD And I LOVE my Shaymin. <3 These two are genuine and from Toys 'r Us! Mystery Dungeon: Explorers of Sky edition.




I got a Patrat shortly after doing the group pic (like, a few days later). What happened is that, while I'd gone there for Poke-merch, my Toys r' Us... never change their Poke-stock. :| And I do mean, never. It's not even funny. They never stock anything new or interesting. :C

And while there, being a big MLP fan, I checked their MLP section. It was stocked to the BRIM. And. Homg. They'd stocked the Funrise plushies. ;___; I'm in Canada, so we don't have Target and Wal-Mart didn't stock them. And then. There they were. THE BIG ONES TOO. And the Nightmare Moon Collection too! So I bought Ponies too. :|;

So yes. Patrat missed the memo and joined the ponies instead. Maybe he's a closet-brony?

I also remember mentioning that I had Poke-merch on my desk at work, but that the pictures I did have were outdated. So... I rectified that and took new pictures! :3




Those who remember the Reshiram, Zekrom joined him a while ago!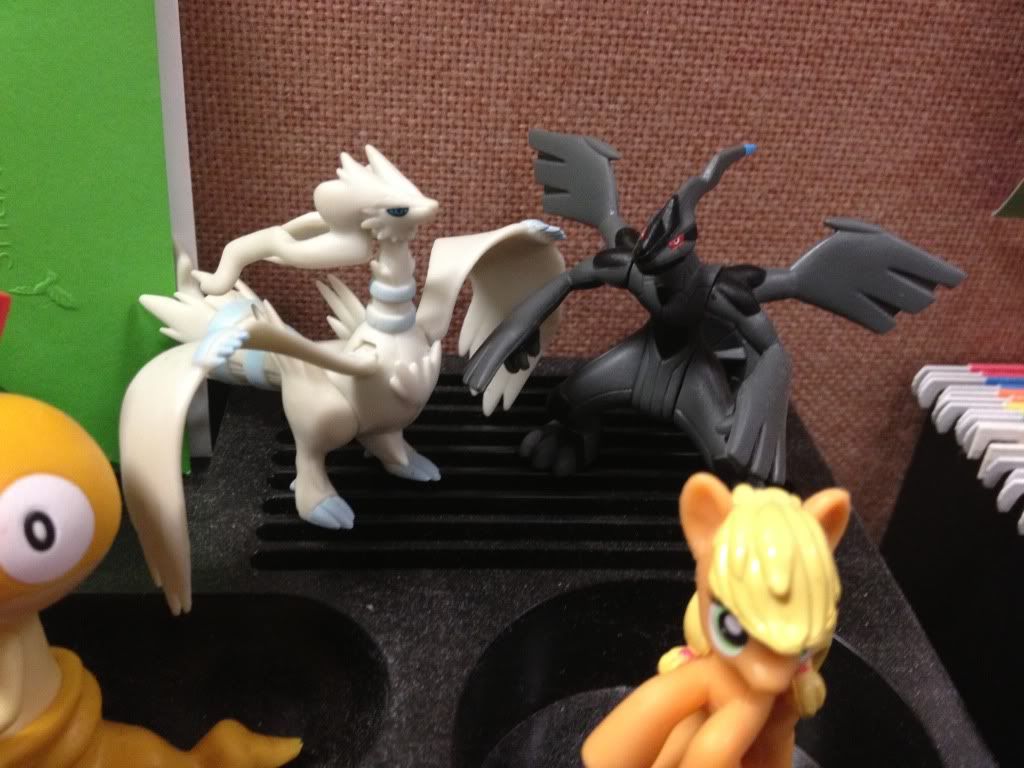 Close-up. C:




Axew hides behind my Copy/Copie stamps. Maybe he's Timid?




Tepig and Pignite here are nocturnal. Hidin' under dat monitor, all sneaky-lookin'.




These are custom items that I bought from two different sellers. The dog charms have a back-side with closed/sleeping eyes. :3 And the Pokeballs have magnets. Ilovehowtheymatcheachother'scolors.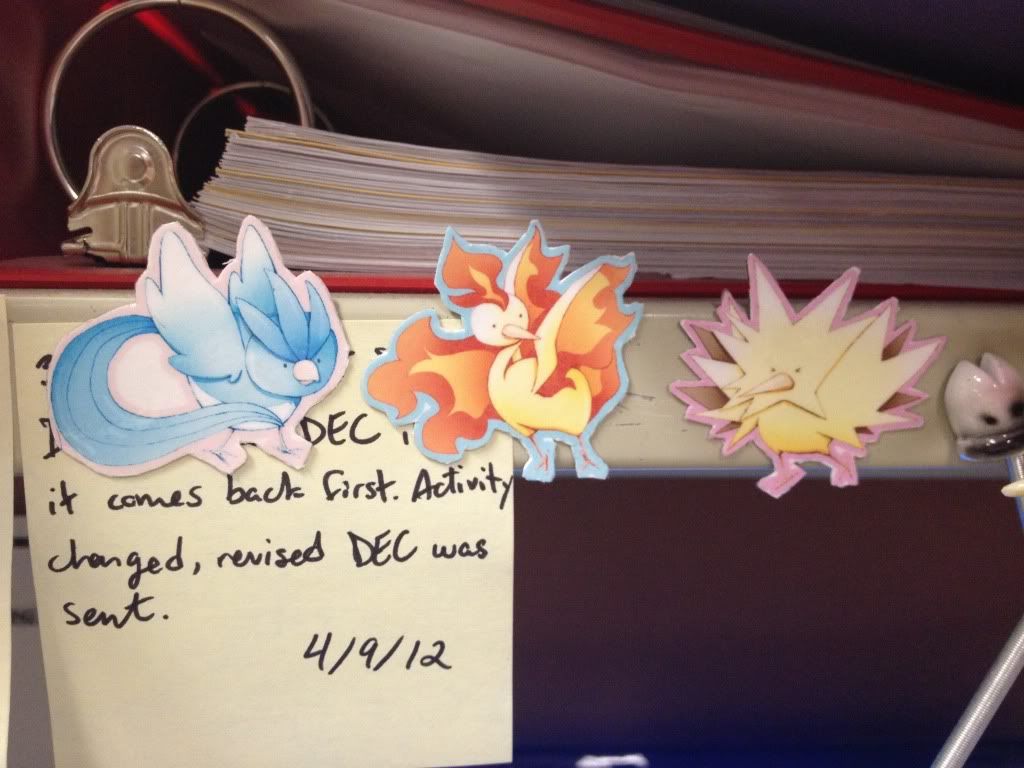 Last picture! These were from another seller. They, too, are magnetic. I thought they were adorable, and I couldn't help but to buy them. xD



And that's it for now! I have a lot of stuff coming in the mail, and I'm hoping to show them off and jump on the 'unboxing video' bandwagon when I get some of the really exciting ones (to me anyway). xD I'm so excited you gaaaaaiz. ;___; Confound these Pokeymanz.

And so, with that, I'd like to share some of my wants! Please know that I'm not a hardcore collector and I'm still somewhat ignorant, so I'm not sure exactly what I'm looking for. I'm usually only aware of the plush toys and some of the charms/straps. So if you have anything related to the Pokemon/line mentioned, please don't hesitate to show me/tell me. :D I'm also ignorant and don't know prices, either, so please bear with me if I ask you if I can buy your rare figurine for $2 when it's worth $20. x'D IT HURT ITSELF IN ITS CONFUSION.

I have some items from those lines coming in the mail, but I'm sure someone will show me something I haven't bought. xD Hahah.



BIG Interest Right Now: Emolga Merch

Other Interests: Whimsicott / Litwick LINE / Cyndaquil LINE

Miscellaneous Wants: Hmm, I'm mostly into plushies. I've started looking into straps and charms as well. Intrigued by zukans and figurines.



Also, for those of you with some good knowledge: I found out recently (thanks to a video from Denkimouse/Gin, I'm pretty sure) that they made a little remote controlled Emolga toy. I think it's the cutest thing ever and I love one.

I found one on Amazon from Direct Japan. My question is: does anyone know this seller? Are they legit? I have no idea what the toy is worth, so I don't want to think this is a good deal and end up getting a bootleg or malfunctioning toy, or what-have-you. :/

Can anyone help me out? Do you think I should take the risk, or will I end up being a bootlegged product? Do they even bother to bootleg these?

Thanks a lot for the help in advance, guys! C: