Hi!

This is a reminder for those who have yet to make payment for the I Love Eevee DX HQ Eevee plush as well as the Keychain Plush (Wave 1)! Payments are due November 10 at the latest. I have the full list of unpaid orders after the cut!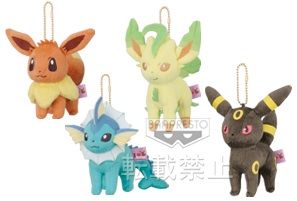 BIG EEVEE


tortoises




mew_luvs_mewtwo



EEVEE


tortoises




eeveez




_nofuturenohope




mew_luvs_mewtwo




charmystar


myvampirelust19



VAPOREON

20.

tortoises

LEAFEON

16.

tortoises

37.

p3nguina

48.

_nofuturenohope

51.

mew_luvs_mewtwo

54.

charmystar

UMBREON

21.

tortoises

22.

tortoises

62.

_nofuturenohope

66.

charmystar

67.

mew_luvs_mewtwo




Expect shipping quotes around the 20th! By then, I should have the plush and had time to get materials and start the packing process. Remember, the sooner you pay, the sooner they would be sent out. =D I will be sending the HQ Eevees first, so those who only asked for HQ Eevee should expect to have your orders processed first. More details would follow soon!

In other exciting news, last month I announced that Banpresto would be releasing an Electric-themed set of plush (Pichu, Plusle, Minun, Eelektross and Ampharos) next year. I just received word that the subsequent set would be a Dragon-themed set, including Axew, Dragonite, Salamence, Hydreigon and...Garchomp!! Finally the land-shark gets some love. =D

Thank you and have a great week ahead!