Once more I'm attempting to cut back on what I've got to make space. Up for offers will be some leftover sales from my customs and previous sales at new discounted prices, 2 custom slots with BIN oppurtunities as well as guarantees to be completed before Christmas, a custom Hydreigon Pokedoll and a Samurott Pokedoll.
TERMS OF SERVICE/RULES:
+ I got sales permission from Lineaabla April 2010!
+ I have a smoke-free home and own 3 cats! I keep them at bay from my collection and lint roll items but beware in case of allergies!
+ Holds do not exceed 24 hours and will only be held if buyer is committed.
+ MY ONLY SHIPPING DAY IS SATURDAY. I work full time, with hours identical to the post office. I can't ship sooner and if you're not alright with this then please do not purchase from me. I don't want to disappoint me and I don't want you stressing me out because you want your item sooner. Sorry for the inconvience and thank you for the patience!
+ I am open to reasonable haggling but please don't be offended if I turn your offer down.
+ No, I am not interested in trades at the moment. <3
+ I ship from the USA.
+ Payment is due within 24 hours - failure to do so will lose your chance with the item.
+ I have the right to refuse service to anyone, especially if they have poor feedback.
+ Once a package leaves it is out of my hands so I will not take responsibility for something I have no control over.
+ Backing out of a sale can and WILL get you negative feedback.
+ I ship in bubble mailers however if you want insurance or prefer stronger packaging please ask for it. Smaller items such as small key chains or coins may be shipped in an envelope. I will offer it to you first of course!
+ My feedback can be found here: http://feedback.pkmncollectors.net/feedback/view/nightmare_chan2/
+ Auctions, both for Samurott and the slots, end on Thursday the 15th at 6:00 pm PST.
~ ON TO THE SALES ~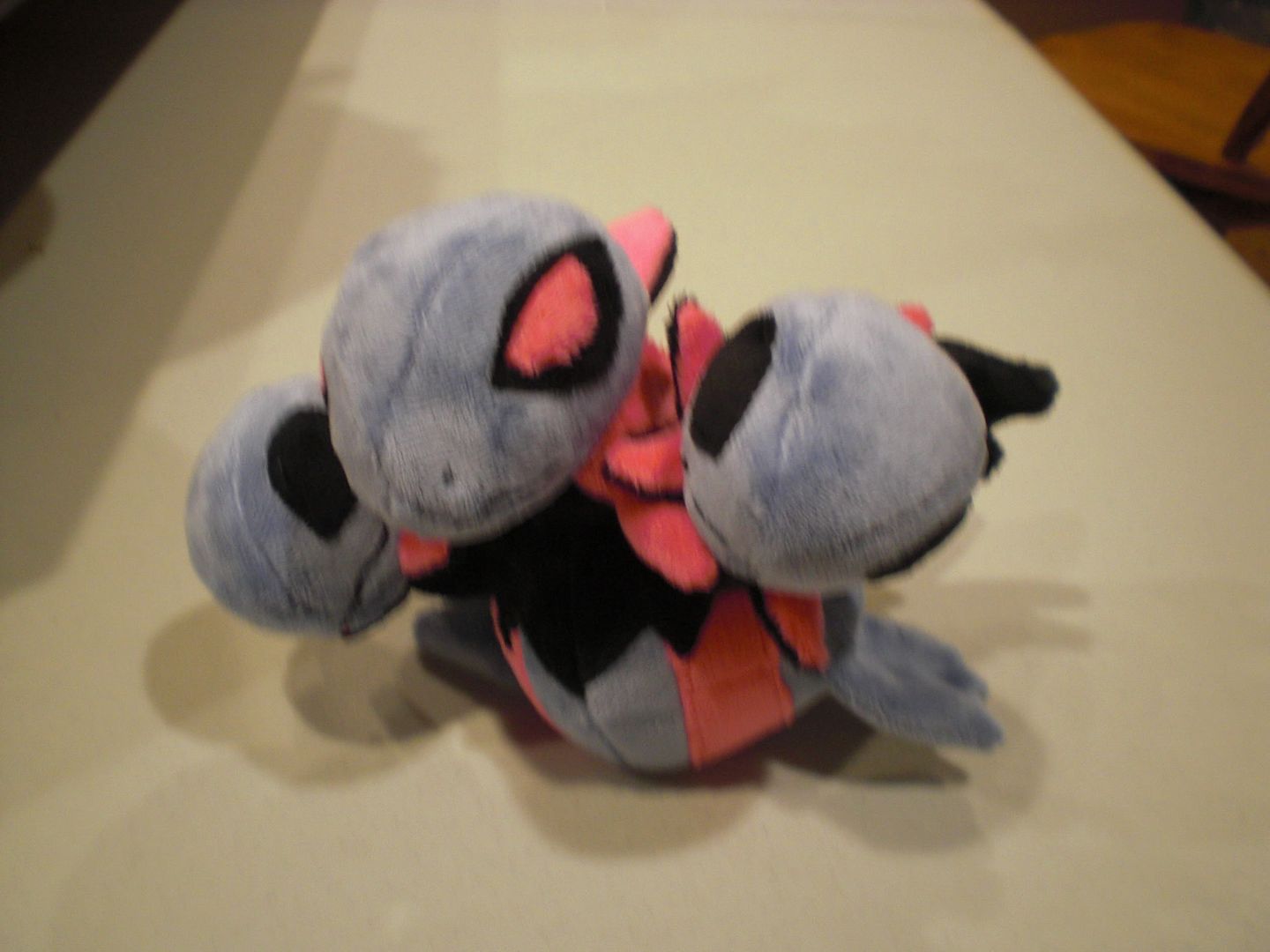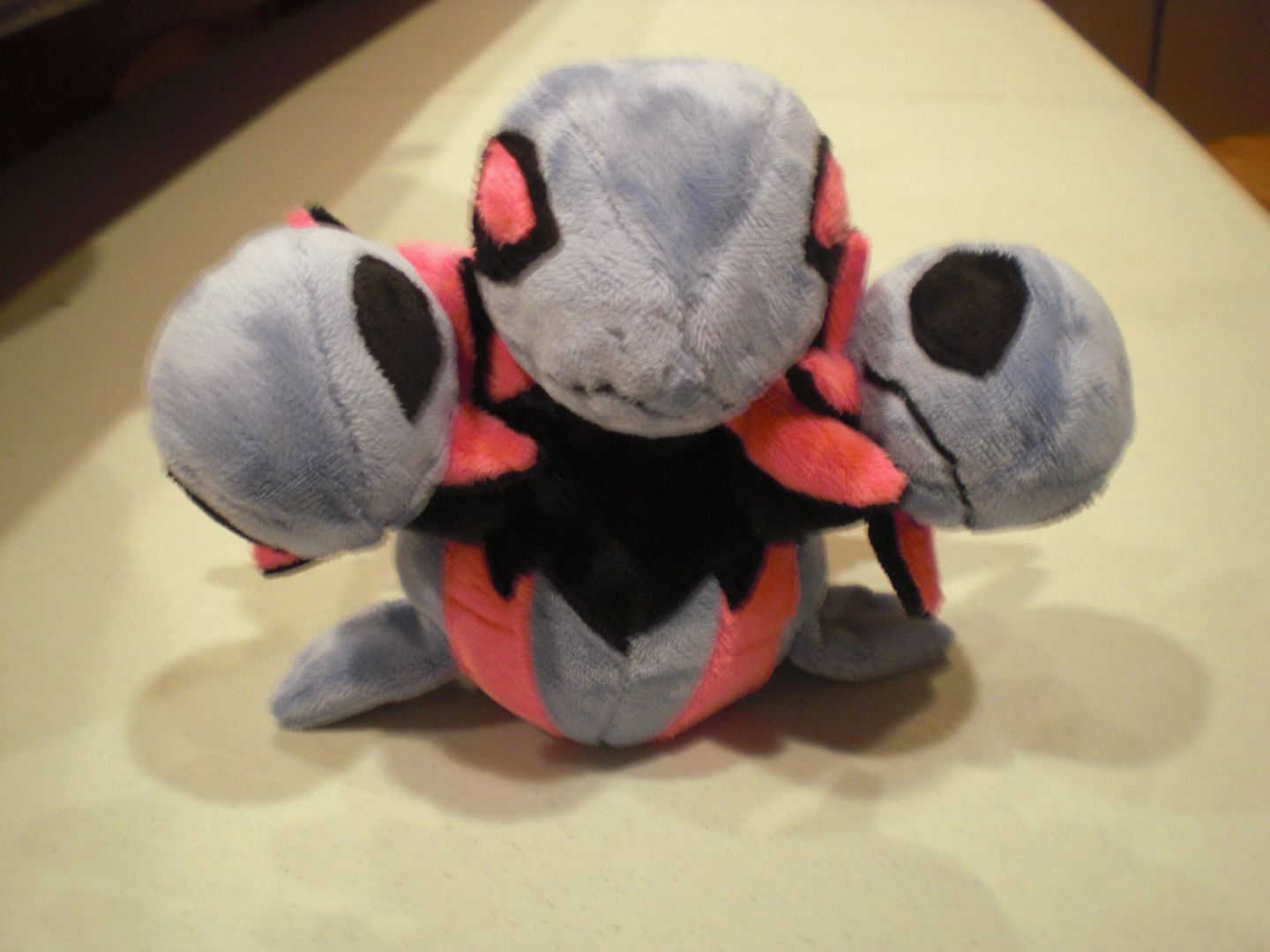 Custom Hydreigon - SOLD
Samurott Pokedoll - starts at $40! Missing Hang tag, but tush tag in tact and besides that it is in mint condition!
His whiskers are delicate, and I can not guarantee that they won't bend during shipping. Be fore-warned!
Tush Tag only near mint Japanese Zekrom Pokedoll - $40 - SOLD
Tush tag only near mint Japanese Blitzle Pokedoll - $18
Ho-Oh Pokedoll: Japanese release, tush tag only, with scuff marks on plastic wings - $10
Giratina Pokedoll : Japanese release, tush tag only, like new condition - $15 - PENDING
Zoroark Pokedoll: Japanese release, like new, tush tag only - $10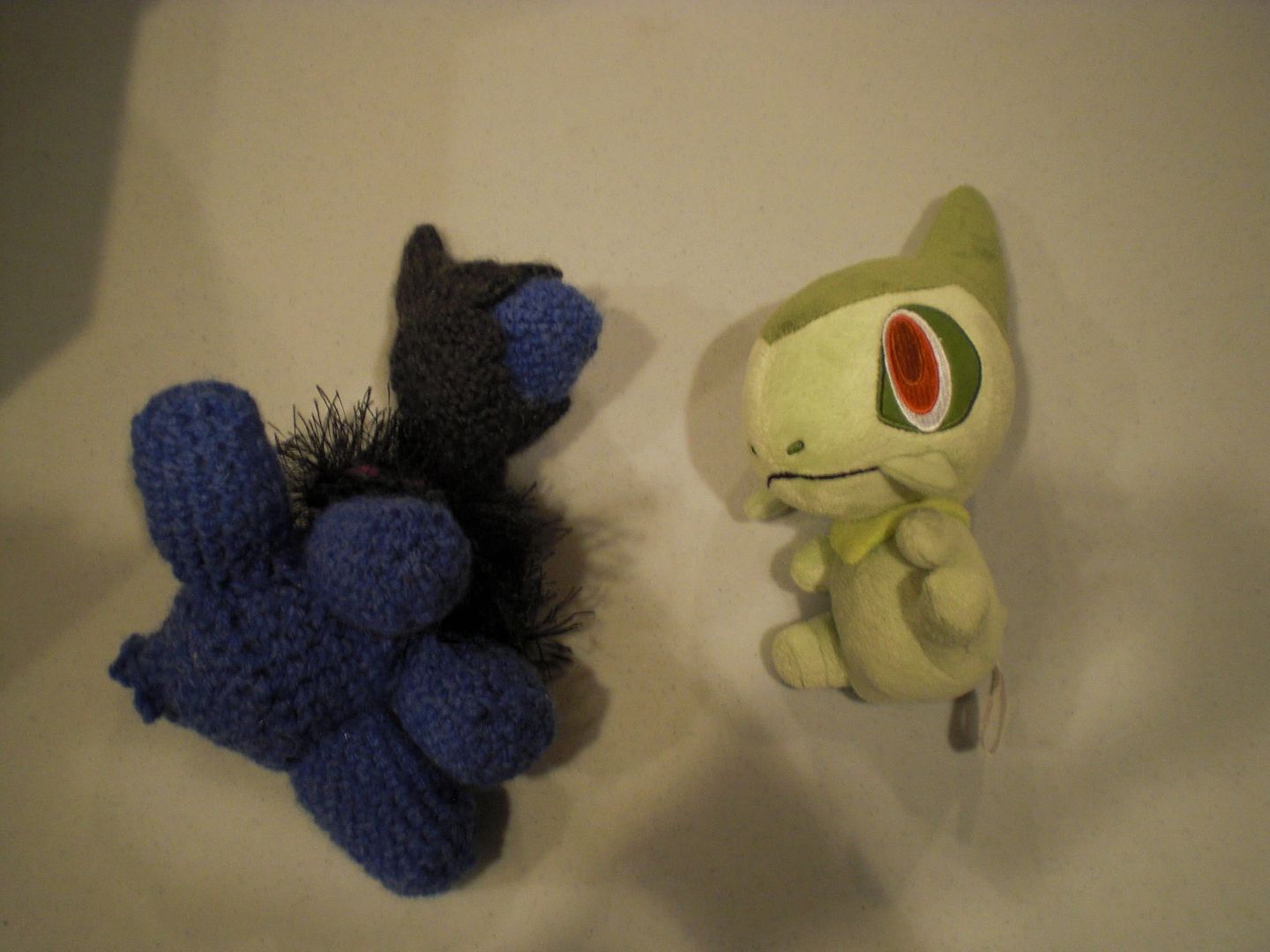 Custom Amigurumi Deino - $5
Axew Pokedoll: Japanese release, tush tag only, slightly loved - $15
Zebstrika Pokedoll Figurine by Winterjellybean - $15
Zebstrika Bell Plush by Hibikitikibi - $10
Keychain Flat - $2.00
Figurine Phone Charm - $3
Buttons - $1 each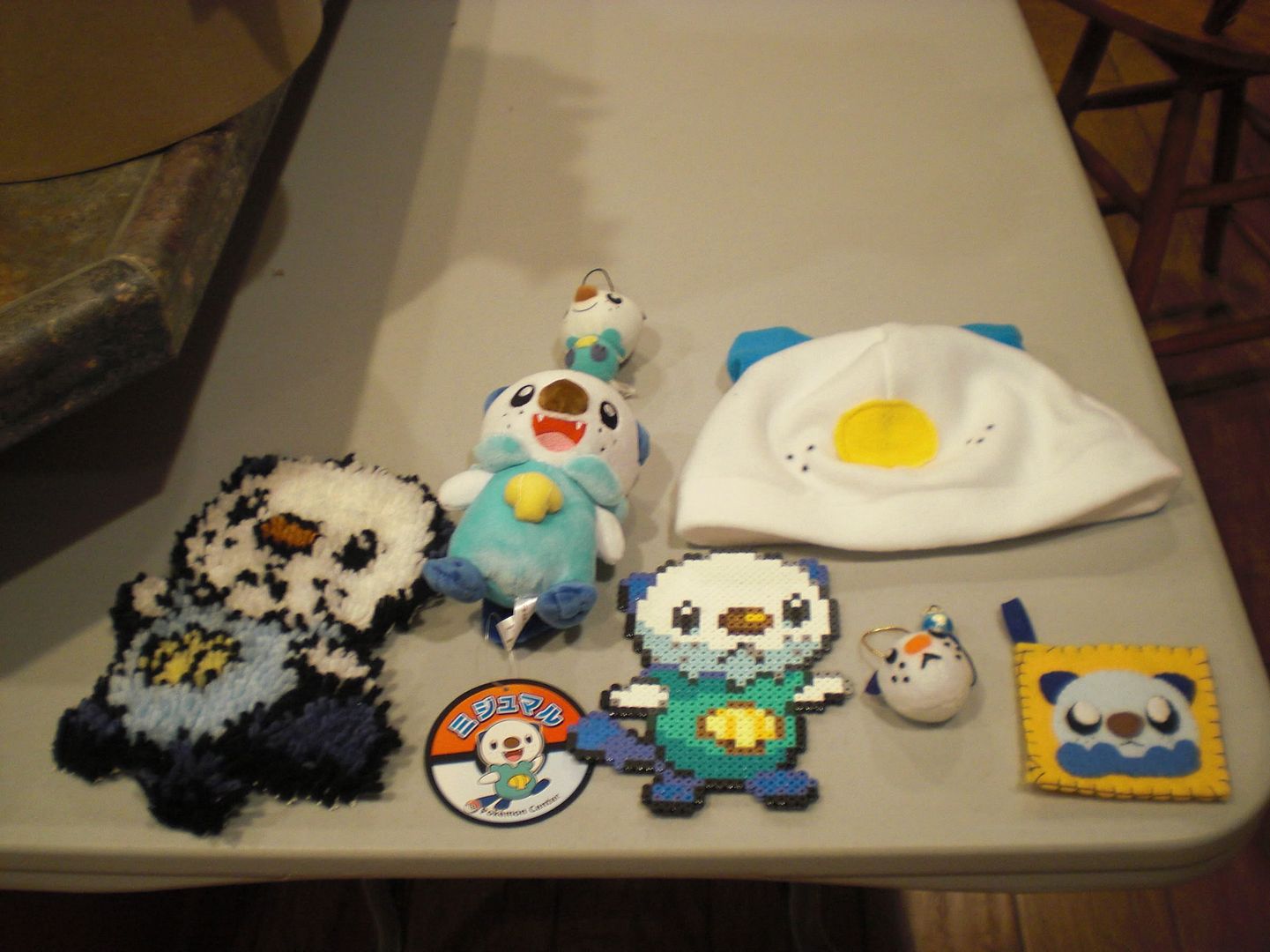 Osha-Lot : $22.00
B/W Clipping Figures:
Hydreigon : $8
Kyurem, Kyurem, and orange legendary guy whose name escapes me now: $1.00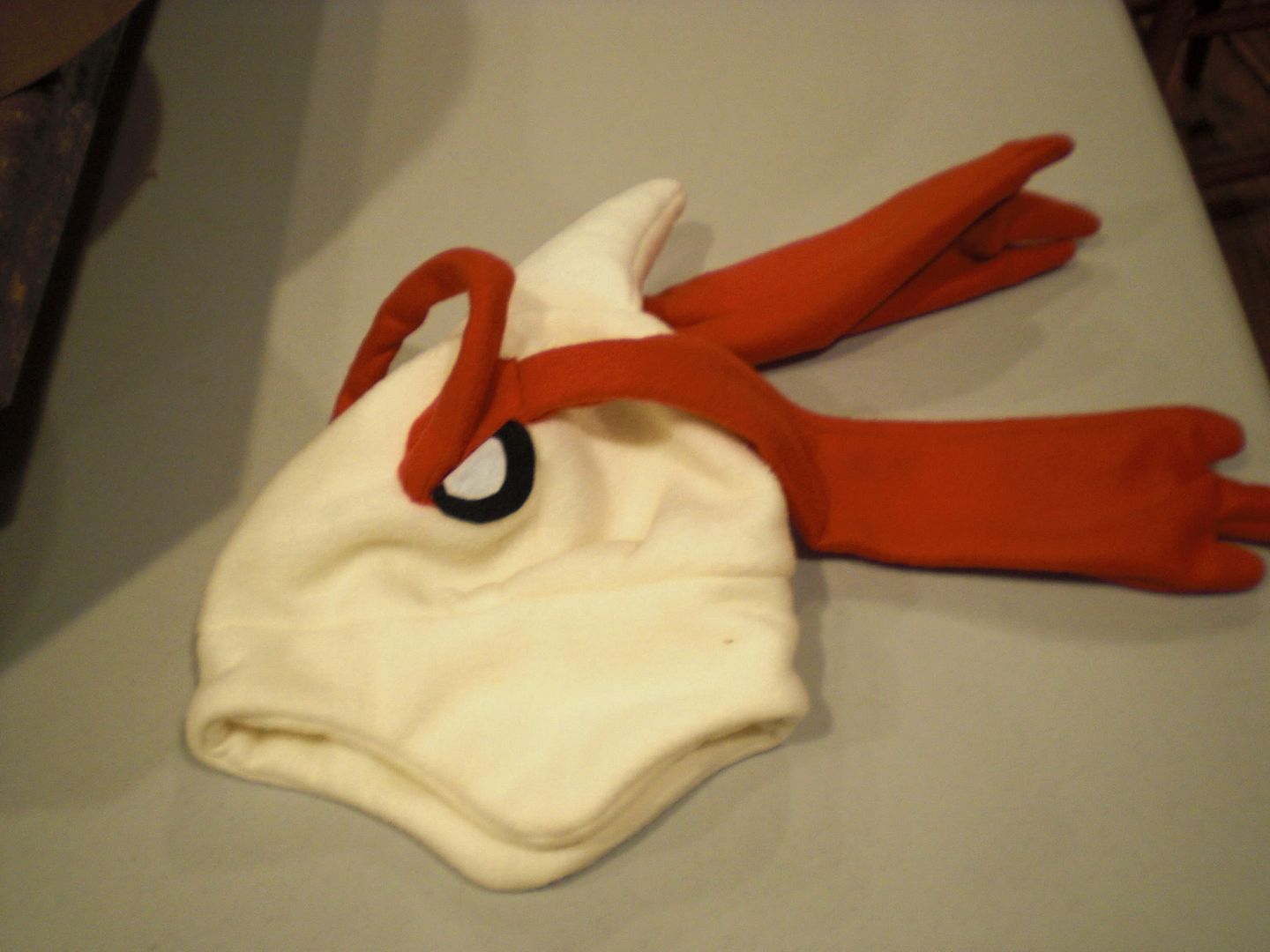 Milotic Hat, never worn and made of fleece - $5.00
Winterjellybean Figurines:
Togekiss on a cream pie: $3.00
Cherrmi on a peach cupcake: $5
Scolipede items: $7 for all three! SOLD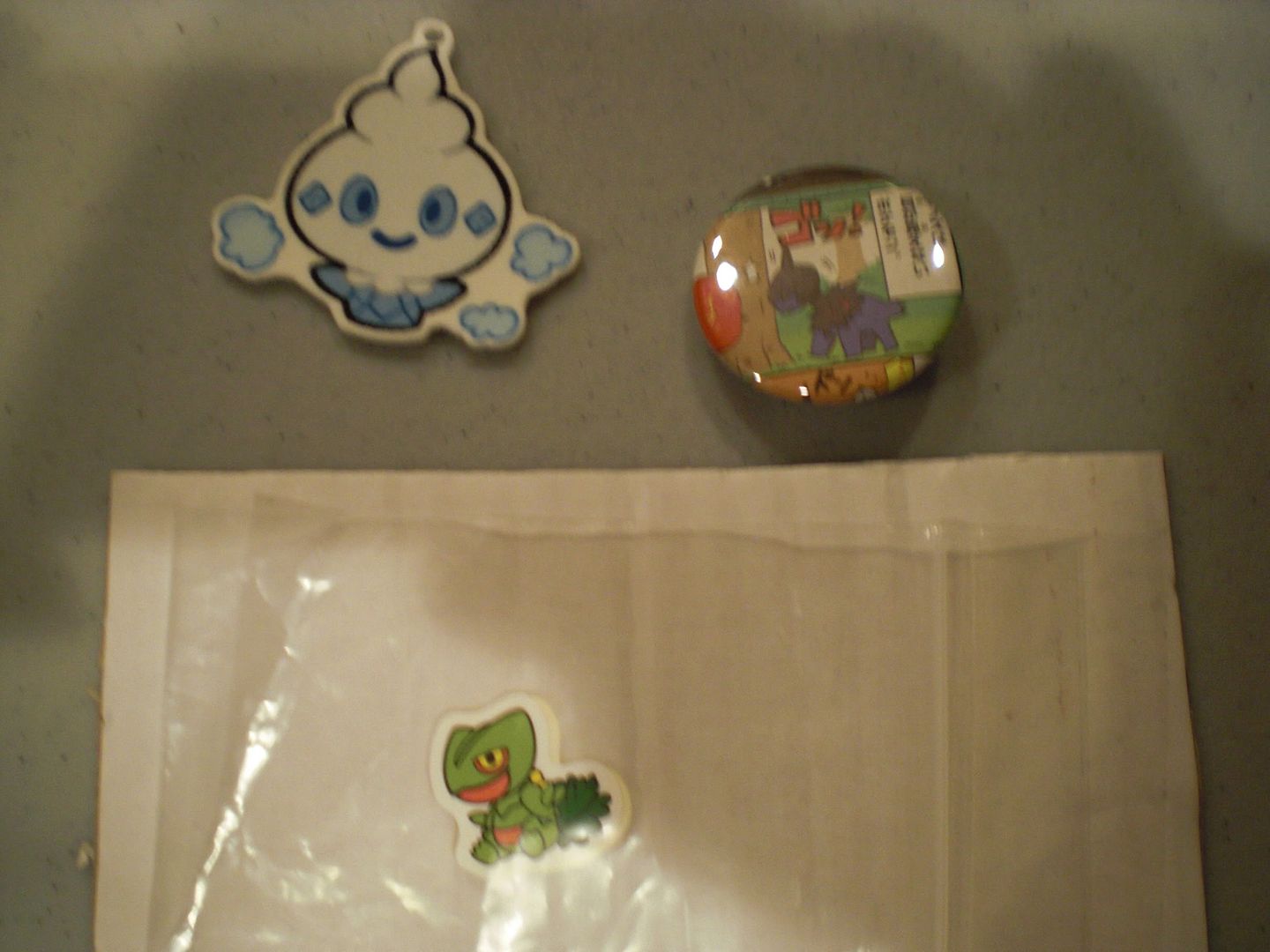 Deino Pin: $1
Vanillite Charm without strap: $1
Sceptile Pokedoll Sticker: $7
Buneary, tush tag only with tear in neck: $3 shipped anywhere!
Ho-Oh: $1
Others: Free with any purchase
~ ON TO CUSTOM SALES ~
*** POKE BLANKIES ***
Each blanket is made from cozy glitter flannel, with threads from coats and clark as well as sulky! They generally measure 7.5"x6.5". Each were designed by my best friend, Winterjellybean, and while I colored, digitized, embroidered, and sewed them up! They are perfect for hand towels, burp rags, but more importantly they are lightweight and easy to display in any collection. Below you can see a close up on the pokemon for each blanket, then the front and back to get a better look.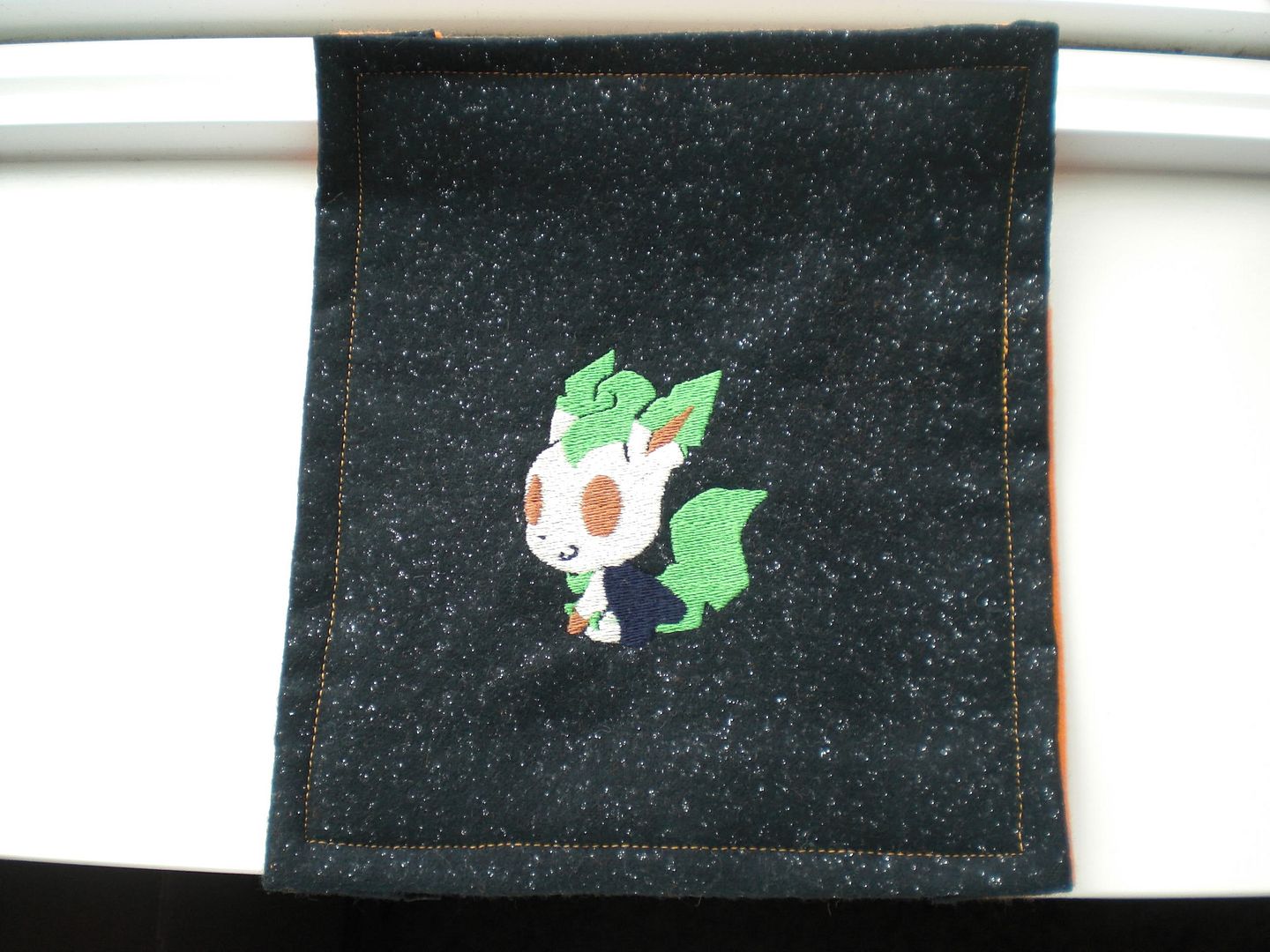 Hallo-Leafeon: $10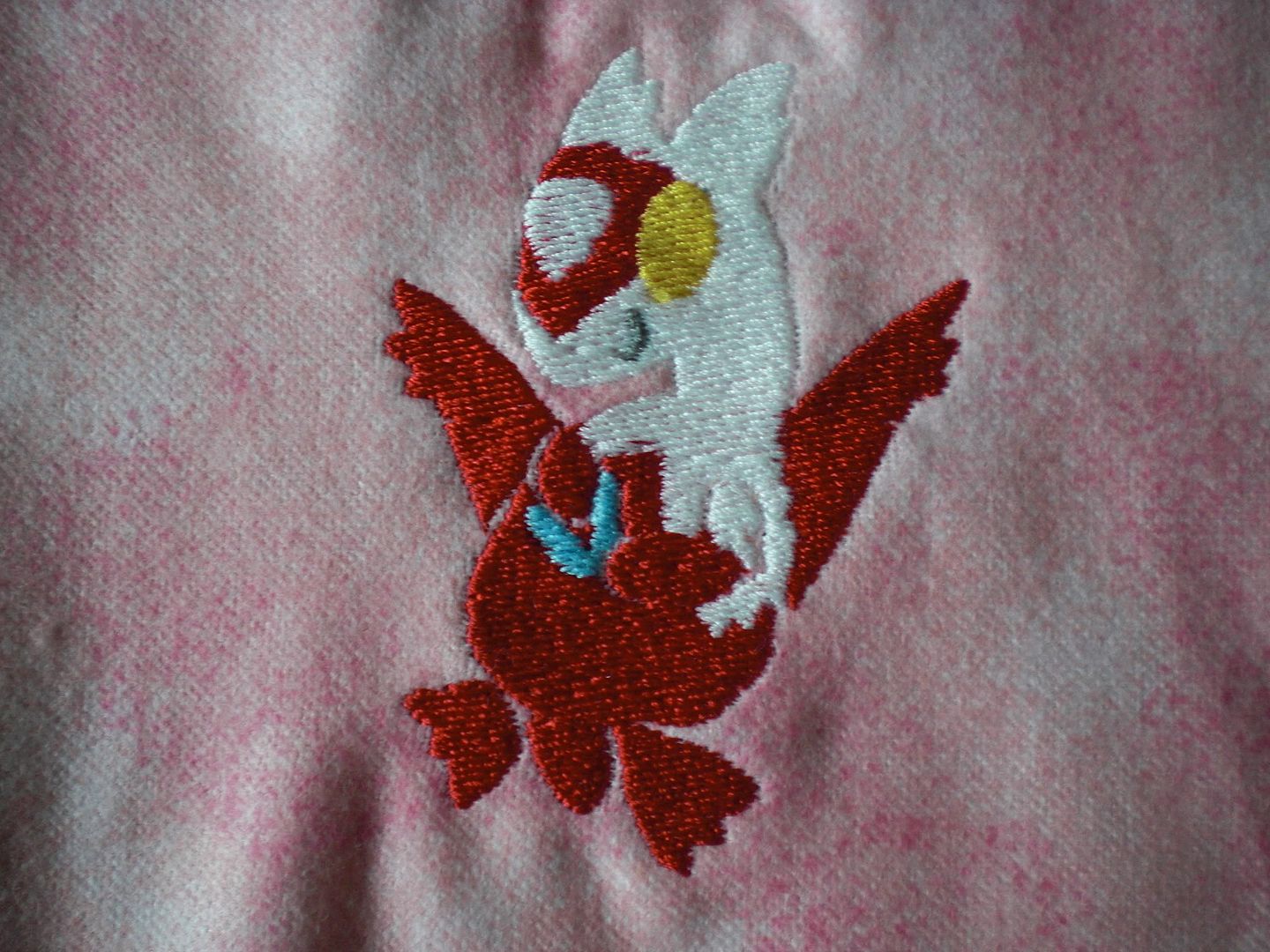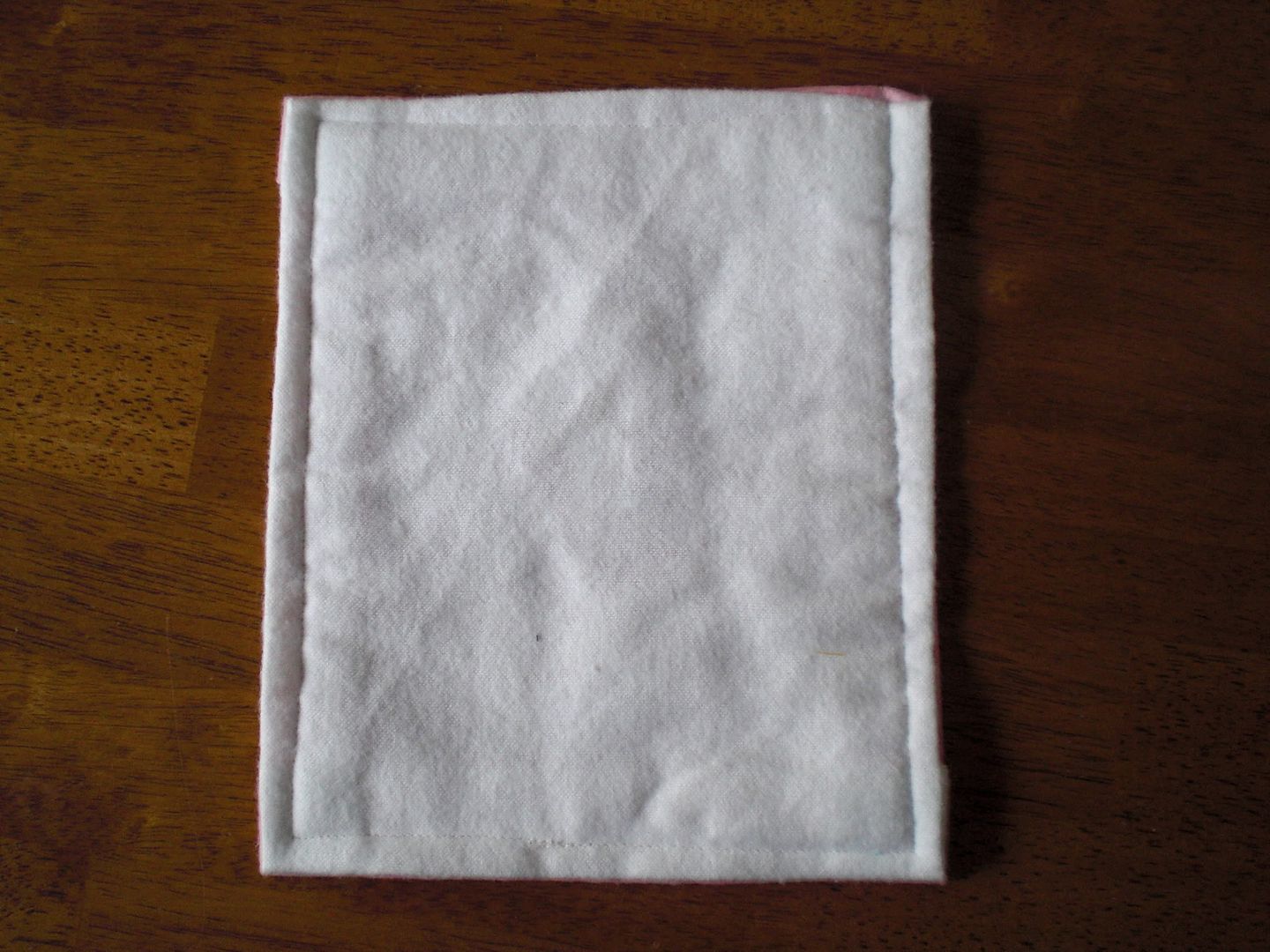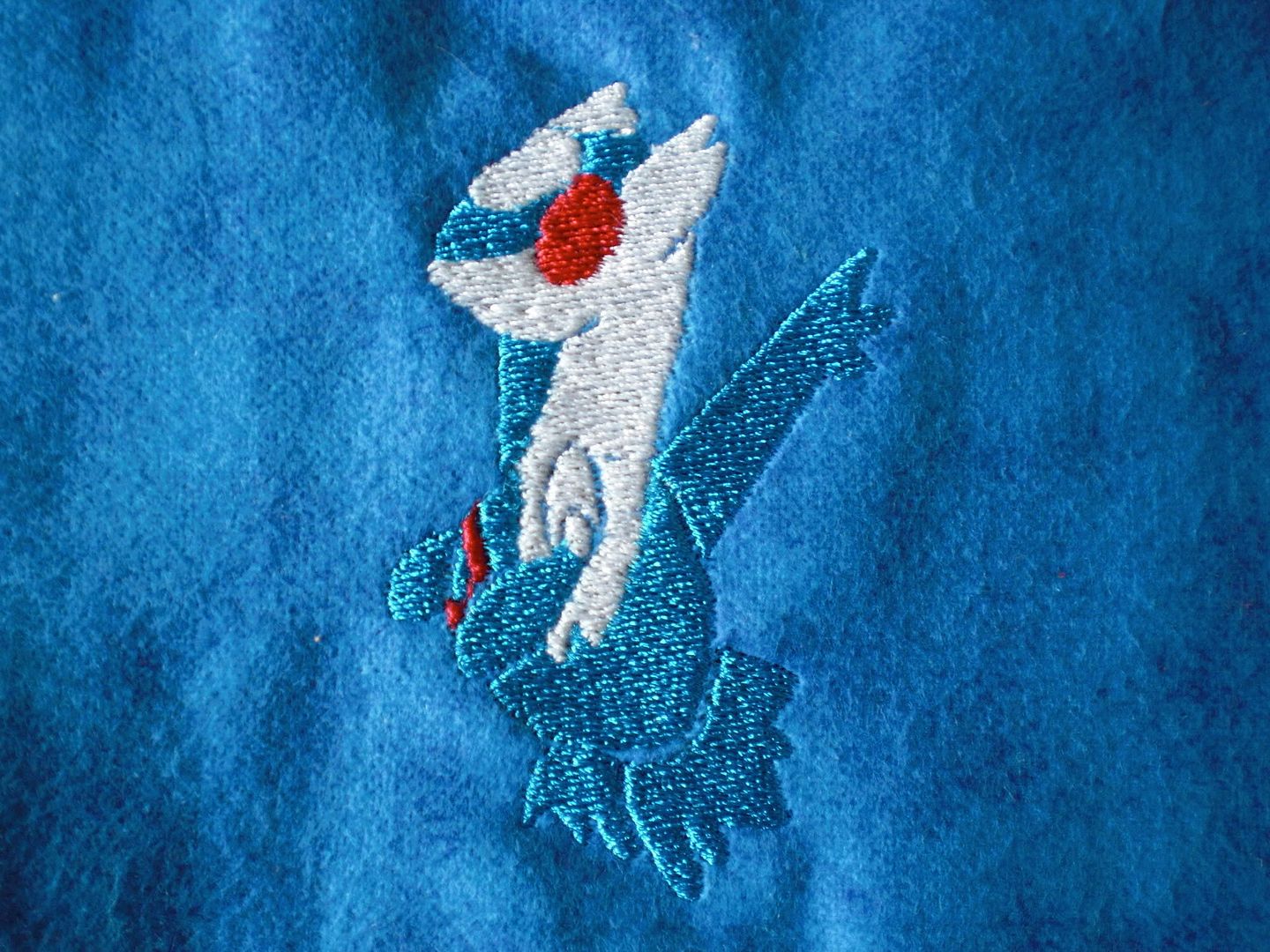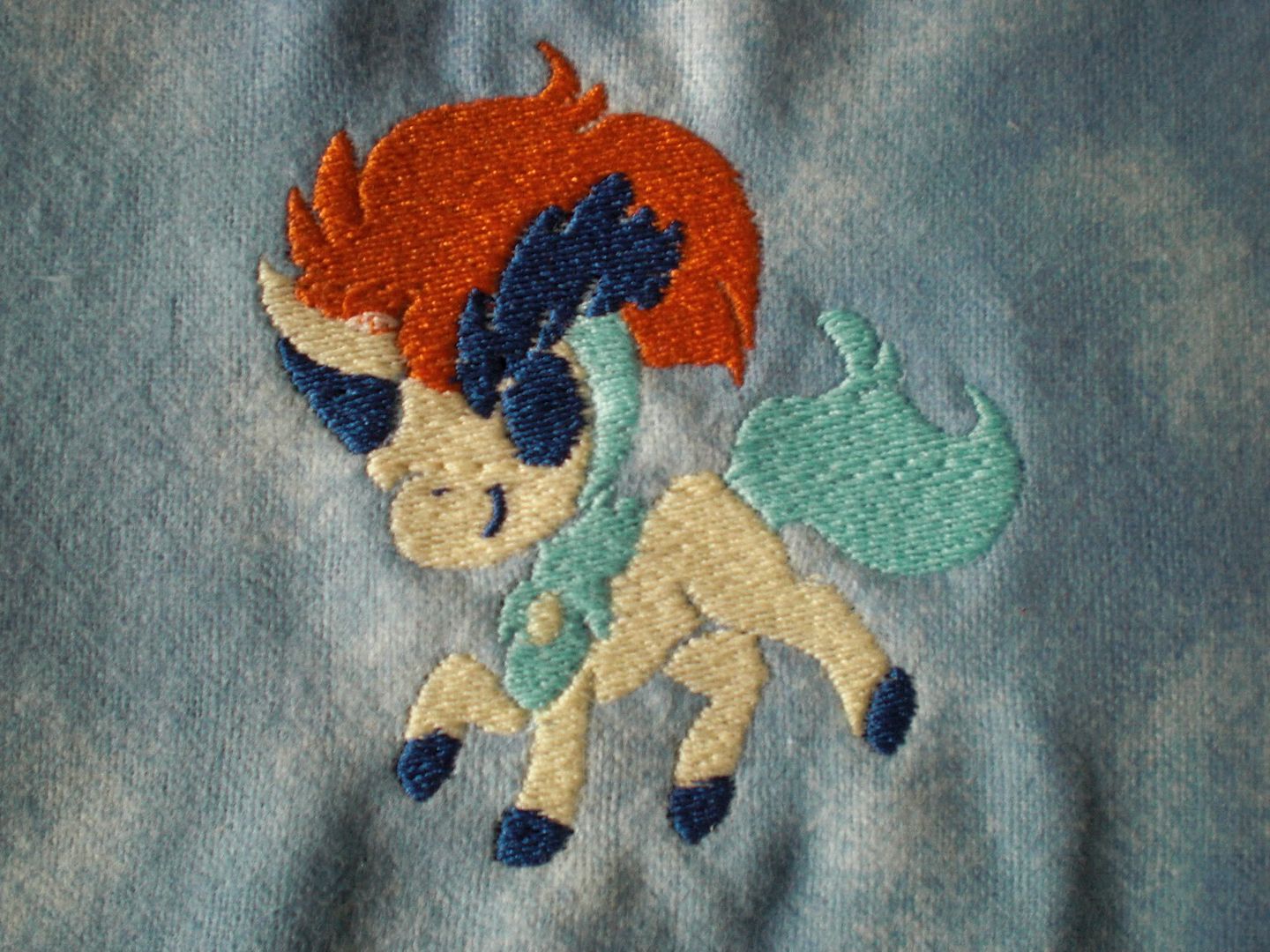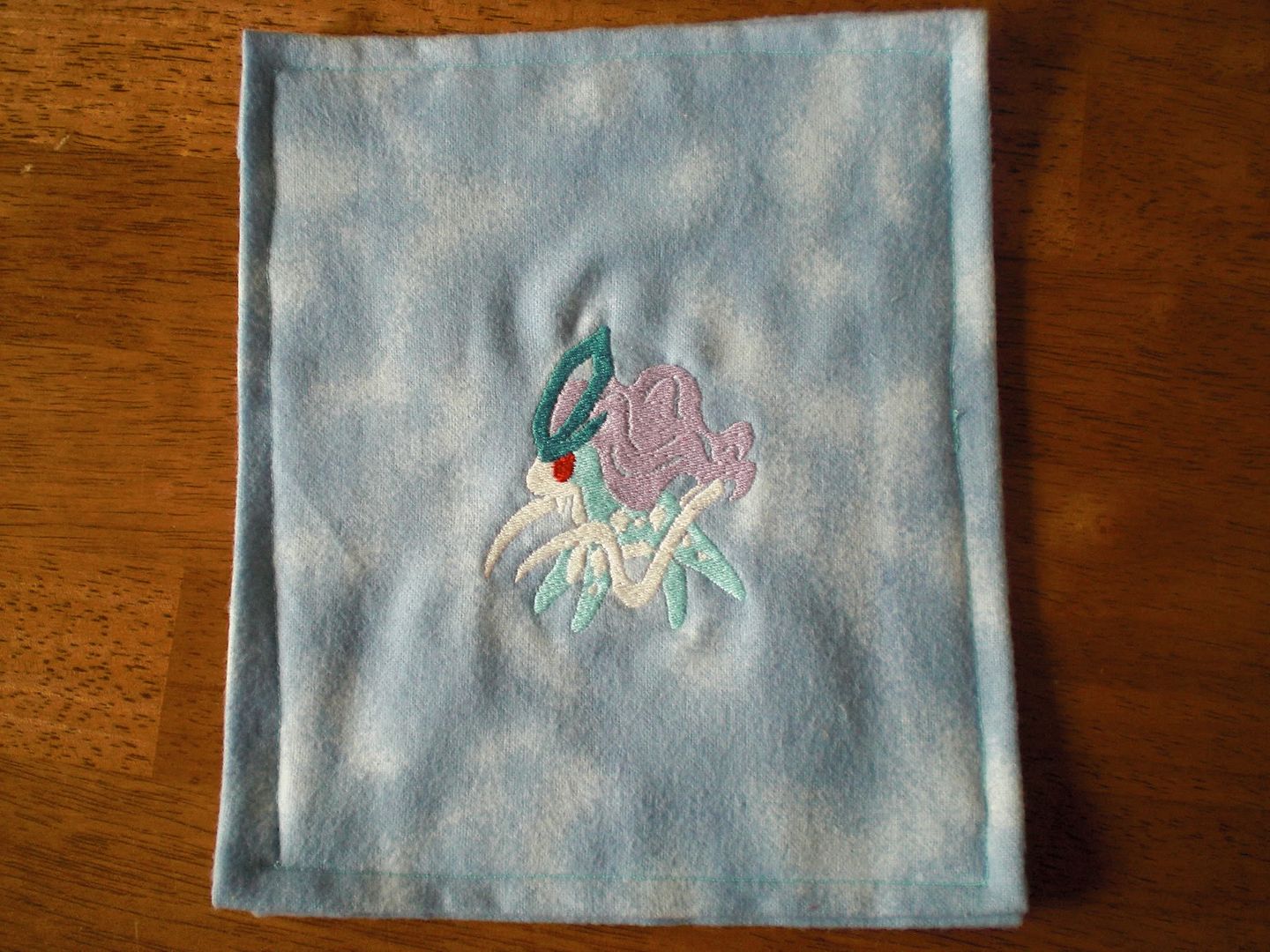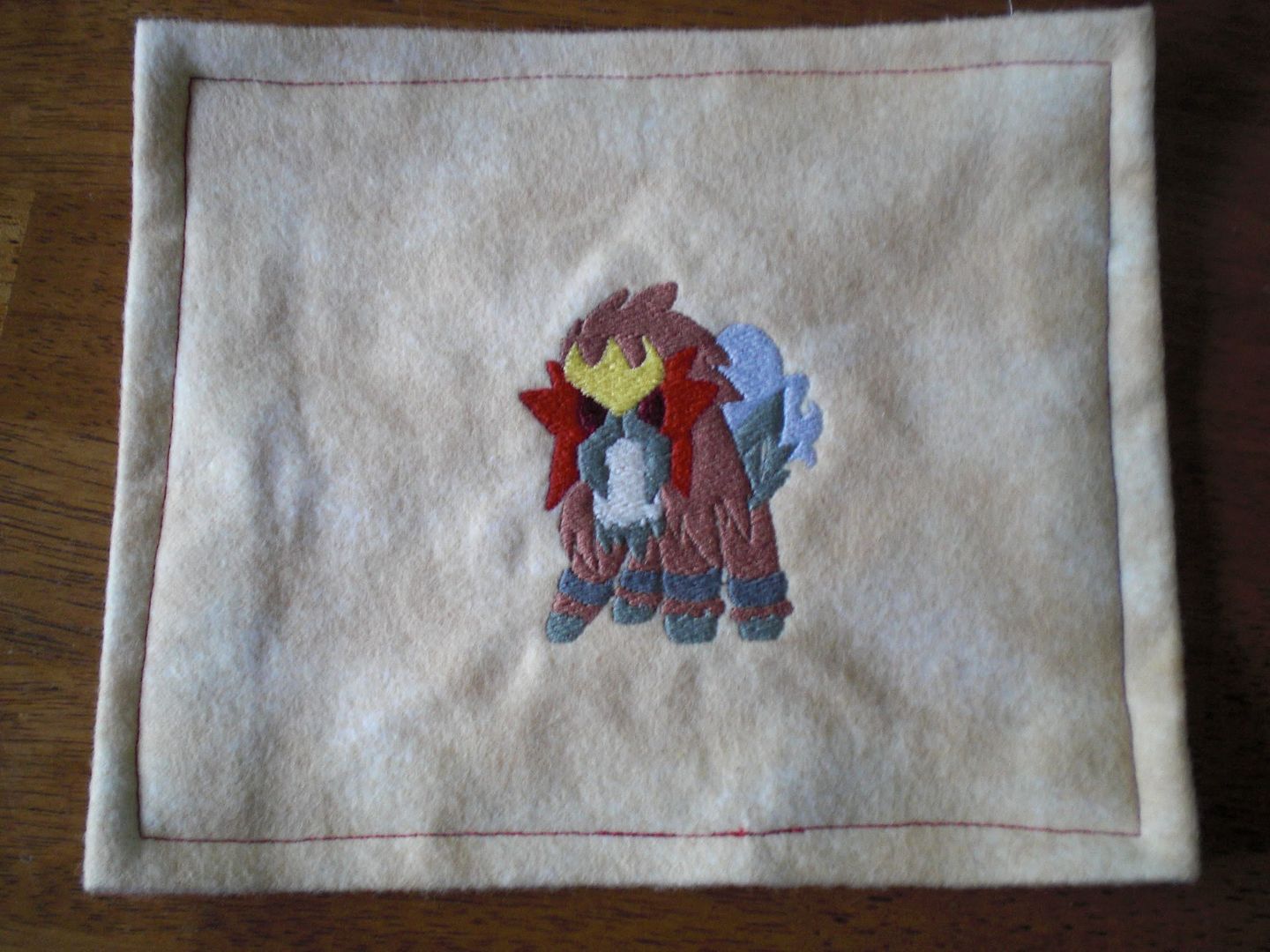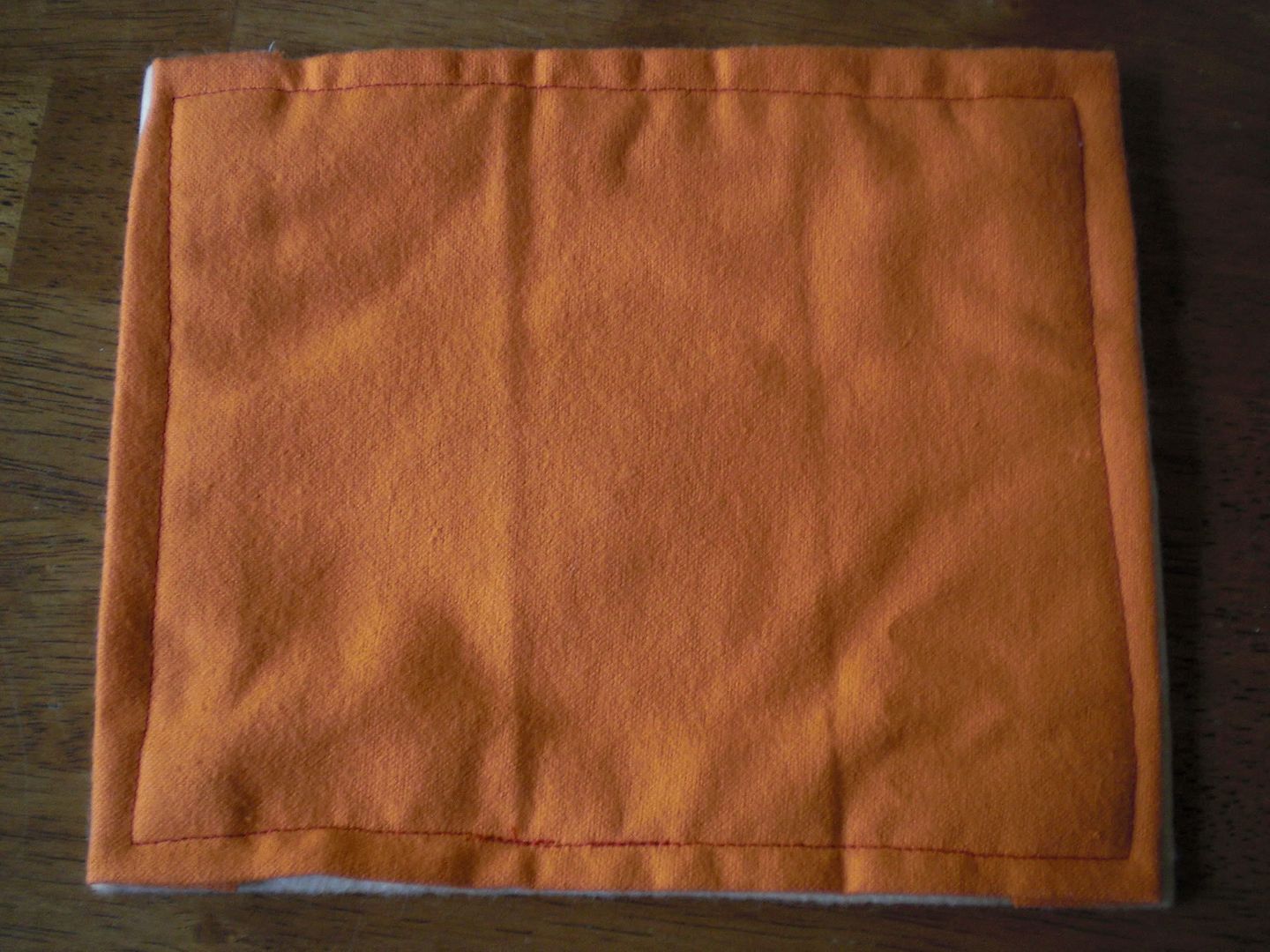 Each blanket is $5 before shipping!
SOLD: Entei, Latias, Latios,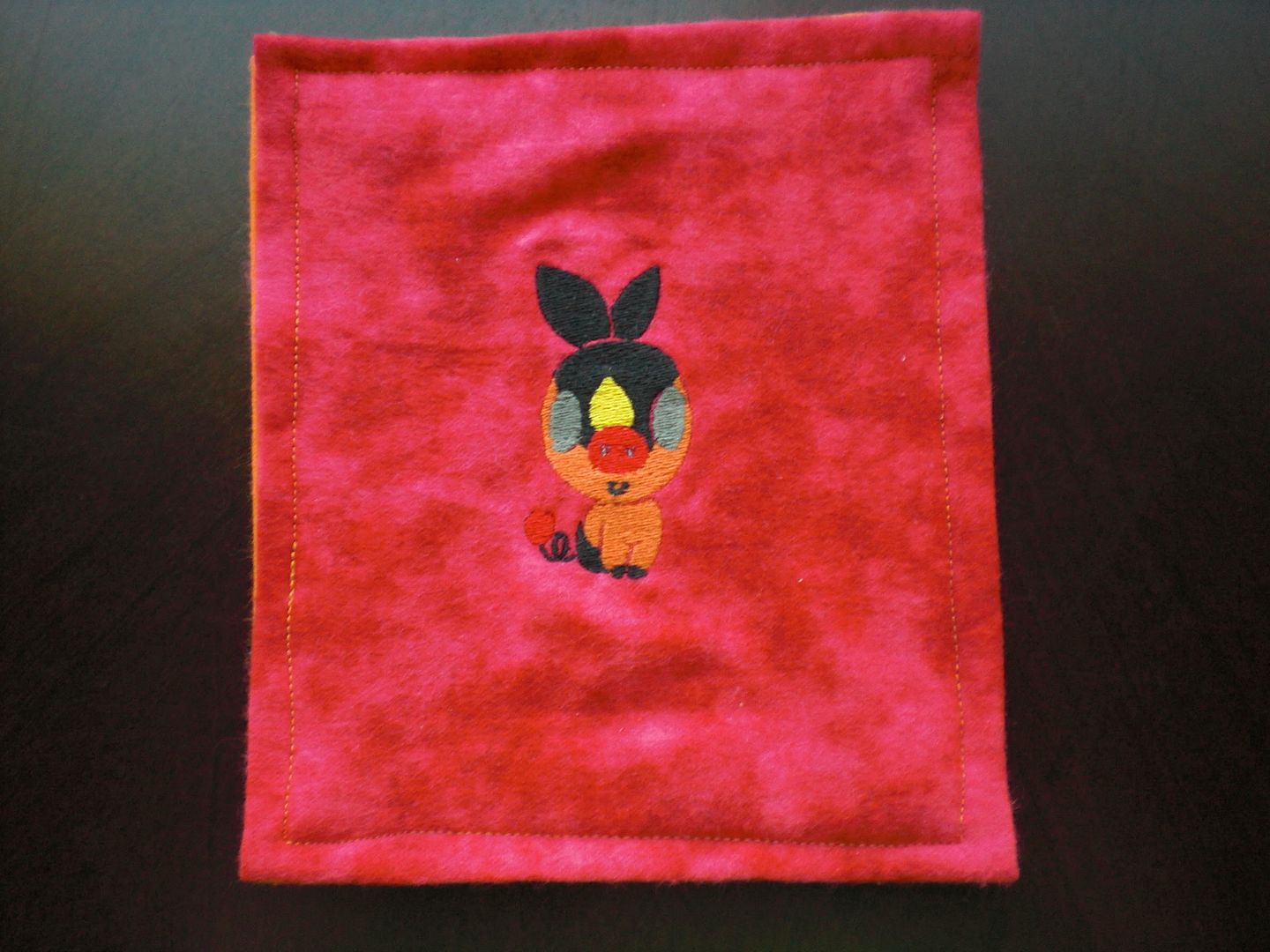 Tepig is $3 before shipping! <3
Rules and Information for the Custom Slot Offer:
Here's a glance at what the last winners got for their custom:
The rules above apply for shipping and the general things about working with me~
I am open to Pokemon, OCs, whatever! <3
The artwork for the blanket will be the same featured with the above Pokemon- solid color large round eyes are all I am offering. Detailed Pokemon can and probably will be simplified because the designs are chibified and small for my machine to work with.
I am not perfect. I am still new to this, so please have patience and understanding when working with me. Sometimes there can be gaps between the embroidery sections which can look intentional or part of the style. It's not in my control, so when it comes out like this I won't give it another run through. A few cenimeters isn't worth another $10 in supplies and another 3 hours of work for me:

http://i577.photobucket.com/albums/ss220/GottaDressemAllAS/010-2.jpg

http://i577.photobucket.com/albums/ss220/GottaDressemAllAS/013-4.jpg
HOWEVER if the gaps are really that drastic and concerning for me, I will go ahead and do another run through so it doesn't end up like this - that way your Oshawott doesn't have an arm sprouting through his chest!

http://i577.photobucket.com/albums/ss220/GottaDressemAllAS/003-3.jpg
I have a wide variety of fabrics already at hand, from prints to solids and I will load them up for you to pick! This slot comes with glitter flannel for backing, though some colors are unavailable so please always be ready with a back up. You will also get tinsel for the shiny stars on your custom like the blankets above! :'D
These will be completed and shipped before Christmas! I can't guarantee delays once the package leaves my hands, but it will be shipped within the first couple weeks of December, if not sooner. :)
By winning I will be assuming you have read through all this, understand, and agree to my terms. This particular custom is exciting for me to take a commission for, but as it's my second time I need to be thorough that I'm dealing with someone who understands my rules. I will expect you to tell me your favorite Disney character when I give you your total so that I know you're ready to let me work with you. ;)
Auction starts at $20 and ends Thursday at 6:00 PM PST!
OR YOU CAN CHOOSE TO BIN.
The BIN price is $50, however once someone applies a BIN that slot is immediately filled and the auction for that slot is over.
To apply a BIN simply comment in the auction slot with "BIN!" and I will cease the auction for that slot, regardless if someone has started it or not. :)
Thank you for checking out my auction and sales! <333