First of all, a big THANK YOU to everyone who took stuff off my hands in the first sale. Everyone who has paid me by Paypal has had their items sent out. They'll be from A. Simon or Angela Simon. If you paid me by mail, I haven't gotten any payments yet, but I'll tell you as soon as I do.

I re-took 99% of my pictures so you could get a look at what is left and what is newly added (yes, I actually found MORE stuff...) Nothing that was previously sold is in this entry. However, if you wanted something but you never paid me, I put it back up. If you want it again, let me know.

If you have any questions, let me know, and I will be more than happy to answer them for you. Thank you again for looking and if you bought from me, for buying. PS- I take paypal, money orders, or concealed cash.

Everything is make an offer- As people could probably tell from my last sale I accepted just about *every* offer made to me. I am NOT picky!





Giant Pokemon plush pillows. Mewoth has stitching redone along his front because he needed mending. Both have been freshly washed.




Pokemon 2000 Burger King Toys- Each toy comes with a base and a card. Some of the cards light up, make noises, move, etc. Zappdos does NOT come with his original base, so we gave him one from a toy we had a double of.




Burger King Pokemon the first Movie toys- Mewtwo's eyes still light up. Gengar's do not (someone asked me this in the last entry so I thought it was good to note :D). Other than that, if you have questions, let me know. I have several doubles, they are not all pictured, so if there is one you want ask anyway just in case.




Charizard box and Mini Pikachu manga.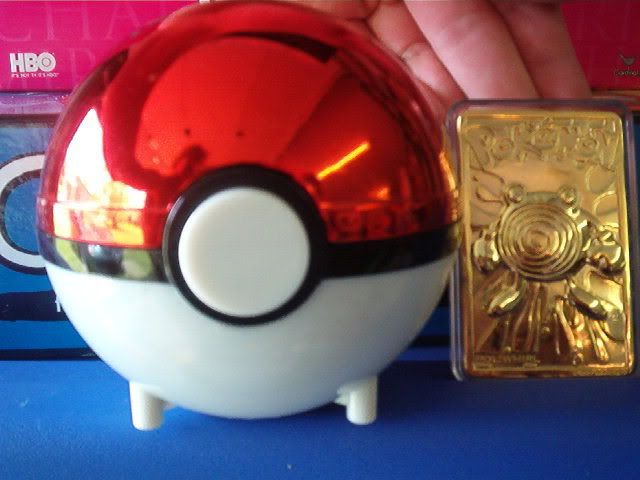 As you can see, the balls have some wear and markings. They are both Poliwhirl cards. One card comes with a plastic case, one doesn't.




Pokemon the Movie 2000 Program- Cover is falling off, but other than that it's in nice condition. I can tape the cover or maybe even restaple it if requested.




Battling Coin Games- Your guess is as good as mine...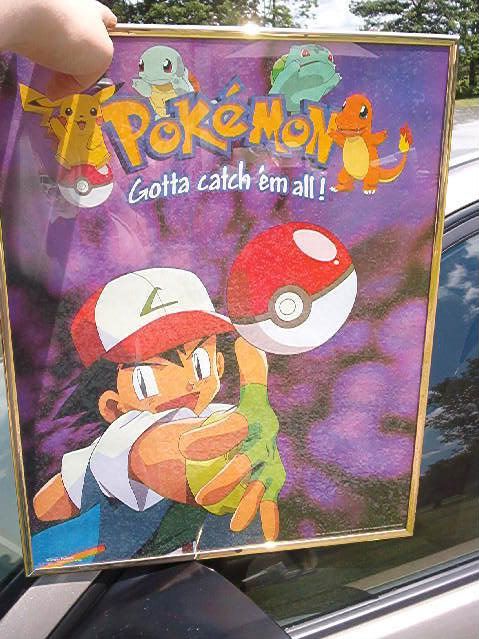 Pokemon poster in frame- Can be taken out if you want. Not sure why the picture turned out weird...




Oh yes, Pokemon Yatzee. Comes with everything you need to Yatzee it up.




Pokemon beanies! One of the Poliwhirls does NOT have a tag and one of the Squirtles has very small blue dots on the back of his head, but it is hardly noticable.




The Squirtle was something imported from Japan (by TOMY). He is very soft and squishy *_*




Blaistoise is big and PVC. The guy next to him is a Hasbro toy. When you push on him he opens his big mouth. Squirtle has a keychain-like thing attached to him and Koffing turns inside out into a pokeball.


(a lone TOMY I forgot to take with the group shot)
These are all official TOMYs. I took out the 2 unofficial toys from my last sale, which were both Pikachus (but if you want them let me know). I apologize before because I didn't even know what a TOMY was until my brother enlightened me, lol. That's why I always encourage you guys to ask questions. I don't take offense. I took 2 pics so you could get a good view of them.




Misc. toys. The Raichu thing in the front is a stamp. Someone wanted him specifically so I took him out of his set, but we didn't do a payment so if you still want him LET ME KNOW!!! The Squirtle still talks but his tail is missing. The Squirtle keychain in the lower picture lights up!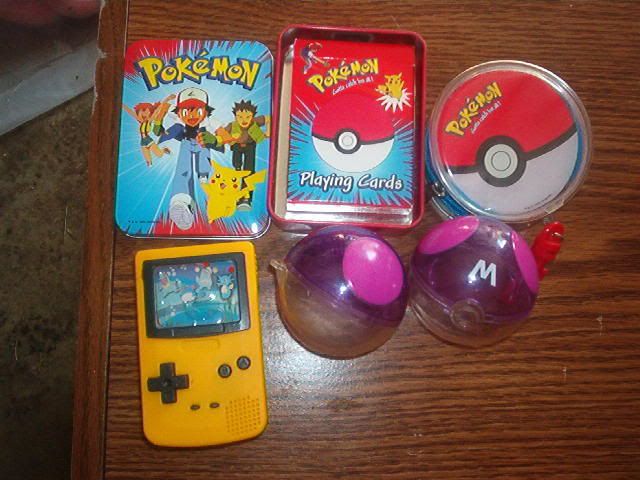 The first set of playing cards comes in a tin. The second set is a special pokemon game but you CAN use them as playing cards as well. The gameboy is just a fun little water game and the other 2 are masterballs you can open.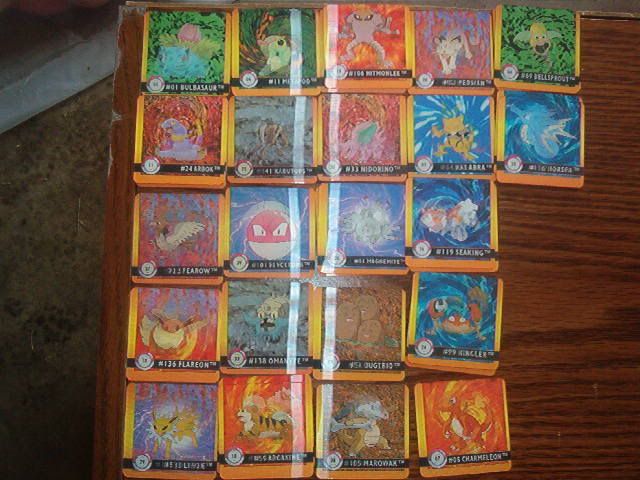 These are holographic flip cards that feature a Pokemon and its evolution. I have doubles, triples, even quadruples of certain ones, so please let me know how many you want or ask if one you want is still available.


Well, that's all for this round! Thank you so much for looking! I appreciate it a lot...