Ah! we meet again, PKMN Collectors!
Agent Spectre reporting in with an actual collection post of all things! I died for a bit and should have made this post back in October, but better late than never I suppose! I'll try and keep this as short and sweet as I possibly can. I've expressed before that as many years as I have been collecting Pocket Monsters, I've rarely had a focus. I love monsters, it is nigh impossible for me to keep my head on straight round so many delicious creatures. That's where the very grey and very quirky Colress comes in. I don't particularly care for humans, but this one caught my eye and resonated with me on a level I'm still baffled by (that does seem to be one of his themes after all). This is my first fully focused collection in the world of Pokemon, and I'm very pleased about how ideal it is.

Sadly haven't had the time to take new pictures since OCTOBER! Still, I wanted to sneak this late post in before Plasma Storm comes out an makes these old collection pics irrelevant. I'm also waiting till I get my collection pages up before I take individual pics of everything but here's a thrown together rundown with terribad quality pics:




Here it is.. all of the official Colress (and related) merch I've accumulated, plus the customs I did back for the BW2 Pre-launch.


I have all the Colress related TCG cards from September, Including two Plasma Powered Decks ( one opened, one sealed). A lot are missing from the pic... but meh, they're inside that Steel type deckbox. XT I also have inserts and the book slip from one of the BW2 guides. The pages from the BW2 Preview guide are also on display. I REALLY love the animated trailer comic page - I have about a dozen of those books, so I dissected one to have a framed page. The custom Colress stuff I made for the BW2 Pre-launch as stated earlier... the bead sprite and pins/magnets are included in that. I made a necklace of buttons featuring Col and his final team's sprites, but that had ran off before I took the photo. hurr...



Books and stuff. both the regualr and deluxe guides, plus a Japanese one. I also couldn't resist getting the soundtrack for the game (Achroma's theme is perfect for a ringtone), and what do ya know, Achroma was featured in the little booklet. The Plasma sleeves I got in a trade with

echizenakira

- I'm using them on one of each different Colress card. The steel type sleeves will be used on my Colress themed deck starting in a few weeks. :3 And does that Metagross Pokedoll have hair and glasses?



Why yes, yes it does. Again, custom made by me out of foam for the pre-launch and NYCC, but I've been wearing it to Pokemon Leauge and the TCG pre-releases as well just to express my allegiance to Colress. Ignoar the foam head and wig on the other pic.. haha. Hopefully one day I'll make it even better.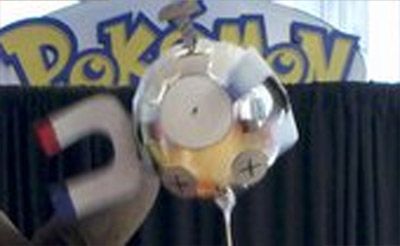 <-I also made this magnemite balloon as part of my custom roleplay collection. I need a better pic of it. XD

Since these pictures, I've gotten a few more things related to his Pokemon, and some more bead sprites, but that's about it. I have some customs other coming in (I'm working on a Colress Machine myself as well), and am still waiting on my TCG Plasma Gift Box and junk. It just feels so nice to have a very specific collection, as is the case in everything outide of Pokemon for me.

I'm always on the lookout for ANYTHING Colress related, so please, throw it at me. Even if just his Pokemon as they are Pokemon I adore as well, and they look great in a collection beside him. I still need unlimited editions of all the Japanese cards, and his cards in other languages, which I will have no idea how to go about getting. T_T I also need the regular Ghetsis card from BW8, which is slightly annoying.

Speaking of all things Colress, I feel like I am the only fan who was absolutely appalled to find out that he is going to be in the anime. And judging from the previews, it looks like my gut instinct was right. I have the utmost respect for Achroma, and it seems to me they are marring the essence of his character. >_> Anime version aside, it does bring up the possibility of more merch for him, but I've got to say... I'd personally be happy even without it.
In a bittersweet way, with Gen 6 approaching fast, Achroma will probably be shoved to the side as is what happens to most trainer type characters, so we'll see. I am proud that his game was the last of the traditional sprite-based style though.

Well that wasn't short at all... sorry!


Anyway, to end the post I just want to quickly say, I love Genesect. He is fast becoming one of, if not my current favorite Pokemon. I used him as my starter for Black2 and am waiting in anticipation for the onslaught of merch the movie will bring. I'm still trying to get my claws on some of the stuff that was recently released. >_> Anyone already have a good Genesect collection yet? :3