....my package from
ladylegsdarkrai had arrived!


WILD PACKAGE WITH A SHINY DITTO ON IT APPEARED!
Shellos:
It's my turn to open the package! There we go!
Aipom:
Good, I want to meet our new friend!
Buizel:
Shellos can't even learn Cut...
Budew:
You can't either, Buizel. That's why we have scissors.
Aipom:
Look at this!
Budew, Shellos:
BUBBLE WRAP!!!!! YAY!!!!
Buizel:
Wait, not yet! We have to try to stay focused! Our new friend is in there somewhere!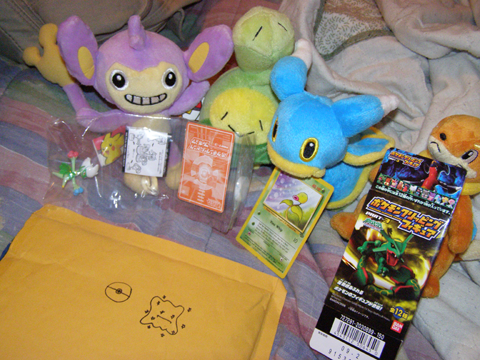 Aipom:
Look at this, Budew, it's one of your relatives this time!
Budew:
Oh, cool! Hi Roserade!
Roserade:
Hi, everyone! Let me out, please!
Shellos:
*nom nom*
Buizel:
Shellos, stop chewing on the card! That's not what it's for!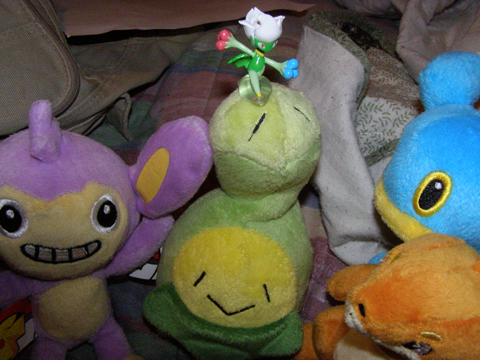 Aipom:
So now we have your entire family, almost!
Budew:
Yay!
Roserade:
It's a nice view from up here...
Shellos:
I wanna look!
Budew:
No, Shellos! You're too big!
Shellos:
Aww...
Buizel:
Why are all the evolved Pokemon here so
tiny
?

A closeup of Roserade:
The Budew Evolution Line! Why does Budew shrink every time she evolves?:
Roserade's Card: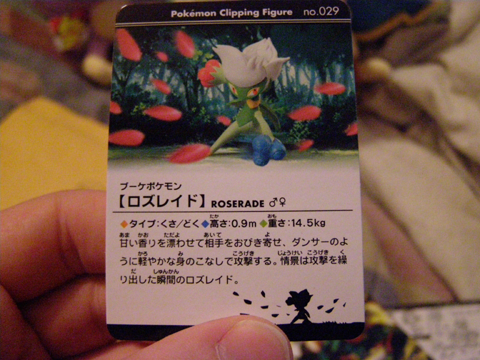 The Box! Two dragon types are on it! Awesome!:

Random Bellsprout Card! This is AWESOME, because all my Jungle Bellsprout cards are in my missing card box: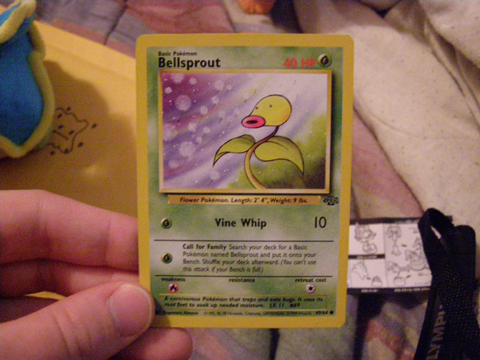 And well, I think that's it! Thanks for sending the...
Aipom (os):
WAIT!!!!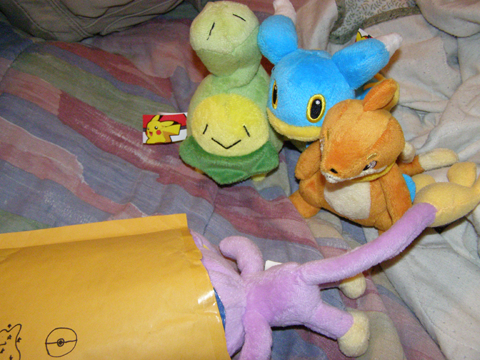 Aipom:
You guys, there's someone else in here!
Budew:
Really?
Shellos:
Yay!
Buizel:
Who is it?
SHINY DITTO APPEARED!

S. Ditto:
Yo.
IS AWESOME. Thanks!
Artwork included with the package, here it is 'cause it's cute!: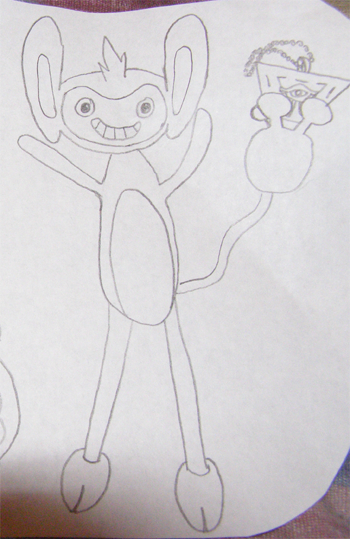 Aipom+Millennium Puzzle=
WIN.
Shiny Ditto And Budew!! Awww!
Thanks for all the cool Pokemon Items,
ladylegsdarkrai
!
Ok, now here's my Pokemon shelf after today (not all of my Pokeymanz are in this picture; this is a very small shelf):
I'm running out of room! Maybe if I move my D-Terminal and Digimon Tamagotchi elswhere...I need to fit the Buizel figure and the Buizel Kid on the shelf when they arrive.

Meanwhile, back at the ranch...er, in the Dreaded Cave of DOOM/my bedroom: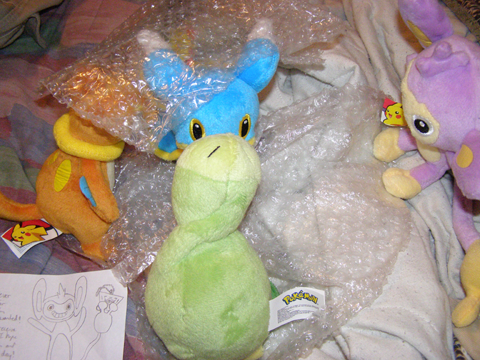 Yeah, enjoy that bubble wrap, guys.
YOOM...TAH! *screen flashes twice* I also just added a bunch of Aipom/Ambipom and other Pokemon stuff to my wishlist. Check it out:
Lizzie's Wishlist!