I've accumulated a fair share of lovely critters to my collections of late (with plenty more always still on the way), so I figured it a fair time to call all our families in for a series of photoshoots. It'll also be a while before I can post any photos of my collections as my move in mid-July demands that they all be gently suffocated and stored away until I finish my transfer to wherever my new temporary residence may be.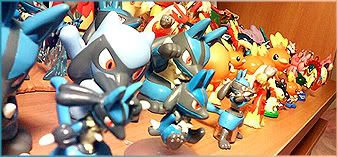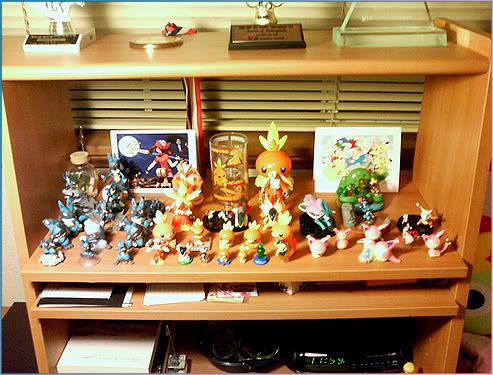 I realized I've never actually posted an image of where my collection is actually located; so I resisted cropping in my images this time; it makes my collection look a lot smaller than it actually is though. Or I just keep telling myself that. ;P




Just a few updates to the "Cool Blues" at the left end of my shelf! Namely a new Lucario Kid (located in the second row from the bottom, the forward punching Lucario to the right) via
badgerr_ftw, my Lucario Bottle-Cap Museum mini-grail figure from
fernchu, and a fancy dandy new Lucario Zukan (the cliff one to the left) from
warandromance. Thanks guys!




New additions to the "Fire Starters" include the Combusken Kid also from
warandromance, the bad-ass Cyndaquil-Line Zukan from
kurofang, a ton of ikkle Torchic goodies from the lovely
phoenixxfoxx, and the wonderful Typhlosion Tomy figure from
angie_in_the_oc. My utmost gratitude!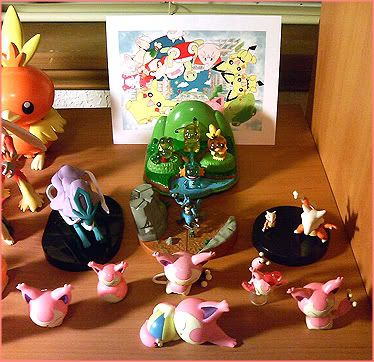 I finally decided that my minimal array of Skitty figurines was enough to vouch for a small portion of the shelf. They're currently kindly sharing their space with a few miscellaneous visitors, but hopefully they'll begin to establish their own territory soon! I ran out of room on the Lucario side for this particular Lucario Zukan, but hopefully we'll have better arrangements after the move. There's a large number of figures here in general that are not pictured as they are already placed in storage for the move.

A bunch of Skitty goodies, as well as the brilliant clear!Hoenn Starters set from
warandromance, the gorgeous Suicune Zukan from
pacificpikachu, the Skitty Tomy figure from
aftertheheaven, and the feisty Cubone-Line Zukan via
flag. I'm very grateful!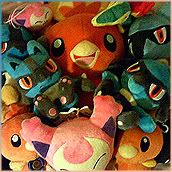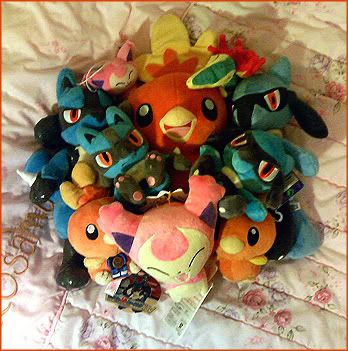 Not everyone was able to fit in this particular shot, but it's quite clear that they all suck up to love "Big Momma" dearly. She's the lovely big-ass Torchic currently smothered by a number of her brethren. With the exception of one lovely chick and a sweet kitty, the entirety of our newcomers came off of eBay; namely eBay sellers ailillui (who is quite the goddess, I must tell you; frankly my most favorite eBay seller ever), animemate, and ectransfer.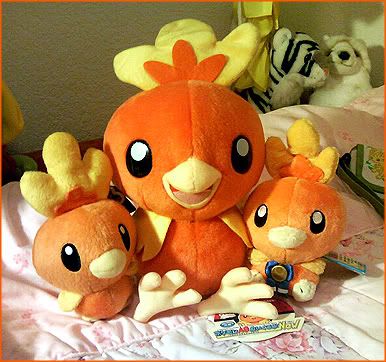 A better shot of "Big Momma" and her fellow chickadee darlings. Sadly, these are the only Torchic plushies I own yet. "Big Momma" was definitely one of my most wanted holy grails until I finally had her tucked under my wing; I never thought I'd actually see her outside Y!Japan auctions and literally screamed when I saw her listed on eBay for a decent BIN price. Meanwhiles, the sweet Torchic Pokedoll to our left came from our very own
castform! Thank you so much!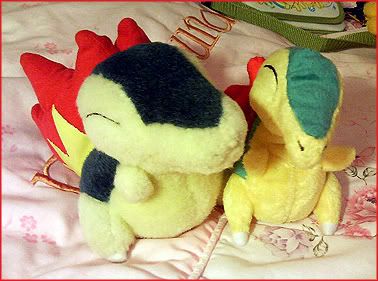 Two little Cyndaquils joined us this past week! As of yet, they're the only Cyndaquil plush I own which will hopefully be remedied soon but thankfully they're content at the moment to nuzzle up with each other. ♥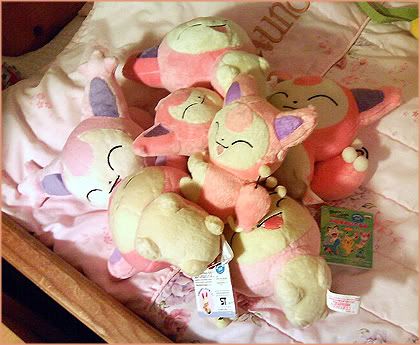 Catpile! Skittys at play!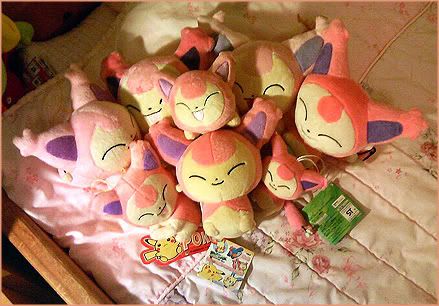 I finally got their attention enough to have them line up momentarily for a decent shot. Look at all those lovely faces! These all came off of eBay with the exception of the ikkle Bandai Friends Skitty plush who came by the way of
phoenixxfoxx. I'm incredibly thankful!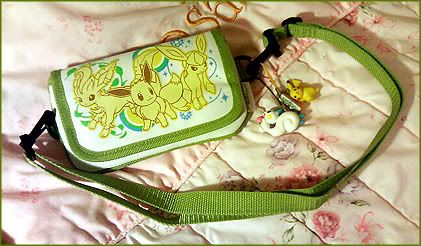 And a brief salute to one of my highly wanted grails, now finally in my possession! I'm afraid I don't collect the Eeveevolutions, but ever since I first saw a picture of this lovely DS case, I just had to have it. I'm so incredibly stoked to actually own this!

Thanks for looking everyone! ♥



NOTICE: I will currently be on a brief hiatus as of this Saturday and will likely not be available online again till the coming Tuesday. I'm taking a brief flight to visit relatives down in Arizona, so just an explainer for being unusually quiet in the days to come!

If I have recently purchased from you... I believe I contacted everyone personally and we have already resolved the circumstances of my current "move" situation. However, if I missed you, here's a small repeat. I am gently requesting that my purchases be sent this week, or at the latest, by next Wednesday, July 9th. This deadline applies to domestic (within US) packages only. In the case that you are unable to mail the items by that day or before then or are mailing packages via international mail to me (and we did not talk previously), please do not mail the packages. Instead, first contact me as to which address to send the items to before shipment. I apologize for being overtly pushy and causing such a hassle. Thank you all in advance! ♥