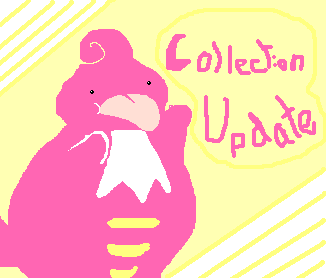 Yay, in the last couple of days I got a few packages and I got a few last week so its time of a licktastic collection update!




First here's a pic of my collection to date (minus the big plushie of my lickitung pre-evolution). As you can see I got quite a few cards now (only missing 3 lickitung cards to have all the the TCG ones) some stickers and the TOMY lickitung figure with the green base. Also I was going to make a shiny lickilicky bell plush but couldn't finish it by the end of the contest.

Here's some art I got from the packages. The cute lickitung on the white piece of paper is from Raichu-saana and the yellow little sketch is from a deviantart user (frozen feather). It is notable the stickers and a couple of the cards (plus dark slowking TCG not seen here) are from from Raichu-saana whiles the Tomy figure was given to me for free from Frozen Feather. I also got 4 cards from Ravestar(don't remember the numbers in your username).


Also notable, the shiny lickilicky's tongue is removable, ain't I creative?

Well there's my progress to date.


And before I forget: For the admins: could you make me a feedback post? at least two members have completed a trade with me and probably would like a way to leave feedback. Also I'd love to be able to make a sales post to finally get rid of my old Pokemon stuff ^^;