Hello all!

My sales post back in February was a smashing success, so I'm back for round two! :)

I've added a few things (including a whole wad of kids) and lowered the price on items which I still have leftover from last time. There's not quite as much here as my previous post, but please take a look, and maybe you'll see something you like!

The usual formalities:

My feedback: http://feedback.pkmncollectors.net/feedback/view/jekylljuice85/

Rules:

1] I was granted sales permission by dakajojo on 18th November 2011.
2] I ship from the UK and am willing to ship internationally, provided that you are willing to pay the postage fees.
3] All prices are in USD, and do not include shipping or Paypal fees.
4] I only accept Paypal as a form of payment.

No exceptions, sorry.
5] Please feel free to haggle! Do not be offended if I decline your offer, however, as there are certain items which I might prefer to hold onto for the time being if they will not fetch what I deem to be a sufficient price.
6] I am not willing to hold items, sorry.
7] Feel free to ask for a quote before committing to purchase, though if I don't hear back from you after a reasonable amount of time, I will have no choice but to assume that you are no longer interested.
8] I am currently looking to downsize my pokemon collection, so under no circumstances will I consider trading. ;)
9] I ship from a smoke-free but pet-friendly home.

Our pets are not allowed to play with pokemon toys, however.
10] I am not responsible for items getting lost or damaged in the mail.

I will do my utmost to ensure that your items are packaged securely, and will always obtain proof of postage.

Please let me know if you would like to add optional postal insurance to your fee.
11] A small favour, but I ask that you drop me a line when your items arrive, as

I always appreciate hearing when they've made it safely to their new homes. :)




Offers

I might choose not to part with this stuff if it doesn't fetch enough. Make me an offer if interested, and we'll see how it goes.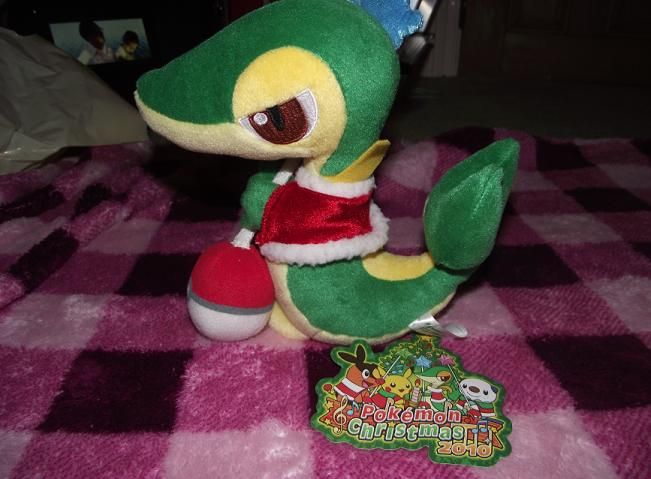 Snivy Pokemon Center Plush Christmas 2010: Ideally not looking for less than $40 for him.
Note: There is a minor tear on the tag around Tepig's ear. Otherwise nice condition.


Plush and lots




Lickilicky lot (the lower picture is of a candy figure which I found AFTER I had taken the above picture. All four items will be included in the lot). - $6
Note that the pokeball part of the keychain does have some scratches, but the figure itself is in nice condition.




Pansage lot - $18
Note that the tag on the Pokemon Center plush is pretty creased, but the figure itself is in nice condition. Also included is a keychain (Pansage spins around when you press the button on the pokeball).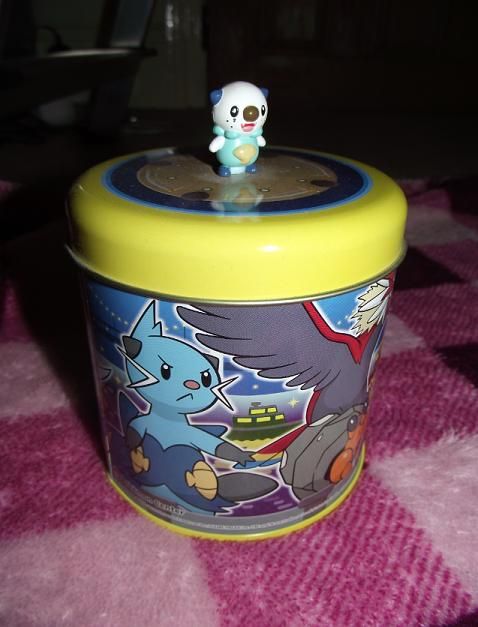 Oshawott and friends tin - $15

KIDS!!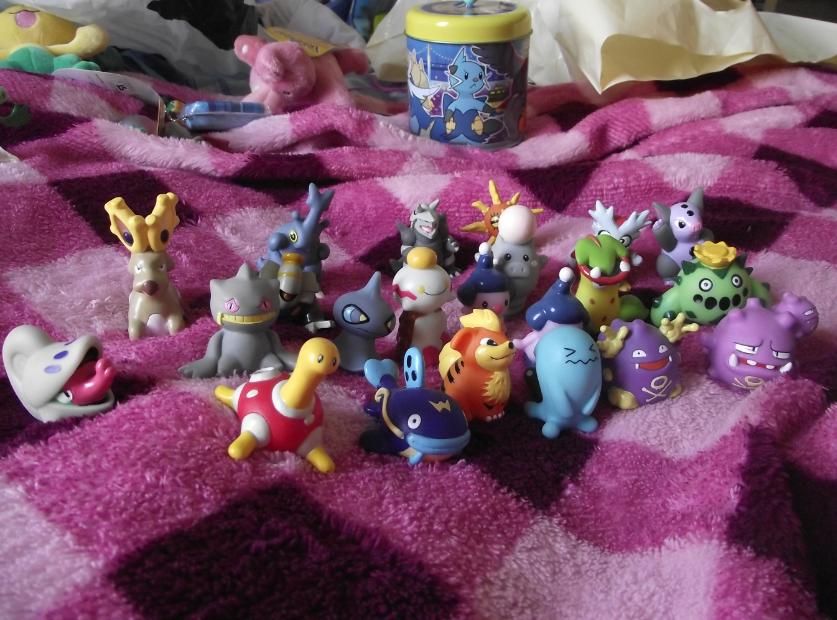 Sorry that the picture here isn't great, but my bed proved to be a much wonkier surface than I'd anticipated!

These kids are generally in good condition, but most of them will have the odd mark or paint scratch here and there. If you would like to know more about an inidvidual kid's condition, please ask. :)

$3 each, except for Weezing who is $1, owing to his marks being more prominent than the others.

Misc figures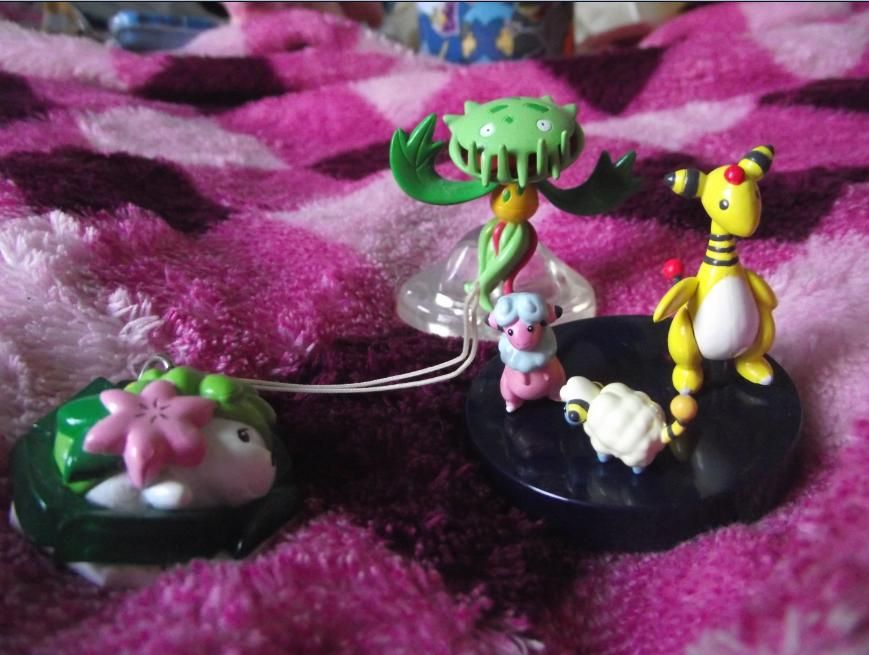 Carnivine tomy figure, with stand: $5
Mareep line zukan: $6
Shaymin (Land Forme) cell phone charm: $3




Wobbuffet/Cacnea suction cup figures: $3 each
Chimecho figure (I believe it's a small jakks): $2
Mime Jr keychain tin: $5




Japanese Musashi & Kojiro/Jessie and James action figures, sealed in box: $20

If you have any further questions, please let me know. :)