I really need an update for my licki collection. I've received so many new cards, stickers and figures recently. So come on in and see!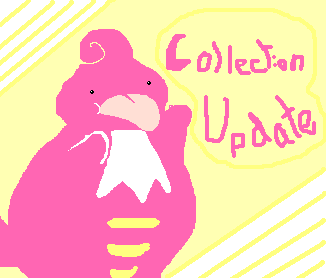 So to begin with, here's two different packages I've received from grrrowly. The first being the dicegame with a wonderful neon pink lickitung (nicknamed "Neon"). The other being two little bootleg figures I got today. They're SO CUTE, I'm still deciding on the name of the light pink one but I named the purple one "King". Thanks so much for the great package art.


Yay, finally got Jakks Lickilicky thanks to jaebird. I decided to keep the parts of its package with images of lickilicky including the stickers on the front of the package. one got slightly damage but its ok with me.


I couldn't remember which cards/stickers I had in my last collection update, however now I know a most shouldn't be there. The only new ones are Whitney's lickitung and Southern Island lickitung I got on ebay. Also the tiny green stamp is also from Growly.


So here's my entire collection to date. Pretty nifty that I've only been collection for a few months.

Anyway hope you enjoyed it.

To finish I'd like to remind people that my garage sale is still ongoing even though there isn't much left. feel free to check it out :>