I wonder what magical Pokemon I could possibly have crafted. Come and find out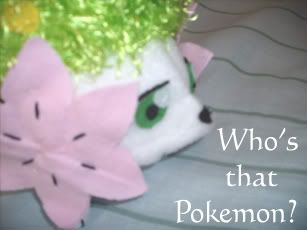 ITS CHIA PET... I mean shaymin! I got inspired to make it when I found that grassy kinda material at the dollarstore (it was a mini pillow but I unstuff it, kept the tag on it though).


Completely hand sewed, the only part that isn't is the black strip above the eyes (glued there).


Materials vary from artic fleece (I'm pretty sure its that) for the white area, regular fleece for the flower/green of the eyes and felt for the rest of the eyes, nose, yellow spots and leafs. He's stuff with very soft 100% polyester fyberfill.


I tried to make her as accurate as possible, I think all in all at least 7 to 9 hours of work. she about 6 inches tall and 7 inches long.

Anyway I'm going to make an auction in the future to find her a permanent home (since she be better with a shaymin collector). But I'm waiting until my mother has an oppurtunity to see her.
Hope you enjoy the fruits of my labor (and my first normal size plushie that looks decent!).