CoroCoro had lots of awesome updates for us! Pictures of the staters' evolutions were released along with some new Pokemon.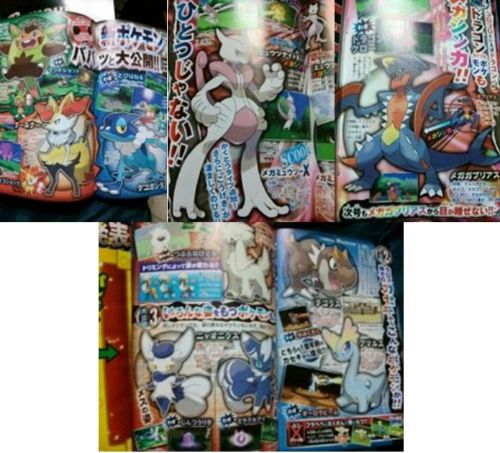 Froakie evolves into Gerogashira, Chespin evolves into Hariboogu, and Fennekin evolves into Teerunaa. The two dinosaur Pokemon are named Chigorasu (Rock/Dragon, T-Rex-inspired) and Amarasu (Rock/Ice, Diplodocus-inspired), respectively. We also have a new psychic-type cat Pokemon, Nyaonikusu, whose appearance varies based on gender. Torimian, the white dog, is a normal-type with a never-before-seen ability.

Also pictured are Mega Mewtwo and Mega Garchomp! Check out more information at Serebii!

Thoughts? Who's going to collect what? Remember to not be too hard on Pokemon - some just take getting used to!

Apologies for the technical difficulties that necessitated a re-post.