I live about an hour away from any Toys R Us, so, whenever I'm in one of the larger areas that has one, I go-even if there's not something that I know I want. I went in today hoping to find those XY figures that TOMY has been putting out. There were some of the newer TOMY releases, Eeveelutions included, but none of the new ones that were posted here recently. Looking through all the things, I was a little disappointed, BUT THEN

I SAW THESE GUYS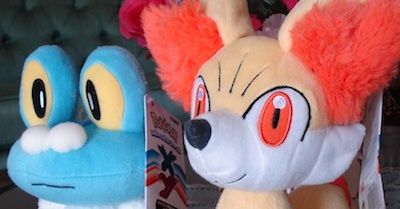 AAAAAAAAHHHHHHHH THE TOMY PLUSH!!!

I didn't think they were going to be in stock until AFTER X and Y were released! They're actually supposed to be released October 1st, but the store I went to (accidentally?) put them out early. I would NOT have been able to get them at all if not for this, since I live so far away. It was really exciting. Anyway, have some pictures!


Fennekin's ear fluffs are so soft! <3 I've liked them ever since seeing the stock pictures, and they're perfect! I'm also impressed by how pointy they managed to get his face. It looks pretty darn accurate.



This guy has a little trouble standing. You have to position his front legs JUUUUUUST right. He's cute as a button though! The "bubbles" around his neck and on his back have a sort of wooly texture, like what gets used for Mareep and Altaria plush. I really love this detail and wasn't expecting it.




They also had Chespin and Pikachu, but I didn't end up getting either of those. I hope we get the others, like Bunnelby and Dedenne here in the US!

http://pkmnpix.tumblr.com/
In other news, I'm so bad about making posts on here, so I started a blog on Tumblr for my collection photos. It FEELS like it's less work (It might not be, but at least it feels that way...). This is just for my collection and collection-related things, so no need to worry about unrelated things sneaking in. There are group shots of things and close-ups of figures. Please check it out and tell me what you think! Things will probably also get posted there before they make it over here, like my Jolteon and Turtwig collection updates. OTL Pictures that don't deserve their own posts go over there too, so you'll see a lot more over there.