Just a heads up to everyone who had a paid order from the Reverse World Emporium- all your parcels were posted on Friday and should be there in the next week or two.

Reverse World Emporium has had a small update, with some new kids and cards. Expect a bigger one when I get three booster boxes in the next few weeks!

and now, for some more substance to this post:




I've been needing to put my pokedolls and catcher dolls up for a long long time, especially since I managed to obtain so many! (My boyfriend rocks for standing there taking photos half the time until I told him off and got him to help me.)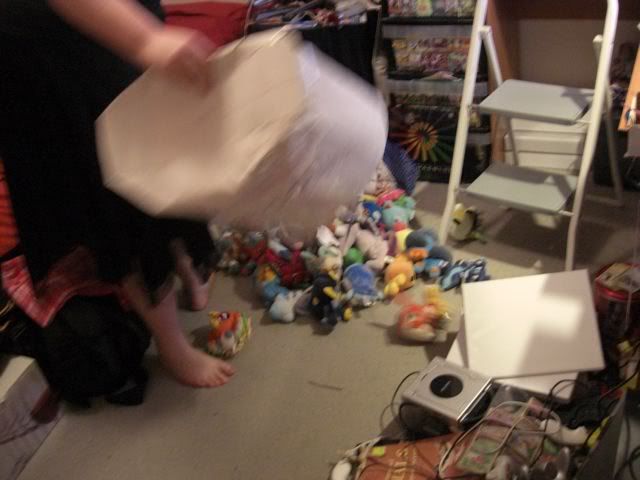 It started with dumping every doll on the floor unceremoniously. They were not happy at the disturbance!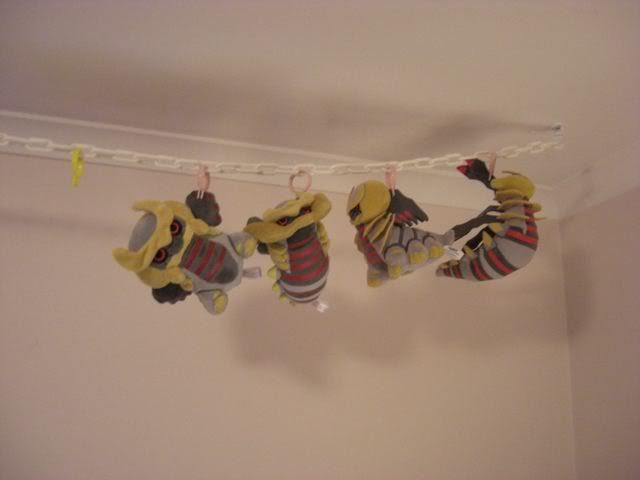 While I was sorting out trying to get all the pegs sorted, I put the brothers up together to survey the happenings.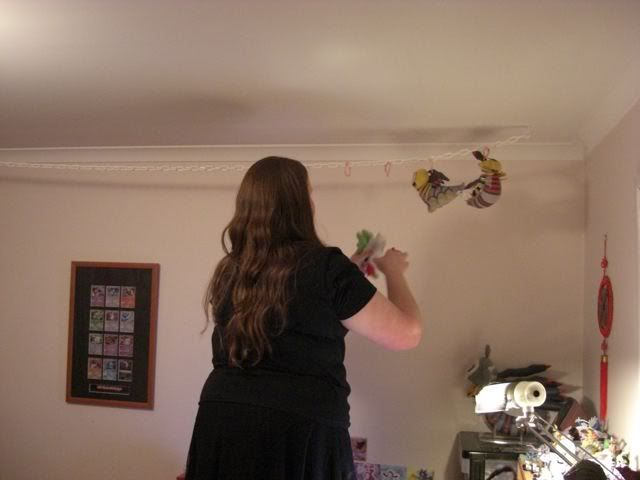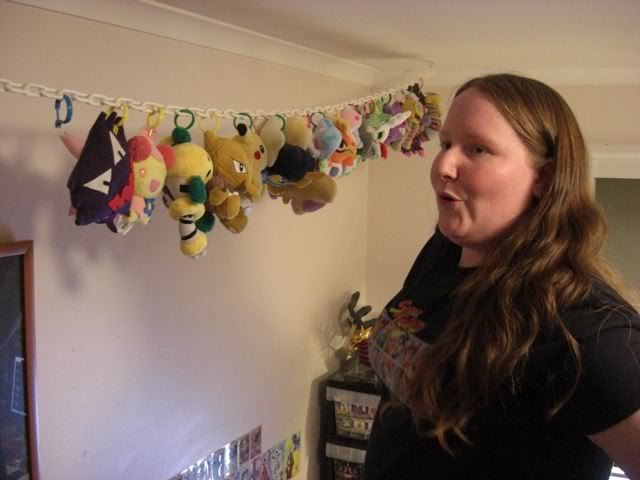 Half way there! So much hard work!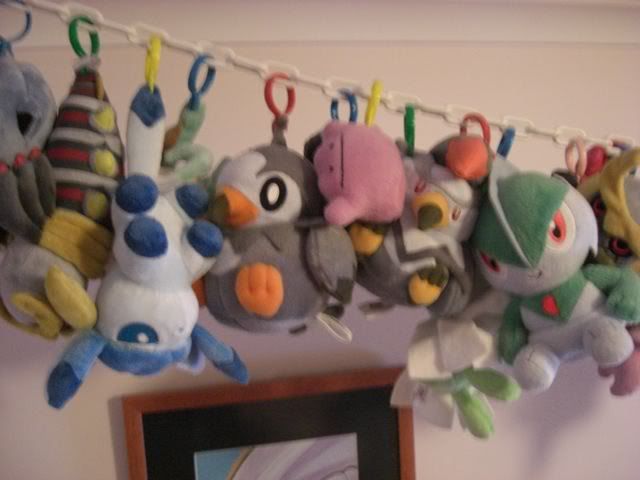 Glacia... you're special dear.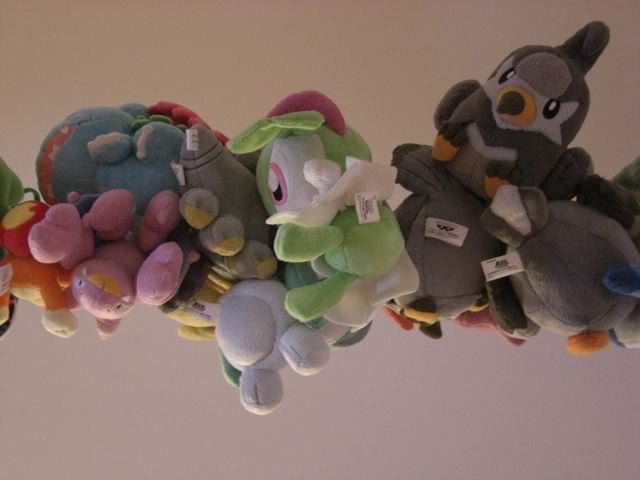 Mukkuburd is upside down too. If I lay down on my bed and look up... there is a bird staring right back at you.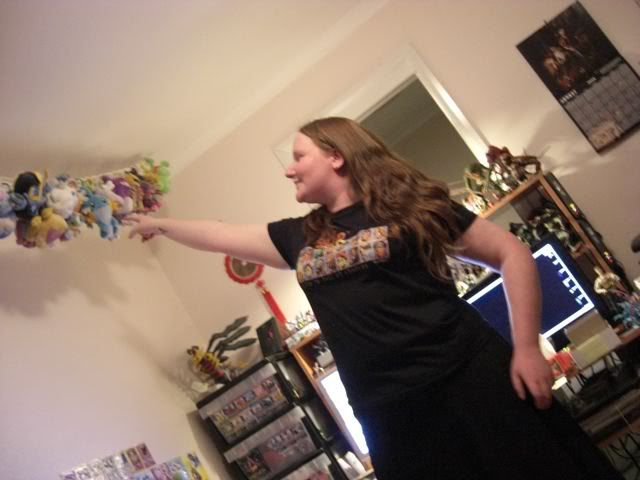 I HERD U LIEK THEM.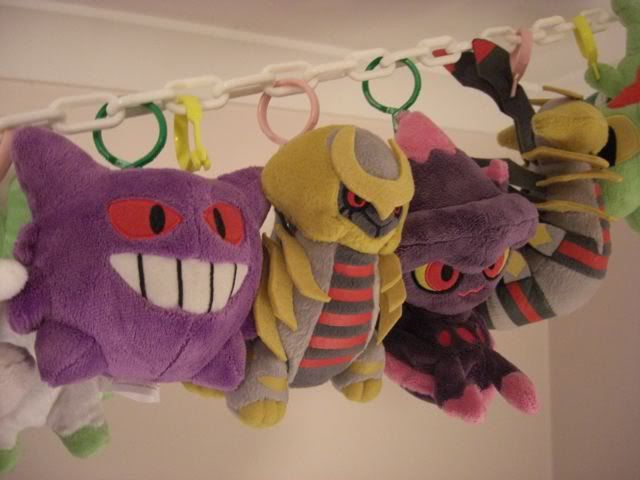 The ghosts are chillaxing. Nica and Calleigh like being able to hang out with Tartarus and Oranus.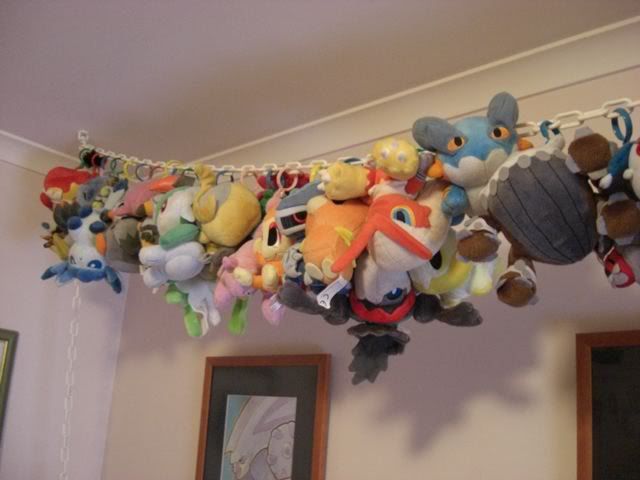 THEY'RE WATCHING YOU.

Grand total of dolls hung: About 48
Length of chain: 11 feet/3.35 metres


EDIT: Since I've had a few people ask about how I've hung them :)

The chain is probably the easiest thing next to the hooks to obtain. Good quality plastic chain can be found in most hardware stores and purchased by the metre or foot. I bought 7 metres for $35 yesterday so I have enough to do a second chain should my collection expand (which it will).

The links you'd be looking for are:

See the coloured loops? They fit onto the plastic chains, and you peg the plush with them. They're nonmarking, nondamaging to the plush so long as you have the plush hold from a secure point. You can buy the loops on their own but they're very hard to find (at least here in Australia). Your best bet is to try a baby nursury store.

As for mounting to the ceiling or wall (if you're allowed to), use something similar to this:


Most hardware stores have them with expanders for you to place into the wall or ceiling so they support weight. I have two hooks in at the moment which allow me to hold 20kg of weight on each end. I'm going to add a third in the middle for more support which will allow 30kg to hang safely from the roof. You can also do a vertical chain, but depending on how strong your roof is, it may not be the best option

It is messy to install, so make sure you put a sheet or a towel down where you're drilling, and if you're sensitive to dusts, wear a mask. Plaster dust is not the most fun thing to breath in- my nose is still agitated from the light dusting I copped last night while installing this with my father. You will need a drill with a philips head attachment to handle the screw for the fastner as well as a standard drillpiece to drill the ceiling hole.

Hope this helps :)