It's been a while, huh? With moving to a new apartment and transfering to a new University, I've been to busy to post regarding my new collection additions until now. So, here it is:

Note: I apologize in advance for the blurry pics. I no longer have access to my mom's good digital camera, and have to make due with my crappy one for now.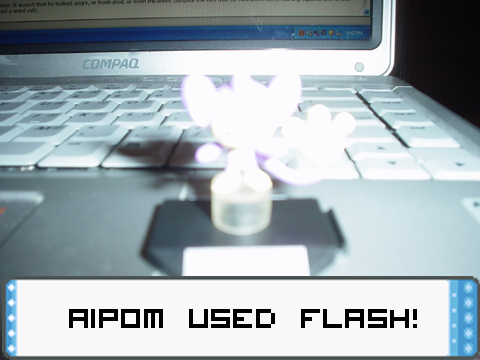 While I didn't see anything that couldn't be found in the Us in Candian Toys R Us, there was one thing that Canada had that made me happy!
GACHA MACHINES!! Gacha machines everywhere. Every store, Gas Station, Mall, etc. had at least eight of them, and every one had at leas one machine with a Pokemon set in it! In the US, I have seen a grand total of three Gacha Machines, one of which is no longer there. So, while in Canada, I made sure to have a good supply of change on hand. And it paid off!
Turtwig and Dialga. I pulled Dialga at a mall and Turgwig at a Wal*Mart. I haven't attached them to anything yet. Dialga's back "fin" keeps falling off-I need to fix that.
Aw, Indychu has a new friend! (I got Indychu in the US, at the aforementioned Gacha machine that no longer exists) Celebi was pulled at a movie theater. They are both attached to my DS.
Jirachi! I pulled Jirachi at the same movie theater where I got Celebi. Since the theater was dark, I thought the capsule was green, and was like, "Oh, did I get another Celebi?" then I took it into brighter light and saw it was yellow. Which made me really happy, since Jirachi is my favorite event legendary. Jirachi is attached to my cellphone.
That's all the Pokemon stuff I got in Canada, minus the movie 9 novelization.
Okay, now for some Aipom Goodies!
From
sonicelectronic
:
Say hello to PrestoPom! He's so soft and cute!
PrestoPom making himself at home, relaxing on my computer. He's a bigger plush than I thought he would be.
What's this?! PretoPom likes to read Yu-Gi-Oh fanfiction?
Thanks for this awesome Aipom plush,
sonicelectronic
!
Now, from
carolina_suikun
: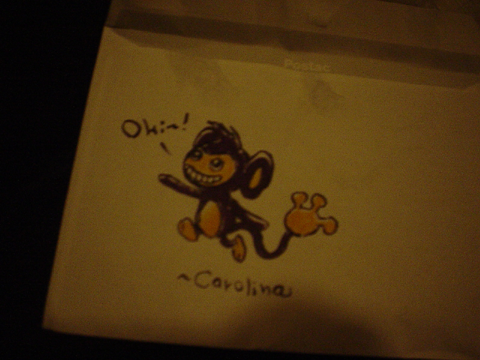 Opening the mail slot to find...an Aipom!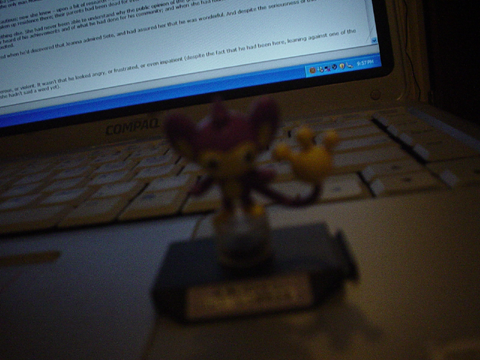 BattlePom! She's adorably tiny!
Another view of BattlePom! Thanks,
carolina_suikun
!
Okay, currently STILL in the process of moving to a new apartment. About 99% of my collection still resides at my parents' house. Also, my room in the apartment is quite small, so I'm trying to come up with a creative way to display my collection while taking up as little space as possible.
Until next time!
Cheers!