I got my box today in the mail and these are my spares :)

Sales permission granted by
denkimouse November 23, 2013
I ship from a smoke-free home, but I do have a hypoallergenic dog who is nowhere near my items.
I'm willing to ship anywhere in the world!
Prices do not include shipping.
I am not responsible for lost or damaged packages (I do offer tracking!)
commons .10
uncommons .25
rares .75
holo rares 1.00
rev holos
commons - .25
uncommons - .50
rares - 1.25
Feel free to haggle!

Mega Venusaur EX - $15
Emolga EX Full Art - $18


Inkay top, sandile - .10
Inkay bottom, sableye, krokorok - .25
malamar - .75
zoroark - 1.00




ekans, spoinkm venipede, phantump - .10
whrilipede - .25
scolipede, grumpig - .75



slugma, fennekin, pansear - .10
fletchinger, braixen - .25
macargo - .75
talonflame - 1.00


Pawniard, Honedge - .10
Doublade - .25



Doduo, tailow, bunnelby, bidoof, fletchling, lillipup - .10
dunsparce, diggersby, herdier, dodrio - .25




chespin, weedle, ledyba, pansage, skiddo,
spewpa, quilladin, volbeat, illumise, ledian, kakuna - .25
simisage, beedrill (not pictured) - .75


pikachu - .10
electrode - .25



jigglypuffs, swirlix, spritzee - .10
mr. mime - .25
wigglytuffs - .75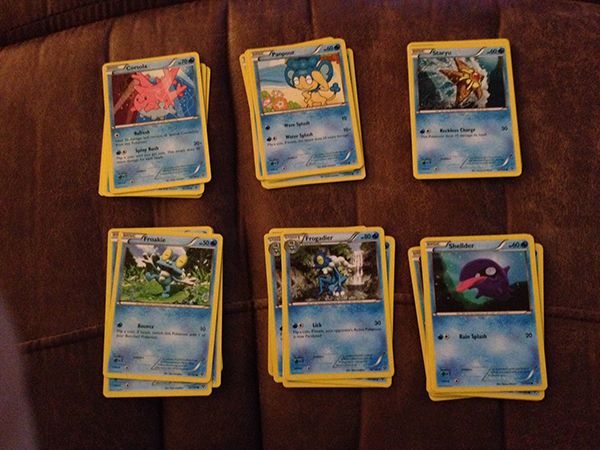 shellder, froakie, staryu, panpour - .10
frogadier, corsola - .25



Ryhorn, Timburr, Diglett - .10
lunatone, solrock, gurdurr - .25
conkeldurr - .75

Rev Holos - Commons
Weedle
Ledyba
Staryu
Bidoof
Lillipup
Doduo x2
Sandile
Zorua
Ekans
Spoink
Pansage x2
Panpour

Rev Holos - Uncommons
Diggersby
Frogadier
Krokorok
Delcatty
Ledian
Electrode
Spewpa
Herdier
Volbeat
Dunsparce
Inkay
Solrock

Rev Holos - Rares
Furfrou x2
Swellow
Stoutland x2
Starmie x2
Wigglytuff
Krookodile
Simisage
Bibarel
Cloyster
Magcargo
Rhyperior
Wigglytuff