I finally got 2 packages in the mail so I figured I should make a not-so-epic but still good collection update. feel free to read on.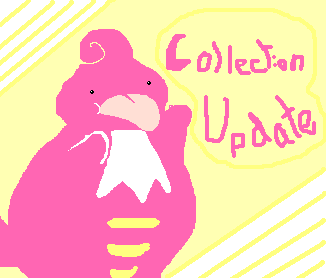 First lets see the updates


First the roley poley lickitung I got from Ebay, came packaged and such. Very good deal considering the cheapest I saw otherwise for it was $14 (I got it for $4).
Second I got that little pink lickitung from grrrowly, thanks again.
The next chap over I got fo $1.30 all together on ebay, such a poor quality bootleg xD. Its head is very flat and its tougue was ready to fall off when I got it. I also fix its nails (they weren't painted).
I can't remember the username(edit: it was castform :> ) of who I got this lickitung reversible pokeball plush from D:, I removed its tag but kept it so if I ever need to I can get it re-attached.
Lastly I finished my licki TCG collection with the rarest card of all, the vending sheet series lickitung, such awesome art :>.


And my entire collection together to date.

I'm always looking for more licki stuff so if you have something you don't see here you can always tell me.

As a last thing I started to list my items on this journal which I will update to current later. you can always go there to help me find out if an item I have is legit (some I don't know) or to simply tell me of an item I don't have.

cheers for now.