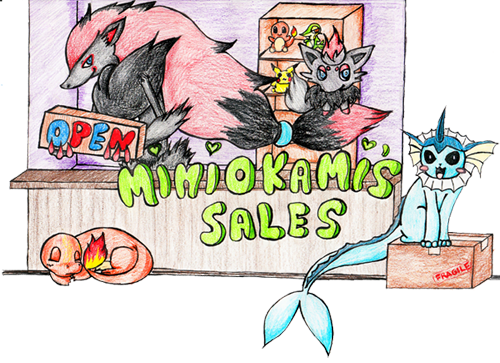 Please read the rules, if you fail to do so I WILL know
Rules:
ALL
pkmncollectors rules are in effect for this sales post

#1. I recieved my sales permission on 10/04/2012 from
dewott. And here is a link to
my feedback: http://feedback.pkmncollectors.net/feedback/view/miniokami/

#2. I ship from the US and use USPS as my preferred shipping service.

#3. I only accept payment in the form of Paypal

#4. Shipping is not included in my costs and will be added when you ask for a quote, please do ask for a quote before you commit to buying.

#5. Haggling may be accepted on some items please ask but don't feel offended if I turn your offer down some things aren't as negotiable as others.

#6. Trades are not being considered at this time sorry

#7. Please ASK QUESTIONS if you are curious about something I would like to know. I may not have thought of every detail when posting the description of an item but you can bet I will help you out if you need to know anything

#8. I will NOT sell to banned members of
pkmncollectors

#9. For any questions pertaining to my rules please use my Questions/Comments thread below or PM me

#10. After you ask for a quote I will reply to you with the quote and the exact condition of the item(s) you wish to purchase, it is at this point that you may choose if you do or do not want the item(s)




MWT Raichu Canvas $60.00 OBO (I will accept offers)