I'm moving to Washington state very soon but before I do, I need to clear up some space and make some money, so that calls for AUCTIONS!

Today I present you with two ebay auctions I have going and some extra rare Raichu items I have also up for action.
These ebay lots would be great to start your own pkmncollectors store or make a great group auction! ;D
Please check them out!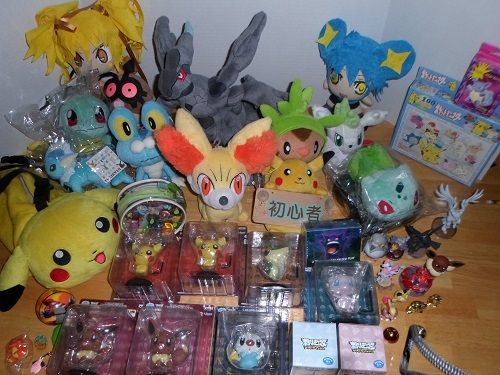 Plush, figures, and misc.
http://www.ebay.com/itm/HUGE-Pokemon-Lot-Plush-Figures-/131157288325?hash=item1e89956585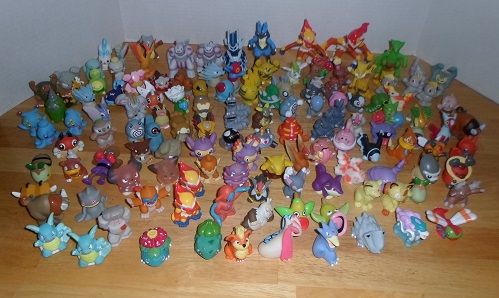 Kids figures!
http://www.ebay.com/itm/Pokemon-Kids-Figures-Lot-/131157303066?hash=item1e89959f1a

And the auctions I will be holding on the comm will be of my Raichus!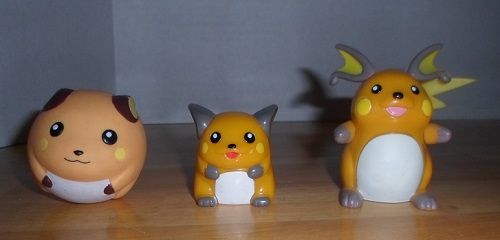 Follow the cut for Raichu Auctions!


Auction Rules:
- Sales permission grandfathered by
entirelycliched
- Follow all community rules.
- 5 min extension rule applies. If someone bids on an item in the last 5 mins of the auction, the ending auction time will be extended for another 5 minutes to prevent sniping.
- Backing out of a bid will result in negative feedback.
- I can refuse to sell to anyone for any reason.
- No refunds unless I personally made some sort of mistake.
- I ONLY accept Paypal payments
- I ship from the U.S. and WILL ship internationally
- All prices listed are without shipping and in USD
- Shipping costs will include the cost of the item being shipped along with their shipping materials and paypal fee.
- I don't normally accept trades but you can always try!
- Items come as seen in the pictures so PLEASE look carefully before buying!
- When asking for quotes, please include where I'm shipping to. It helps. ;3
- Questions? Please ask!

- Bidding will end Tuesday April 8th at 7PM Central time
Countdown clock: http://www.timeanddate.com/countdown/generic?iso=20140408T19&p0=109&msg=Raichu+Auctions!

Front: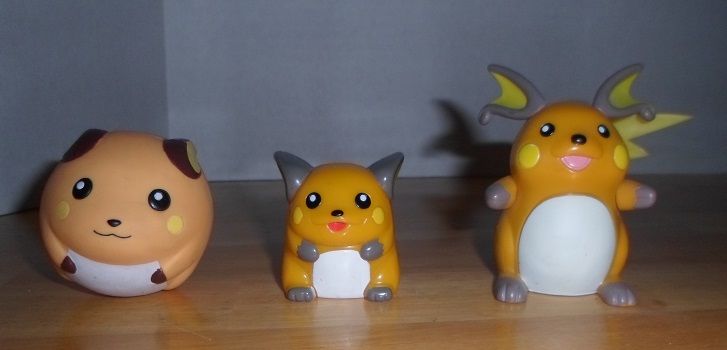 Back: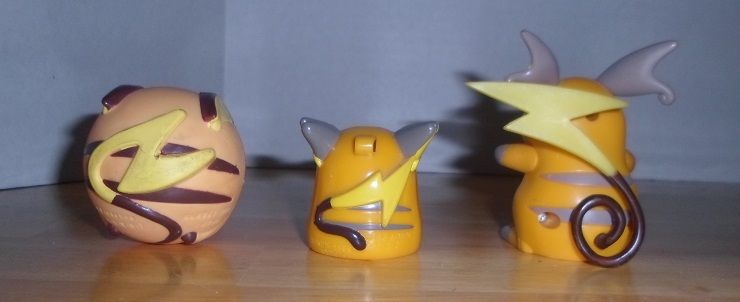 Raichu ball is a little dirty. I was going to go at it with a magic eraser but I'm scared of ruining the paint.
Some paint loss on the thinkchip tail and a small mark on its back.
Please use the pictures for reference. Any questions please ask!

Raichu ball starts at $15
Raichu lollipop holder starts at $10
Raichu thinkchip figure starts at $10