PREVIEW OF WHAT'S FOR SALE!
The Basic Info
Granted Sales Permission by
entirelycliched on July 27th 2013
feedback page:http://feedback.pkmncollectors.net/feedback/view/polahbear/

Items come from a smoke free/pet free home

Payment/Shipment

I ship from the U.S. and international shipping for nonflats starts at $6.55 for small nonflats and $8.55 for smaller plushes. Domestic shipping starts from $2.50 I try to estimate the cheapest shipping possible (Pp and packaging fees are not included in my prices unless stated)

I accept Paypal only. When sending payment, please include your lj username, what you bought in the notes, and mark as goods. PAYMENT MUST BE SENT WITHIN 24 HOURS AFTER COMMITMENT.

I am not responsible for lost items once it leaves my possession. If you need a receipt for confirmation please tell me. I will notify you when the package has been sent.(Usually by paypal for US buyers and comments for international buyers)

I will take payment plans. I may also trade items from my wants list I'M ALSO LOOKING FOR AN ABRA APPLAUSE PLUSH, EKANS APPLAUSE PLUSH, AND THE TOGEPI MARILL EXEGGCUTE NEST PLUSH!

I can do holds and it will be treated as a commitment to the item

Please do not private message me about an item. Post it here. PLEASE DO NOT EDIT MESSAGES! IF YOU NEED TO ADD OR MAKE CHANGES, JUST REPLY TO YOUR OWN THREAD

Inquiring about items

For OBO offers, people who offer to pay full price will get priority! First Come First Serve If there is a commitment for the same item below you, you have 12 hours to respond, or the items will go to the next person. PLEASE DO NOT HAGGLE!

PLEASE CLARIFY WHETHER YOU ARE INTERESTED IN THE ITEM (WANT A QUOTE) OR IS JUST ASKING ABOUT THE CONDITION. For example: "What is the condition of _____? if it is ______ then I would like a quote to ____"

"MAY I HAVE THIS TO ______" WILL BE CONSIDERED AS A COMMITMENT. IF YOU WANT A QUOTE, SAY QUOTE SOME WHERE IN YOUR POST OR I WILL leave negative feedback if you back out of a sales!

Auction Rules

Bid increments of at least $1
AUCTION ENDS: CLICK HERE FOR WHEN AUCTION ENDS

Clearfiles cannot be combined with nonflats





PC delphox MWT: $45
PC dedenne MWT: $19
MWT sub plush: $21
MWT sub keychain plush: $16
MWT Meowstic M/F: $18 each (Only one female left)
MWT greninja: $45
1:1 2013 eevee (hang tag attached but a small bent): $45
Chespin petit MWT: $12



MWT ILE flareon sitting plush: $12
USED glaceon keychain plush: $4 OBO
PC sitting glaceon plush (the diamonds on the back are kind of hard;tush): $8
PC sitting umbreon plush (tush): $8
mini espeon pokedoll keychain (tush): $6
MIB flareon and espeon kyun chara: $15 each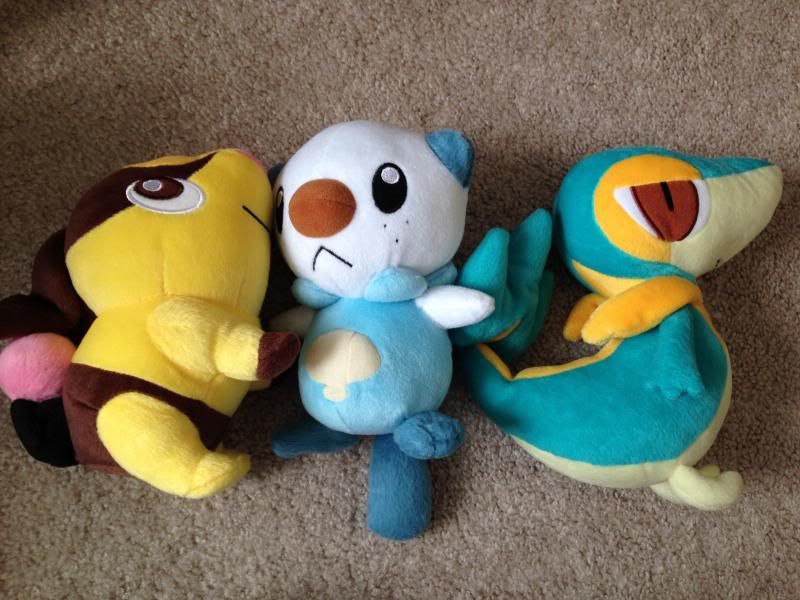 Shiny Trio (tush tag was cut off): $750 OBO for the set (I can decline if offers are too low)
May consider splitting if multiple people are interested



Tepig (tush): $14
Ambipom (tush): $32
Lugia (Detached MINT hang tag, I'll get you a picture of hang tag if you need): $23
Palkia (tush; jp; good condition): $10
weavile (attached hang tag but damaged): $35
chimchar (tush; jp): $9
zoroa (tush; jp): $13
piplup (tush; jp): $9
keldeo (tush; jp): $15
Dialga (tush; jp): $10
giratina (attached hang tag, but damaged): $45 (on hold)
Arceus (tush;jp; somewhat loved): $10 OBO
IGNORE Cresselia!



1:1 Chikorita: $130 (condition pictures front Back bottom
buizel: $20 OBO (tush, no ufo strong)
Large mew: $35 OBO (no tush; good condition)
MWT DX pachirisu: $55
McDonald's vibrating larvitar: $30 OBO
Giratina pokedoll (creased hang tag): $45
Takara Tomy togekiss: $15
MWT Fuzzy IL pikachu plush: $30



Grass type notebook: $8
fennekin chupa: $6
bunnelby chupa: $4
froakie bathsalt: $5
Cheren Pokemate charm MIP: $10
Charizard minicot MIP: $25
agron and medichamp can badges: $4 each
ampharos, mega mewtwo x/y, tyranitar can badges: $5 each
Pokedoll charm set (charizard): $20
pikachu and eevee pokedoll charms: $5 each
Ho-oh preorder figure: $4 OBO
pokemon time straps: $11 each
dedenne strap: $12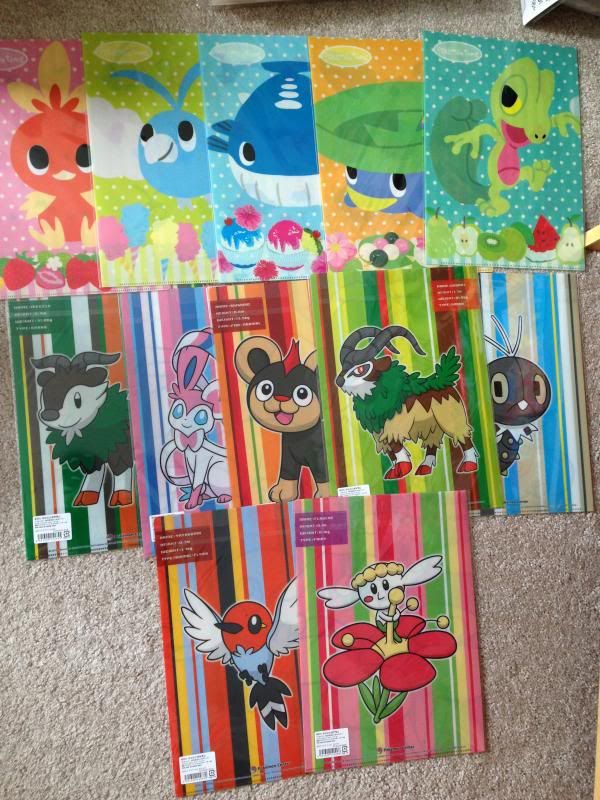 All X&Y clearfiles are $6 each all pokemon time clearfiles are $7 each (sylveon, treeko, lotad, and torchic is gone)







They are all in excellent condition with tush tag only






THANK YOU
vulpixlover! I finally have something to stick my pan stickers in >:) Don't mind about the japanese lapras thing, it was for my own reference :P I'll love the lapras you gave me just as much! My sister wants half the stuff you gave me hahas xD






CAN SOMEONE TELL ME SOMETHING ABOUT THIS CHIMCHAR? IT HAS PURPLE EARS O_O Is it rare?