I'm very tired of having these items taking up space... plus I really want to get some cash on my paypal asap. So I'm selling a huge lot of Pokemon stuff (cards, crafts, official merch and a single bootleg) for $12 WITH SHIPPING INCLUDED! Shipping alone will probably set me back 8 bucks. So come on in for greater explanation of the items available.


A bigger version of the image above the cut.
Items included in this fast sale:
-Mewtwo applause poseable plush keychain (very rare in used condition)
-TOMY 1998 pikachu plush (great condition)
-Pokemon 3-D trivia challenge book (still in original package, perfect condition)
-Zapdos bell plush (craft)
-Mini shiny mudkip sculpture (craft)
-Pikachu and Pichu pumpkin ornaments (craft)
-Mewtwo Roley toy (great condition)
-Aerodactyl figure (bootleg, great condition)
-Talking TOMY pikachu 1997 (still talks, great condition)
-Mewtwo BK toy (no longer lights up but in good condition)
-Various Pokemon themed bins (made by a friend of mine)
-Dialga and Vileplume TCG coins (great condition)
-Chansey TOMY figure (has pen markings on the foot but otherwise good)
-Several rare, reverse holo, common and uncommon cards


Closer image here
Rare/holo rare cards: Erika, Delta lickitung, Cresselia(great encounters), Pidgetto(base set), Misty's wish (japanese)
Others: Zangoose(great encounters), Sabrina's venonat (japanese), Onix (ex sandstorm), Horsea and nincada (ex dragons)
more images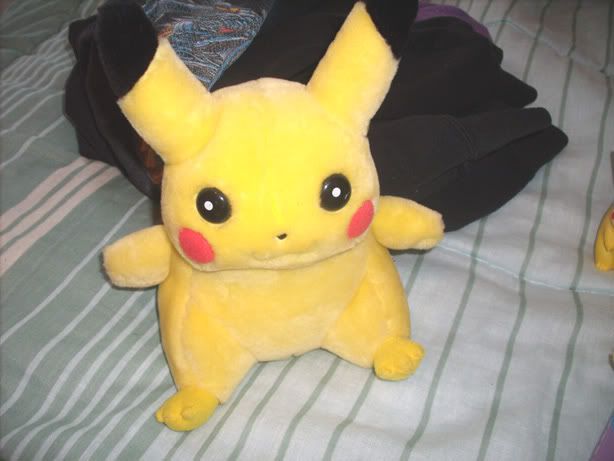 Payment method: paypal ONLY
sales is only for 3 days, no holding for more than 24 hours
you can remove any items you don't really want but the price can only go down to 10$ at the least.

Happy buying :)

SOLD, thank gawd .___.