GA UPDATE 04/24:
Payment 2 will be combined with Payment 3 to save everyone one round of fees :)
But yea, the package is now on its way to my place, now, via EMS.

GA UPDATE 05/03 9:45 (PDT):
GA arrived and we are working on the Final Shipping Spreadsheet now. Should be up in a few hours or tomorrow.

Extra metals up for claims at their respective thread start prices to participants for 24 hours. After 24 hours, claims for metal figures are open to everyone! Non-participants may comment with their claims now, but participants have priority for 24 hours. After 24 hours, non-participants' claims will be applied.


*Countdown here*



Click the image or link to go to the original auction threads.
http://pkmncollectors.livejournal.com/16967338.html



This post concerns:

12mermaid,
champtastic90,
gengareric,
zommie,
kittay752,
kirsty,
lone_enigma,
mastershambler,
mcmc11,
nicolarbear,
solishark,
usagimakeup
Instructions

Payment total for all participants is in the light green column on the spreadsheet.


Please select the amount reflective of whether you yourself are located in the US or are located internationally.


Please send payment to kaly206[at]hotmail[dot]com


In the subject write: "69 Metals GA Payment 1 - [your-username]"


And, in the message include the item(s) you won.


If claiming extras, please wait for your new Payment 1 quote.


Please pay within 48 hours, thank you.


Please comment below when you've paid. Thanks!





Click here for Payment Spreadsheet



If you notice anything amiss, let us know ASAP!

FromJapan Charge 1: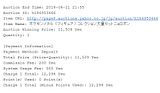 Paypal Receipt with Exchange Rate:



Link to the auction

And in case anyone was wondering, swampeh has been writing the posts and sending me the script, so I could add some slightly interesting stuff to otherwise monotonous payment/reminder posts!



And Here I present you with posters!!


These are the inserts that feature the series for which two of my posters came from.


New finds:



And my older posters:




So yea, not just a boring old payment post :)