Wow I've been gone a long time! But I'm trying to thin out my collection to make some space on my shelves. I have some Waku Waku Lotto stuff, several Snivy, some 4th gen era plush, current TCG cards Pictures below the cut!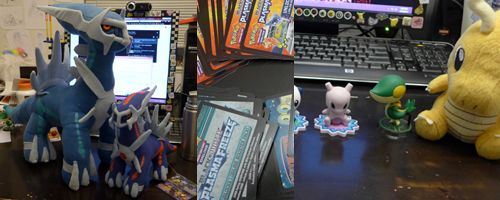 - Sales Permission grandfathered from 2010.
- Will ship anywhere.
- Prices are in USD and do not include shipping, feel free to ask for a shipping quote.
- Holds for 24 hours only, unless I've worked with you before.
- I accept paypal.
- I usually have doubles of my doubles and lots of stuff not pictured. Ask if you're looking for something specific.
- When buying please copy the image link before listing the items you want from said image. On a PC, right click and use "copy image location" then paste the link in the comment.
For example: http://i257.photobucket.com/albums/hh239/365pictures/commons7.jpg Slugma, Goldeen Please do this to make it easier for me to find your cards.
- The more you buy in bulk, the better deal I'm willing to haggle for. Feel free to ask if you're interested in several things.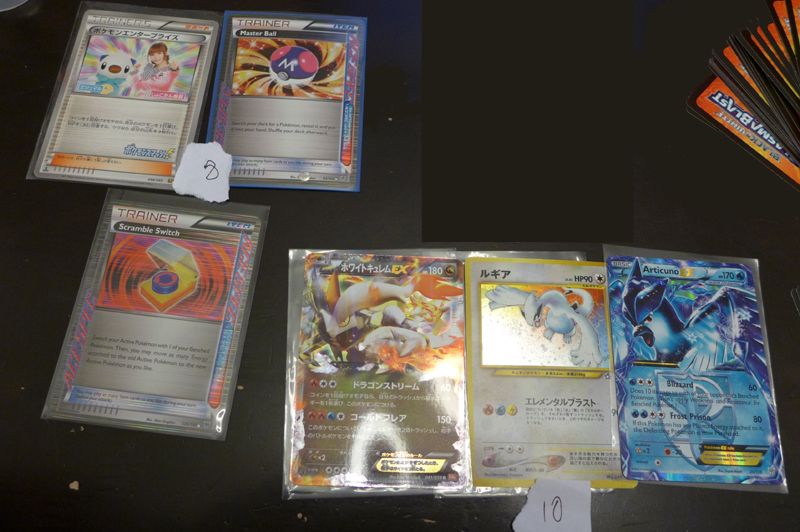 Pokémon Enterprise from EX Battle Boost: 8
Master Ball: 8
Scramble Switch: 8
White Kyurem EX: 10
Lugia: 10
Articuno EX: 10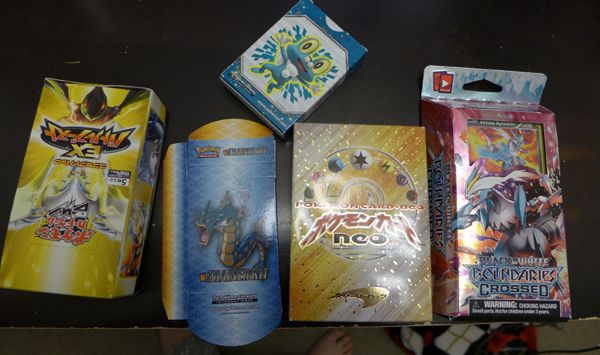 Empty EX Battle Boost Box: .50
Complete Neo Box, includes Lugia coin and an assortment of cards, the Holos are Heracross and Togetic. 9 dollars.
Boundaries Crossed White Kyurem Deck Box with all included cards 8 dollars.
Empty Froakie Deck Box: 1
Empty Raichu and Gyarados deck box: 1




4 dollars per card.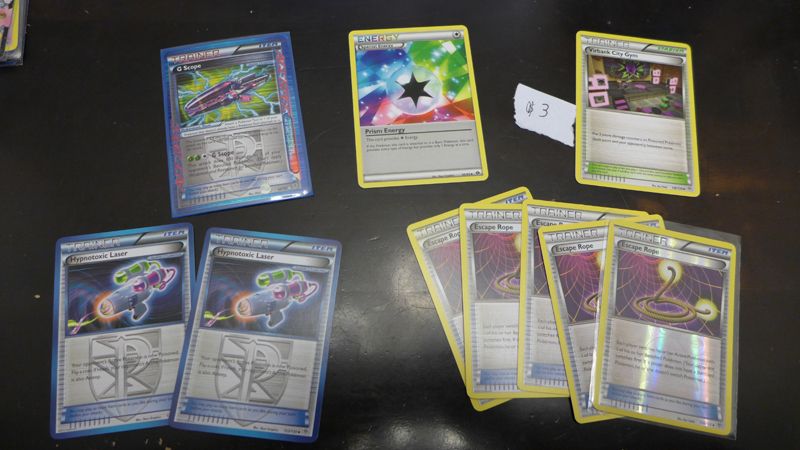 3 dollars per card.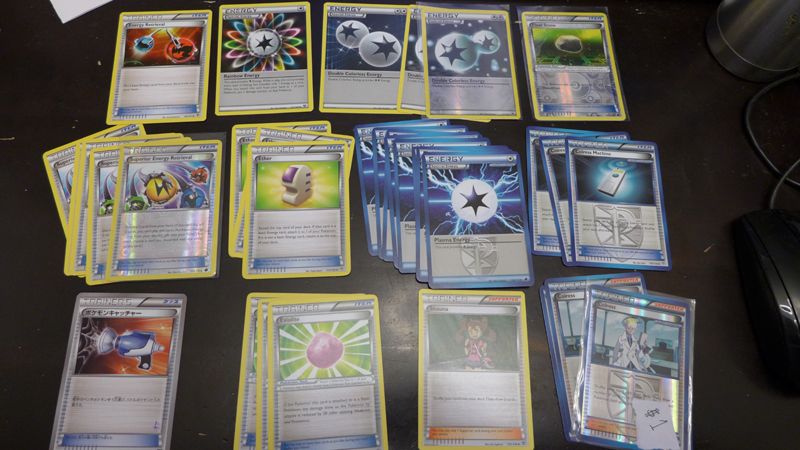 1 dollar per card. All in English other than the Mewtwo deck Pokemon Catcher.




Reverse Holo Trainers. 1 dollar per card.




.10 per card.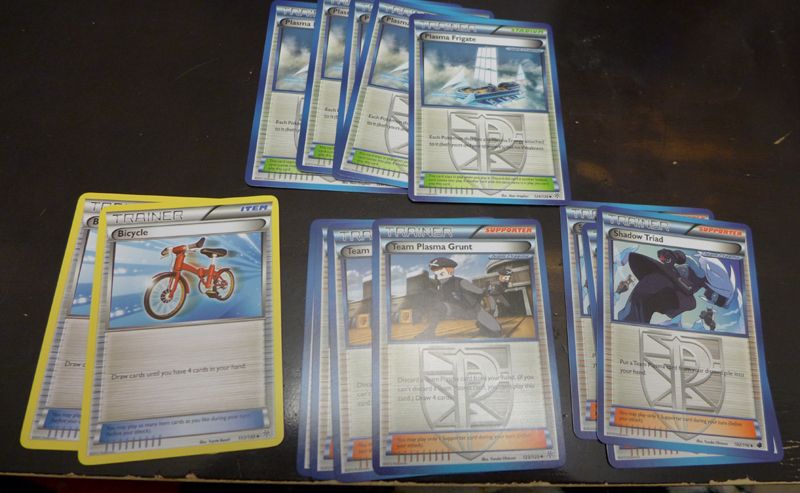 Take them for free if you buy any other cards.




129 Unused Codes from various sets. 45 dollars for the Lot OR .40 per card.




Rares 1 dollars each or 15 for all.




69 commons and uncommons Psychics .10 per card or 6.50 for all.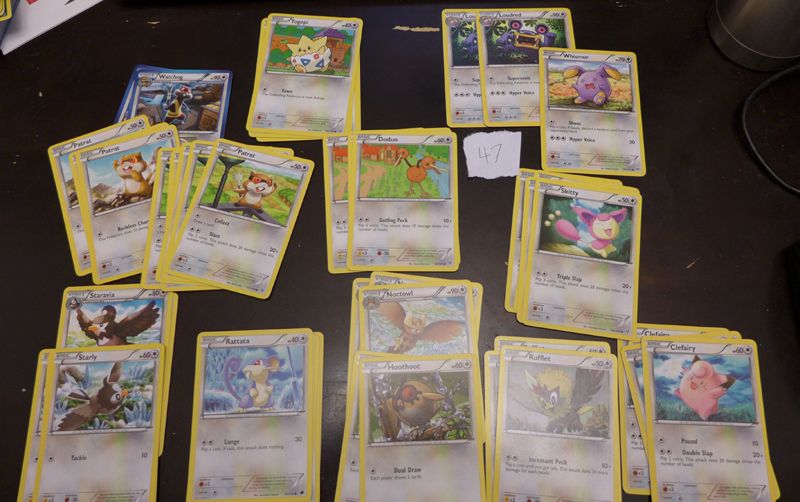 47 commons and uncommons Normal .10 per card or 4.50 for all.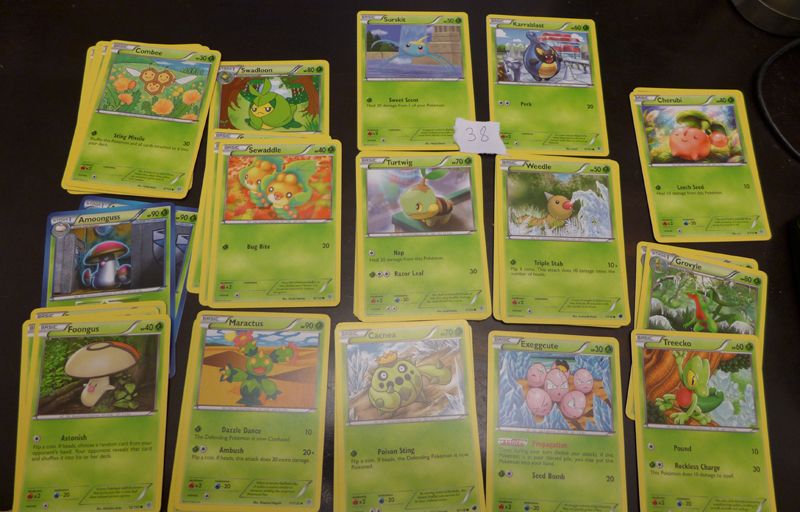 38 commons and uncommons Grass .10 per card or 3.50 for all.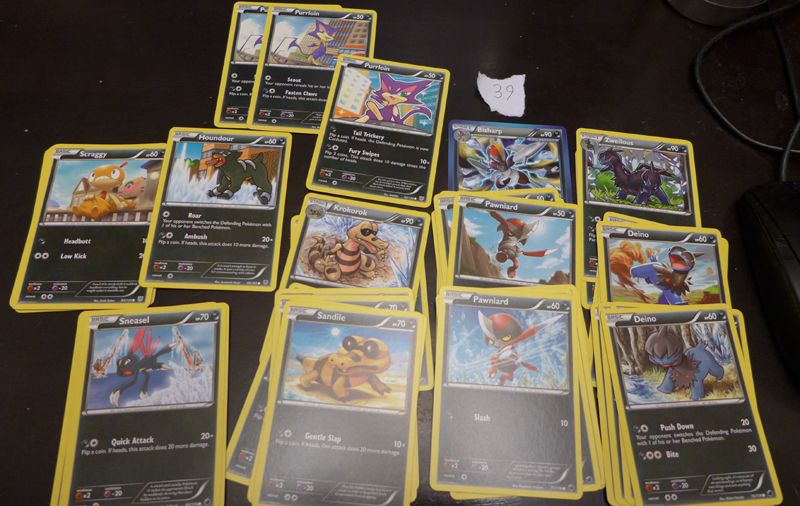 39 commons and uncommons Dark .10 per card or 3.50 for all.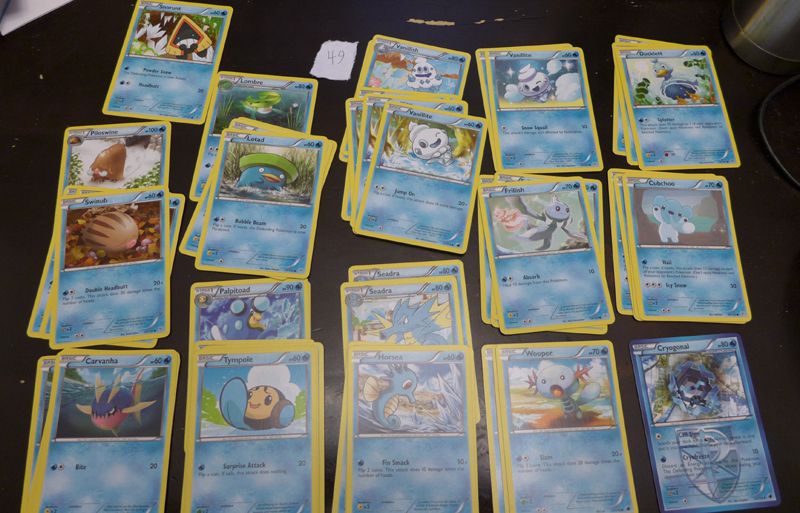 49 commons and uncommons Water .10 per card or 4.50 for all.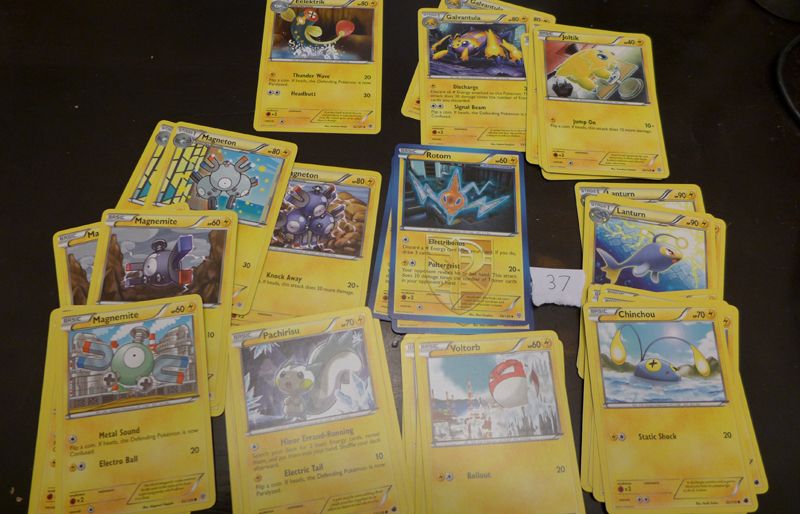 37 commons and uncommons Electrics .10 per card or 3 for all.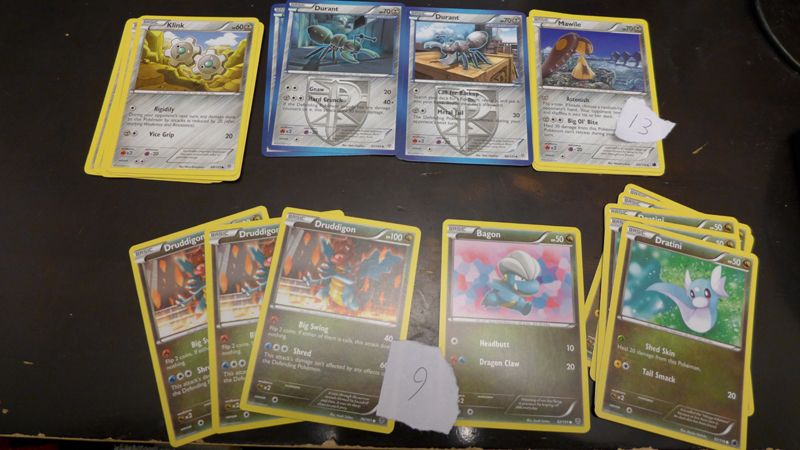 13 Steel 9 Dragon commons and uncommons .10 per card or 2 for all.




30 commons and uncommons Fighting .10 per card or 2.50 for all.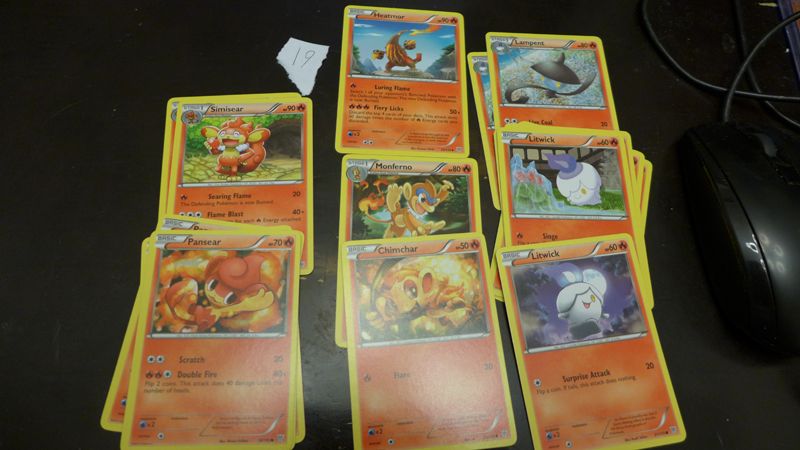 19 commons and uncommons Fire .10 per card or 1.50 for all.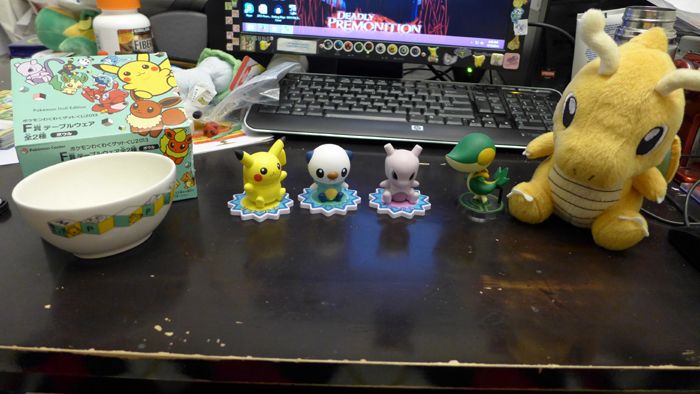 Lotto Prize Pokedoll Bowl: 25
Waku Waku Pokedoll Figure Pikachu: 10
Waku Waku Pokedoll Figure Oshawott: 10
Waku Waku Pokedoll Figure Mewtwo: 25
Waku Waku Figure Snivy: 8
Dragonite UFO Plushie, has tush tag, no hang tag: 25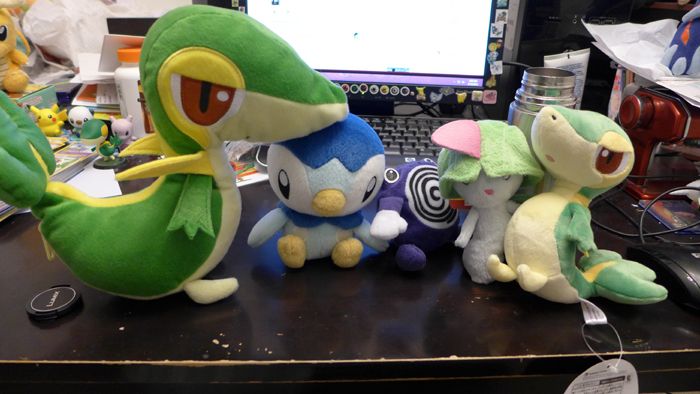 Reversible Pokeball Snivy: 15
Piplup: 8
Old Poliwhirl: Free, just pay for shipping. Or I'll throw it in with something else.
Minky Ralts Jakks Plush with Hang Tag: 25
Minky Pokemon Center Snivy: 20




Auctioning off two of my Dialga plush. The Primal Dialga still has his hang tag and I've never seen for sale since I bought mine and I'll be starting bidding at the price I got it for. If you need any details please ask.

The auctions for both end April 22nd 11:59 PM EST.
13in Pokemon Center Jakks Plush (tush tag, no hang tag) starts at 40
Primal Dialga bidding starts at 80