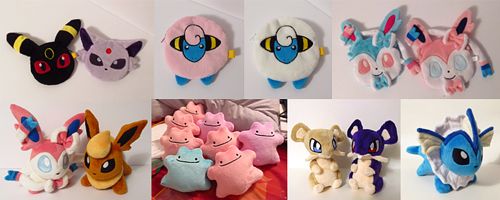 Sales permission granted by allinia on 4/5/14
My feedback can be found here
All community rules apply

By commenting on this post I will assume all rules have been read and understood!

Items come from a smoke free home - I do have a dog but she is a hypoallergenic one and does not come near my items
All prices are in USD
Prices do not include shipping or paypal fees
Shipping cost includes tracking and insurance for plush, not pouches
Paypal only

Shipping for pouches is $4.50 for one in the USA and Canada, $6.00 for two. Shipping to the UK is $8.00 for one. For other countries please ask, although I'm not a huge fan of shipping over seas.

Shipping for plush in the USA and Canada starts at $20 depending on the size. Over seas with tracking and insurance it is at least $45, please keep that in mind when ordering. I can ship without tracking or insurance but it is not my responsibility once it leave my hands.

These will most likely be done when I return from Momocon on May 27th. If you're not okay with waiting, please don't commission me. I might be able to get some pouches done before I leave, but it depends on how much stock I make between now and my mailing cut off date.








Pouches measure about 5 inches wide, mostly made with minky. Sometimes deersuede is used for applique and sometimes felt is used for small accents.

Click here for my gallery of pouches

Pouches start at $20, and go up depending on complexity.

Mareep: $20
Espeon: $20
Umbreon: $25
Sylveon: $30

I can do other pokemon as well, as long as they can translate into a pouch shape. For an example, I can do Eevee, Flareon, Joleton, Leaveon, Glaceon, but not vaporeon. Likewise I can do Vulpix, but not Ninetales. Shinx, but not Luxio or Luxray.

Please ask if you're not sure! I will probably be able to get a few pouches done before my convention, but it is not guaranteed.









Click here for my gallery of plush

I would prefer to take plush commissions for laying plush like Sylveon, Flareon and Vaporeon in my banner, or human plush. I might be able to do other types, it depends on the plush. I will remake any plush in my gallery besides Girafarig.

Base prices for humans can be found here

Base prices for pokemon plush can be found here

Dittos are $15

I may not be comfortable doing certain pokemon, but if you'd like something I haven't made or something in a different style (besides realistically proportioned) I can give you a quote. c:

Thanks for looking!






Commissions are full! Thanks everyone



My commission list can be found here; http://serenity-sama.deviantart.com/journal/Commission-List-241876176 If there is any mistakes please let me know. I think I have everything in order. Work in progress pictures will be posted on my FB page; https://www.facebook.com/SerenityStudiosCanada?ref=hl