Hey boys and girls! Time to turn on your collector's mode!
For a limited time come get these exclusive Pokédex button badges!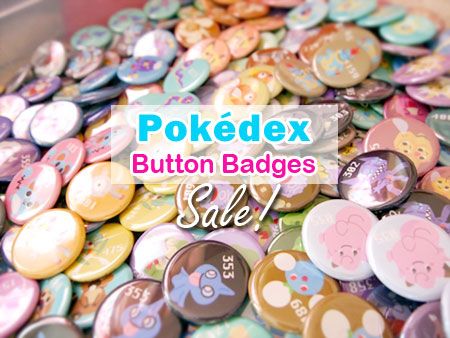 So....I am preparing my booth for Anime Expo, while I am making these badges I realized a lot of you can't attend the convention because you are too far away (or more like on the other side of the country), so I decided to offer these to all the members on here!
This is the only chance to get these button badges separately, since I always sell them as sets in my shop, and at conventions I sell the singles in a capsule machine...I am making an exception this time!

I already drew all the Pokemons in Kanto, Johto, Hoenn and Sinnoh region, I have not finished 5th and 6th gen yet, mainly because most people I met at the conventions do not recognize them, but I am still working on them! However, Sylveon is a special case; since she is part of the eeveelution I have her available to purchase this time :)

As you can see the style was inspired by Pokemon Time, I added the national Pokédex number on each one of them and they are really popular in conventions, especially the original 151.



Each button is only USD $2, and they are about 1.25 inches big. Below is the shipping chart so you can have a better idea on how much shipping will cost.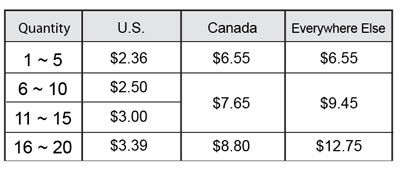 - Sales permission given in 8/18/2008 by lineaalba.
- I ship from California to worldwide.
- Payments via PayPal only.
- I am not responsible for items lost in the post, all US packages comes with free tracking. For international buyers, if this concerns you please ask for tracking/insurance quotes.
- No trades, no holds.
- Feedback here



Order Status: CLOSED Thank you for your orders, please look forward to the Gen 5 & 6 batch!

I am now accepting orders thru this Sunday night June 15th, and all committed buyers will need to send in the payment by then. It will take me at least 1 week to make the button badges before I ship out your orders so please be patient!
Also, please feel free to combine anything from my shop with your order, who doesn't love save money on shipping, right?



Kanto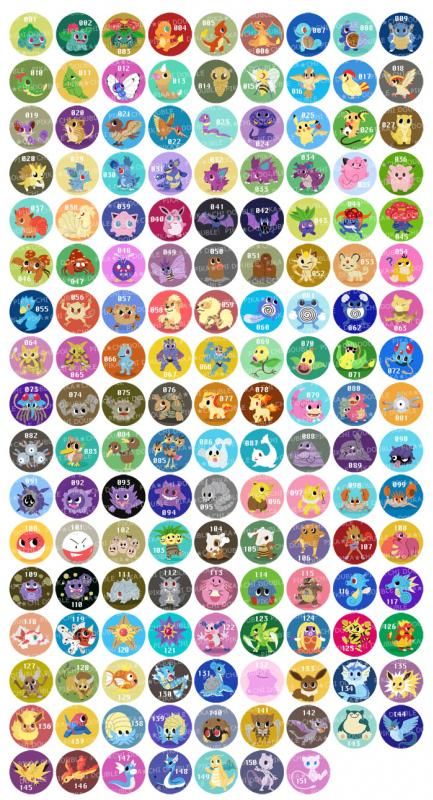 Johto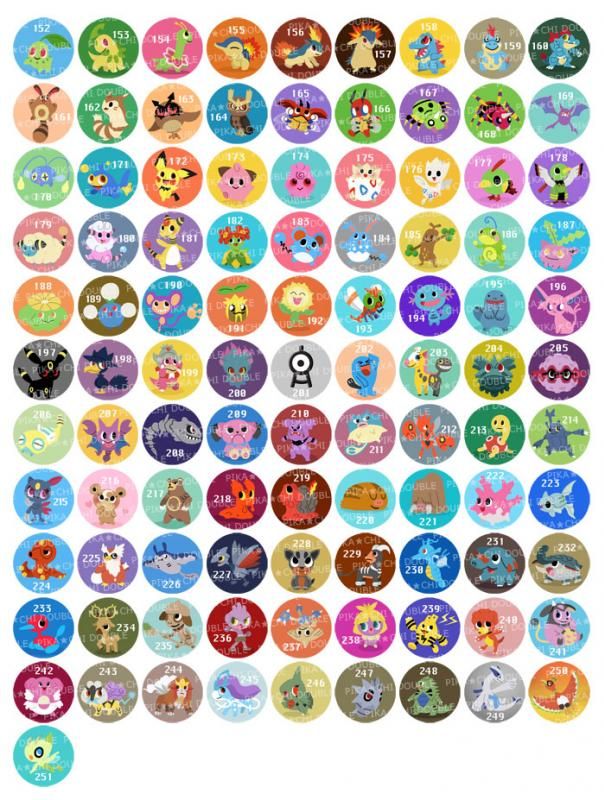 Hoenn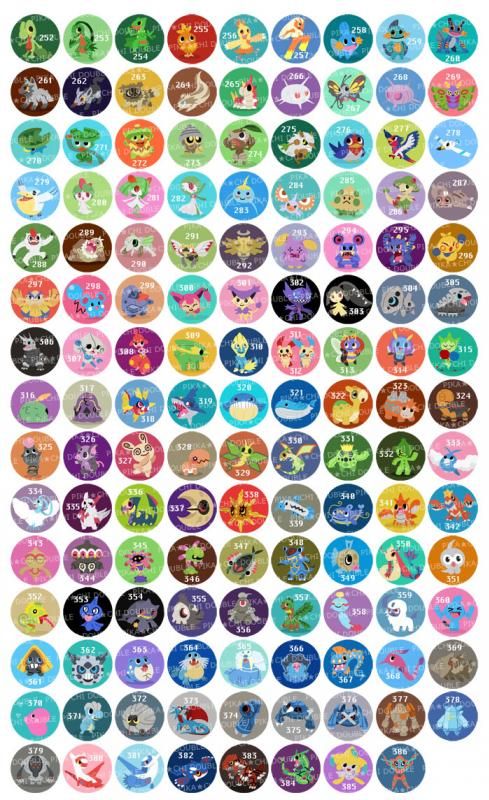 Sinnoh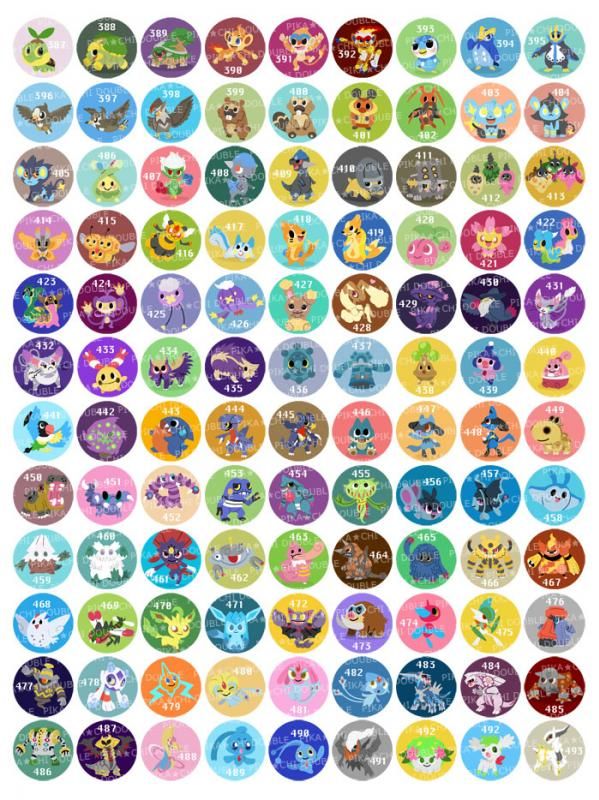 kingfeebas: Feebas, Milotic, Grimer, Muk, and Corsola PAID

herar: groudon and shedinja PAID

12mermaid: Absol and vaporeon PAID

acidmimi: sylveon PAID

trigris: Totodile, Croconaw, and Feraligatrs PAID

toda: carnivine and heatran PAID

clair2522: wigglytuff, electrode, bidoof, stunky and skuntank PAID

agentgoldfish: farfetch'd and hoppip PAID

kittay752: Jynx, Smoochum, Oddish, Gloom, Vileplume, Bellossom, Mismagius, Roserade, Vespiquen, Mr. Mime, Machoke, and Gorebyss PAID

illucien: Groudon and 2 Weavile, 2 Sneasel PAID

sei15: Ralts, Kirlia, Gardevoir, Gallade, Grovyle, Gyarados, and Shiny Magikarp/Gyarados PAID

renarys: Ho-Oh + Lugia PAID

jadekitty777: Pikachu, Jolteon, Lileep, Cradily, Flygon, Rayquaza, and Shaymin Sky Forme PAID

scytherwolf: growlithe, heracross, houndour, houndoom, scizor and mightyena PAID

creampuffoholic: sylveon charizard absol PAID

leafyoddish98: oddish and seedot PAID

shuuichi_chan: Metang, Banette, Kyogre, Feraligatr, Grimer, Paras, Yanma, Wooper, Heracross, Mudkip, Swampert, Nincada, Ninjask, Shedinja, Trapinch, Vibrava, and Flygon PAID

slothyshroom: Vigoroth, Slaking, Shroomish, Breloom, Sylveon, Sylveon postcard, notecard, pouch and pins set PAID

riolu: Riolu PAID

zugagirl: Aerodactyl, Magby, Wishcash, Cranidos x2, Rampardos x2 and Mismagius PAID

okgod: dunsparce, totodile, and swampert PAID

usagimakeup: Poochyena, mightyena, smoochum, houndour, houndoom, electrike, manectric, eevee and sylveon PAID

shadoweon: Poochyena and Mightyena PAID

remderosier: Zigzagoon, Linoone, Electrike, Mightyena, Skitty, and Spheal PAID

midnitesilven: Bulbasaur Slowpoke Cubone Mewtwo Cyndaquil Quilava Typhlosion Slowking Butterfree Treecko Pelipper Breloom Sableye Flygon Banette Jirachi Ditto Vaporeon Mawile Salamence Gliscor Zapdos Tyranitar Latias Empoleon Lucario PAID

rykerr1: Piplup Prinplup Empoleon x2 Treecko Grovyle Sceptile x2 Torchic Combusken Blaziken Kyogre Typhlosion Charizard PAID

jen81489Shuppet Banette Sylveon Absol Mawile Lapras Manectric Sneasle Misdreavous and a Sylveon pouch(Mad) PAID

squareofme Vaporeon, Swampert, Kyogre, Togekiss, Marine Blue bookmark, Natural Green Bookmark, and Spooky Night Halloween print set PAID

bandanna_boy_17: Mesprit, Azelf and Uxie PAID

rairai42: Wartortle, blastoise, charmander, raichu (X2), weedle, gengar (X2), lickitung (X2), shellder, flareon (X2), vaporeon, clefairy, clefable, seel, dewgong, parasect, rapidash, vileplume, primeape, ledian, magmar, octillery, delibird, stantler, qwilfish, jumpluff, miltank, raikou (X2), Ho-oh, wurmple, purugly, chimecho, lunatone, mesprit, uxie, azelf PAID

zangooseel: Seel x 2 Dewgong Spheal x 2 Sealeo Walrein Zangoose x 2 Buizel x2, Floatzel Porygon Porygon2 PorygonZ PAID

derranged: Mew and Charizard PAID

kaffeina: Sandshrew, Sandslash, Aerodactyl, Gyarados, Magikarp, Vaporeon, Espeon, Umbreon, Bulbasaur, Ivysaur, Venusaur, Charizard, Arbok, Leafeon, Haunter, Gengar, Kyogre, Shiny Magikarp & Gyarados pins; Pumpkaboo strap PAID

kayeechu1993: lucario and riolu PAID


Lastly! At Anime Expo I will be selling tote bags and tumbler cups, along with prints and other flats so be sure to check out my table in Artist Alley G38!