Hi everyone! I have to apologize in advance because I need to center my entries, and I think it just looks weird if they're not. O_o Also, three days ago I was RebelSong88, but I changed my name because I NEEDED to. I've had that name for AGES, and needed a new one. Saku Teiki is the first book ever written about gardening. XD Yeah, me = dork.

I just realized this takes up soooo much space, so my intro is getting a cut too.

My name's Grace, I'm 20 years old, and I love Shaymin and Jirachi. :D I was never really "into" Pokemon in elementary school, none of my friends were either, but when D&P came out I NEEDED to have it and play. ^_^ I wish I were into Pokemon when I went to Japan last summer (I got into it once I got back) because I SO would have visited the Pokemon Center and bought SO MUCH STUFF. O_O

Umm... other than Pokemon, I enjoy Japanese, watching TV (Lost, Fringe, House, Scrubs, Reaper, CSI:, etc.), cross-stitching, knitting and crochetting, sewing, cosplaying, random other crafts, and sometimes drawing. I used to write a lot, but I don't really anymore. I'm majoring in East Asian Studies (focus on Japan) but I'm pretty sure I want to be a surgeon. I know, random right? XD I figured that out about two weeks ago. It just hit me and I can actually SEE myself being a surgeon. :D Yay cutting people open and fixing them! XD

So, I thought I'd "finally" post my introduction post and my "collection" (well, it's more than two items of the same Pokemon, so I suppose it's a collection) as well as my two cross-stitched Pokemon. ^__~

Here's my cross-stitched Mudkip. I'll let you guess what my other one might be. ^_~




Image heavy, but they're all pretty tiny, so... your choice. ^__^ <3

BTW, I'm open to commissions of Pokemon sprites into cross-stitch designs, but nothing more massive than the battle sprite, obviously. It would be pretty cheap too. Unless I needed to go out and get more colours. Anyway. Not talking about that now. :D I should probably lj-cut this entire post. Anyway.

The following is just copy and pasted from my journal.

Jirachi #385

12 inch Plush by Bandai (c) 2003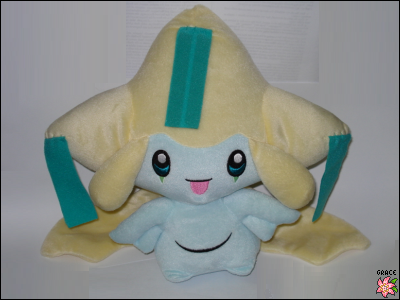 Phone Charm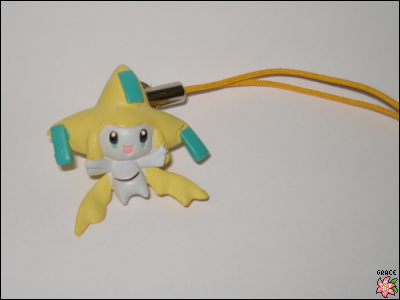 Pokeball Keychain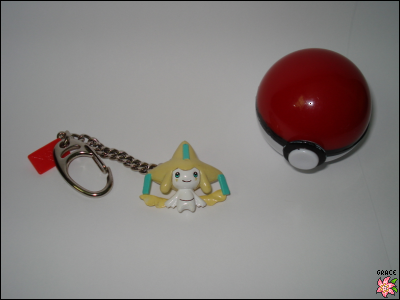 Shaymin #492

UFO Catcher Plush
I <3 you, Bryan!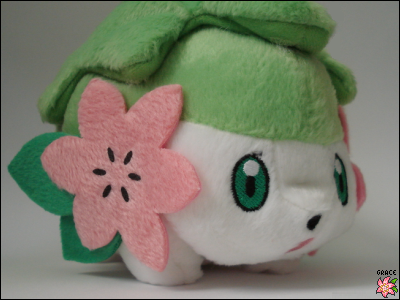 Friends Plush



Suction Cup Figure
Thanks,
lineaalba! <3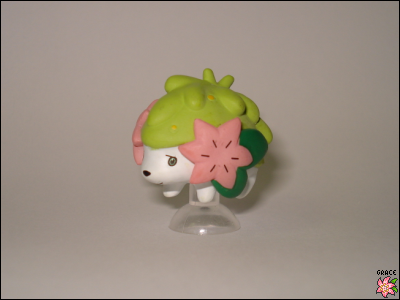 Zukan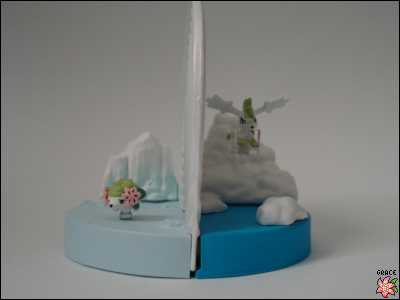 Light-up Keychain
Thanks,
juumou! <3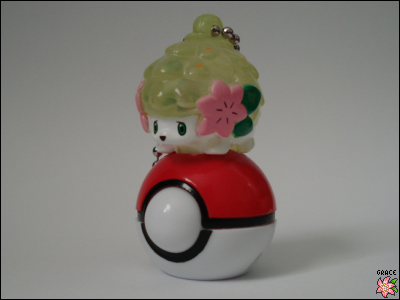 Bandai Kids Figure
Thanks,
juumou! <3



Custom
Here's my custom-made (by me) Shaymin cross-stitch! XD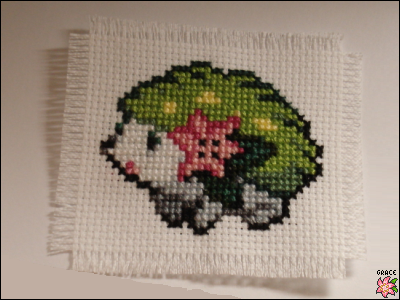 And my Mudkip cross-stitch I did last Spring Break that you've already seen:



Whoa, sorry, I forgot how big that was. O_o Good thing it's under a cut. XD

Both cross-stitches are currently hanging out on the bulletin board of my dorm room's door. :) Along with some print-outs of Hikari and Shaymin. <3 <3 <3

Um... wants? I want more Jirachi figurines. If anyone has any they'd like to pass over to me, I'm open. I also love SHEEP and I'm totally sad that I don't have any Mareep or Flaffy stuffs yet. T__T I also have some Jirachi TCG cards, but I haven't photographed those yet; they're hanging out in my desk drawer. I also don't have a good place to organize my collection; my fishtank and printer take up a lot of the space on my desk... -_-;;

I love you all!

[edit] I was just searching on eBay and I realized I laugh inside whenever I see a listing for "all 386 Pokemon!!!!" because there's more now. I'm a simple creature. Sometimes.