What is happening my beautiful nerds? Sorry, it's been awhile since I've last posted. Apparently university is hard work who woulda though aNYWAY. NOT THE POINT. Holidays are wonderful, and I've been working hard over the past few days on some cute new plush that I have no intention of keeping. I heard there's one or two eeveelution fans on here??? Is that right? A small handful? Well then have I ever got some good news for you.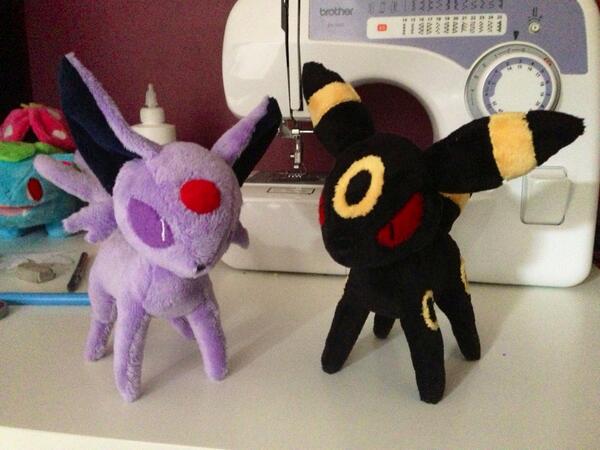 These little guys could be yours!

Some general housekeeping
- I was granted sales permission in 2010 by
denkimouse
- I SHIP FROM AUSTRALIA. This means flat rate shipping starts at $13 USD ($14.10 AUD if you feel like converting it into your home currency). I am happy to provide shipping options with tracking but please be aware that the cheapest international option costs $19 UDS ($20.10 AUD).
- I am happy to discuss payment plans if needed, but failure to meet these plans will result in neutral/negative feedback.
- Also negative feedback if you win but don't pay. Don't be that guy, come on.
- EDIT: OH GOD SUPER IMPORTANT. Sniping rules apply to this post! if you try to snipe this auction, the end time will be auto-extended by five minutes! You have been warned!

And a bit of information about the plush!
- Both are roughly 8" (20cm) from both ear to toe and nose to tail tip
- Made almost entirely out of smooth minky, excluding their felt eyes
- Pupils have been machine embroidered, while the noses have been done by hand
- Everything else is sewn by hand, except for Espeon's tail, because I was just feeling daring
- I've done my absolute best to ensure the stitching is durable, but keep in mind these custom plush are not made to be handled by children!

Now, the pictures!


Oh god black is so hard to photograph I'm so sorry. Rainy day lighting did NOT make it any better.
I started affectionately calling the Umbreon onion rings; don't worry you don't have to keep my dumb name I'M JUST SAYING IF YOU DO
THAT'S COOL.

Anyway.
Both have a start price of $80 USD! No BiN prices for these guys. While I reserve the right to make more of these in the future, I have no plans to remake these for commission purposes (like my friend wants one and that's all I want to even think of considering), and since I have no current plans on taking commissions, this is the best way to get a plush of one of your favourites from me!

This auction ends 12pm, on the 10th of July, AEST (Melbourne Australia time). I also made a countdown clock so you know when this ends. Idk just make sure you know when this ends. I'm trusting you to do that.
I'll even make a reminder post a few hours before the auction ends, just because I like the cut of your jib. But I feel like that's all I need to say.. probably. Any questions? Just leave them in the query thread below!
LET'S GET THIS PARTY STARTED.