The Basic Info
Granted Sales Permission by
entirelycliched on July 27th 2013
feedback page:http://feedback.pkmncollectors.net/feedback/view/polahbear/

Items come from a smoke free/pet free home

Payment/Shipment

I ship from the U.S. and international shipping for nonflats starts at $6.55 for small nonflats and $8.55 for smaller plushes. Domestic shipping starts from $2.50 I try to estimate the cheapest shipping possible (Pp and packaging fees are not included in my prices unless stated)

I accept Paypal only. When sending payment, please include your lj username, what you bought in the notes, and mark as goods. PAYMENT MUST BE SENT WITHIN 24 HOURS AFTER COMMITMENT.

I am not responsible for lost items once it leaves my possession. If you need a receipt for confirmation please tell me. I will notify you when the package has been sent.(Usually by paypal for US buyers and comments for international buyers)

I will take payment plans. I may also trade items from my wants list I'M ALSO LOOKING FOR WOOPER POKEDOLL, SNOVER POKEDOLL, NOCTOWL POKEDOLL

I can do holds and it will be treated as a commitment to the item

Please do not private message me about an item. Post it here. PLEASE DO NOT EDIT MESSAGES! IF YOU NEED TO ADD OR MAKE CHANGES, JUST REPLY TO YOUR OWN THREAD

Inquiring about items

For OBO offers, people who offer to pay full price will get priority! First Come First Serve If there is a commitment for the same item below you, you have 12 hours to respond, or the items will go to the next person. PLEASE DO NOT HAGGLE!

PLEASE CLARIFY WHETHER YOU ARE INTERESTED IN THE ITEM (WANT A QUOTE) OR IS JUST ASKING ABOUT THE CONDITION. For example: "What is the condition of _____? if it is ______ then I would like a quote to ____"

"MAY I HAVE THIS TO ______" WILL BE CONSIDERED AS A COMMITMENT. IF YOU WANT A QUOTE, SAY QUOTE SOME WHERE IN YOUR POST OR I WILL leave negative feedback if you back out of a sales! Any form of statement with the word QUOTE is treated as a commitment!

Clearfiles cannot be combined with nonflats

IF YOU WANT FEEDBACK, PLEASE LET ME KNOW AND LINK ME TO YOUR FEEDBACK PAGE!

IF YOU HAVE READ MY RULES PLEASE PUT THE WORD "FROG" SOMEWHERE IN YOUR POST!








PC delphox MWT: $40
MWT sub plush: $21
MWT sub keychain plush: $15
MWT Meowstic F: $17



Mega Ampharos and lucario: $14 each
Mega Mewtwo: $11



Axew UFO MWT: $8
Fraxure MPC MWT: $6
Axew MPC (crease on tag): $5
Victini MPC MWT: $7
Victini PC plush (tush): $8
Victini canvas MWT: $20
Chespin PC Plush MWT: $20
Lottery Oshawott (tagged): $6 OBO



PC sitting umbreon (tush): $6
Flareon canvas (tush): $50
Glaceon canvas (tush): $40
leafeon canvas (tush): $40
Vaporeon canvas (tush): $60
Jolteon/Glaceon MPC MWT: $9 each
ILE Jolteon, flareon, umbreon keychain plushes MWT: $9 each
Flareon MPC (tush): $6
flareon kyun chara: $12



ALL JAPANESE POKEDOLLS
Darkrai (loved/no tush tag): $8
Emolga PC plush (detached hang tag): $9
Keldeo (tush): $13
Happiny canvas (tush): $9
Snivy (detached hang tag/tush): $16
Zoroa (detached hang tag/tush): $16
Victini PC plush (detached hang tag/tush): $10
Pachirisu (detached hang tag/tush): $20
buneary canvas (tush): $10
deerling pc plush (detached hang tag/tush): $10
regigigas (tush): $6
SOME OF THESE COME WITH TAGS CLICK HERE CLICK HERE



Pencil A B C D E F $2 each (I have multiples)



Large oshawott UFO (MWT): $20 (shipping at least $8-11 within US)
UFO Blastoise MWT: $25
Tomy Larvitar: $40 OBO
Inkay MPC MWT: $7
PC HO-OH (detached creased hang tag): $40 OBO
Genesect MPC MWT: $5
Takara tomy Minccino (detached hang tag): $5
Snivy UFO MWt: $3
Loved Mudkip pokedoll (tush): $10
Helioptile and froakie UFO MWT: $12
Chespin UFO MWT: $13
Takara Tomy Piplup: $5
Takara tomy Shaymin: $5
Custom Porygon plush: $30
DX Pachirisu UFO MWT: $40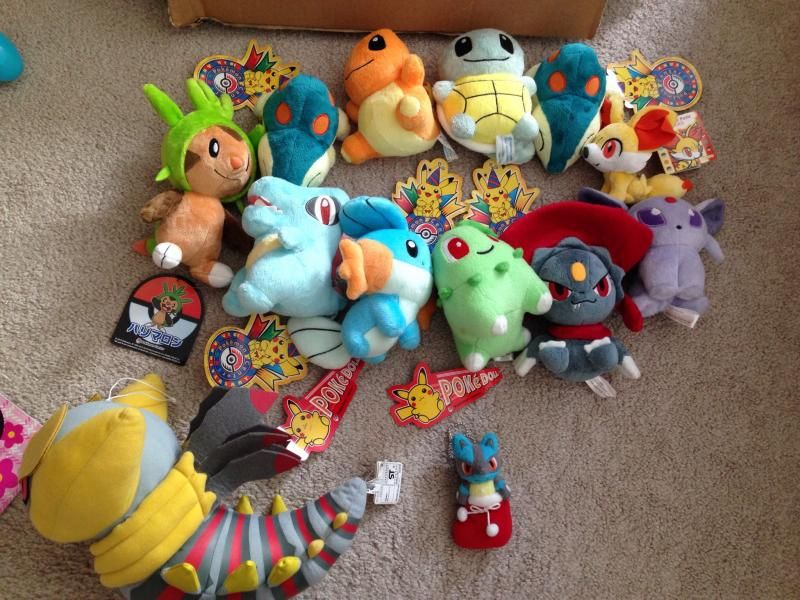 Chespin PC plush MWT: $19
Anniversary Cyndaquil (worser tag/creased): $25
Anniversary Cyndaquil (better tag/creased): $40 OBO
Anniversary charmander (creased hang tag): $25
Anniversary Squirtle (creased hang tag): $25
Anniversary Totodile (creased hang tag): $25
Mudkip pokedoll (curved hang tag): $20
Chikorita Pokedoll (creased hang tag): $20
weavile Pokedoll (tush;jp): $20
Espeon Pokedoll (tush; american): $30
Large giratina UFO (tagged): $20
Rare PC xmas lucario keychain plush (no tush): $35 OBO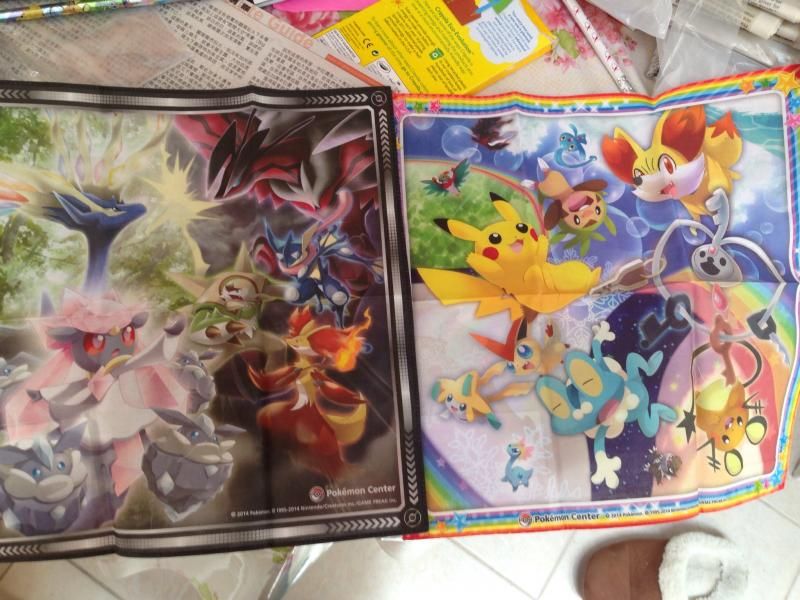 Legendaries hankerchief: $12
Starters Hankerchief: $12



Espurr promo clearfile: $8


Pikachu Chimes: $19 each
Straps: $10 each (female meowstic gone)
Cheren pokemate charm: $5
Ho-Oh preoder figure: $3
fennekin chupa: $4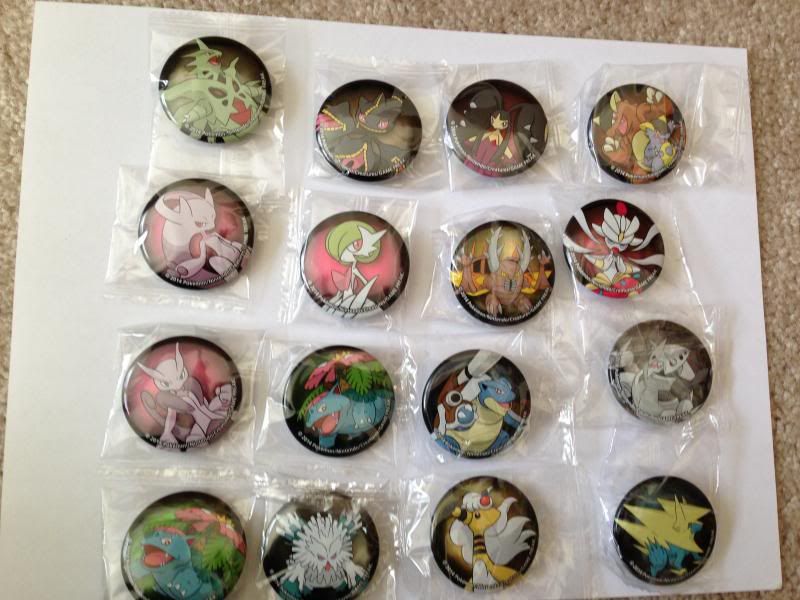 ALL ARE $3 EACH! Gard and benette and menetric are gone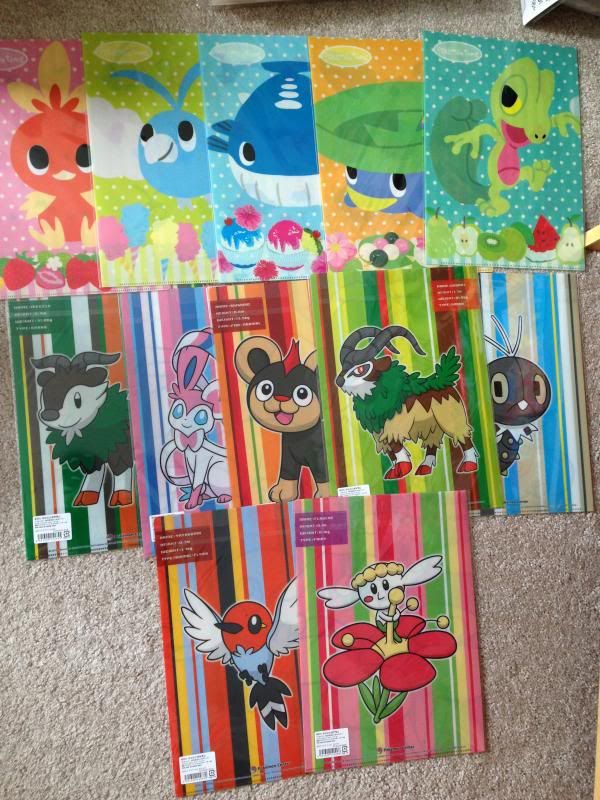 All X&Y clearfiles are $5 each all pokemon time clearfiles are $6 each (sylveon, treeko, lotad, and torchic, litleo, and fletchling is gone)