Now that I finally am back home for the forseeable future, I can get my affairs straight :D

For now though, I decided that my heart really isn't in collecting skymin as a big-time thing. I have the beautiful 2 foot plush, and I'm happy with that and a few other cutesies. So a lot are going~!
Plus some others that I have pulled from my collections, that are unwanted/unneeded!








Terms Of Sale;
- I will ship internationally, prices DO NOT include shipping, and this will be given upon interest.
- I will accept PayPal only, e-checks and CC welcome, all fees will be added in with shipping.
- International buyers wishing to pay by Money Order must find a middleman/deputy to receive the money. I cannot accept them.
- I accept personal cheques from the UK only. Concealed cash is also accepted in pounds sterling, but at the buyers own risk.
- I will hold items on a case by case basis, if you do not respond within the hold time your items will go back on sale or they will be given to the next person interested. My word is final.
- I reserve the right to ban people from my sales, or refuse to sell an item.
- If you don't see a price for it, it's probably been sold!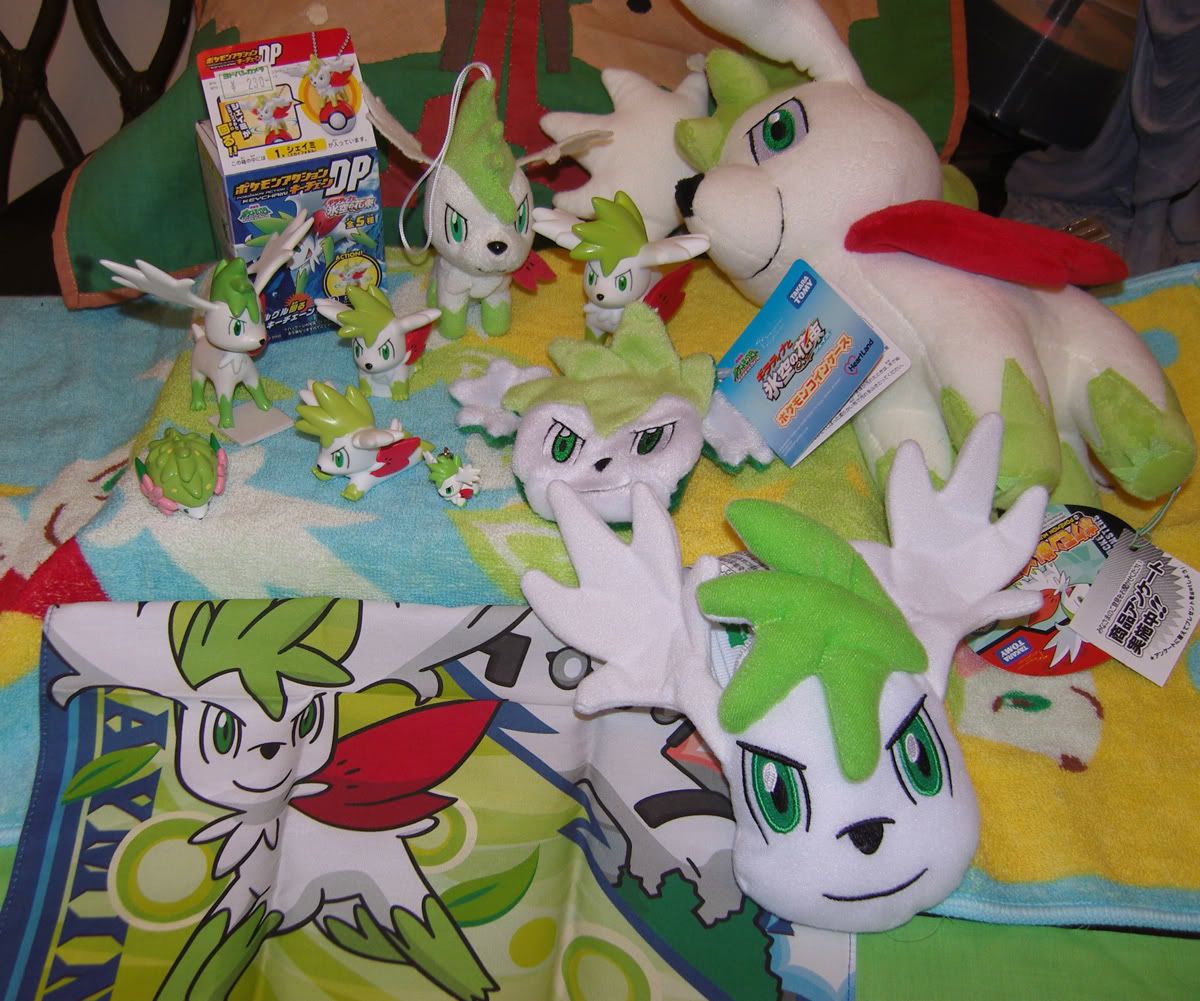 First, the 'mins


- Spinning keychain (new in box with candy!) - $4
- Large Moveable figure - $8 SOLD
- Shaymin tomy - $7
- Normal kid (with sticker) - $6 SOLD
- Movie kid - $8
- Friends Plush - $8.50
- Pokedoll clip (comes with packet) - $6 SOLD
- DX kid (comes with box) - $10 SOLD
- Heartland coin purse with springcord (rare) - $12
- Lotto Prize neck pouch - $5
- DX style Tomy Takara skymin (MWMT) not an ectransfer bootleg! - $30 or best offer SOLD
- Skymin/regigigas handkerchief/kids bandana - $8 SOLD

- Yami No Dialga US: Primal Dialga from MD2 (rare and hard to find with tag) - $35 OBO SOLD
- Raikou V-trainers prototype - $4
- Raikou penciltopper - $3
- Articuno pencil topper - $2
- Articuno pokedex figure - $4
- Jolteon Alt pose kid - $10 SOLD
- Jolteon friends plush (Perfect eyes and fur in decent condition, but no tush tag) - $9 SOLD
- Arcanine/Growlithe zukan - $40 SOLD
- Ichiban Kuji Skymin armcclinger plush - $25 OBO
- Glow in the dark pikachu (official or so I was told!) - $4
- Sneasel V-Trainers - $4 SOLD
- Absol Tomy - $8


As always, feel free to haggle. Be aware that I may not accept your offers though! :o

If you would like any more information on an item, please ask! I don't bite :p