Well, the time has come. Looking through some of my Pokemon items I have finally come to terms that I can no longer keep it, due to the fact that I have extra of the same thing, no use for the item anymore, or didn't like it. So, without further ado, I present my first sales post!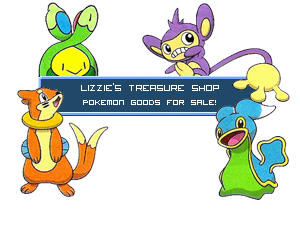 Important Info Regarding Sales:

1. As of this moment I can only accept Paypal, and only in US dollars.
2. I will hold items for no longer than three days unless contacted with a valid reason for holding items longer.

3. Trades are accepted. I focus my collecting on Aipom/Ambipom, but if you have any merchandise of Buizel-Floatzel or Budew's evo line that you would be willing to trade for any item, let me know.

4. Also, everything will come with at least one freebie!

~Please note: I'll admit it-I am a n00b when it comes to figuring out shipping. Fortunately, my older brother is wise in the ways of the cost of shipping, so he'll help me until I can manage on my own. No need to worry!

Now, on to the goods!
Pokemon Dash! DS Game- Used, no case, but in excellent condition--$6
Pokemon Colosseum Bonus Disc
-Used, Great Condition, Jirachi download still works. I am very reluctant to see this go, but I no longer have a real need for it--$30
Lost Magic DS Game
-Not available at this time.
Pokemon 2000 VHS
-Used, slight tracking issues at the beginning, but our vcr is old and does that to all tapes, so it might not be like that on other vcrs--$7
Pokemon 3 VHS
-Used, has tracking issues for most of Pikachu and Pichu, but the main movie works fine; again, this may only occur with our vcr--$7
Pikachu BK Card holder
-Opened, oviously; doesn't come with a BK Promo card--$5 or trade for one of the BK deck boxes-preferably Dialga or Manaphy
Piplup BK Card holder
-Opened; also doesn't come with a BK Promo card--$5 or trade for the Chimchar BK Card holder
Various TCG Cards
-available: Turtwig, Chimchar, Piplupx2, Prinplup, DP Buizelx5, GE Buizelx3, Riolu, Starly, CG Aronx2, Makuhita, CG Meditite--$0.50 each

TCG Rulebooks
-available: DP Rulebookx2, GE Rulebook; each comes with the corresponding playmat--$1
DP Stickers
-One free with each purchase(Random)--or $1 for a whole sheet.....2 sheets available
Non-Pokemon Stuff --If anyone has a problem with me posting these items here as well let me know and I'll remove them:

Starfox 64 N64 Game
- Used, no case/box, still works great--$5
Quest 64 N64 Game
-Used, no case/ box, still works great but requires the N64 memory expansion to save (I think)--$5
Digimon the Movie VHS
-Used, short tracking issues at begining but again this could only be our old, crappy vcr--$5

I will be adding more items to the shop as time goes by, so check back here often-something new may pop up!