Some of you may remember this shady auction image....

Well much to my surprise, only a week after the auction he arrived in my mail! All of his teeth were split, there were splotches of what looked like blue paint on one of his teeth, and Wood Glue on him, either from the original glueing of the teeth/eyes or attemptive repair, and whoooo-boy did this guy smell like he had a smoking problem.

But... after some good old TLC from the Caterquil Quadruplets....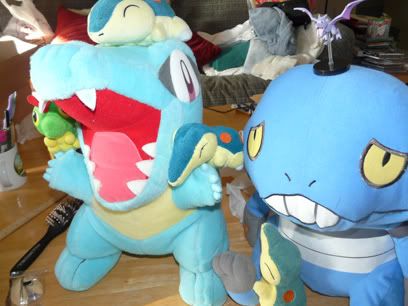 He's looking like he was new! I still couldn't be happier with this plush, it was seriously one of my top grails and now that I have it I can't seem to put it down. He'll probably end up in worse shape than before because this guy is staying on my bed, used for cosplay, and all around hugged on an all to constant basis.

Also ignore the MASSIVE mess in the back ground, I'm getting ready to move again come this wednesday [Don't worry, if you've shipped items to me I'll still get them] but come Tuesday I will be temporarily closing my sale thread since all sale items will be packed away. All sales that finish by the end of today WILL be shipped out before I move though, so don't worry <3