Okay, I haven't posted anything here in a LONG TIME, so there has been a build up of new collection items since my last post. I'm going to keep this short and sweet, because I know that no one wants to actually read about a collection, they just want to look at it. So, on that note, here are the pictures!

Collection:


(

Click for Pictures!Collapse

)



Group Buy?:


Enough with my collection! Onto the BIG QUESTION!
How many people would be interested in a group buy of 10 of these bandanas?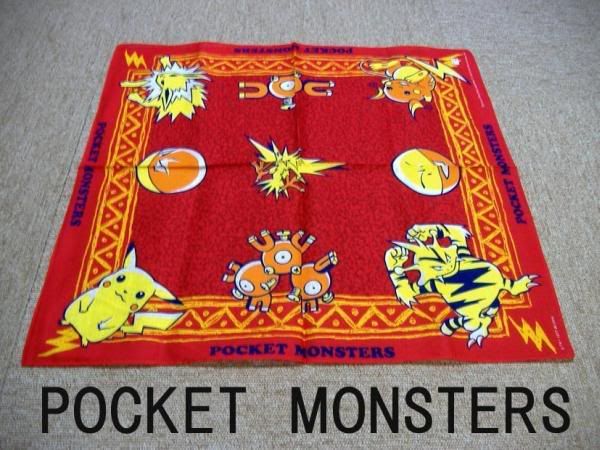 This item is indeed on Yahoo!Japan. The current bid is 1,280 JP Y ($12), and The BIN price is 1,980 JP Y($20). It ends in about 3 days.
I do have a SMJ account, but am scared to death to use it because I have no idea how shipping and what not turns out, so if there is someone who wants to actually buy these to help out with the group buy, I'd love you forever. XP Also if there are any extra bandanas, I'll offer to buy them so that everyone elses prices arn't jacked up due to a lack of interest. So, who's up for a group buy? If so, please comment here or IM me on AIM at Devi White and we can work things out.
I know there are other Raichu collectors out there, so why not pitch in? ;D

Interested:


1. Devi_White $
2. Bugbyte $
3. Phaethon $
4. iridescentfox $
5. _nofuturenohope $
6. grrrowly $
7. mizu_rei $
8. A friend of mine
9. goku_the_saru $
10. ann_chovi $
11. wolvenillusion
12. broadwaystar12
13. mommymoose
14. Jedi_amara
15. raifreak
16. friskavk

$ = Paid!


I will put those who are interested on this list in order of first come first serve. If a person backs out or does not want the bandanna anymore, the next person will be offered the spot.



I am now taking payments! The cost is $5 for each bandanna, and if SMJ shipping isn't insane, I might very well take a dollar or two out of shipping costs. All payments should be sent to my paypal Devi_White_x@yahoo.com with your LJ screen name put in the payment note, that way I know who to mark down as paid. If you have any problems or questions, feel free to ask.

Well, that's all for now. Thanks for looking!
~Devi