Updated Sales Post, New Items and Lower Prices!



I ship internationaly The postage and package will depend on where you are.
I only accept Paypal Sorry.
I will hold for 24 hours only.

My feedback thread is here:
http://community.livejournal.com/pkmncollectors/30997.html?page=6#comments

Now that that's over let's begin...

Plush


Habro Plushies 1999, all in good condition. Tush tags only.
$3.50 each
SOLD: Slowking, Pidgeotto, Bellossom




BK Toys, good condition.
Slowpoke to pokeball plush, good condition.
BK toys $1.00 each
Slowpoke $3.00
SOLD: Zubat and Goldbat.
Figures



Gastly Money Box, Base Glows In The Dark.
$5.00




Pokemon Roller Ball Stamps. All work perfectly, hardly used. Rare.
Don't really want to seperate.
$6.00 for the set



Old Tomy Figures, good condition.
$2.00 each



Mis. Figures, Good condition.
$1.00 each.



Mini Figures, makuhita and pelipper are pencil toppers. Good Condition.
$1.00 each
SOLD: Chansey, Jigglypuff, Eevee



Old Marbles. Good Condition.
$1.00 each.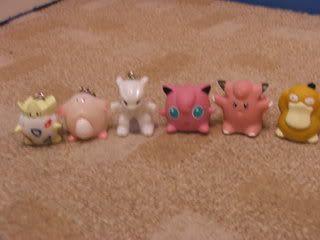 More Figures.
All $2.00 but Mewtwo is $3.00
The light-up keyrings... don't light up.

Flat Stuff



PokeRoms.
$1.00 Each



Pogs of Pokemon.
$0.50 each
Ash is $1.50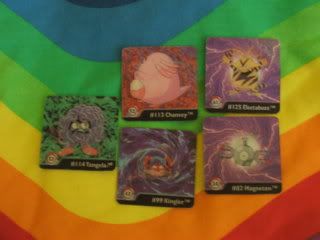 Flip Cards.
$1.50 each



Turtwig Family Pack. Including Shiny Torterra.
$5.00



Random Cards. All in good condition.
$0.50



Gym Leader Cards $1.50 each
Holo Topps and Darkness Energy $1.00 each



Pokemon Stickers out of bubblegum. They are the size of pokemon cards-ish.
Shiny $1.00 each.
Non-Shiny $0.50 each.
SOLD: Pineco, Ursaring, Skarmory, Gligar, Sudowoodo.



Topps Cards, Slightly worn.
$0.50
SOLD: Ponyta, Ninetails.



Different Stickers from other bubblegum.
$1.00 each
SOLD: Sunkern and Furret



Mis. Stickers
$0.50 each
SOLD: Meowth, Voltorb.