This is my first auction so if I made any mistakes, please let me know :)
I have some rare Tomy figures that are looking for a new home.
All are 100% authentic. I checked them.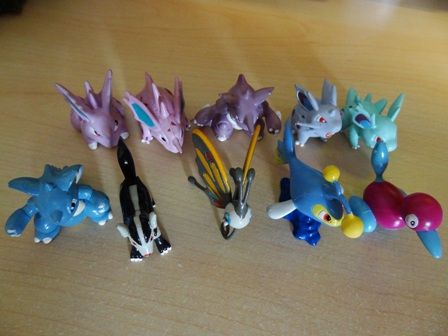 Nidoran female starts at $14
Nidorina starts at $15
Nidoqueen starts at $50
Nidoran male starts at $14
Nidorino starts at $40
Nidoking starts at $3
Lanturn starts at $25
Porygon2 starts at $25
Mightyena starts at $50
Beautifly starts at $30
Rules:
·
I received sales permission from entirelycliched in 2013.
·
Here is my feedback:
http://feedback.pkmncollectors.net/feedback/view/suzanneespeon/
·
I ship from the Netherlands and will ship internationally. Shipping starts at $2.60 for one (small) figure. Shipping for a heavier figure or two figures will be $3.10. Shipping for more figures will be $4.46. You can ask if you want a precise quote.
·
I accept PayPal only. Please include your username and what you bought in the note. And don't forget your address.
·
I am not responsible for items lost in the mail.
·
I will let you know when I shipped your figure(s).
·
Auctions will end on Friday the 5th of September at 11:00 PM (Dutch time) and that is 4:00 PM EST (but I am not sure). Countdown: http://www.timeanddate.com/countdown/generic?iso=20140905T23&p0=16&msg=Tomy+Auctions&swk=1
Some notes about the figures:
*Lanturn is completely mint. I removed her from the package and only displayed her.
*Mightyena is a bit scuffed on the nose. Other than that it's in very good condition.
*Nidoqueen has no scratches at all.
*Others might have some scratches. See the pictures for more details. You can request more pictures.
Link to see more detailed pictures of the figures: http://s1111.photobucket.com/user/SuzanneEspeon/library/31-8-2014