I just got my box from SMJ yesterday, and I have a new wiggleworm!




The Banpresto Taffeta Caterpie I've coveted for years finally joins my bell plush and Friends plush. He's even mint with tag! The BK plush is from
poliwhirl, and is also a new addition. Thanks, again!

I obviously really love Caterpie plush, and there's one more I'm hoping to add to the gang: the Applause plush. Does anyone happen to have one for sale?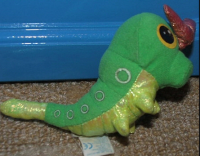 (image taken from Pokémon Plush Project)