Hello everyone!! I've got a super exciting project that I would love to share with you all, with major updates/additions to my collection! I've recently cleaned up a room in the third floor of the house ('attic' really), and decided to make a portion there a gaming collection room. My friends and boyfriend decided to call it "The Secret Base." Now, let me be like a mii in Tomodachi Life and say: "Would you like the grand tour?"
Note: I also plan to make a video tour of the collection room in a couple of days. I tried today, but I ran out of video space on my phone. If you're interested in viewing it, I'll link you here after it's posted. Just leave me a message!! :3
(WARNING: SUPER IMAGE HEAVYYY!!)
And major updates on my collection site!!
Collection Site: http://mypokedolls.weebly.com/index.html
Until today, this room alone, was just nothing but boxes and boxes of clutter piled up on top of each other. Art supplies, dishware, toys, old graded work from high wchool/college, oh gosh, it took weeks to clean this stuff, and it got made into a dream room to hang out <33 My timy cramped bedroom was home to hundreds of pokedolls and other pokeplush and merch, but alas, not much anymore. Some do stay on my bed.
Why 'The Secret Base' you may ask? Well while moving my box of mangas up to the clean empty room, my younger (Years 7 and 13) cousins said that it should be a club with video games, movies, music, ect, and make membership cards. I laughed it off as a joke, until I told my friend Sarah andmy bf about the idea.... they LOVED it!! Sarah thought of a name for it too: The Secret Base like in Ruby and Sapphire! So I've gotta start on membership cards and logos and stuff XD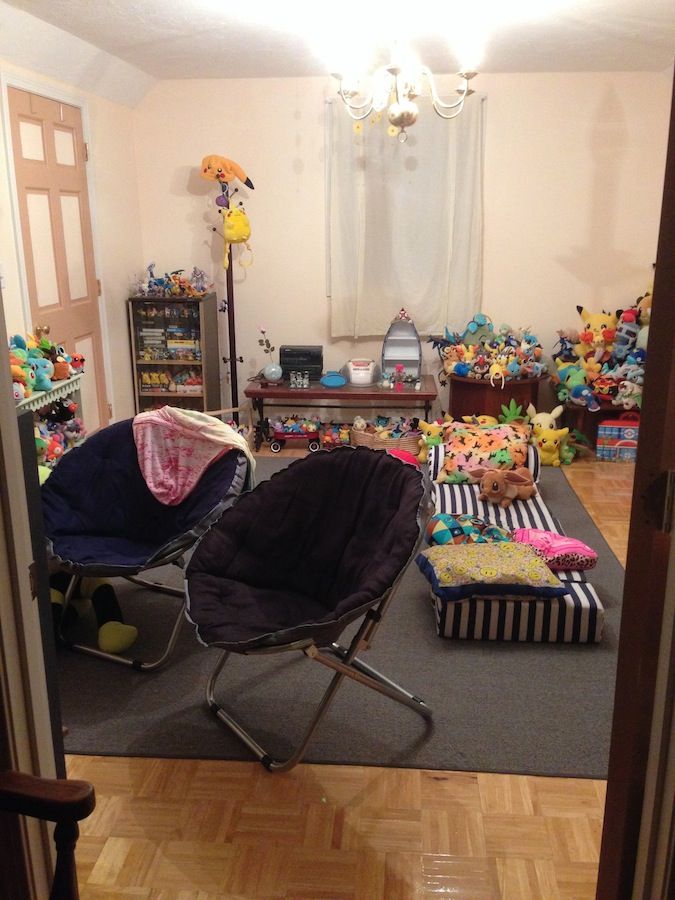 The entrance way. You can see how inviting and colorful it is when you come in <3 It's a pokeplush paradise. I have to admit, in the summer it's super hot and muggy, until I turn on the fan. I know in th winter it's gonna be cold as Antertica. It's not the best temperature controlled room tbh. That's the only downside.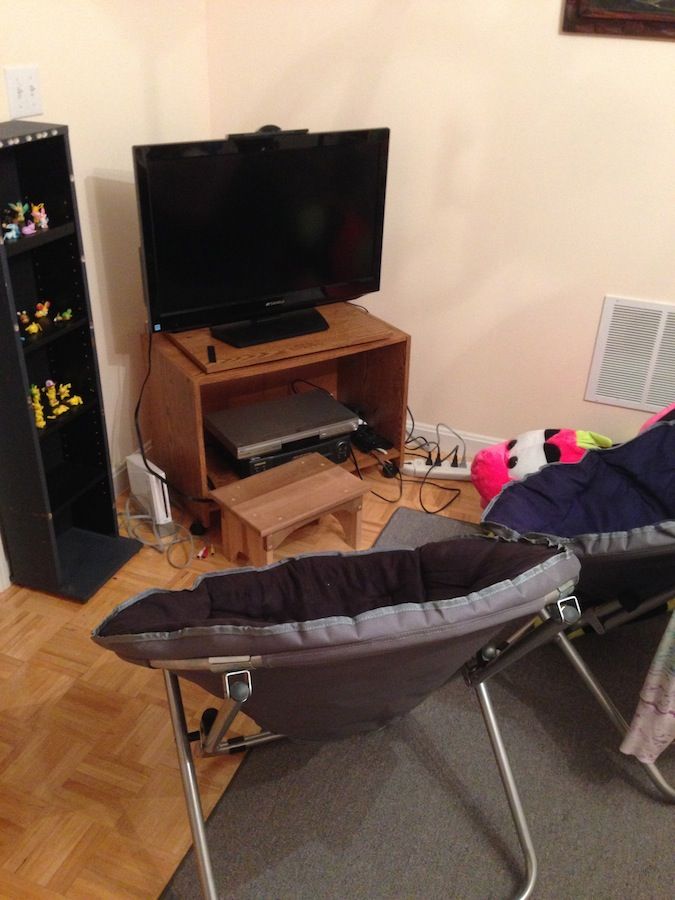 We'll start with the tv... wiii, and stuffs... and figures too XD (and giant spider. ignore him)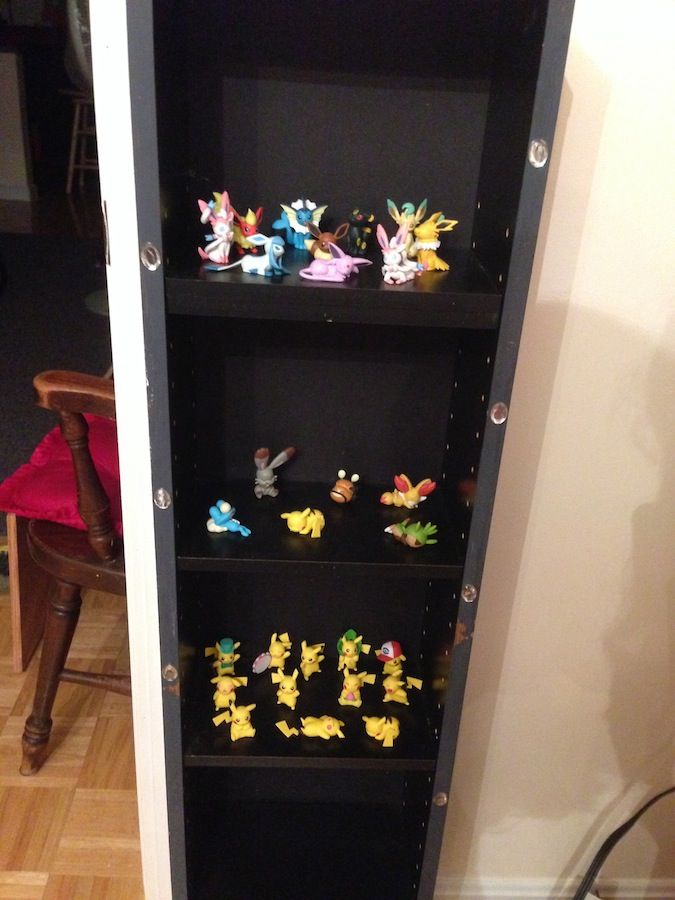 I found this shelf at work and bought it. My friends and I have an idea with it, since this will only display my ippai figures. We plan to make each shelf have a theme like a diorama. With the eeveelus we plan to have to make it a park, and the sleepy friends, we plan to have them sleeping in a forest on a dark moonlit night. With the pikachus... we don't know yet XD;;
Cushy bed thing with pillows, and laying eevee! He makes things look cozy.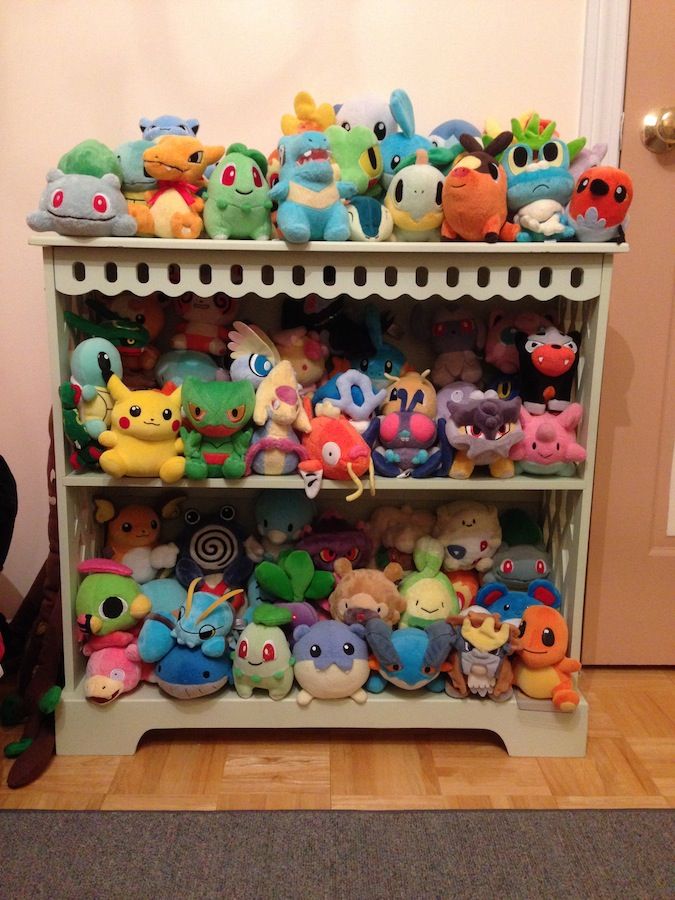 Continuing from the corner from the tv is my infamous pokedoll shelf. Newest addition is the spinda pokedoll from
tortoises auctions! (behind sceptile and on top of wooper's head. It's pretty poorly lit >_<) I decided to display the starter pokemon at the top. There was enough room for Fletchling and Mewtwo, so they have a spot.
Starter row!!
PRETEND THAT MEWTWO AND FLETCHLING ARE STARTERS IN POKEMON ORANGE AND PINK!
ROW #2!!
ROW #3!!! MANY POKEDOLLS INDEED!!
This stuff which was stored for misc VHS and crap XP This is displaying my Applause plush and figures.
The D-Arts figures on top, and others, and jakks as well.
This small section has my tomys and stuff... I hate how dark it is ;_; (don't judge my VHS recordings/selections.) I got both the Mega Charizard X and Y figures from newbury Comics. They're beautiful <3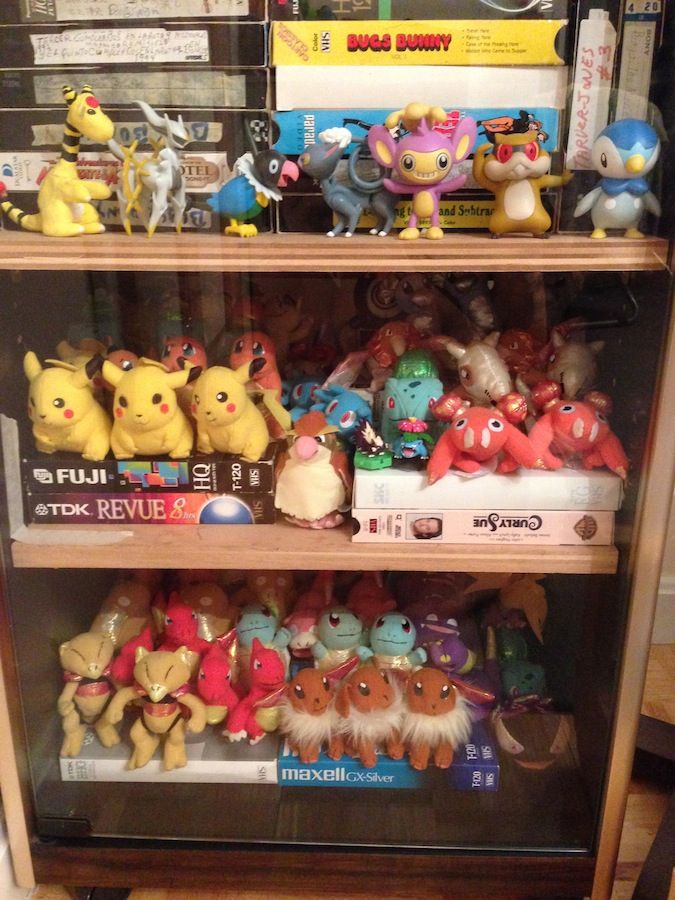 Other plush and figures. The top row displays my random Jakks figures from work and some from the comm! <3
The Ampharos was a custom I made when I was a kid :P He's a bit scuffed on his face.
Bottom shelves is the applause plush. Still not as a I pictured it, but they are displayed...
CLOSE UPS!!
Venusaur figure was a random gift from Yahoo!Japan after purachsing a PokemonTime Chaizard from them. Aipom figure was from work.
More applause!!
On the coat rack, is a Pikachu backpack, custom shiny pikahat, UK koffing, and my old Poliwhirl lanyard.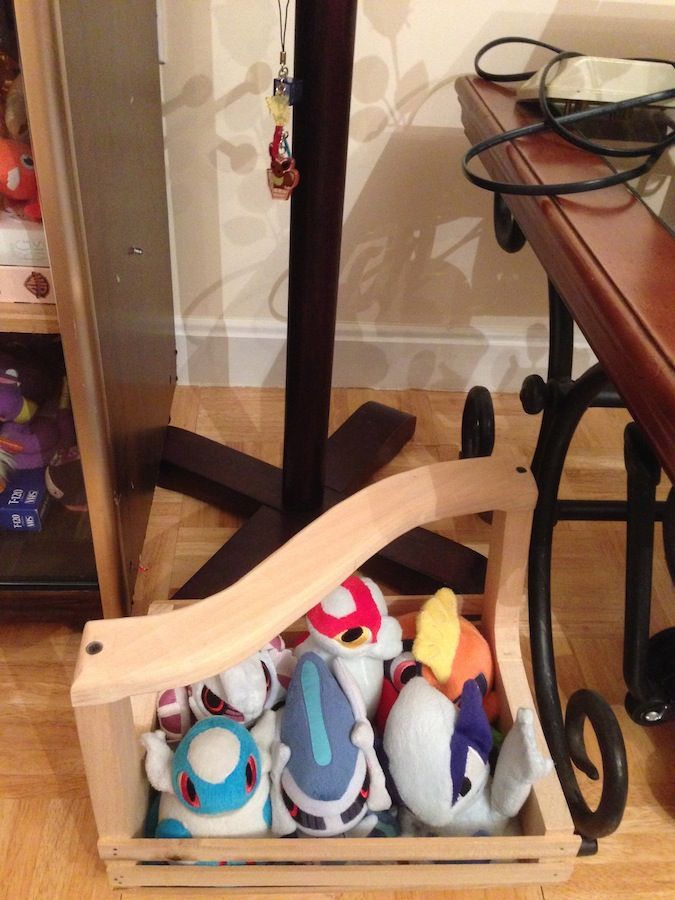 Below is an Eevee keychain dongle from
areica96. Then my Legendaries pokedoll basket from a basket I made in wood shop when I was in middle school years ago. Like decades.
The glass table, which displays the music and stuff. Ipod speaker, CD player, and cassette player. I'm so old school. A glass tic-tac-toe set too XP
More pokestuffs!!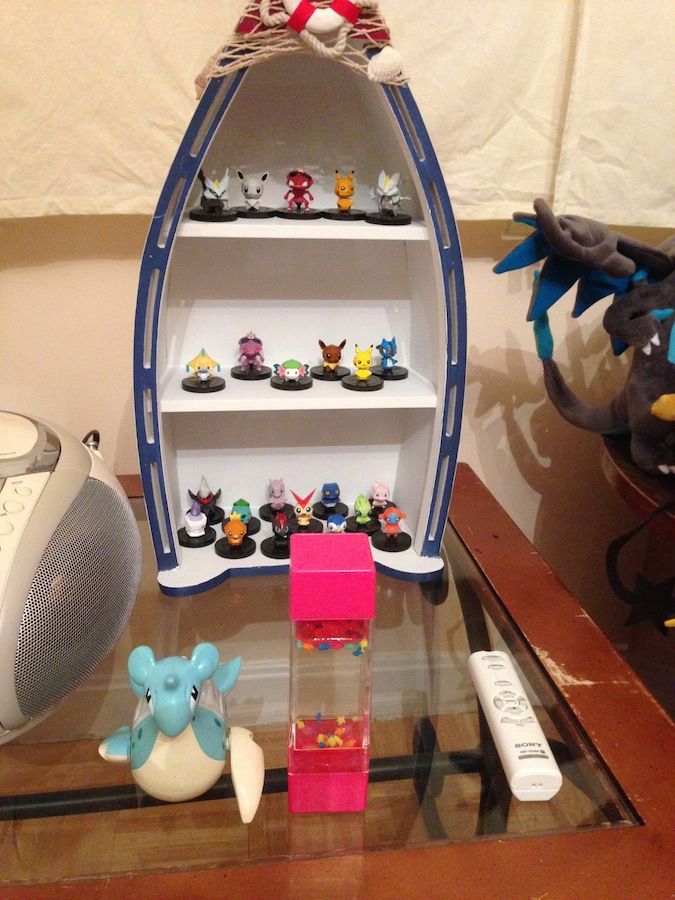 My complete rumble U set, and my newest addition to my collection, a swimming lapras wind up toy from
breekachoo. It's so cute, I cannot resist taking it to the tub with me when I decided to soak in the water. I even made a video on how it moves: https://www.youtube.com/watch?v=5ouwZ4RTP_s
Underneath the table is more pokedolls and change-to-pokeball plush!
Mini pokedoll keychains are displayed in a tiny wagon, change-to-pokeball in a basket, and a big basket of eeveelu pokedolls <3 rcent addition was the Mini Minccino pokedoll.You can barely see him though.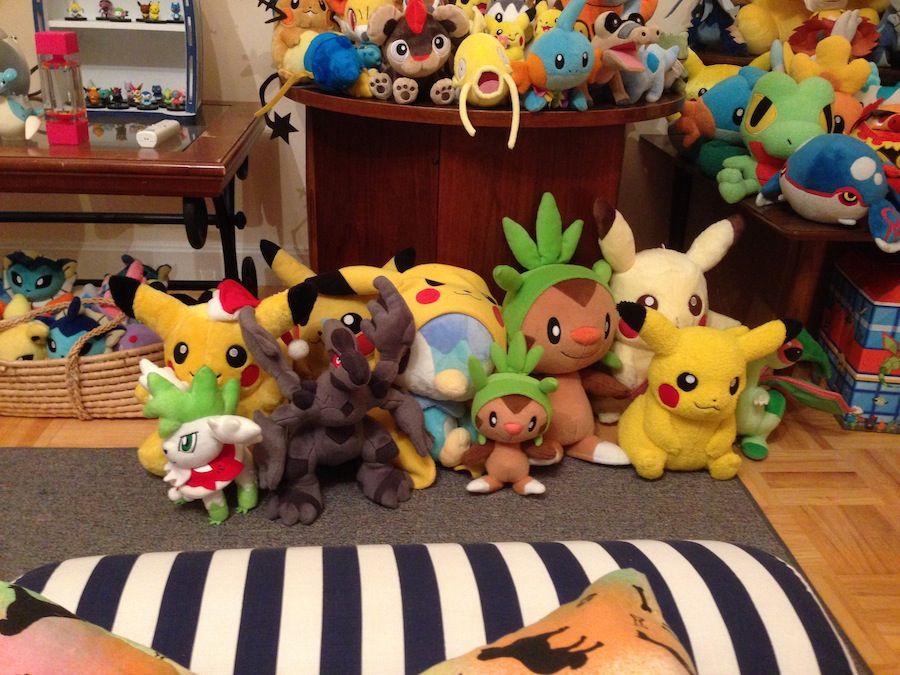 Moving to the right of the room, are plush which are too big to be displayed properly ;_; The stay on the floor. Newest addition is PokeCen Chirstmas Shaymin plush from SMJ!
Two displays of pokeplush. One is strictly for PokeCen plush, and the other for Oversized and DX pokedolls. I like to call it Pokedoll Mountain.
(oh yes, and cardboard Pokecen House too)
PokeCen stuffs. Recent addition is the Mailman pika from the Pokemon center online store. Ahh, Chesnaught is blocked by Samurott ;_;
POKEDOLL MOUNTAIN!! AHHHHHH <333 (This is my favorite display!!)
Recent additions are the Oversized Terrycloth Torchic and Treecko Pokedolls. Treecko was from
herar's GA, now my Terrycloth set of the Hoenn starters are complete!!
I also obtained DX palkia Pokedoll yesterday from SMJ. he came with christmas shaymin.
Manga/videogame/Pokeplush displays. Mini Pokedoll display as well.
THIS WAS UNINTENTIONAL!
I SWEAR!!
I didn't mean to make it orange/yellow/red/warm colors at all XD; Buizel and Charizard are oddballs here.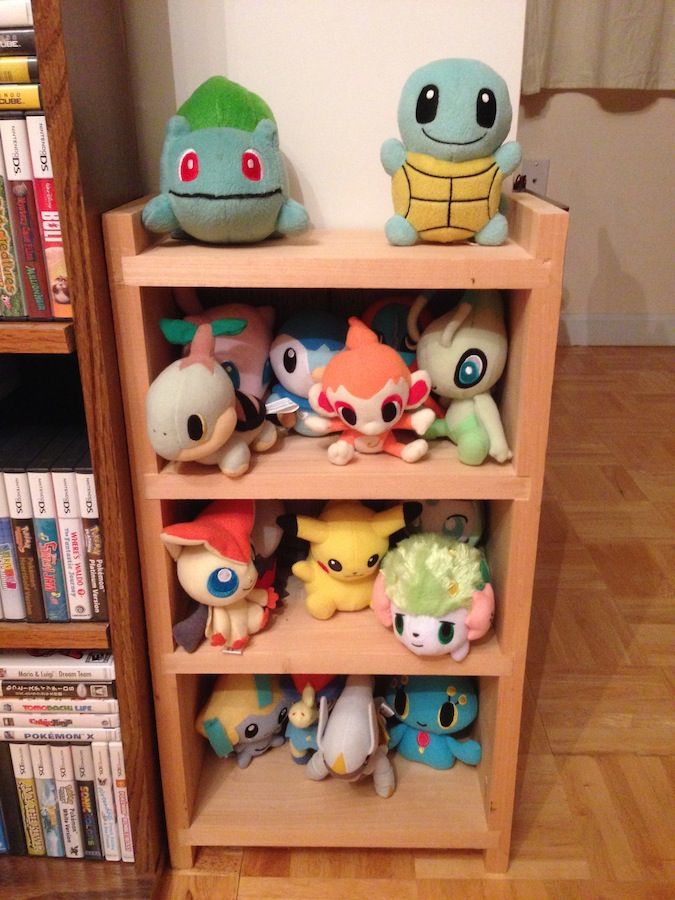 Mini pokedoll display. I'm still looking for a Mini Charmander Pokedoll.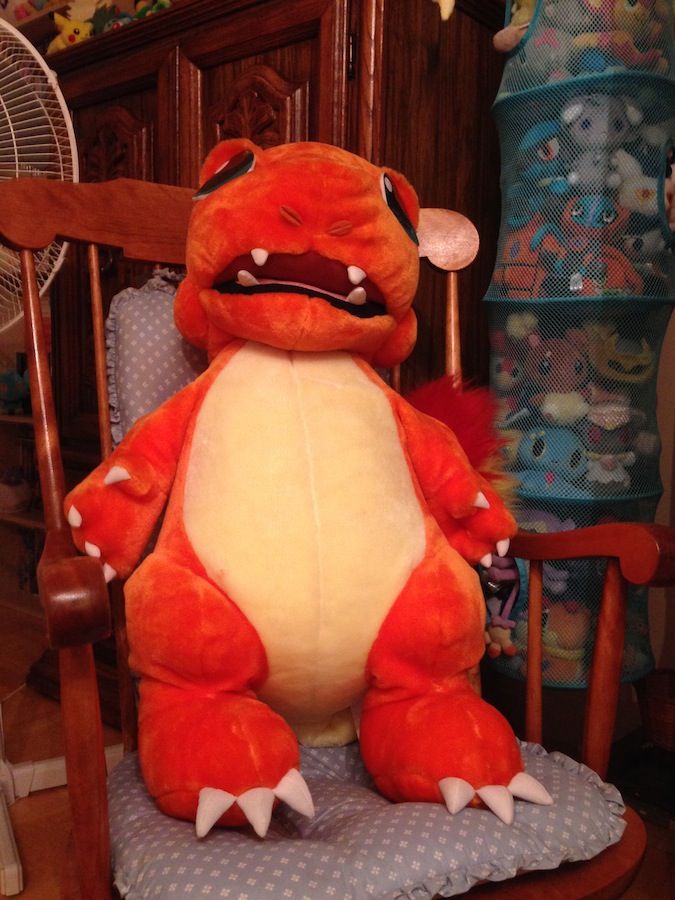 THIS POOR GUY WAS ABOUT TO BE THROWN IN THE TRASH AT WORK BECAUSE HE WAS TOO BIG AND HIS EYES WERE ALL SCRATCHED UP! ;_;
This is honestly the BIGGEST pokemon plush that i have in my collection. When I bought him, he took a ride in the backseat of my boyfriends car XD Two old ladies were staring at us when they saw him. Other then his eyes, he was in PERFECT condition. He stays on the rocking chair in the base.
The other corner in the room. Unfortunately there wasn't any room to display these pokedolls properly, so a hanging basket had to be used XP At least it was only one of the baskets and not three XD;;
You can see MPCs and other stuffs.
MPCSS!! I HAVE MANY MANY BEHEEYEMS!!
ONE IS SPECIAL ENOUGH TO WEAR A HAT!
Below this is misc figures, TCG, flats and stuff that have no display.
Other plush like Banpresto go here for display XD I love how organized it is. Toy factory brand is on top of the media shelf.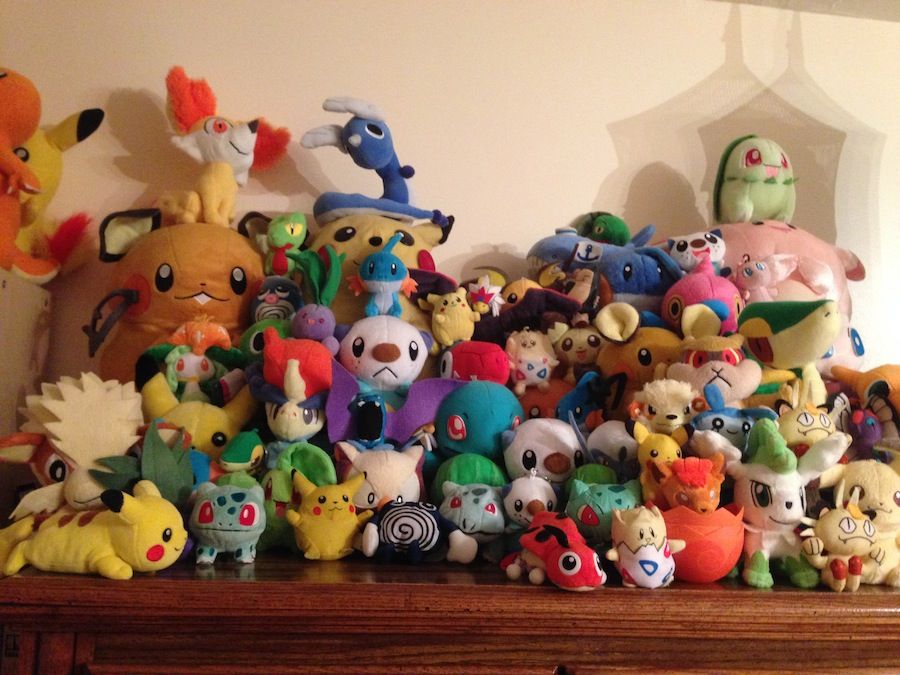 Many things to be said about new arrivals. Ledyba, oddish, treecko, laying pika beanie, arcanine bootie and petit, charizard pokemontime, poliwag friends, Braviary from
hebilea (my bf named him AMERICKUH haha :P)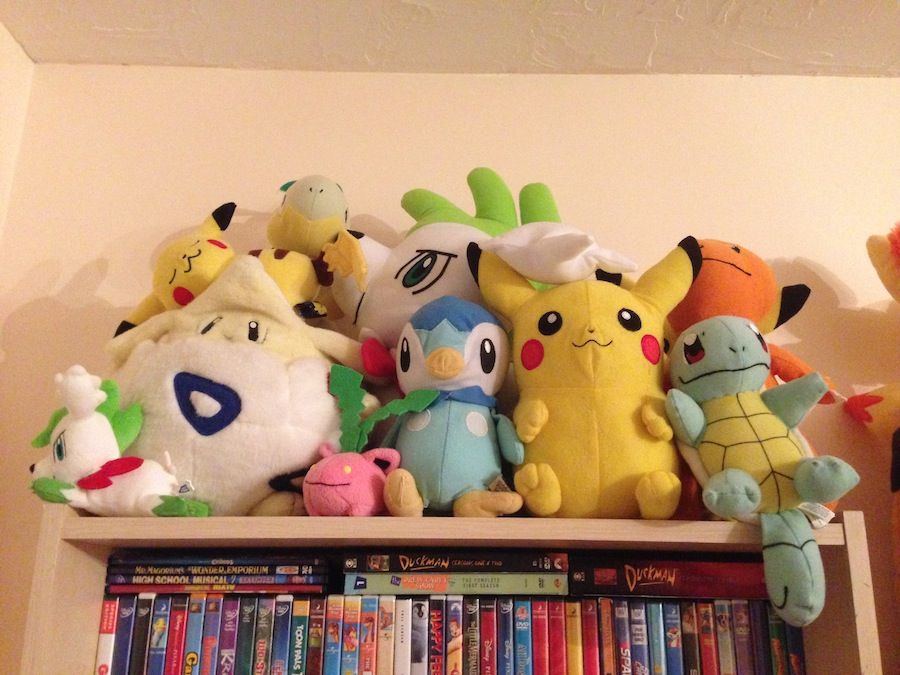 Close up of the top of my media shelf.
DUCKMAN YES.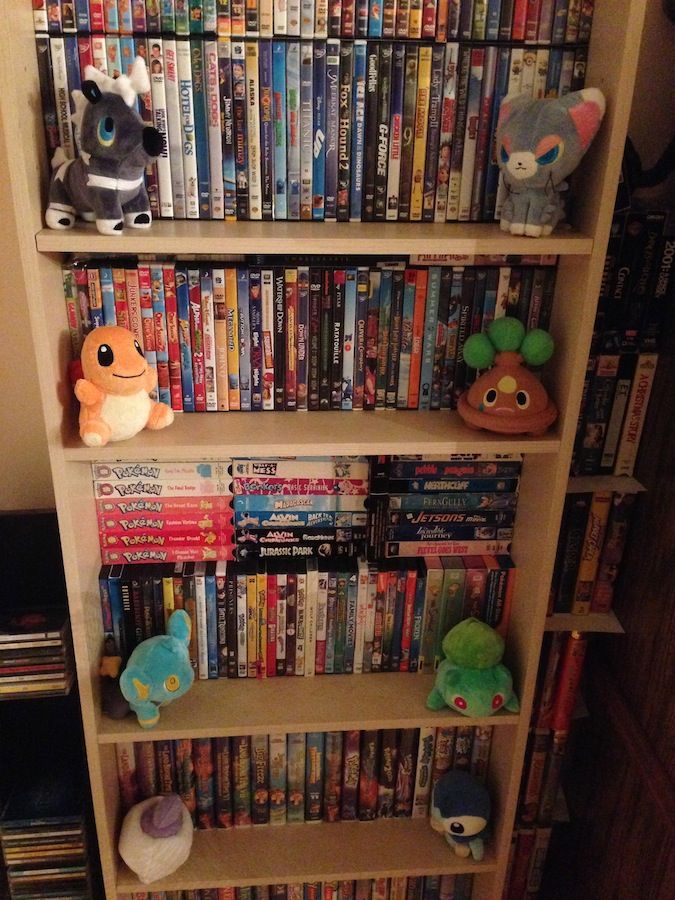 Pokedoll display on the media shelf. They make great decorations.
(OMG POOR LIGHTING ;_;)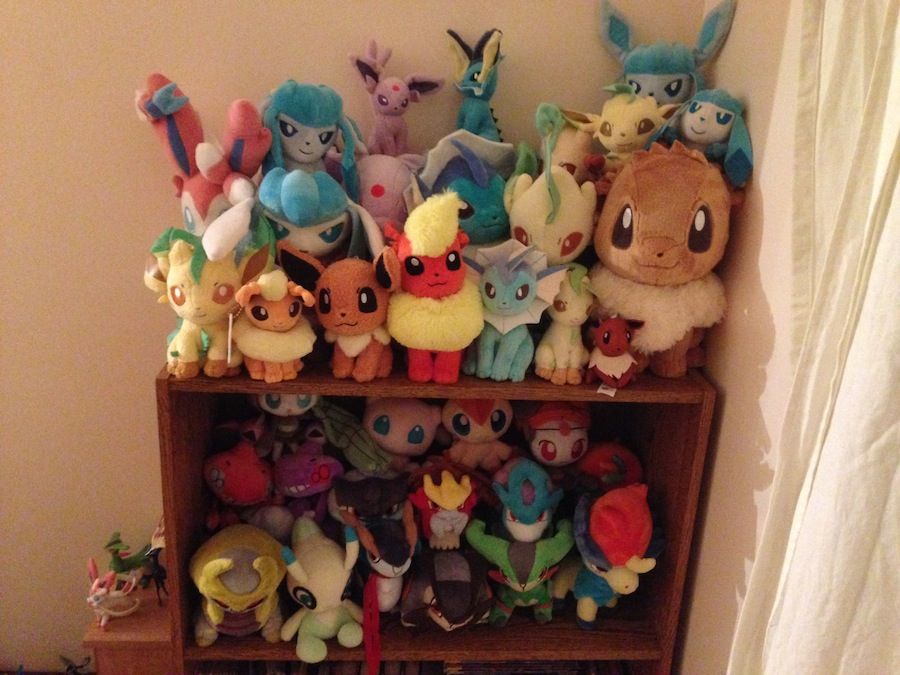 EEVEELU CORNER!!! AND LEGENDARY POKEDOLL SECTION!!
I like have no jolteons or Umbreons on this shelf... That will change!! Recent addition was Tomy Glaceon from Hot Topic. The only one that was in stock.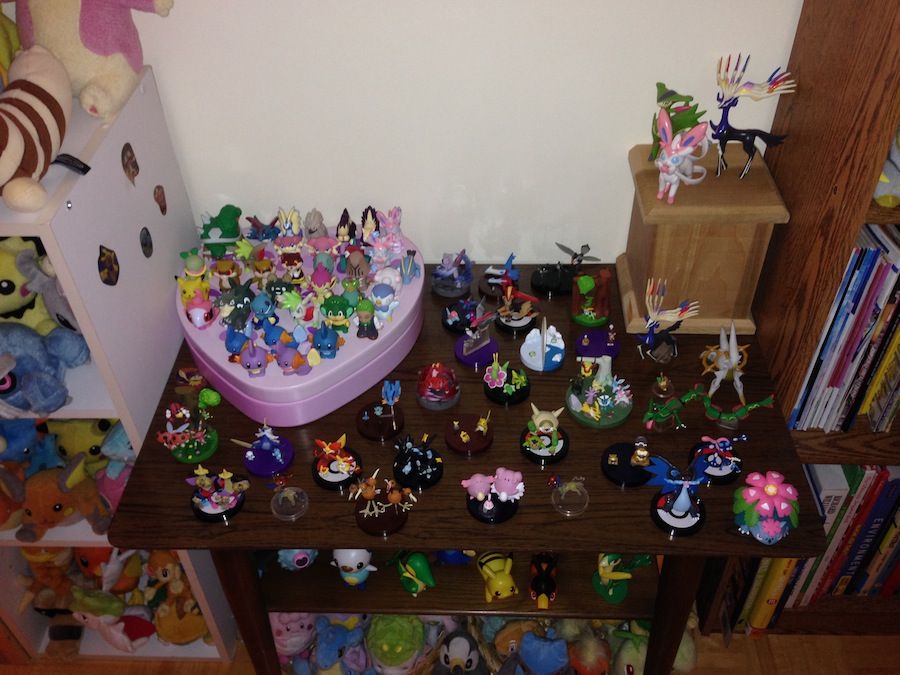 This is my Zukan,kids, pose figures table.... and one of my favorite displays.
EXCUSE THE POOR LIGHTING, THIS IS WHERE IT TENDS TO GET WORSE CAUSE THERE'S NO SUNLIGHT!!
Pose figures!! Virizion is new!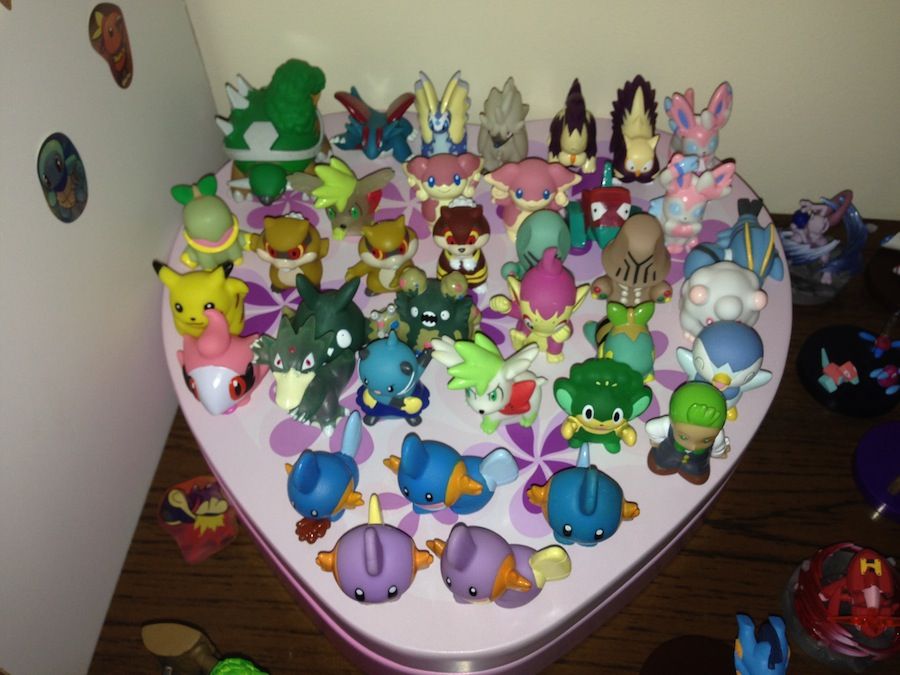 Kids figures!! Newest additons are the shiny Sinnoh trio from SMJ. the set was only for 1500 yet BIN. not bad!! Shaymin (normal and clear), Cilan, clear pansage, dewott, clear porygon and clear golduck.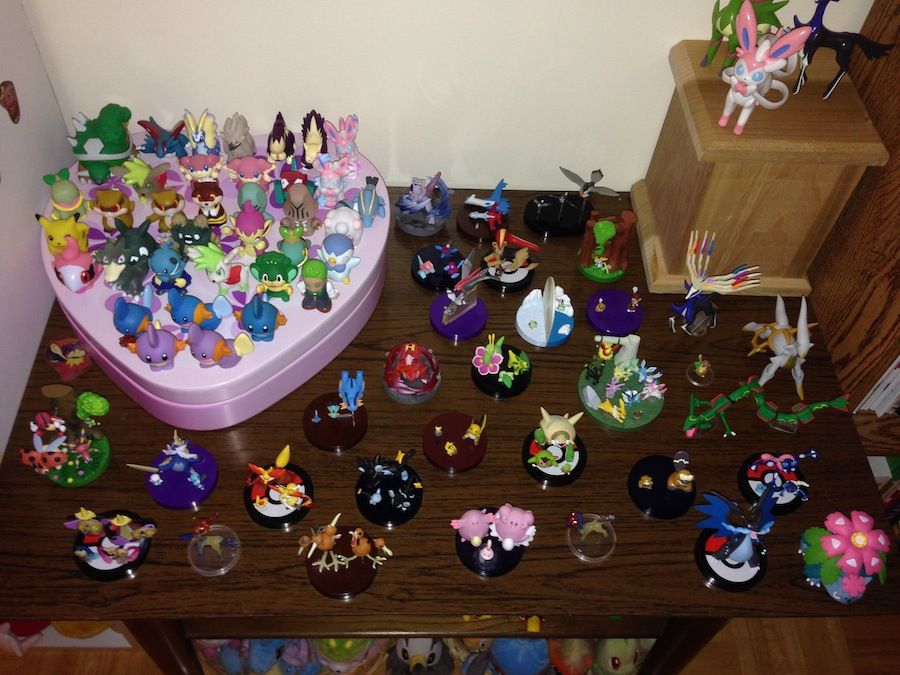 poor close up of zukans. Newest ones are the clear keldeos, doduo line, megazardX, Megavenu (fav zukan now XP), shinx line, ledyba and Spinarak lines, honedge line, Starly line, lati@s, litleo line, farfetch'd, and pidove line from
schenzi.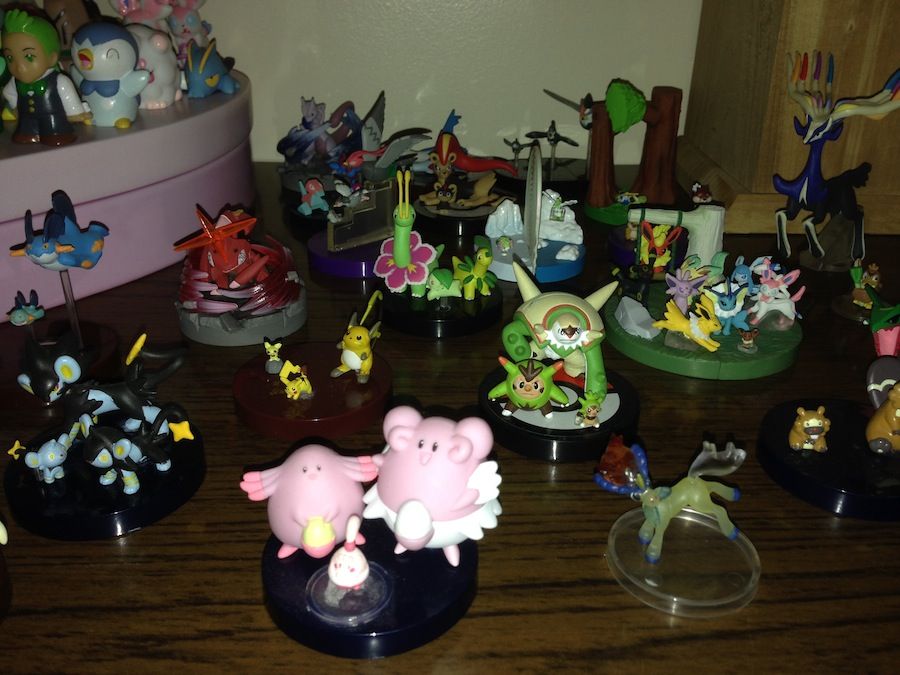 POOR CLOSE UP #1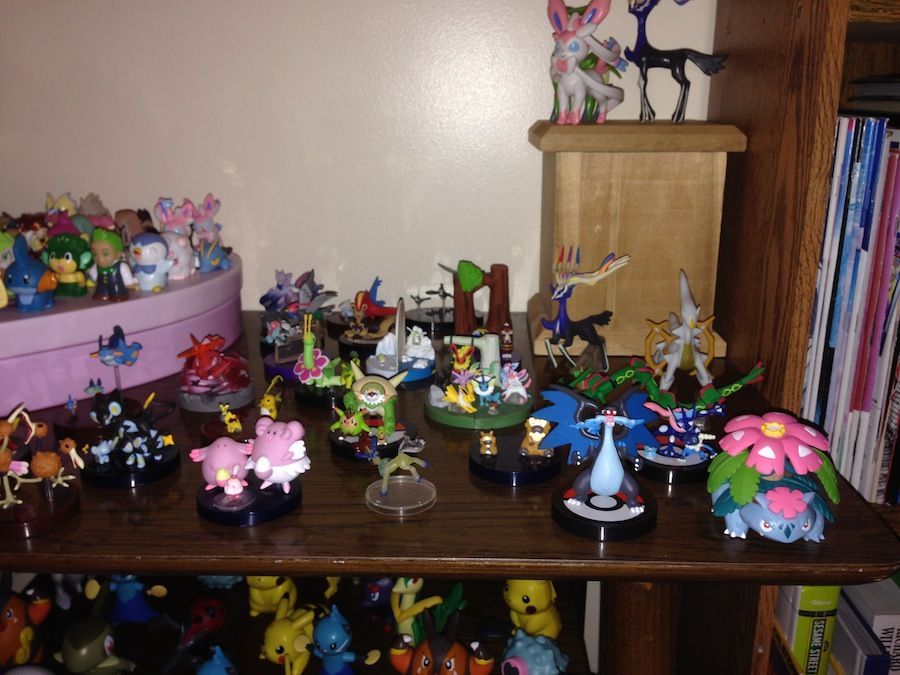 POOR CLOSE UP #2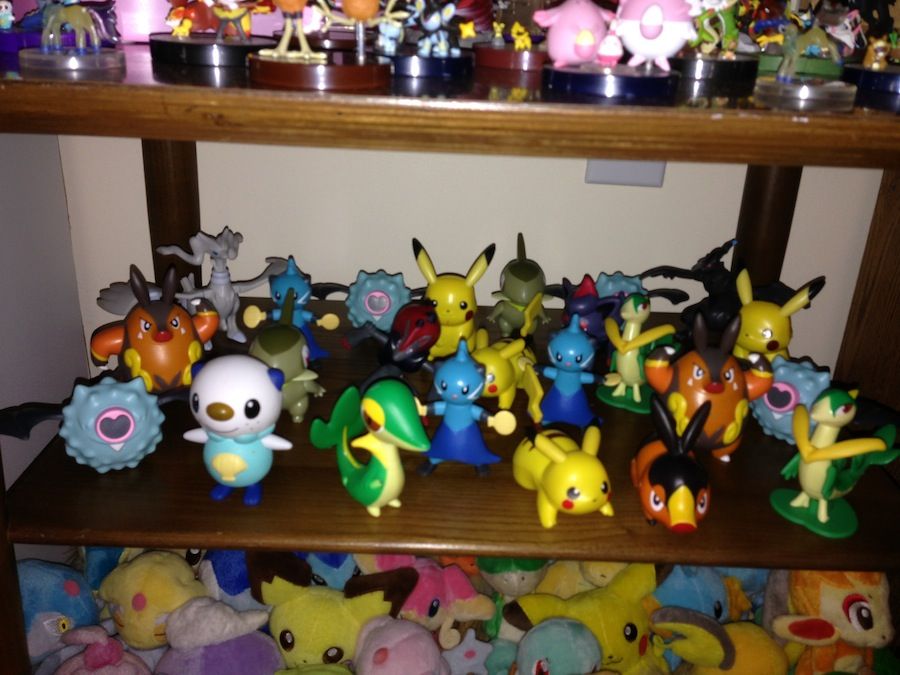 McDonalds figures are displayed below the zukans!
and below the figures are the canvases! Many new additions to this section. Chimchar, Ampharos, Plusle, and Cherrim to name them!
(bad flash pic ;_; it was from the poor lighting.)
Shelf with random stuffs!!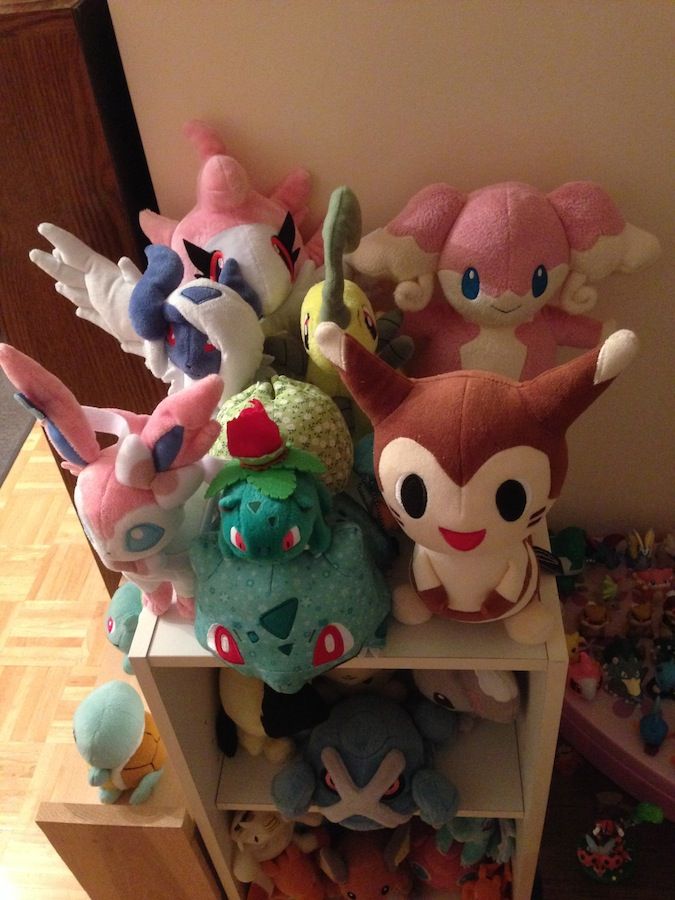 Random pokecen stuff, and bayleef too XD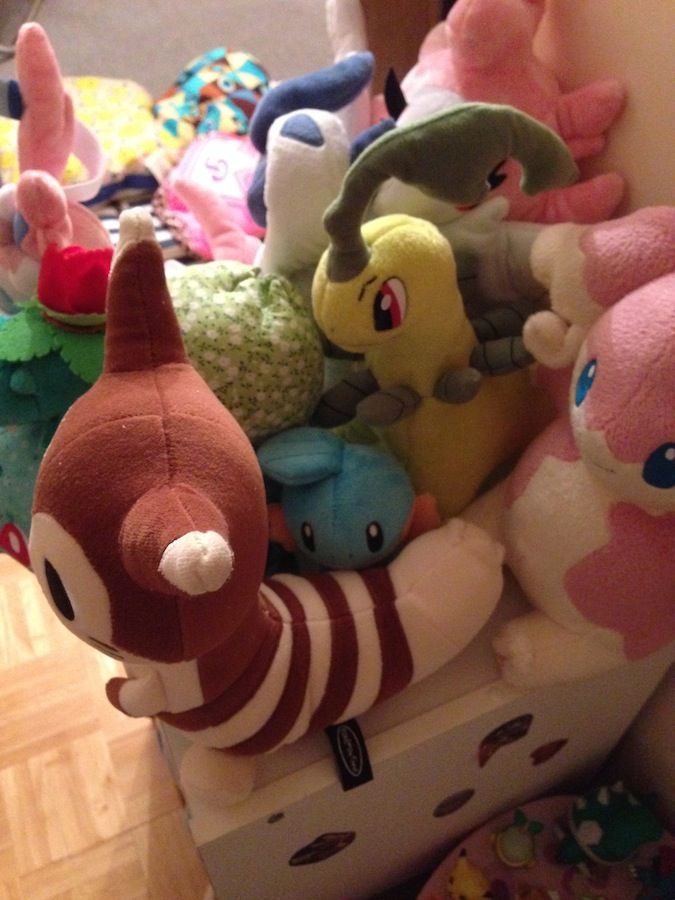 Walky mudkip likes to hide. She's shy....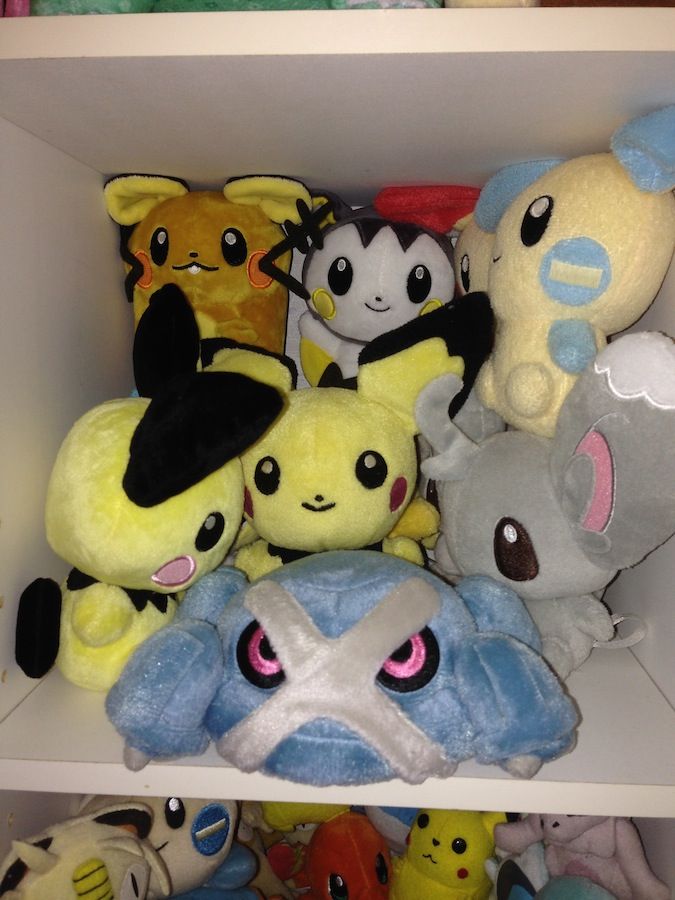 Obligitory Pika-rip off corner pokedoll section... pretend metagross is one.
Hasbro section. Newest additions is the meowth treat keeper in the front from work. He still had his candy inside. 16 year old candy anyone?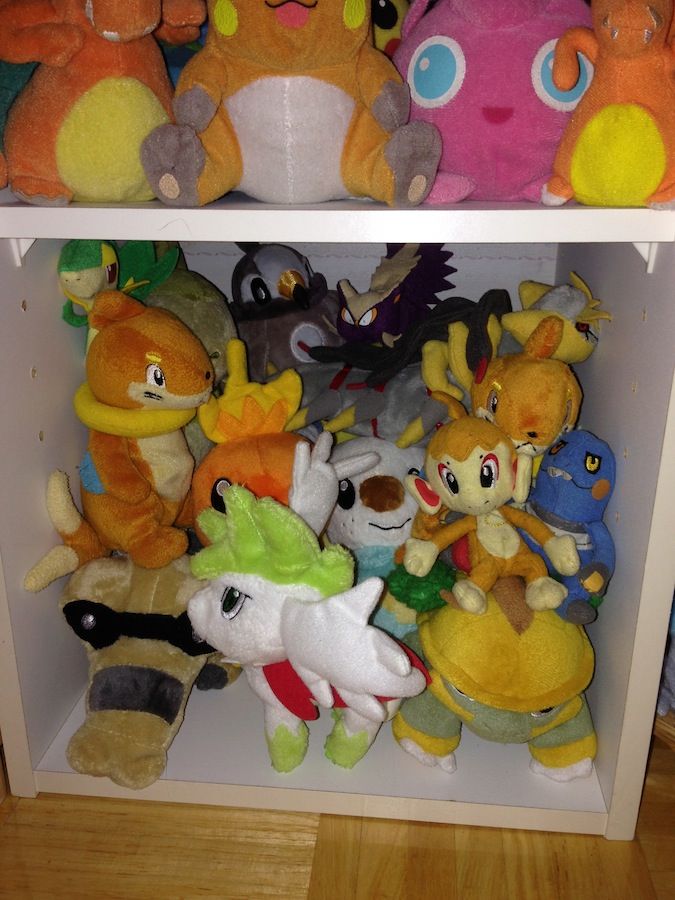 Jakks plush. Recent addition was Shaymin, Giratina, another buizel (from
kephisos) and starly!!
Custom Sudowoodo plush from a decade back. He was a birthday present made by my friends years ago. He means a lot to me <3
PRETEND HE'S ARIADOS!!
Meet Xeuk <3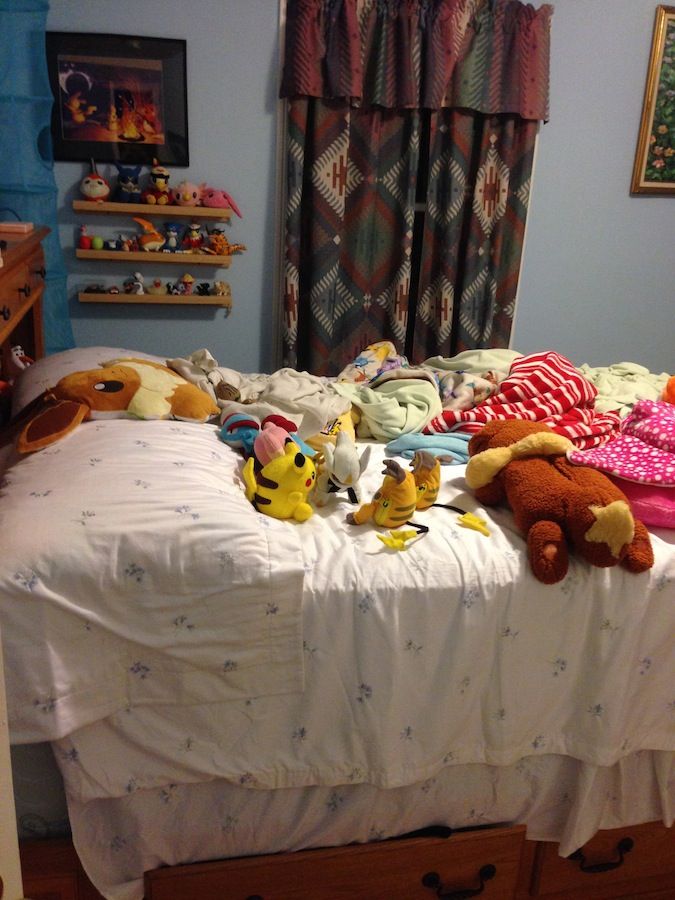 My room now. Empty...
....
Except these guys because they're too precious to leave my sight. Ignore the digimons.
Eevee tissue case stays down in my room, because I had no spot for him XP Plus he was just too cozy.
Reggie the Beheeyem stays on my side of the bed. I also managed to get my hands on a legit KFC raichu plush. I'm trying to find her a bow to be a couple with the bootleg raichu. There's a suprising amount of differences between the bootleg and the legit version of the evolving KFC pikachu/raichu.
PHEW, well now this concludes this collection update!! <33 Thank you for reading/putting up with my lame jokes/and looking everybody!!