Hello pkmncollectors community! This is my first post here and my first post on LJ in a long time. I'll take some time to show off my most recent buys as I've just gotten back into Pokemon over the past months. Most of my old stuff is still packed away in boxes from when Pokemon first came to the states. I was big into the card game back then and have a ton of cards from the first few sets. While I still like TCG, I'm not going to get into collecting the cards anymore. I'm mostly going for figures and plush now.

My reignited Pokemon craze started when I played an Emulator of Black and then, within a day, ran out and bought a 3DS and X. Shortly after... Y. Eventually Black 2 and then came the merchandise.

I will eventually make a wish list on my main journal of the things I am in search of, then maybe link it in my posts here like a "sig" after I make an actual "wants" post.


First up, here is my Fauxfeon plushie my boyfriend bought me for my birthday. He's new to the buying of goodies like this, so he didn't know any better when purchasing. Despite being a bootie, it's pretty good quality and opted to keep it. Then I purchased the most adorable Litleo EVER from the newly opened Pokemon Center for the US online. Here is Fauxfeon lending an ear to keep Litleo upright.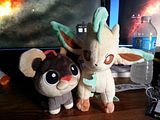 A few weeks ago, I got a random urge to drive to the Nintendo World (old Pokemon Center) in NY. I acted upon the urge and went. While there I bought two plushies and a Zoroark mini figure. Here's everybody so far.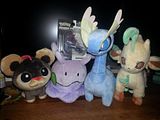 My random find at Walmart, Tomy Fennekin and Froakie.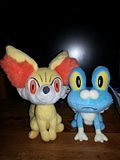 Found these on Amazon and saved myself a ton of money. The card boxes were 20$ a piece, I just wanted the figures.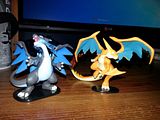 Then I added Reshiram to the group.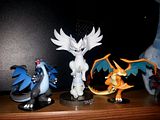 I overpaid for these a bit, but walking past Hot Topic to get my Pinsir/Heracross codes from GameStop I saw these two Tomy plushies that had just been returned. I yoinked them both.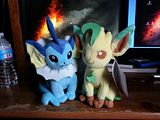 These just arrived on Wednesday! (Ebay and Amazon)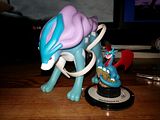 And now onto my "Did I get Bootied?"
Bought this on Amazon, from a US seller. It was 24$ total. The price had me a little worried. The tag has a crease in it, other wise it is in good condition. Has a bit of a derp face which was somewhat corrected with some smushing of his face. He was wrapped really tightly in plastic and tape then shoved into a brown mailer. I tried searching for tush tags to compare, but can only find US tush tag pictures. Anywho, on to the pictures.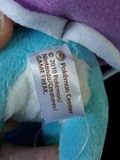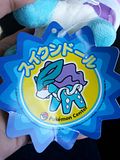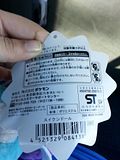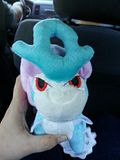 My biggest concern is the placement of the butt whispies attaching on his chest. That is the ONLY difference I can see.
Here he is less derpy.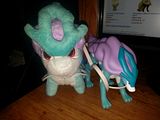 So far, one person has told me legit, but more consensus will help.

=3