Since I still have tons of stuff left over from my last two sales posts, many prices have been lowered. Chou Get, Deluxe Tomy Figures, Amada Seals, and more!

I hope you find something you like!




Rules




I can hold items, but please give me a timeframe as to when you can pay. Generally, I'll hold items up to four days.

I can accept trades if you have something on my wishlist, or something I don't have in my collection. I collect

Suicune, Entei, Raikou, Absol,

and

Land Forme Shaymin

. :3


Please include your LJ name and what you are ordering in the comments in Paypal when sending your payment.

I really don't want to get confused!

When ordering, include what items you want (obviously), what country you reside in, and your email address.

:3 I'll then give you the total.

I reserve the right to refuse selling to someone with excessive negative feedback.



Payment and Shipping:
I accept Paypal only, sorry. This is for the sake of convenience, and the fact that I can't drive into town on my own to cash a check. If paying via eCheck in Paypal, I'll ship out your item once it clears.

I can ship internationally, although naturally that will cost more.

Keep in mind that the shipping cost is only an estimate, but I try to estimate as closely as I possibly can to the actual cost to ship. Shipping will usually be around $1.50, plus .30 to cover packing materials. Bigger/heavier packages and international packages will cost more.

Since I depend on someone to drive me into town to mail things, it might take me a few days or so to ship things out. But I'll get them out as soon as I possibly can, and I'll let you know when they go out. (Just give me your email address.)


Prices not fair? Feel free to negotiate!

I'll also list the status of buyers here!

Check back to see if your package has been shipped!
Buyers
Callyfin - Giratina Chou Get - Paid, Not Shipped


~~~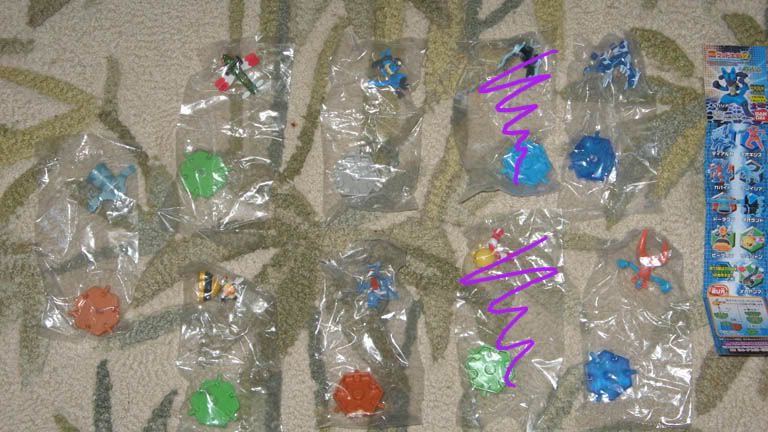 Chou Get Series 12!
All have been checked for and have their pegs, and are sealed in their original wrappers. Each comes with a mini-booklet. $2.50 each.

(Bronzong, Yanmega, Vespiquen, Lucario, Garchomp, Dialga, and Deoxys available.)




Chou Get Series 13!
All have been checked for and have their pegs, and are sealed in their original wrappers. Each comes with a mini-booklet. $2.50 each.

(Mothim, Dusknoir, Wormadam, Giratina, Bonsly, and Hippowdon available.)




Europe-Only Straps from Bandai France
Ivysaur, Minun, Deoxys, and Sceptile available. $2.50 each.

Salamence 6th Movie Keychain with Blue Pokéball Nametag
Very detailed, never removed from bag, and surprisingly big! $3.50




6th Movie Tomy Soft Mascot Salamence Figure
Hollow like a Kids figure, but slightly smaller. (Box is for reference only.) $3.50




Jakks Grotle and Buizel Figures
Both come with some paint rubs (they came out of the package that way!), and each include their own Pan Sticker-sized stickers (not pictured). $1.00 each.

Pokémon Action Figure Mewtwo and Blastoise
All have moving parts; Blastoise has moveable cannons and Mewtwo has moveable arms, torso, and tail. $2.50 for Mewtwo, $2.00 for Blastoise.




American Eevee Pokéball Keychain!
Package is a little worn and dusty, but the figure inside is just fine. $4.00




WazaKore (Attack Collection?) Penciltopper Figures
Sealed and each come with a matching seal, as pictured. Muk, Hitmonlee, and Hitmonchan available. $0.75 each.




Johto-Era McDonald's Toys
Pichu wiggles his ears when you squeeze the pump, and Marril and Bayleef launch out of their Pokéballs when you press a button. Pichu, Marill, and Bayleef available. $3.00 each.




American-version Tomy Deluxe Figures
Pikachu's tag is creased, and the others' tags are creased but not bent, and they have minor paint rubs from being in a box together. However, overall they are in great shape, as long as you don't mind tag creases. I can always take more photos and describe in more detail if wanted, too. $4.50 each.

(Mewtwo, Pikachu, Charmander, Togepi, and Jigglypuff available.)

Also note that shipping will be extra with these, and I only have enough boxes for four at the moment, unless you decide to buy more than one, then I can dig out a bigger box.



Amada Seals!
$0.75 each.
Pokémon Candy Seal series 1 Poison-Type Sheet
$0.25 for each seal, or $1.00 for the whole sheet.