It's still not finished, or near finished.. but I have quite a decent chunk on it. This is hard work. I'm trying to link pictures to each item to help in showing what I want on top of having to research items/product lines, and decide just what Pokemon I want to focus on over others. There are some things outside of what I listed that I'd like, but they'll come after I get the ones I really want.

Anywho, it's pay day! I want to buy a few more things, but with so many things I want it's been so hard to decide. Thought maybe if I post this link and get some offers maybe that would help me in deciding what to buy.

I'm also up to any help or suggestions on my list. Being out of the Pokemon collecting scene for so long, I've missed a LOT of merchandise. I'm sure you'll see a theme with my list, so if you think I might like an item not shown there, feel free to reply with it or offer it for sale.

Without further ado...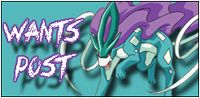 =3