Hello! I hope everyone's day has been going well. I kept putting off doing an update, but finally took pictures last night, so now I can show off all of my new Blazikens. :D No idea how many new chickens will appear once the games come out, so I better not wait any longer!
First, a quick reintro: My name's Kaylyn, though I go by Methuselah on the internets. I've been on the comm for four years this past August. I'll be 25 this month, and have been a huge fan of Pokemon since the early Kanto days, and have always loved to collect the merch for it. Blaziken is my favorite Pokemon, and my main collection, which I'll be showing today. Click the cut for pictures!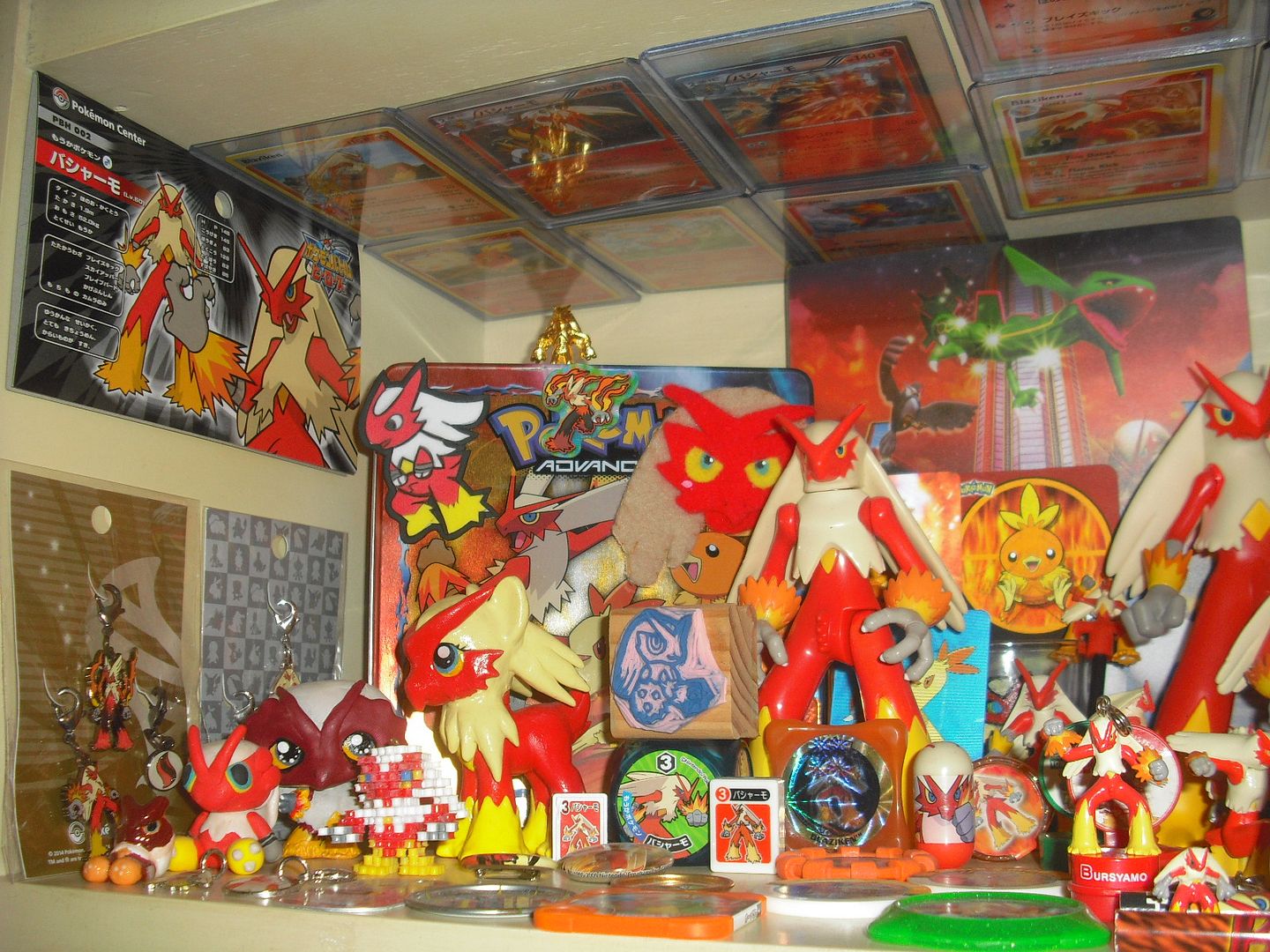 I'll start off with the top shelf! And apparently a bad picture of it, because it's hard to see the new things here. >.> There's the new Rising Fist card, which has Blaziken kicking a Dragonite. Best card picture! lol Then there's a gold metal figure on top of the tin, thanks to hebilea! I didn't have any of the Blaziken metal figures! It's so pretty, but hard to photograph! There's also a new custom here, but I'll show pictures a little ways down.



Just a few new ones here. There's a kneeling figure next to the green Retsuden stamp, and a really cool keychain hanging from the Hasbro figure's feather that clamps around Blaziken to capture him. It's so fun to play with! And what's that under the Fighting-type cup?



A Blaziken container! Featuring ONLY Blaziken! How exciting! I love it when he gets random items, and having him being the only one featured on it makes it even cooler!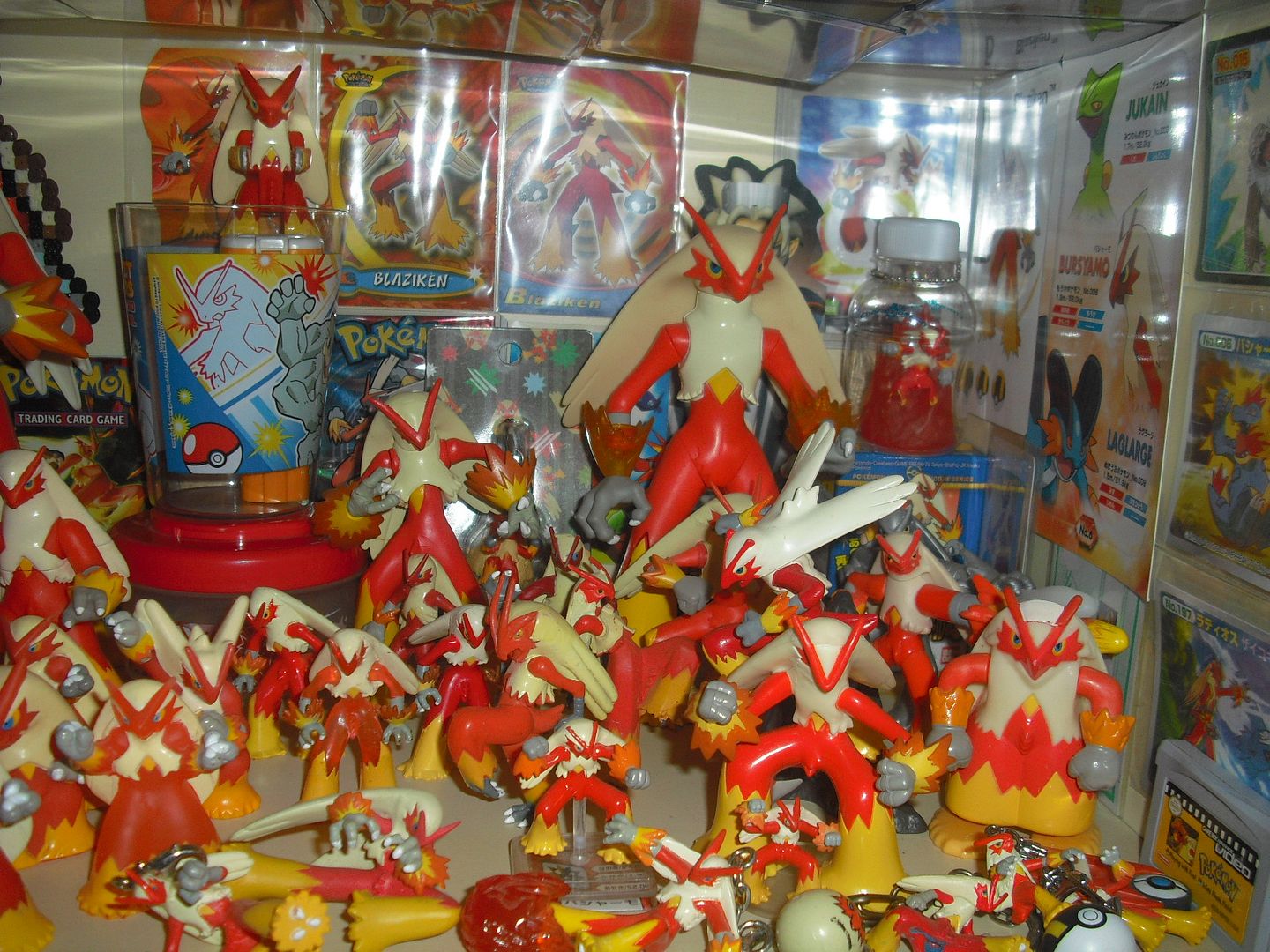 And here's the rightmost part of the top shelf. I don't think I've added anything else new here.

Oh wait, there's something behind the bigger figures!



Pokemon Time Blaziken strap! With the matching bookmark! I got super excited when I saw that I got that bookmark, but then realized that they all have corresponding ones. :P



Moving down to the bottom shelf, here's a custom keychain from anaildapinto sitting on the Tomy's box. Also, the Mega Ring with a Blazikenite stone, and a couple new keychains by the socks.



And here's a bunch of Mega Blazikens! There's the canbadge and a die in the left corner, and another acrylic keychain in the back, and then a bunch of figures. From left in the back, there's the Plamo, the chunky vinyl Pokecen figure, Banpresto "Real Figure" keychain, Tomy, clear Tomy, VS Tomy, candy figure, and keshipoke, and in front of them are the Retsuden stamper, Tomy Netsuke strap, kid, and chocoball figure.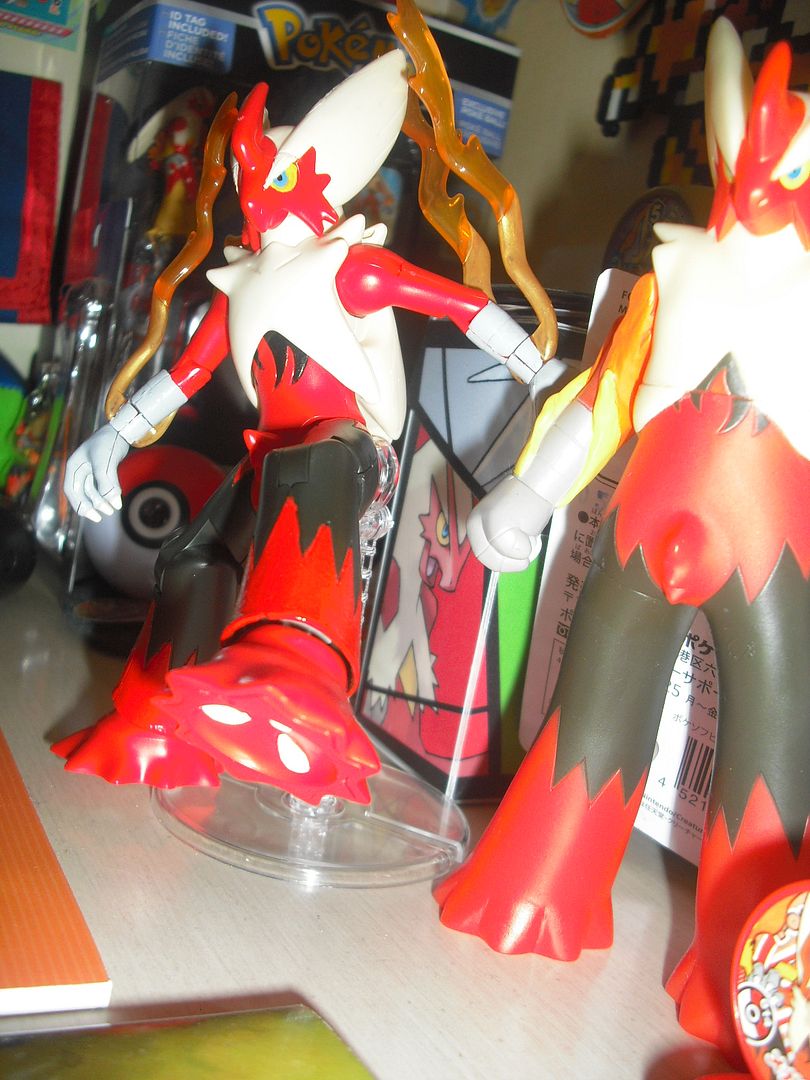 I painted my plamo rather than using the stickers. It was my first time painting a glossy figure, so I had some issues, but I think he turned out way nicer than he would had I used the stickers. I just can't pose him too much without scraping off paint. -_-'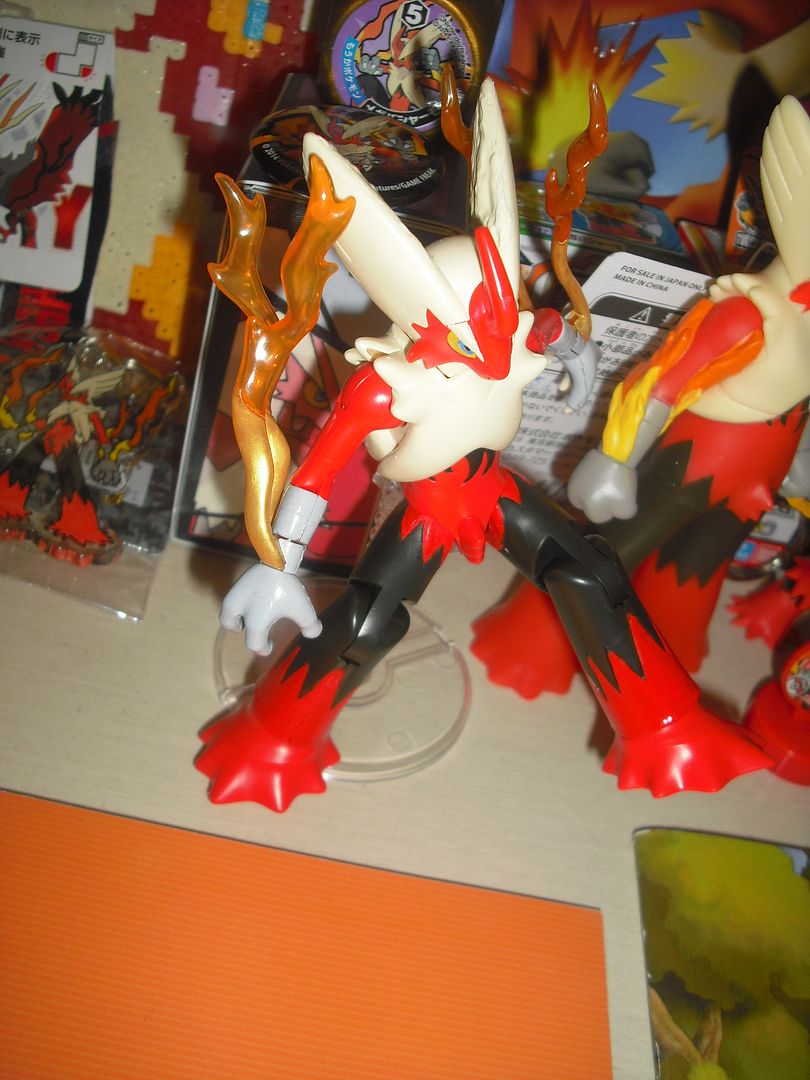 He're another picture. the back of his hair feathers are hollow and were supposed to be blocked in with the sticker covering the holes, but I had to think of something different. I ended up filling the holes with hot glue to make it as smooth a surface as I could, and then just painted over that. Again, not the best, but better than stickers.



Here's a couple more figures, including the Ichiban Kuji figure on the black base, and the new Tomy set (new Tomy pose for regular Blaziken!) And what's that white figure?



Well, I'm not really sure! I was told he's a prototype figure, and that's all the info the previous owner had. It would be really cool if that's true! Unfortunately, he marked along the lines where the colors would separate, but it's still a really unique item. If it is indeed a prototype, I'm fairly certain that it's the Tomy Pose figure.
(I still don't have the actual Tomy Pose figure, btw, if anyone bought the two pack for MLucario and doesn't want the Blaziken or something. I preordered one from animeraro, and it was a huge mess, and I just recently got refunded for that, so I still have yet to grab that figure.)



On top of the Tomy set's box is what was one of my most-wanted items! Many thanks to hawlucha for finding it and letting me know!! It's a pin set from the Pokemon Center from I believe '04, and it is even bigger and more beautiful than I thought it'd be. They each have two pinbacks to hold them onto whatever they're pinned to, since they're so heavy. Eeee, I love this so much!



Here's some bigger flats that are here until I more figures and they get crowded out. The washcloth is really pretty, and the Pokemon Time clearfile! Such a cute pose! It's sitting on top of my other clearfile, as well as my stack of flats I showed in a previous post.



Along the side of the bookshelf, I still have most of my smaller flats.



And here's some more of them.



Here's a better picture of the Mega Blaziken coins, from hebilea. So pretty!



And below that is my plamo box, and this big mat! It's also an Ichiban Kuji item, and came with my figure set, which I didn't know about until my package came. A happy surprise! Though I can't get it out of the packaging because the seal is too sticky and it'd ruin it, but at least Blaziken is folded to be on the front! There's a picture of the whole mat, too. This thing would be huge opened up!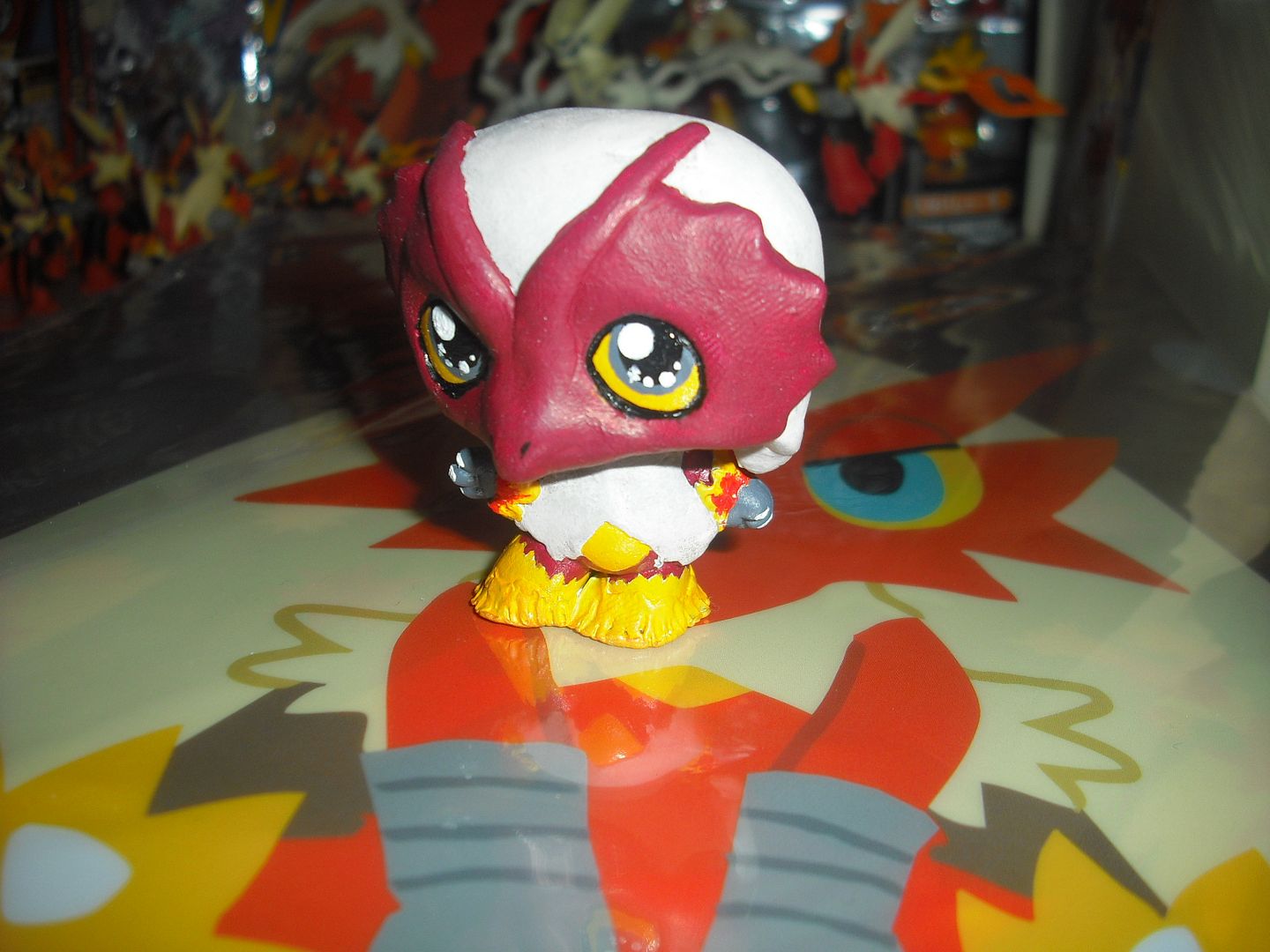 Now some custom items! <3
This little one was made by PiasLittleCustoms on etsy. She's a customized Littlest Pet Shop figure! So little and cute!



IS THIS NOT THE FATTEST CHICKEN? Such a chubby little cutie! He's actually pretty big, too. He was made by MissJennysCrochet on etsy.



Look at that floofy butt! I love fat plushies, and all of the ones Miss Jenny has done have been super cute!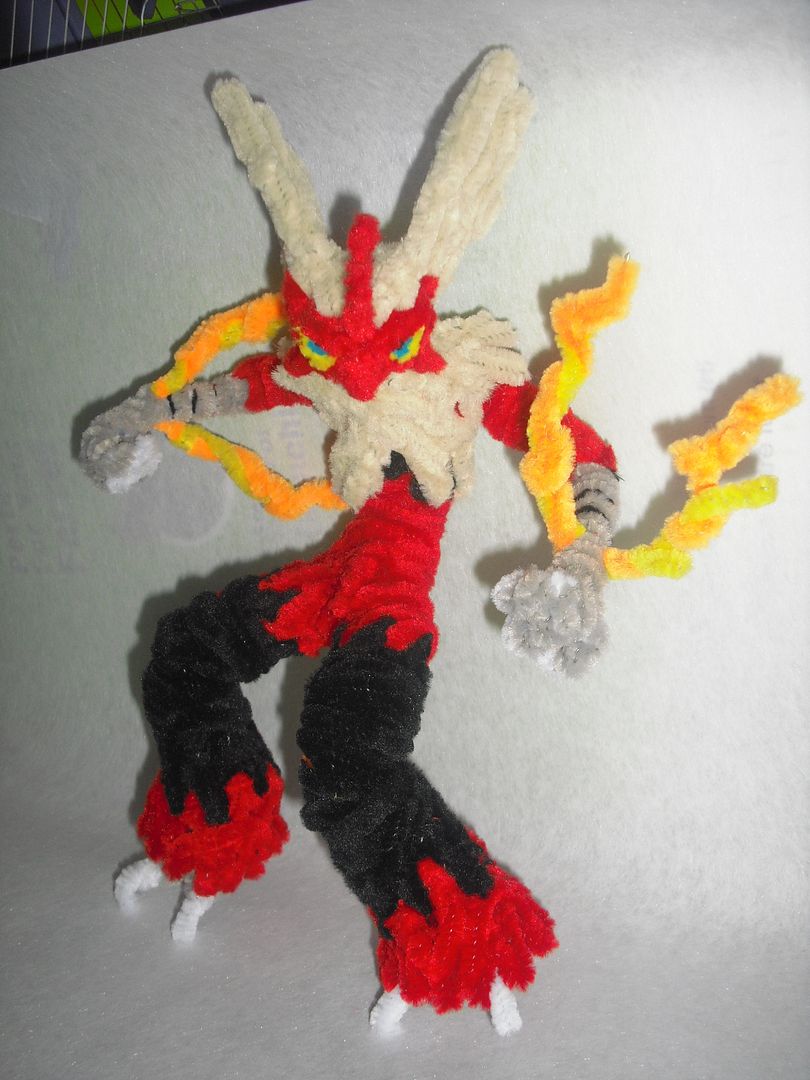 Look how cool this guy looks! That pose! Those details! He is my first Mega Blaziken custom I have (excluding the one I made), and was made by Leo-tux on dA. I saw him post a picture of this guy and had to have him! Luckily he was planning on selling him anyway, and was nice enough to let me buy him. :D



Ohmanthatface.



And here's this guy! Made by HandmadeByMae on etsy, and such a cutie! Pictures don't do him justice. He's a mix of minky and faux fur, so he has a really unique look. Ever wondered how a short-haired Blaziken looks ?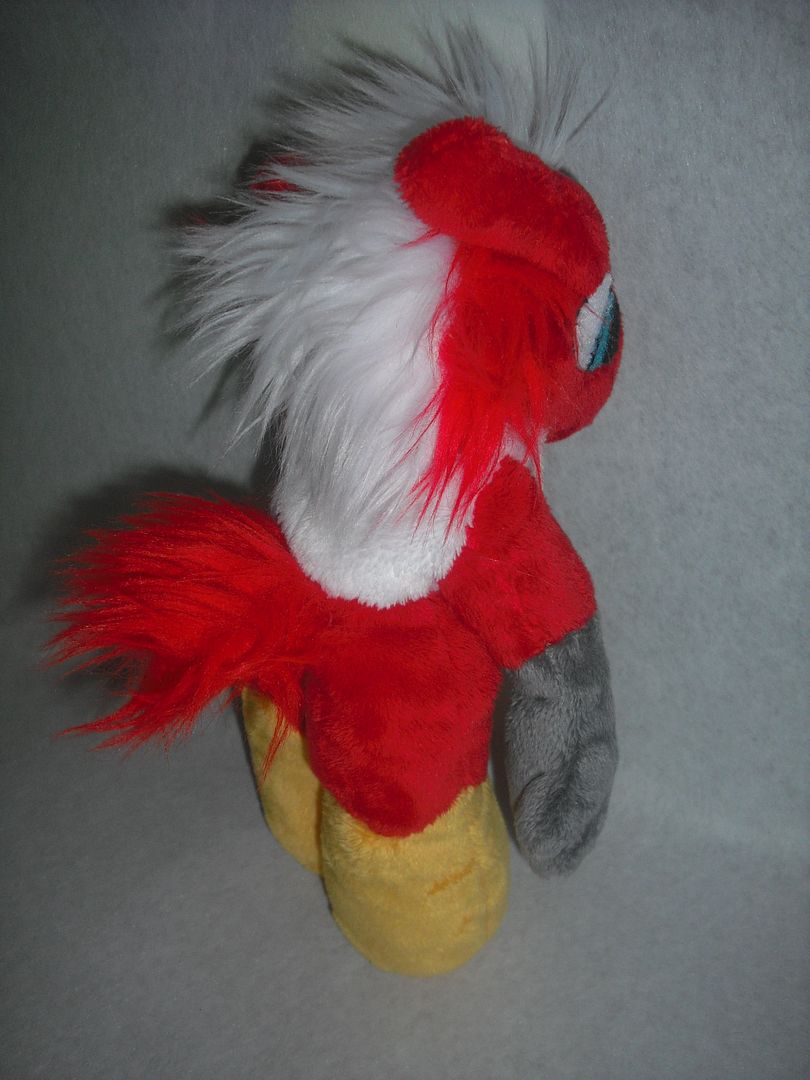 The answer is super cute!! haha I love the way his hair feather stick up, and that super fluffy tail! He is such a cute plush!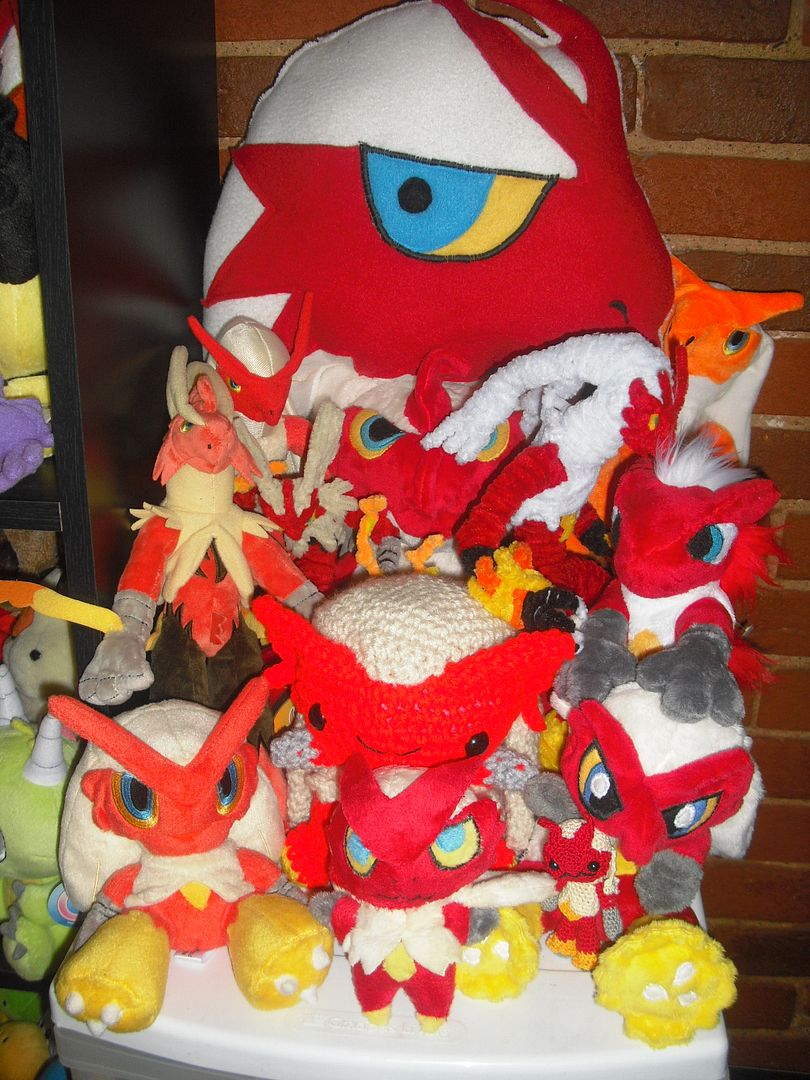 Here's a group picture of all my plush (and pipecleaner sculptures--they're fuzzy!). My SSS gift, the big Trozei pillow from korth, is on the top!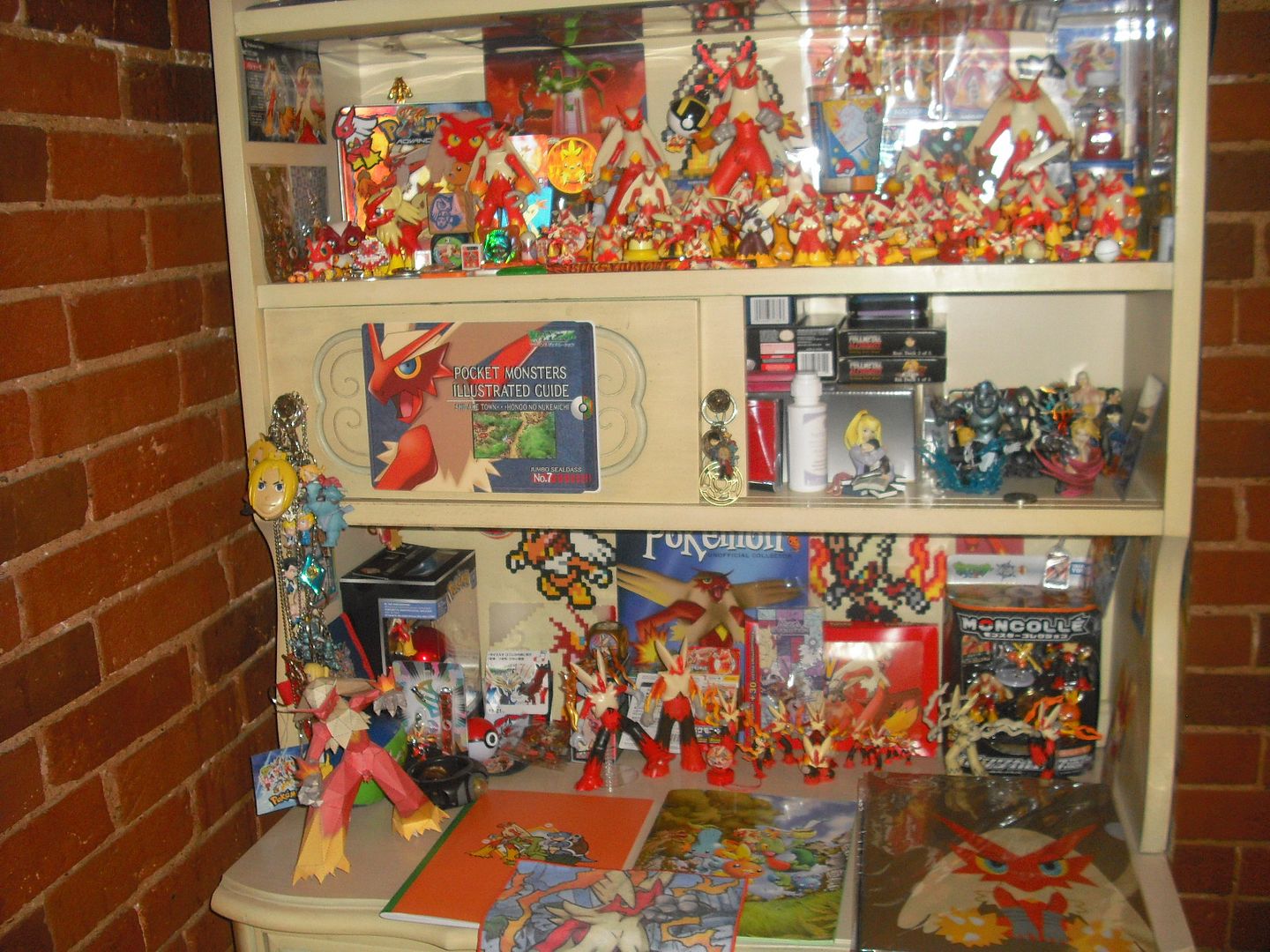 And here's an overview picture of my Blaziken shelf. I can't believe it just took up a fraction of the middle shelf when I first joined. So many more chickens since then! <3
I moved the papercraft to the bottom shelf, since I'm running out of room. And now there's two more Blaziken papercrafts for me to build when I finally buy more ink...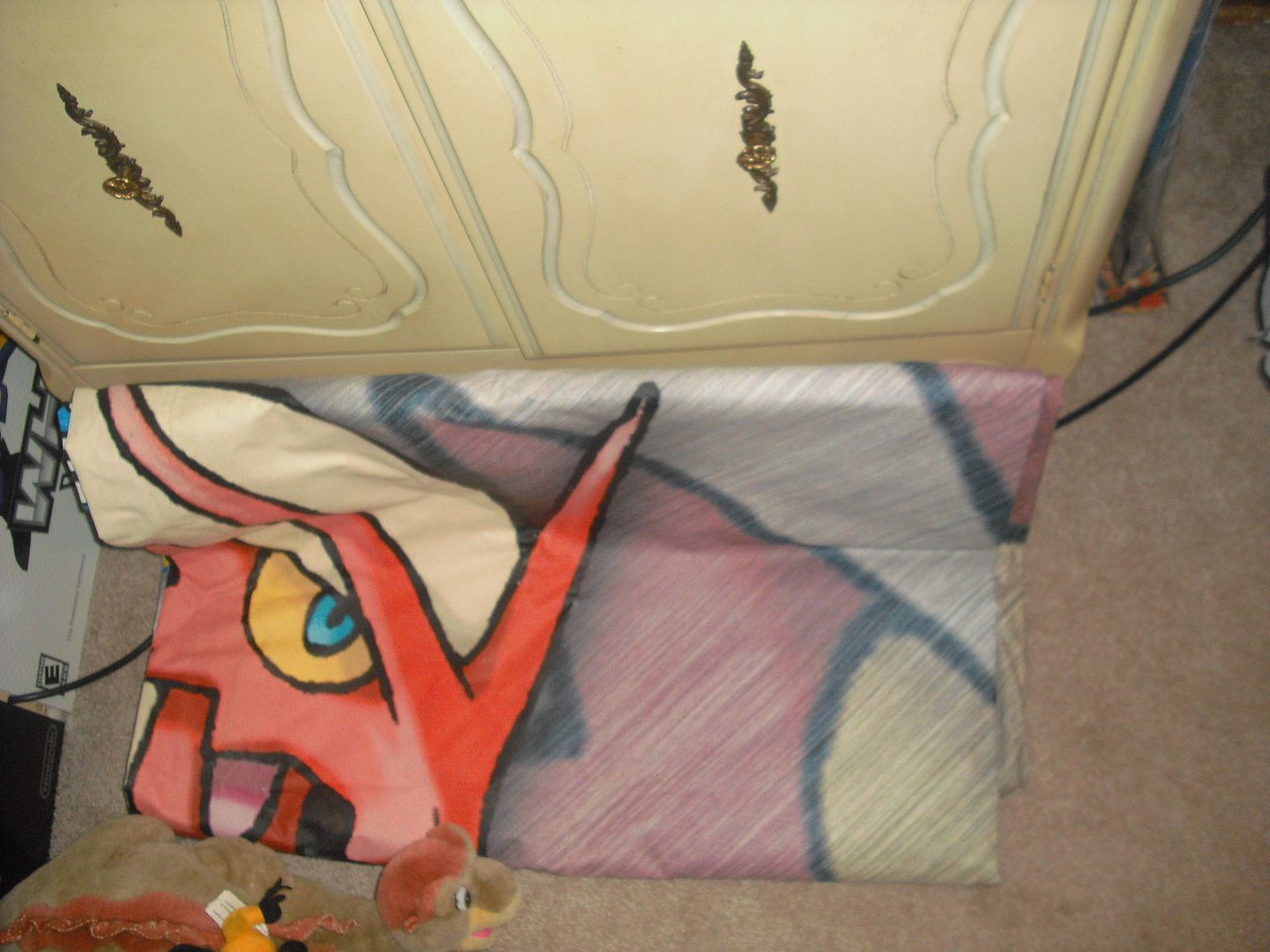 And I moved my Worlds '04 banner here. It's a terrible place for my favorite item, but it's too huge to display anywhere. I showed a few more pictures of it and my clothing items which also can't really be displayed nicely, in this post.

Well, I think that's about it for now, at least until ORAS come out! I've already got a couple more items ordered, and I can't wait to see what will come out next! Thanks for reading! ^-^





I also updated my sales post! Click the banner to see! There are the extras that came with a lot of my new Blazikens, like the rest of the Ichiban Kuji set. CTRL+F "NEW" to find all the newly added items! :D