Without getting into too much off topic real life stuff, stuff has been very bad lately, and just when I think it can't get worse, my 1y/o cat needs to be rushed to the emergency vet today for peeing blood. (He has a UTI with crystals in his track. So he'll be on a special diet the rest of his life and monitored.)

Because of all this bad stuff going on and me being incredibly stressed out, my boyfriend bought me a gift to cheer me up. I did kind of suggest what to buy as he had mentioned wanting to buy me something lately, and now was a good time. It was suppose to arrive on Wednesday, but my local post office gave me trouble because it was from Japan and I had to sign for it... but I worked and couldn't.. so I finally got it yesterday after a back and forth note war in the mailbox. Anywho... picture story!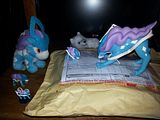 Hmm.. it seems to be foreign.. from Japan. Where's the opening?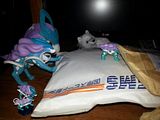 Found i- ... another package. Huh? A package inside a package. Ok, where do you open THIS one!? I want to see what's inside!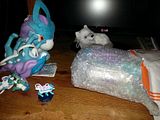 GUH! It's inside something else!? How many things do we have to open to see!!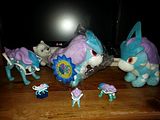 Aha! It's a new Suicune! Still in another package, but atleast we can see through this one really well.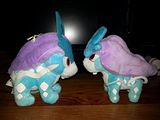 UFO Suicune needs to make sure new Pokedoll Suicune is legit. He knows I've been fooled once with one, can't have that happen again!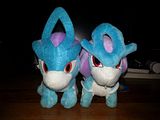 Yep, he's good mom!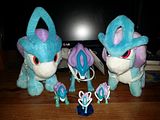 The Suicune family grows! I got the ChouGet on Thursday in the mail. I knew it was small, but wow is that tiny. The detail is very good for such a tiny little thing. I will be getting another Suicune shortly that I bought from someone here on the Community. Can't wait!